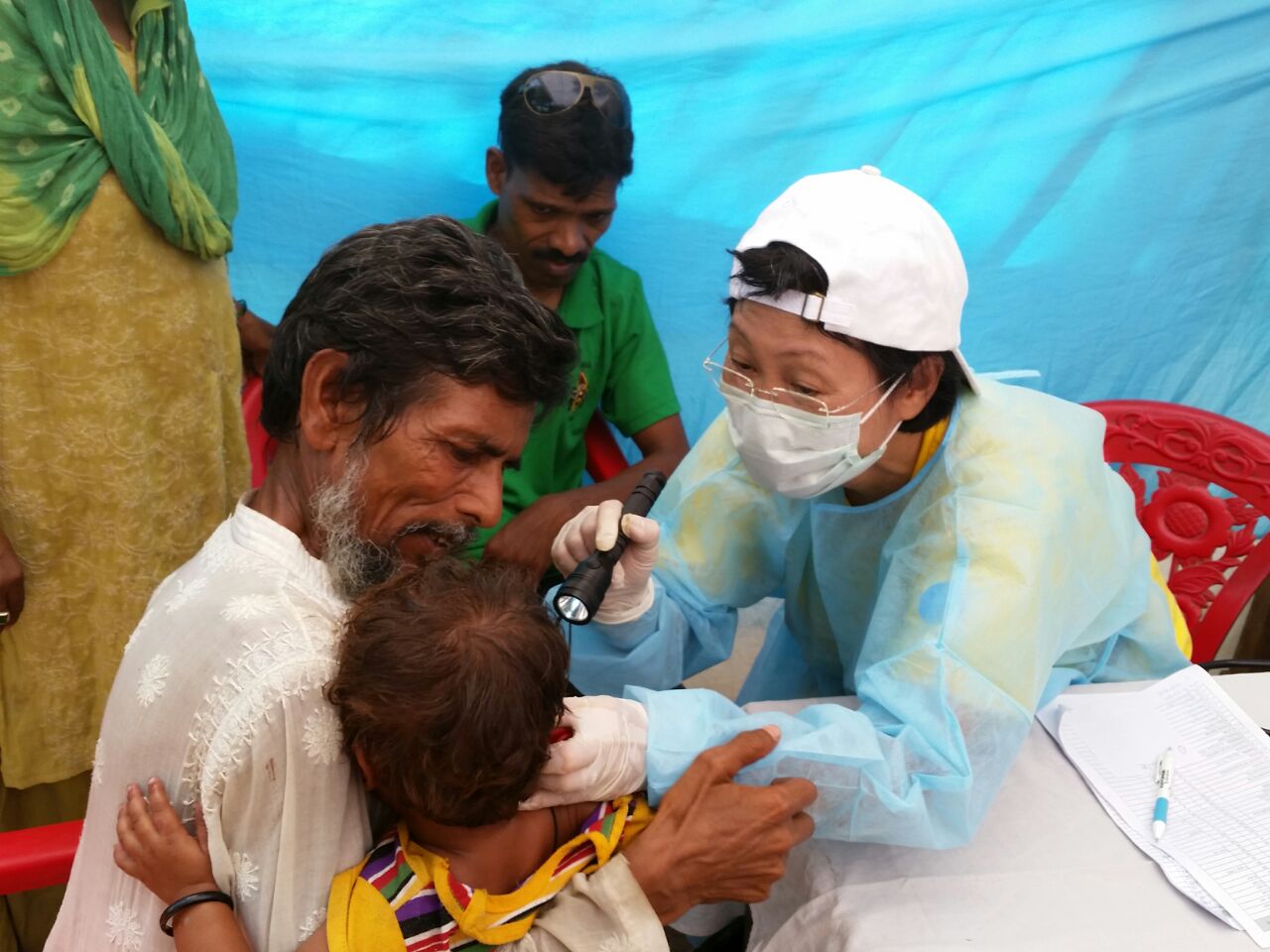 Yvonne serving at a medical camp in South Asia. All photos courtesy of OM Singapore and Yvonne Huang.
Mention the word "missionaries" and a picture of sacrificial, spiritual heroes comes up.
Not many people consider that missionaries, too, may carry their own unmet needs and unresolved hurts, even as they minister to others in the mission field.
"All of us are a work in progress," said Yvonne Huang, 64, who was a counsellor to missionaries under international mission organisation Operation Mobilisation (OM) for more than seven years.
"The mission field is a tough place where we will learn a lot about ourselves and that may open a can of worms."
"To be an effective people helper, we need to look at our own unfinished work and be set free from bondages. Otherwise, the mission field is a tough place where we will learn a lot about ourselves and that may open a can of worms."
Added Yvonne: "In the mission field, there are people with different nationalities, cultures and habits coming together and some missionaries will come to a breaking point in one way or another."
Having been a missionary herself in a South Asian country for about a decade, Yvonne now continues to counsel missionaries based all over the world, such as in the Philippines and Japan.
The mission workers talk to her about various issues. Some of them need to be debriefed after being traumatised by natural disasters, while others are embroiled in conflicts with teammates or family members. Yet others face ministry-related trauma due to culture differences, persecution or leadership mismanagement.
"Family of origin issues that in turn affects one's identity is very common. Some people go into the mission field thinking that God called them, but they may actually be running away from their homes or reality," said Yvonne matter-of-factly.
"Then when the honeymoon period is over, they find themselves struggling with acceptance and rejection issues and that will affect how they work with their fellow workers or the people they are reaching out to," she added.
In such situations, missionaries may be unnecessarily hard on themselves should they make mistakes, said Yvonne. They may also find it hard to let go of certain people or projects.
Missionaries have wounds too
Some challenges are a result of the culture and traditions of the family and home country.
Yvonne recalled working with an American missionary who was based in the Philippines. She had difficulty saying 'no', as her upbringing had conditioned her to think that she needed to be the "good girl" who should please everyone.
In another instance, Yvonne counselled a woman from a South Asian country who was a prominent leader in the church and community. She would often cook and host dinner gatherings at her home, but had a habit of only eating the worst cuts of meat she served.
"Issues of identity, if left unaddressed, may impact the effectiveness of one's ministry."
"She felt that she did not deserve more as she came from a culture where, even in a poor family that is starving, the son will get the last bowl of porridge," said Yvonne.
These issues of identity, if left unaddressed, may impact the effectiveness of one's ministry. Conversely, once they are tackled, the fruits may multiply, she said.
Yvonne was once brought in to work with a family in the mission field. After speaking to everyone in the family, Yvonne decided to focus on the wife of the missionary.
Outwardly, she seemed capable but inwardly she was struggling with rejection issues that affected her relationship with her husband and influenced the way she disciplined her children. After asking for forgiveness from her children and receiving healing, she found that she was able to take on more responsibilities and even start her own ministries when the family moved to another country for mission work.
"When a person is able to understand himself or herself – what makes them tick or what makes them angry or triggered, then it will transform the way they work," said Yvonne.
Challenges on the ground
Yvonne, who for 15 years was a youth and missions pastor at two churches in Singapore, uses a variety of approaches when counselling mission workers, including inner healing and artistic expression.
In a South Asian country where earthquakes were common, Yvonne used dance to debrief the OM mission workers. That was because they were not used to expressing their feelings verbally in their culture, so she decided to use movement as a form of expression for them.
Culturally they were not used to expressing their feelings verbally, so she used dance as a form of expression for them.
Having been a mission worker, teacher and counsellor in a South Asian country for close to 10 years prior to being a full-fledged counsellor to missionaries, Yvonne is well aware of the challenges faced by workers on the ground.
Where she served, safety was a huge issue.
"I travelled alone by myself a lot, and sometimes I spent up to 33 hours travelling on the train. Since I was usually the only foreigner and often the only female on the train, I always needed to be on high alert as molest incidents happened every day over there. It did not help that the authorities there did not have the capacity to tackle such incidents. My stress level when travelling to do ministry work was very high," said Yvonne, who is single.
Her health was also affected by the poor hygiene levels in the country. In 1979, she contracted hepatitis. Over the years, she suffered from many food poisoning episodes, despite taking the necessary precautions. Her home was stocked with stacks of mineral water bottles. She would use the water for drinking and even for brushing her teeth. Later on, she would come to learn that one in every five bottles of mineral water was contaminated.
When she eventually returned to Singapore, she was found to have calcified cysts in her kidney and severe gastritis. Today, she continues to have regular checkups with a gastrointestinal specialist.
"He reminded me of our joint humanity and brokenness, and referenced it to Jesus and what He went through."
As she navigated these challenges in a foreign land for eight years during her 50s, Yvonne benefited from having her own counsellor and mentor to guide her along. He was a retired American Methodist pastor who corresponded with her regularly via email.
"I could share anything and everything with him without reservation or fear of judgement. He did not make me feel that, just because I was a ministry worker, I could not be thinking about certain things as if I were not a human being. But rather, he reminded me of our joint humanity and brokenness, and referenced it to Jesus and what He went through," said Yvonne.
There was a time, for instance, when she shared with him how she really wanted to return to Singapore after her luggage was stolen on a train. She was already feeling unwell and the loss further inconvenienced her.
"I was stranded with no clothes and not even toilet paper," said Yvonne.
Despite facing these difficult moments, she was able to persevere in her work in the country because of her certainty that it was God's calling for her life.
Surrending her ang baos
Yvonne's simple faith and reliance on God was nurtured during her younger days when she left for mission work at the tender age of 19.
She had packed her suitcase to fly to Belgium to board the Doulos ship for a two-year training programme when God abruptly diverted her to a South Asian country instead.
At the airport, she surrendered all the ang baos  (red packets) that people had given her for her travels and was left with not even five cents in her pocket.
"I took God's Word that He would provide for me literally and surrendered all my donations to OM. So when I was overseas, I would just pray for whatever I needed and He would come through. He always did," said Yvonne.
She surrendered all the ang baos  that people had given her for her travels and was left with not even five cents in her pocket.
She remembered a time when she and her fellow workers did not even have the money to buy charcoal to cook their food.
"We dreaded using buffalo dung as it was smelly and may dirty our food. So we just prayed. Minutes later, two single ladies knocked on our door to give us the exact amount of money we needed to buy charcoal," said Yvonne, who once resorted to eating grass with chilli and rice.
In 2001, while she was serving as a youth and missions pastor in Singapore, God spoke to her to do her Masters in Counselling.
"You will finish your studies but you will not use the knowledge in Singapore. You will use it in the field," God had told her.
"The Master's degree is so expensive. Can I charge for my counselling services in future?" was Yvonne's practical question to God. "No," came the reply.
Yvonne obeyed and spent her weekends and late nights studying for the degree, while still juggling her role as a pastor at Yishun Methodist Mission. She did distance learning and graduated with a degree from an American university in 2003.
"We just prayed. Minutes later, two ladies knocked on our door to give us the exact amount of money we needed."
That year, God told her to spend the whole of the following year waiting upon Him, for He was about to set her life on a new direction.
"I will tell you what to do at the end of 2004," she heard Him say to her.
In late December 2004, a magnitude 9.1 earthquake struck beneath the Indian Ocean near Indonesia, generating a massive tsunami that claimed more than 230,000 lives in 14 different countries. It was one of the deadliest natural disasters ever recorded.
It was then that Yvonne knew God wanted her in one of the countries that was affected by the tsunami. Within a few days, she got all her vaccinations done, packed 60kg of vitamins, hydrating salts and medications for the people and went to their aid.
She arrived in the South Asian country in January 2005 and worked with the American teams of doctors in the medical camps. She was the only counsellor there and they referred patients to her to be counselled after they tended to their injuries.
Nearly every family had lost a loved one and the stench of death was thick in the air. She also debriefed the frontline workers who faced immense pressure post-disaster.
Over the next eight years, Yvonne would set up OM's counselling division in the country and teach at its Bible school. She also started feeding programmes, helped with fundraising efforts, ran youth camps and supported mission teams to go into the slums.
Relying on God for discernment in her work was imperative.
While she listened to her counsellees as they open up, she simultaneously tuned in to the Holy Spirit to see what He was revealing to her. Oftentimes, He gave her ideas on how to minister to the missionaries.
In obedience to His instruction to her not to charge for the work that she does, she does not include any fundraising details in the newsletters that she sends out to supporters to keep them updated.
She trusts that her Abba Father will provide and care for her needs.
In 2019, Yvonne left OM but continues her work with other mission agencies, such as Asia Pacific Mission.
During the peak of the Covid-19 pandemic last year, Yvonne rallied the public to raise more than $70,000 to feed the hungry and poor in the South Asian country where she was once based. She has since adapted to using technology to mentor pastors from Asia online.
When borders open, the spritely 64-year-old is looking forward to heading back into the South Asian country.
"I am waiting for that. God has given me a renewed heart and a fresh, burning desire for that country and its people."
---
Do you have a heart for missions in a certain country or area? Discover opportunities to serve in OM here.
Visit the OM Singapore website or follow them on Instagram and Facebook. 
40 God stories
To commemorate their 40th year, OM Singapore has published a book, Unchanging: On Mission With a Faithful God, capturing 40 God-stories of Singaporeans, including Yvonne Huang, who love God and His mission in many parts of the world.
"The quintessence of OM rests on the premise that God can use anyone, anytime, anywhere, whenever one hungers for Him. It is about giving God a chance to work in and through us," said Rev Keith Lai, President of National Council of Churches of Singapore (NCCS), who served on board OM's Logos ship.
"The 40 curated stories in this book testify to this truth. What a motley bunch of most unlikely individuals. What diverse and interesting backgrounds. But all with an underlying common thread – a touch of God's grace stirring in their hearts to leave home and venture into the fathomless unknown." 
To purchase the book for yourself and your friends, click here.
If you have enjoyed reading Salt&Light...
We are an independent, non-profit organisation that relies on the generosity of our readers, such as yourself, to continue serving the kingdom. Every dollar donated goes directly back into our editorial coverage.
Would you consider partnering with us in our kingdom work by supporting us financially, either as a one-off donation, or a recurring pledge?
Support Salt&Light