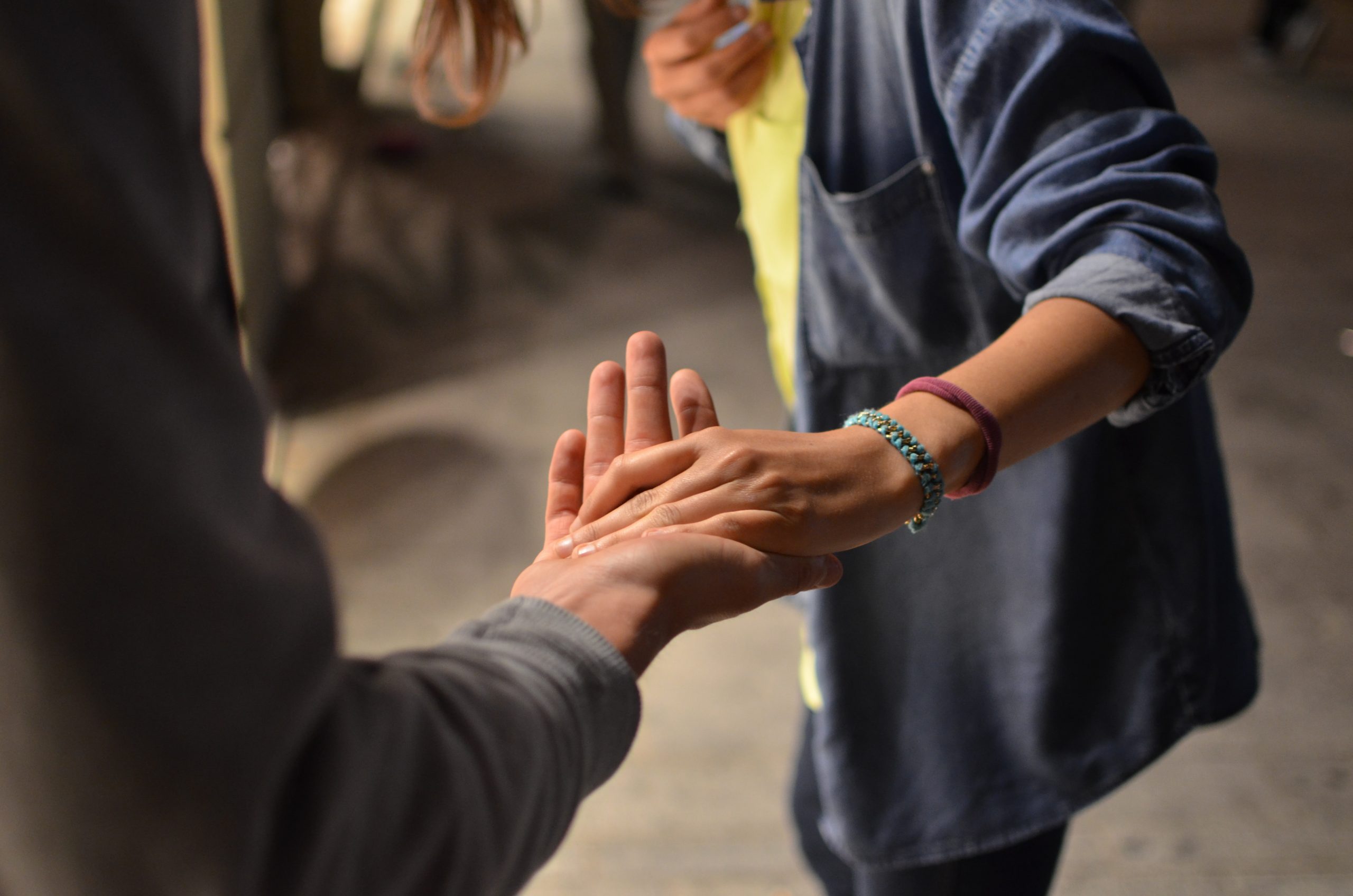 "The goal for those in ministry and counselling is to help the affected to achieve shalom," says Rev Dr Samuel Law. Photo by Remi Walle on Unsplash.
When Rev Dr Samuel Law was in his fourth year of ministry as a pastor, his second child was diagnosed with cancer. She was just 11 months old.
His baby underwent two-and-a-half years of chemotherapy and surgery. 
"It really caused me to question my faith. Why did God allow this to occur?" he said of the most difficult time in his family's life.
Rev Dr Law is now senior dean of academic affairs and associate professor of intercultural studies at Singapore Bible College (SBC). He was one of two speakers at online webinar, Suffering, Depression and Suicide. It was part of a series of lectures held during the annual Counselling Week of SBC in February. The webinar was open to the wider Christian community.
Dr Linda Bubod, dean and clinical director of the School of Counselling at SBC, also spoke on journeying with the depressed and suicidal (see Part One of this report, below).
Journeying with the depressed and suicidal: Tips for "people helpers"
Failing to address the impact of suffering from a Christian perspective could make a person lose his or her faith, Rev Dr Law said.
"If people only see a world of pain and suffering, then indeed there is absolutely no hope whatsoever. 
"People end up in depression and suicide because they fail to understand there's a larger story at work: That God is good, God is sovereign, God will guide. It is not the end. There is a hope and a future.
"As biblical counsellors, we are not just helping people to cope within this world. But we understand that God is at work, bringing them out of this world into His good creation, a restoration of what sin has confined us to."
Dr Law also reminded that, ultimately, "after a new heaven and new earth, there is no pain and suffering".
"He will wipe every tear from their eyes. There will be no more death or mourning or crying or pain." (Revelation 21:1-4)
Pain enters the world
What is the Christian understanding of pain and suffering? Is suffering and pain abnormal or normal?
"Before the fall of man, was there pain and suffering? The answer is no," said Rev Dr Law.
After the fall, pain occured in childbearing for women, and work became painful toil for humankind. (Genesis 3:16-19). 
"Even if suffering is for life, it still comes to an end, because your life here is not eternal."
"Pain and suffering occur because sin has corrupted the world that God created for us.
"We will experience suffering because there are thorns and thistles, and we have to sweat throughout our life," said Rev Dr Law.
Citing journalist-turned-pastor Lee Strobel, who wrote the best-selling The Case for Christ, Rev Dr Law added: "'Moral evil is the immorality and pain and suffering and tragedy that come because we choose to be selfish, arrogant, uncaring, hateful and abusive.'
"Moral evil, immorality, pain and suffering often occur as a result of the sinful nature that we have," he said, referencing Proverbs 22:3.
However, he cautioned, this is not the counselling approach.
When helping someone deal with suffering, it is not helpful to say: "The reason why you're suffering is because you're a sinful person." 
He added: "Even though there may be some truth in it, you wouldn't say 'It's because you are immoral, arrogant and we have to deal with those issues before you can overcome it' to a person who asks for help in dealing with depression."
Achieving shalom
"Before the fall, there was a complete relationship between God and Adam, and Adam with Eve so that all social needs were fulfilled," said Rev Dr Law.
"But after the fall, sin distorted all the relationships. We have a broken relationship with God, broken relationship between Adam and Eve.
"God walks with us in the midst of suffering. That is what gives us hope."
"You see mental health issues: Loss of identity, anxiety, anger, depression, guilt, as well as external acts like murder, jealousy, coveting, stealing and so forth," he said, referring to the last five of God's 10 Commandments (Exodus 20:13-17).
"God created us with a sense of unity: Psychological, biological, social. And because God breathed into us the spirit, all of these are joined together. They allow us to be able to communicate with God, with creation, and with others," he said, drawing on William T Kirwan's book, Biblical Concepts in Christian Counseling.
"What sin does is separate these components and separate us from our elements.
"We end up with a loss of identity. The human ego takes precedence over the image that God has given to us. We end up with a needy self, as well as a rejected self.
"There is also a sense of rejection, shame, weakness and helplessness.
"There is a need for belonging, for self-esteem, for strength, for affirmation."
The goal for those in ministry and counselling is to help the affected to "achieve shalom" – "holistic pastoral care for the person to be able to experience the fullness in every dimension of life".
"Holistic means the unity of all dimensions in our complex selves."
Life and growth
"Suffering is an indication of life and growth," said Rev Dr Law, pointing to James 1:2-4 and other verses.
"In other words, you suffer for various trials, so that the tested genuineness of your faith — more precious than gold, which perishes even though it is tested by fire — may result in praise, glory, and honour at the revelation of Jesus Christ." (1 Peter 1:6-7)
"Suffering is a part of standing firm and in faith," he said, referencing 1 Peter 2:21. "Christ also suffered for you as well." 
"And after you have suffered a little while, the God of all grace, who has called you to his eternal glory in Christ, will himself restore, confirm, strengthen, and establish you." (1 Peter 5:10)
"Sin brought suffering into the world. But God was able to take suffering and use it for His purposes, to draw us back into the life that He intended for us," said Rev Dr Law. 
Suffering will end
We cannot fully understand why we suffer, said Rev Dr Law, mentioning Job.
"God's ways and thoughts are higher than ours (Isaiah 55:8-9)," he added.  
"As long as we know that God walks with us in the midst of suffering, that is what gives us hope because we know that God has an end to suffering. That is what enables us to persevere," he said, referring to promises in Lamentations 3:16-26. 
"It is good that one should wait quietly for the salvation of the Lord. We need to understand that we may not understand why we're going through suffering. But what we can know is God never leaves us. His steadfast love is there and there will be an end to the suffering."
"Even if suffering is for life, it still comes to an end, because your life here is not eternal," he said.  
When a baby has cancer
 In the week of the cancer diagnosis of his daughter, Rev Dr Law came across Lamentations 3:31-33 during his daily devotions.
"I believe the passage God gave me helped my family undergo the suffering with my daughter."
"God does not desire for us to go through suffering but sometimes he does it to allow us to grow and mature in the process."
"Verse 33 stood out as a reminder that God was not in the desire to cause suffering to my daughter.
"God had different plans. God allowed us to go through this period of pain and suffering. There's always a reminder that God's steadfast love will guide us through this process.
"By God's grace, we were able to go through that period."
Looking at the 15 or so years he's been a pastor, Rev Dr Law said in hindsight: "It enabled me to be a more compassionate pastor and know how to come alongside and journey with my congregation members who were dealing with cancer or a medical issue.
"It was a reminder that God does not desire for us to go through suffering but sometimes he does it to allow us to grow and mature in the process."
A blessing, no matter the outcome
There are three possible outcomes as a result of suffering, said Rev Dr Law, citing Beth Moore's Daniel – Bible Study Book: Lives of Integrity, Words of Prophecy.
God performs a miracle (eg a cure). We can be delivered from the fire (suffering). Blessing: Our faith is built.
God allows us to go through the trial (eg chemotherapy). We can be delivered from the fire – like Daniel's friends Shadrach Meshach, and Abednego (Daniel 3: 8-30). Blessing: Our faith will be refined.
God allows the trial (eg cancer) to complete its course. We can be delivered from the fire into His arms. Blessing: Our faith is perfected.
"In each of these situations, there is always a blessing."
"There is even hope after death.
"This is one of most powerful understandings of why God allows suffering to come into our lives. Not to push us down and oppress us. But, even in the suffering, He enables us to grow and mature. He takes it for his own purposes and perfects our faith."
"Why me?" and other questions
Dr Law cited American theologian Eugene Peterson who said that "the vocation of pastors is not to permit trafficking in either miracles or answers".
"We need to be very careful when it comes to suffering, that we don't belittle it. Our task in counselling and pastoring is to journey with people and to understand and allow God to build the work in our lives."
He shared how he, as a pastor, addresses commonly asked questions. The last two questions were from participants during the Q&A segment of the talk.
1.  Why does this happen to me?
As a pastor, I don't try to answer this because we probably don't know. And it's okay to say: "I don't know."
2. Did I do something wrong? 
Remind them that "When we go through suffering, it's not necessarily because of us. It can be because we live in a very sinful world and it's part of those consequences."
We can share that God does know what you're going through. Most importantly, we remind them that "God will guide you through recovery to bring you into glory" and that God didn't even spare Jesus from suffering and death but that it had a greater meaning.
3. Is God really there? Why doesn't He do anything?
We remind people: "Yes, God is here." And the most important thing we can do is to draw people to Jesus right now.
You can use Job when people go through suffering. But it's problematic because it's a very different situation.
Rather, you want to point people to Jesus because Jesus suffered. God's relationship with Christ is actually much more relevant to the current context. God promises His presence with us through a variety of passages that you can turn to.
Jesus actually is the greatest pathway to bring comfort to people.
Because Jesus is here, He knows our hurt and feels our pain.
Jesus promises in John 16:33, "I said these things to you, that in me, you may have peace. In the world, you will have trouble. But take heart! I have overcome the world."
Passages of "God is sovereign", "God will guide you", "God will intercede" can provide comfort and guidance during times when people go through suffering and pain.
4. I'm afraid to die.
Remind of God's promises of victory in facing overwhelming odds. That death is just a passing to a better place, something far better.
5. What about my family?
This is the main concern people have when facing suffering or a hopeless situation. Remind them that God will watch over them and that there is God's family. In other words, the Church will be able to surround them. 
6. What is God's role in chronic pain and suffering? Shouldn't God allow us to suffer only for a certain time?
Even if you have lifelong chronic pain, it is only for a certain time. One must look not only at this life, but at the broader narrative of eternity. 
I had a church member who had rheumatoid arthritis since she was 18.
On a particularly difficult day, I said to her: "I really wish God would remove this from you because I know you're hurting so much."
"If God allows the pain, then I trust that God's grace will give me the strength to overcome it."
She replied: "As much as both you and I want that for me, I have to trust that God has a purpose in allowing me to go through this daily pain."
She shared that it was this pain that allowed her to better understand God's love. Because even during times when it hurt the most, she felt God's peace in the midst of pain. 
"If God allows the pain, then I trust that God's grace will be sufficient throughout each day I experience it," she said.
It's also a reminder that we only experience this pain and suffering in our physical lifetime. Once we enter into eternity, all the pain and suffering is removed. God allows us to have suffering only for a certain time. Even if it happens to be the entire life that we live.
7. How do we respond to suffering in the world around us (eg Covid, the Myanmar situation, child trafficking)? 
When people ask this question, help them to understand that it's a systematic issue. Sin is pervasive in the world. And, until God returns, suffering will continue to be part of our lives.
The most important things to remember in response to suffering is:
1) As Christians, we are called to be God's agents to redeem the world. And we have to respond in terms of what we are called to do as followers of Jesus Christ.
2) God is still with those who suffer. If we pray and ask God to intervene, God can work with them through that.
If you want to go deeper in responding to such a question, the following two books are very helpful for those going through pain and suffering: 
CS Lewis' The Problem of Pain is an old book, but one of the best books on why we suffer.
A more recent one is Philip Yancey's Where is God When it Hurts? This is more of a spiritual response.
On the question of evil and the world, I recommend Evil and the Justice of God by NT Wright and Satan and the Problem of Evil by Gregory A Boyd.
Can God be Trusted?: Faith and the Challenge of Evil by John G Stackhouse Jr is really good because he also deals with how we can trust in a good God when we see all the evil in the world.
If you have enjoyed reading Salt&Light...
We are an independent, non-profit organisation that relies on the generosity of our readers, such as yourself, to continue serving the kingdom. Every dollar donated goes directly back into our editorial coverage.
Would you consider partnering with us in our kingdom work by supporting us financially, either as a one-off donation, or a recurring pledge?
Support Salt&Light