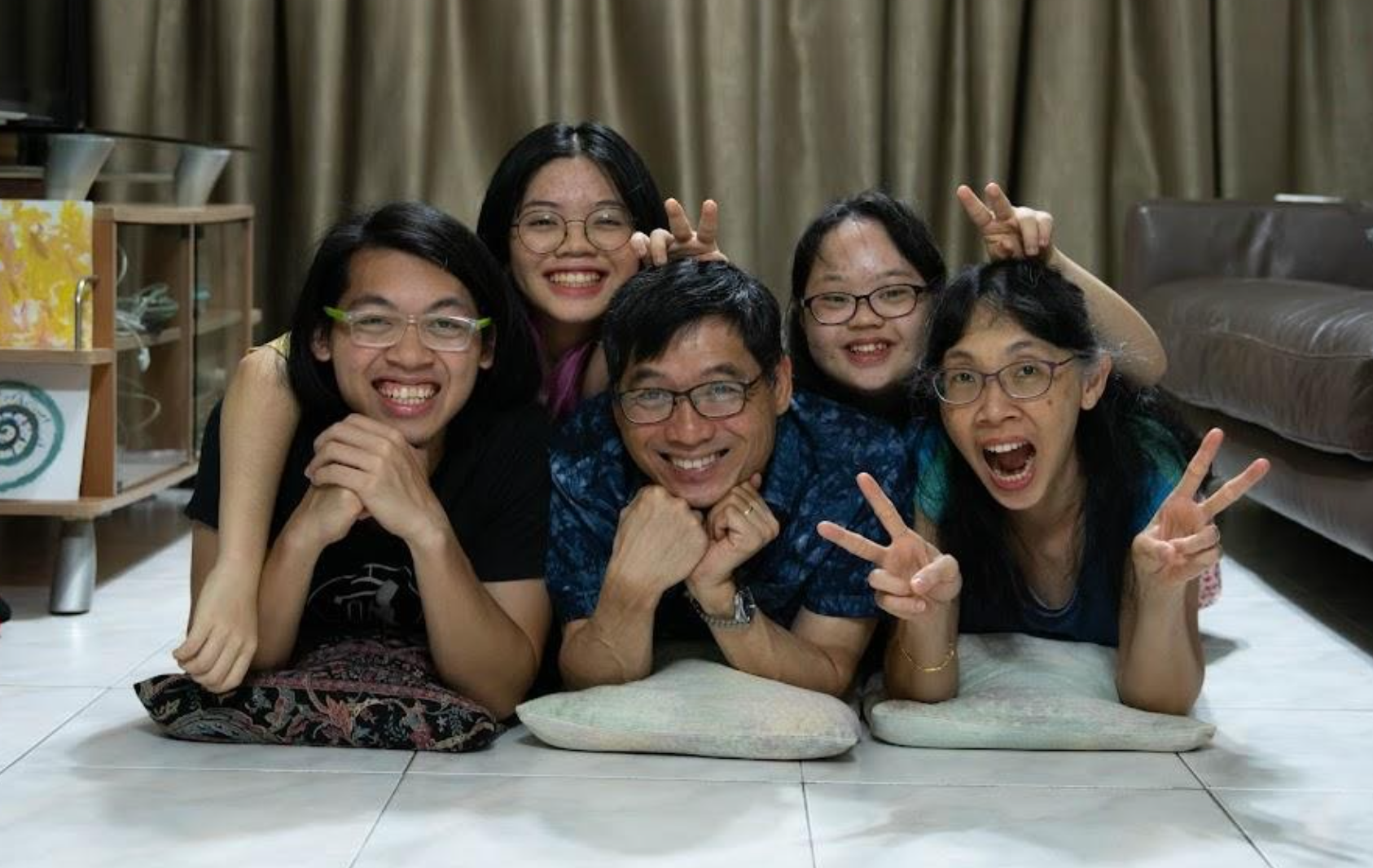 The Teoh family at home, which was also their classroom for the last 21 years. All photos courtesy of Apple Teoh.
Apple Teoh took on a formidable challenge 21 years ago. The former teacher in an all-boys primary school quit her job to homeschool her firstborn child, John.
As a teacher, she saw how the studies of the children were affected when they carried the baggage of unresolved familial issues to school. As a mother, she wanted to spend more quality time with her son.
The year she applied for exemption from compulsory education for John, who was then six, turned out to be the year she was diagnosed with breast cancer.
It started out at Stage 0 (abnormal cells in the milk ducts) and later progressed to Stage 3 where the cancer cells had spread and surgery was needed to remove her lymph nodes. Four months prior, she'd already had a mastectomy and reconstruction.
Despite her illness, Apple, who turned 50 this year, not only managed to homeschool John, but also Rebecca, who is three years younger, and her youngest child, Li-Ann, who has Down Syndrome.
The stay-at-home mum and freelance homeschool consultant found herself balancing homeschooling her neurotypical children with her special needs child, as well as juggling the multiple roles of teacher, parent and coach to her children over the course of two decades.
John is now 21 years old and studying media communications in a university in the United States. Rebecca is 18 and Li-Ann 16.
The family has faced its fair share of struggles.
"Please God first, rather than try to please everyone else at home, which is impossible."
Apple's husband – the sole breadwinner of their family of five – lost his job last year when the Covid-19 pandemic hit the company at which he was working. He now does GrabFood delivery. 
Despite financial pressures setting in and the family members having to live in close quarters during the pandemic, the Teohs continued to live, study and work harmoniously from home.  
With HBL now extended till October 7 for all primary school children and special education students, Salt&Light asked Apple to share her tips on home-based learning.
Guide for homeschooling parents
1. Please God first  
At home, it is easy for tensions to run high and for the children to question and disagree with your way of teaching or parenting. Step out of the home and spend regular time with God, so that you will be guided by Him and His voice.
Use the "sandwich" approach of layering feedback.
Apple goes to a quiet place outside her home, either a void deck or park, to worship and pray at least once a fortnight.  
"Please God first, rather than try to please everyone else at home, which is impossible," she advised.
"As a parent, you can only do what God has told you to do and do it well. If there is anything you missed out, God knows and He will fill in the gaps," said Apple. 
One of her favourite verses she clings to is Isaiah 54:13 (NIV 1985):  
"All your sons will be taught by the Lord, and great will be your children's peace." 
2. Be a safe person for your children  
Hours of HBL and being cooped up at home may take a toll on the mental health of your children.
Now, more than ever, your children need a safe person and communities where they can be open and authentic in sharing their problems, whether they involve school work, relational issues or other matters.
When much of the learning is done online, children are constantly exposed to cyberspace, which can be a curated and unkind space,  said Apple. It is not easy to find safe communities – persons who would listen, empathise and go the extra mile for you.
Parents can aim to be safe persons for their children and help them seek out safe communities in the church youth group, prayer group or other interest groups.  
One practical way that parents can start is to learn to give constructive feedback on their child's performance or homework, said Apple.
Use the "sandwich" approach of layering feedback: First, state an area in which they have done well (top slice of bread), then tell them one area they can improve or do differently (the filling), then finish off with another aspect that they have excelled in (the bottom slice of bread).
In this way, any form of perceived criticism is buffered by gentle affirmation. 
3. Practise effective role switching  
It's hard to be both an educator and a parent at the same time.
There was a time when John announced that he wanted to keep a baby lizard and seven adult tree lizards as pets in their house.
The mum in Apple was freaking out at the thought of reptiles running loose in her house. Yet the educator in her could not suppress her excitement as she saw how science came alive before her eyes. John showed his sisters the lizard's pumping heart through its thin skin and patiently taught them how to differentiate the male tree lizards from the female ones.  
"The challenge is navigating the tension between how much to enrich their learning, and yet keep them and the house safe at the same time. This applies to various scenarios like letting them explore the digital realm for learning, yet having safeguards to protect them from unsavoury websites," said Apple. 
It is even harder to be both a mother and coach to her children. How do you assume the authority of supervising your children's work in the day and yet have heart-to-heart talks with them at night during ice-cream dates out?
As the children grow older, prioritise being a coach to them, as this can foster a relationship of trust that can then become the foundation for a sense of security and values. Parents can collaborate with external mentors should their children need more academic help or expertise.   
4. Observe, identify and nurture your children's gifts  
The time you have at home with your children is precious. It should not be used as a time for mere policing: Have you done your homework today?
Instead, take time to observe what engages them the most, how they learn best and where their strengths are. These will give you clues as to the gifts and talents of the children so that they can be further nurtured.  
Apple noticed that John often read up on film, photography and videography on his own. So, she gave him room to make his own animation videos though that was time consuming. She also observed how Li-Ann, who is sensitive to the emotions and facial expressions of others, has the gift of compassion towards others. So she supported her daughter in using art to paint, draw or write notes of encouragement to those who needed them.  
"Our role as parents is not to make sure the children keep up with the Joneses, but to ensure that the gifts that God has given to them are nurtured and stewarded well so that they can be used for His kingdom," said Apple. 
5.  Use every opportunity to help your children learn 
Learning should not be confined to books and computers.
Learning opportunities are present all around us and these are wonderful teaching moments. Every time Apple brought young Li-Ann for her physiotherapy sessions, John and Rebecca would tag along as well.
As the older siblings followed the instructions of the physiotherapist and modelled for Li-Ann what needed to be done, they also learned about the different needs of their sister and how to care for her . They even picked up some exercises that were beneficial for themselves. 
"Now that my children are older, they take turns to either cook or buy food for the family, and they do their own laundry. These not only help us keep expenses down but also ensure the household functions during the pandemic. These are important life skills to be honed," said Apple.
Families that include children with
special needs
1. Incorporate therapy into the home and the daily rhythms of life 
Therapy need not be confined to therapy sessions at the hospital. Use the home setting to allow the child to have fun while fulfilling his or her daily therapy requirements.
When Li-Ann was a toddler, Apple used to hang balloons on top of Li-Ann's play area to arouse her curiosity and encourage her to reach for them. Bells were hung at the end of her sleeping area so that she would learn to kick and get some exercise, as well as learn the concept of cause-and-effect.  
Whenever Apple met up with her friends for a catch-up session, she would take her young children along. To help entertain the children who were under 10 at the time, she would give them straws to play with while she talked to her friends.
Li-Ann began chewing on the straws and Apple realised that it was a good way to help her daughter strengthen her jaw muscles, which had weak muscle tone. From then on, Apple began collecting various types of straws and gave them to her daughter when they were out.  
2. Expose them to technology and the online medium
With many classes and talks conducted online these days, children with special needs may benefit from online classes to continue learning at their own pace.
Parents can help by setting up bigger screens for their children who have poorer vision and teach them how to use assistive speech-to-text apps if their children need to take notes but are unable to type quickly.
Help them grow their confidence in knowing how to participate in positive online activities. 
3. Remember to meet their other sensory needs  
Many children with special needs are concrete or kinesthetic learners, meaning that they learn best by doing and moving about rather than just by reading or listening.
Parents can balance their screen and online time with other ways of learning by scheduling in time for concrete activities. This could be doing some art and craft, heading down to the playground, or helping mum with cooking and baking.  
If the child needs help in sitting still and focusing on an online conference or assignment, have him sit on a gym ball or pass him a fidget toy to fiddle with.
These little moves satisfy his need for sensory input and can help him focus on the primary task at hand.   
4. Factor in time to space out or have a change of environment 
It may be tempting to schedule many things since the child is likely to be at home most of the day. Resist the temptation to over-schedule their day in a bid to maximise their time.
Being cooped up at home and learning online can be mentally draining, and a child with special needs can be especially fixated on a particular task for hours without realising it.
Let them rest and recharge, for instance simply by lounging on the sofa and doing nothing. 
If they are too obsessed with a certain activity, help them switch focus by taking them out of the house. A trip to the coffee shop downstairs can help them re-focus and move on to work on other goals outdoors.
Tips for the children
1. Make spiritual health and growth your priority 
In this time of uncertainty, what makes one person more resilient than another? Spending time with God helps us rely on God and cope with changes with studying and learning.
Remembering the promises of God can bring us comfort when we are anxious or inner peace if we are frustrated at having to remain largely indoors.
Rebecca, for instance, does her quiet time in the evenings with a friend, when they can spur each other on.
2. List out SMART goals for the day 
This is your daily to-do list. SMART is an acronym for setting goals that are Specific, Measurable, Attainable, Realistic and Timebound.
Having a checklist for each day is important as time at home may stretch out seemingly without end. Yet it is often over before we realise it.
Having goals enables us to be aware of whether we have met our targets or not, and this helps us meet project or homework deadlines, and juggle various tasks and responsibilities well.  
It is important that you set your own goals, as you have ownership of your time and day. 
3. Set up boundaries
Boundaries are especially important in a space where the lines between work, play and rest are blurred.
Sitting at a table, instead of using the laptop in bed or squatting in one corner of the house, signals to us that it is time for work.
Be accountable to your teachers and parents by using a table in your living room.
Proper separation of work and sleeping areas encourages you to achieve your work targets, and you'll probably sleep better too.
 4. Ask for help – even if you are at home 
Being taught online with 30 or 40 other children means that the teacher is likely to be too overwhelmed to pay you personal attention. Do not be afraid to ask for help or to receive help.  
"Even if you are at home, there is no need to figure everything out on your own," said Apple. "We need to normalise the culture of seeking and receiving help especially in Asian societies; it doesn't connote weakness."
If you need external sources of help, consider trusted friends, mentors or tutors. 
For more information on homeschooling, email [email protected]
---
MORE ON HBL AND FAMILY TIME IN THE COVID SEASON:
Making #WFH and #HBL work for your family: Three dads share their Circuit Breaker strategies
If you have enjoyed reading Salt&Light...
We are an independent, non-profit organisation that relies on the generosity of our readers, such as yourself, to continue serving the kingdom. Every dollar donated goes directly back into our editorial coverage.
Would you consider partnering with us in our kingdom work by supporting us financially, either as a one-off donation, or a recurring pledge?
Support Salt&Light