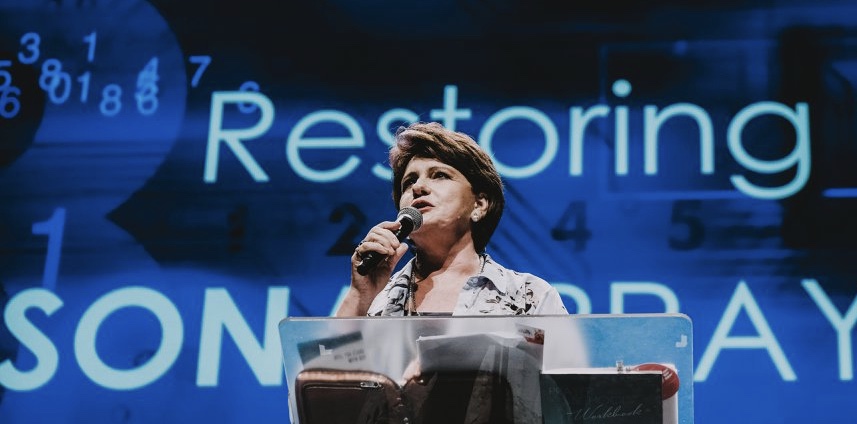 Dr Suzette Hattingh speaking at Momentum 2018. Photo by LoveSingapore.

"The family altar is the most broken-down altar at the moment. It is more broken down than the personal altar, the church altar, the city altar and the national altar," warned Dr Suzette Hattingh at Momentum 2018 on May 1.
The family altar is under severe attack as it is the strength of a nation and what happens within families will determine where the next generation goes, she told the packed Star Vista Theatre at the LoveSingapore event.
"The family altar is the place, after the personal altar, that has to be restored if we want a national revival," she said.
But the family altar is not just a prayer meeting between fathers and mothers; children must be involved too.
"The family altar is the place after the personal altar that has to restored if we want a national revival."
And while many are intimidated by the idea of bringing the family together in prayer, Dr Hattingh sought to demystify the process for anyone wishing to start building the family altar. All it takes is for the whole family to just pray for two minutes. That's it!
Dr Hattingh, who began her ministry interceding for Reinhard Bonnke's evangelistic rallies in Africa, said she had seen the power of 2-minute prayers within families transforming nations she had ministered in.
A 2-minute prayer unites families and restores family prayer altars. Children pick up the habit of praying at home, then start praying in their schools – releasing a spirit of prayer in their land.
3 steps to restore your family altar
1 MEET TO PRAY AS A FAMILY
Husband and wife, along with children (if any), must come to an agreement, as a family, to pray. There's no need to set the bar unrealistically high. Just agree to pray together for two minutes a day.
"In that two minutes, you pray a Scripture, you pray over your children, over the family and then you are done!" said Dr Hattingh.
For those whose children are not staying under the same roof, she suggested calling them or even praying over a photo of them.
She challenged the 6,000-strong audience at the sold-out Star Vista Theatre to make prayer a discipline. "Then let God make your discipline into a passion."
2 TAKE HOLY COMMUNION TOGETHER AS A FAMILY
The seasoned intercessor also encouraged families to take Holy Communion together at home. She acknowledged that not all churches approve of this practice, it is something she personally advocates.
3 SPEAK BLESSINGS OVER YOUR FAMILY
Lastly, speak a blessing over each family member.
"Every time Abraham prayed a blessing over Isaac and Jacob, that blessing went from generation to generation," Dr Hattingh said. "We, as mothers and fathers, have forgotten how to speak a blessing over our children. The same goes for children speaking blessing over their parents."
She gave an example of how this might sound: "I bless you today with wisdom, guidance, revelation, the knowledge of Jesus Christ. Christ lives in you, the Hope of Glory today will use you. In Jesus' name, go into your day and be blessed."
She especially urged men to bless your wives and children. The blessings of a husband and father are powerful, thanks to your God-given authority as the head of the household. (Ephesians 5:23)
The power to change destinies
This simple act of speaking a blessing has the power to change destinies, said Dr Hattingh.
She told her personal experience of how she made sure to call a child, who was struggling with anger and aggression, to speak a blessing over him every day at 7am, no matter where in the world she was. Daily, she prayed Psalms 23 over him.
After three months, she noticed a change in him. His violent tendencies stopped. The child, who had viewed himself as a problem, began to recognise and declare that he is a beloved child of God.
During that 2-minute prayer, don't focus on problems – negatives – but instead speak forth the destiny of each family member.
"I changed the destiny of a child, in 2 minutes every morning. I learned the power of the family altar."
What about singles? Single parents? Absent parents?
With the above testimony, it may come as a surprise to learn that the 61-year-old prayer warrior has never been married, nor does she have any kids of her own.
"But," she said, "I take up the responsibility of the family. Although I'm not married, wherever I am, I create a family."
This means that anyone who comes under her authority – whether she is their spiritual parent, or if they step into her home – she treats as her family. And she prays over and blesses them as she would her own children.
Those without children of your own could also consider looking at the families around them, and come alongside them to bless and pray for the children in their midst.
In the case of families where a parent is absent, Dr Hattingh encouraged the family members who are present to lead by example.
This means that should a wife feel that the husband is not taking spiritual leadership of the household should not merely resign herself to a household without prayer. Instead, without bitterness or resentment, she should take on that role herself.
The same goes for single parents. Acknowledging that the demands on a single parent could be tough, consider reaching out to your church community for help, support and prayer.
Why the family altar is so important for the next generation
At the family altar, children can see first-hand their parents' relationship with God, said Dr Hattingh.
"Are their parents praying? Fasting? Healing the sick? Evangelising? Loving people? What the parents do, the children will mirror."
What a child sees in his parents must give him the passion to love God.
What a child sees in his parents must give him the passion to love God, said Dr Hattingh. This cannot be achieved by coercion but only by example, lest he appears to obey but, in his heart, he rebels.
Which is why parents and even grandparents must rise up in boldness to restore their family altars. While some might say it is not part of their culture to speak a blessing over their family, she countered: "But it is Bible culture!"
She also acknowledged that the building of family altars will not take place overnight. Many will find resistance from their family members, or face discouragement and be derailed in the process.
Restoring the family altar will take time, stressed Dr Hattingh. But this prayer altar must not be ignored. "The family altar is vital for the outflow into being effective in the church and in the nation," she said.