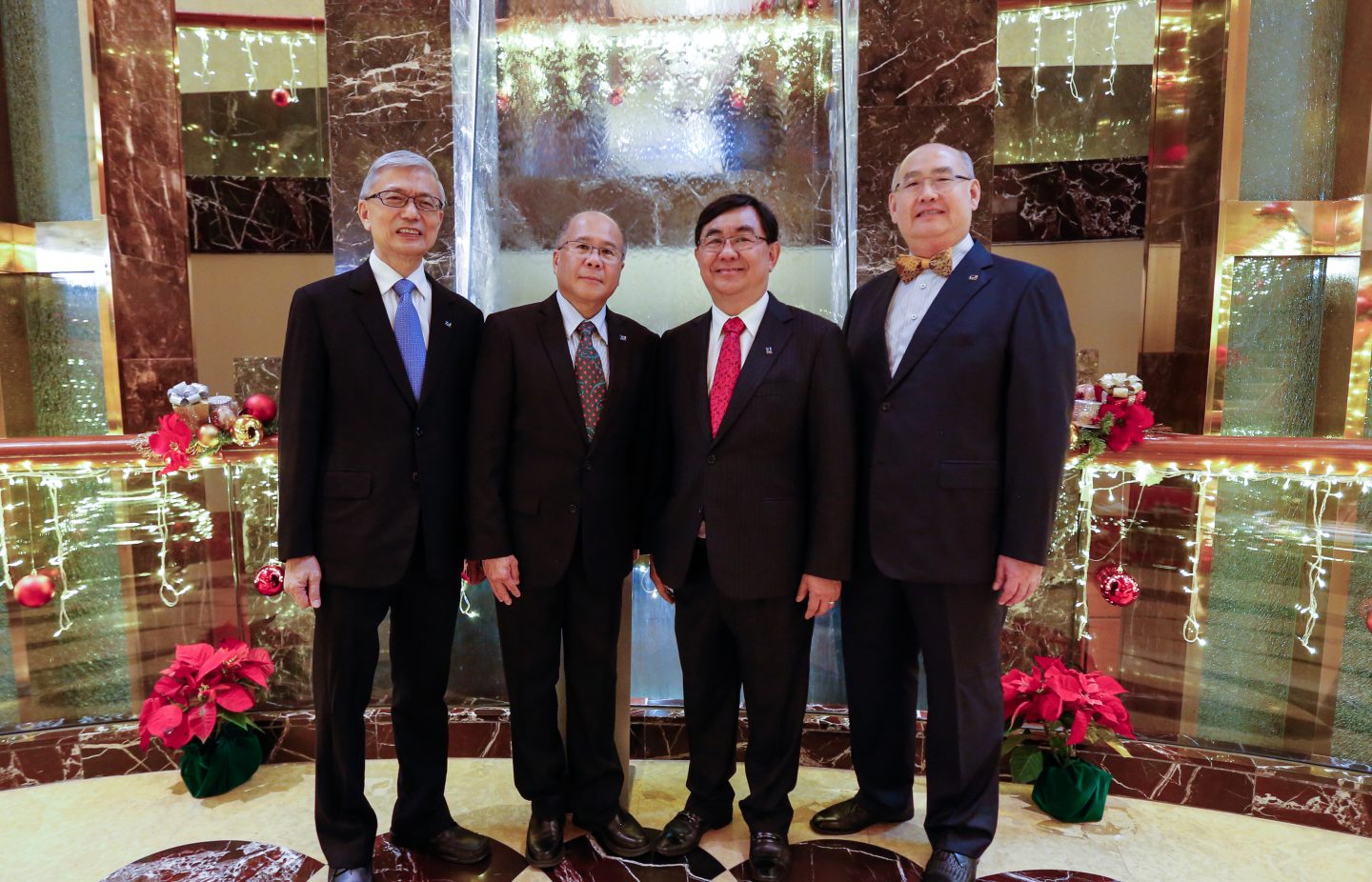 Everything to smile about: The Eagles' William Tang, Michael Tan, John Ng and Peter Chao. Photo by Jondave Ong.
Surely God has a sense of humour.
That becomes clear as Peter Chao, John Ng, Michael Tan and William Tang recount their years in evangelistic ministry as Eagles. Celebrating 50 years since their beginnings as the underground (and dubious) Eagles Boys Club in Anglo-Chinese School, they've clearly seen God take them on one madcap adventure after another, as if He were chiefly in the business of building up their derring-do.
Funnily enough, He probably was.
Hooligans bound for heaven
In all other contexts, their reckless abandon would be dismissed as insane. But with these four it would be called faith.
Peter was the first to accept Christ when, confronted with the possibility of being reincarnated as a cockroach, he hastily said the sinner's prayer on May 10, 1968. Then a 14-year-old, he proceeded to preach in the school's Christian Fellowship (CF) – immediately.
As chance would have it, John was "conscripted" to attend a CF session on the last day of school in Secondary 2. Convicted of his sins, he was changed "quite drastically", as he puts it. 
"I used to beat people up. I was caned by the principal every year. There was a monitor who liked to report us. To pay back, every last day of school we would hunt him down and try to whack him."
"My image of hell was the 18 chambers in Haw Par Villa. I knew I would go through all the 18 chambers." – John
Fear struck the gangster in John that fateful day and the concept of hell gripped him. "My eyes were flickering. I was literally in fear. My image of hell was the 18 chambers in Haw Par Villa. I knew I would go through all the 18 chambers, so I gave my life to Christ."
Michael and William have similarly dramatic memories of CF, an acronym that rolls off their tongues easily. It was where this gang of four spent their Friday afternoons while in upper secondary, and the ground on which they and their many other friends grew deep roots.
Bible study sessions were held every Saturday, in the early incarnation of what is now called the Eagles Rendezvous.
Determined to preach the word in season and out (2 Timothy 4:2), these teenagers also set out with the Four Spiritual Laws in their pockets. Where once upon a time they had pried open tombs on Fort Canning Hill for sport ("We were hooligans," John confesses), they now took to the streets and evangelised at every opportunity. 
Never mind the who, what, when, where and why. John says, simply: "It was meaningful to us. It was a Great Commission." (Matthew 28:19)
Hell and high water
Boldness and courage (Deuteronomy 31:6) matched their talk, and they didn't budge against fierce familial opposition. John's family balked when he no longer would help in the distinctly un-Christian family business. "Who feeds you? Where do you get the money to put food on the table? Don't eat! All the money is dirty!" his brother yelled.
"I called out to God. I said I want to serve You, no matter what." – Michael
Michael's grandmother threatened: "You will get baptised over my dead body." His response: "I called out to God. I said I want to serve You, no matter what."
Peter tells of a wrong road naively travelled that almost led to a dead-end in their theological studies. Misguided by a pastor in the 1970s, the group registered at a Bible school he recommended. John and Michael both gave up their places in the then-Singapore University, at a time when only two per cent of applicants were accepted after A levels.
What they didn't realise was that this "school" was not accredited. Worse still, the board's own irreconcilable differences soon surfaced and spilled out into the open. "The school was split. We were left forlorn," Peter remembers. "The dean quit. He was the only qualified academic."
A cruel joke? Hardly. The dean had the foresight to take in these four young men and tutor them for an external degree with the University of London. "If not for that none of us would have gone beyond (that episode)," Peter goes on to say. "My point in this whole story is God's grace in protecting us."
Today, they each have a string of academic credentials after their names – a testament to God's watchful eyes roaming throughout the earth and settling on them (2 Chronicles 16:9).
Redemption's purpose
The long road took them to 1977, when they registered officially as Eagles Evangelism with Peter as the first full-time staff member. The organisation is now called Eagles Communications, and is known for shoring up the pillars of leadership, communication and spiritual formation in the wider community.
Age has given them the benefit of seeing how God is absolutely the keeper of all things unexpected. Peter shares: "Many of the things we dreamt about as teenagers came true. Even in the in-between years when we had more existential cares and concerns, God revisited every one of those dreams."
The list includes:
the Eagles Mediation and Counselling Centre, birthed out of their desire to address the hurts of society. It is now an independent affiliate, with National Council of Social Services and Institution of Public Charter status
a slate of programmes aimed at grooming the next generation for the future – namely the Emerging Leader Development Programme (ELDP), Eagles Leadership Conference (ELC) and the Younger Leader Development Programme (YLDP). This burgeoned out of their continuing burden of stewardship 
missional aspirations taken forward in global partnerships that include The Amber Initiative
the dream of having their own building, realised twice over. Before the current headquarters at Bukit Merah Central, they owned a squat little icon along Boon Tat Street in the heart of the Central Business District, on which, Peter states: "We made all the commitments with zero in the bank."
Welcoming guests to their 40th anniversary celebration at the Ritz-Carlton 10 years ago, John had asked Peter about the fundraising efforts for their office facilities: "So, are you confident we will be able to pay all this money in a week's time?" Peter replied: "I don't have any anxiety. That's God's problem."
"My passion is evangelism. To share the faith. To share Christ, more than anything else." – Peter
That night they collected over a million dollars, which was more than enough for their first down payment. "I didn't lose a wink of sleep over it."
Peter is matter-of-fact. "Until you experience that sort of provision, you will not lead a carefree life. This whole sense of God's providence is very real because of what we have been through. It doesn't matter to me even if my bank account sinks to zero."
Without a second thought, he stepped aside in 2014 to facilitate leadership succession. Michael is now president. John is honorary chairman of the board of governance, and William is executive vice president.
But the fuel to their fire hasn't changed. At age 64, Peter still says: "My passion is evangelism. To share the faith. To share Christ, more than anything else. To be able to intersect people in life with a faith that is very relevant to the challenges of life." (1 Corinthians 9:22).
Uncertainty has unction
The unshakeable core comes from having been strengthened through life's vagaries. William's diagnosis of prostate cancer was "initially a shock", he shares, but he was able to have his surgery in a private hospital here, although treatment options abroad had to be explored. In the turn of a night, he was given an upgrade from a four-bed room to a single-bedder, and many of his charges were waived too.
"I didn't ask for all these things. God opened those doors. I can't imagine that." – William
"I didn't ask for all these things. God opened those doors." Fifty-one then, with his two children still in school, he was completely at a loss. "It was a very painful experience, and I really cried before the Lord.
"Eventually I surrendered to the Lord this whole process. I had a sense of peace, to know that every step of the way God has control."
He laughs at the memory, and is thankful he has been cleared of the disease.
They all have the capacity to grin broadly. The faithfulness of God is so real to them that there seems to be humour even in the decidedly sombre. For, "cure" is not a word Peter would use when he describes his heart fibrillations. Nothing can be done, and his cardiologist has warned that a stroke could happen at any time.
"What about the future? I don't know! Is that my problem?" He breaks out into a hearty chuckle, and Michael expands on the unsaid: "As long as we are alive and standing, whatever we are doing here, God's will be done."
And that is no laughing matter. At 50, the Eagles are soaring still, on God's crazily eternal wings (Isaiah 40:31).