Then he called Him: "Father"
In the lead up to Father's Day this week, Salt&Light celebrates the heart of the Father in the men in our lives.
Elder Jimmy Tan // June 11, 2021, 12:14 am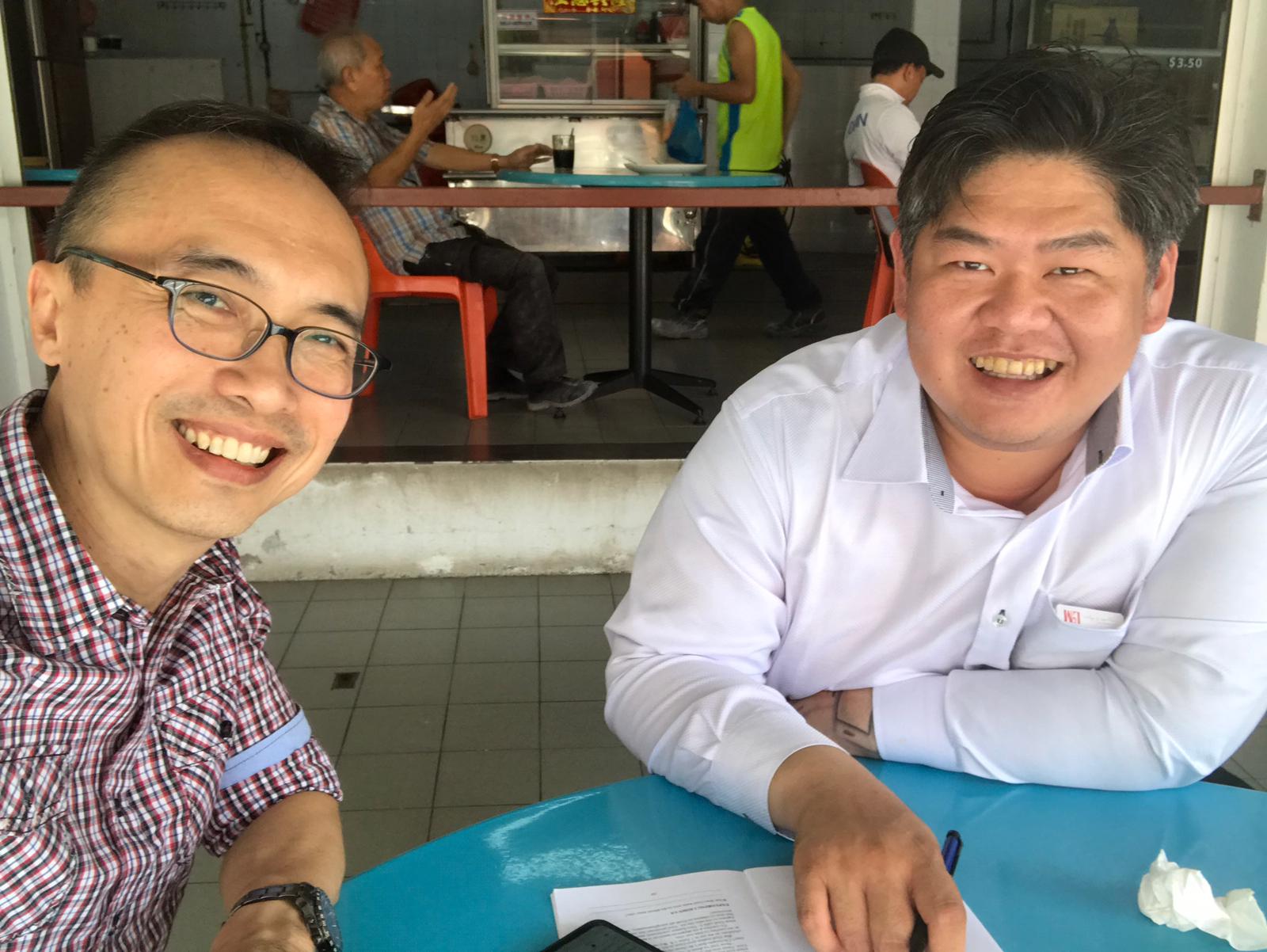 Elder Jimmy Tan (left) and Brother Lawrence (right) at one of their regular Bible Study sessions. On the Sunday they first met in 2018, Elder Jimmy had prayed that Lawrence would come to know the Father's love. All photos courtesy of Jimmy Tan.
I still recall the day and time that Luke Roy excitedly waved me over to welcome his new friend, Lawrence Goh.
I was still in the church sanctuary and it was just after Good Friday service on March 30, 2018.
I honestly couldn't run from the bubble thought that formed immediately. As I extended my hand to shake Lawrence's, my thoughts were anything but welcoming. "This guy sure looks big, strong and … um … unfriendly." 
I had not met a more broken man. 
As we sat together with a few others who were also in the limousine driving trade, Lawrence, at Luke's urging, explained why he needed my prayers for his health and finances.
I learnt later that he had once owned fast cars but two strokes changed all that. Now he just wanted to be a limousine driver as he was struggling to settle his home mortgage. To renew his driver's licence meant he needed to clear some driving assessment but he was afraid his now weakened form might pose a problem.
I prayed that the Lord would bless and grant him his requests. I remember also praying aloud that Lawrence would ultimately experience God's love. 
I admit I was tempted to think this was merely a fair weather kind of prayer request. I did appreciate that it took some faith to come all the way to church to ask for this prayer. But, my own faith in God to answer that prayer was tested when, just after praying, I noticed the effects of his post-stroke condition.
He was clearly limping on one leg as he walked over to breakfast at the area next to the sanctuary. 
"How to drive, like that?" I wondered.
But what also struck me was that Lawrence hadn't been smiling one bit, not even when I took a wefie.
Looking at his face, it was as if all the lights in our church sanctuary had collapsed into an inescapable black hole in his heart.
I had not met a more broken man.
Kopi and Scripture
For sure he was amazed (as I was, though clearly rebuked for my lack of faith) when he later told me he'd cleared the tricky driving reassessment. He started to work and earn a living. 
And as it turns out, Lawrence was no "fair-weather fan" of Christ, as author/pastor Kyle Idleman would put it.
Lawrence soon followed Luke Roy to fellow Elder Joshua's cell group and subsequently prayed to ask Jesus into his life. 
And when baptism lessons were announced, Lawrence signed up and was baptised on August 26 that same year. Those present saw that God's light had returned to Lawrence's face.
Around this time, I felt prompted to invite him for weekly one-on-one Bible study. Without hesitation he said yes, but wondered if he could find the time.
The initial meetings were start-stop affairs. If he wasn't busy driving, he was tired from the long hours he demanded of himself to clear his mortgage.
Now and then, he would turn to me and say: "Ah, somehow now I get it." 
A breakthrough came when he decided he would time his work such that he could ferry his mum to our Chinese Ministry's Evergreen Fellowship meetings on Wednesdays. He said he had two hours to kill over brunch or kopi. 
The Navigators material we used, "Lessons on Assurance", has five lessons usually covered in as many weeks. But after a year, we had just managed part of Lesson 3.
You see, his post-stroke condition meant it took more time for him to digest and discuss the questions. It had impaired his mental acuity. But he persevered, and I settled for just the next Scripture reference in that study to highlight in our kopi session together.
The unexpected benefit was that it left us with ample time to have heartfelt conversations prompted by the topic or verse, as well as heartfelt chats about his life and struggles.
And I never came away without learning something from him as well. Now and then, he would turn to me and say: "Ah, somehow now I get it."
A tithe
Best part was, as his spiritual hunger grew, the fog in his mind started to clear! 
Once, he excitedly told me what happened when he took the advice of those who had undergone the financial stewardship course called "Compass: Navigating Your Finances God's Way".
Though he was still struggling with outstanding debts, he had decided to give God a regular tithe based on his average earnings. He said the Lord then sent him even more business! 
I probed if he would still be rejoicing if his finances didn't prosper. Without missing a beat, he looked me in the eye and blurted: "I don't believe in God for material prosperity, okay!" 
A few weeks later, he shared how the Lord challenged him, through Luke Roy, to keep the Sabbath instead of taking limousine jobs on Sunday mornings. Again, he obeyed God and came regularly for 8am service.
"I don't believe in God for material prosperity, okay!" 
Once more, he said business flowed his way. He'd insist: "Bro, I just can't explain it!"
When the Alpha Course was organised in 2018, he signed up without hesitation on top of weekly commitments at cell and our kopi BS session. The Lord encountered him powerfully at the weekend-away session on the Holy Spirit. He forgave his late father who had divorced his mum when he was born. He said he was compelled to obey during one prayer ministry time.
The most thrilling spiritual transformations were still to come. He had been bringing his mother to Evergreen Fellowship for many weeks but it seemed she was not open to the Gospel.
During our lesson on obstacles to answered prayer, I probed if he knew why she was resisting. He candidly told me that he still hated her; he blamed her for her part in the broken marriage to his dad.
Right there, I gently challenged him to forgive her, for I sensed that was probably a hindrance to her being open to Christ.  
I could see in his eyes that the Holy Spirit was again at work, convicting him through the Scriptures shared earlier. To his credit, he said that, while he honestly struggled at the thought of forgiving her, he would consider it seriously.
Before long, he did decide to forgive his mum. And he told her so.
When sisters from Evergreen later visited her to share the Gospel, she gave her life to Christ. One could see her previously dour demeanour also changed. She would later testify, at her own baptism, that she believed because she had seen the transformation in Lawrence.  
The first Father's Day
Right after our Father's Day online service cum Zoom on June 21, 2020, Lawrence texted me saying he felt his heart clearly warmed by God's love.
He sent me a blurb of a testimony and prayer, which he asked me to edit and share with anyone I saw fit. It conveyed:
"I never had a father from birth. Never knew his love. Never celebrated Father's Day. But today at the online service, I felt something change. I experienced my Heavenly Father's love for me. So … this Father's Day is for you, God."
I could only be in awe. I recall my perfunctory prayer for him the Sunday we first met, which included a plea that he would know the Father's love. 
"I never celebrated Father's Day. But today I experienced my Heavenly Father's love for me. So … this Father's Day is for you, God."
And though we know no-one else could have engineered God's workings in Lawrence's life, his life was no longer the same the moment it clicked that he belonged to His Heavenly Father.
For what other powerful motivation could rival that which the Holy Spirit impressed on Lawrence personally (Romans 8:16) fuelling the way he would in turn respond by "working out" his salvation (Philippians 2:12,13)? 
Didn't Paul, in the same breath that he prayed for the Spirit's power to strengthen the Ephesians so that Christ may dwell in their hearts by faith, also pray that they (and we) may grasp the incalculable dimensions of the love of Christ (Ephesians 3:16-19)? 
This is undoubtedly a needful spiritual milestone not just for Lawrence, but for me and all of us.
For sure, there were things Lawrence still struggled with, like smoking. He smilingly told me not to lecture him because he childishly said that would only make him rebel. But he quickly chuckled and said I could check on his progress anytime. One day he proudly reported he had managed to cut down on his smoking. 
During the Circuit Breaker of 2020, his income, like that of all limousine drivers, went south. Yet I realised he never once doubted his Father or accused Him of wrongdoing. 
In fact, because he had more time between assignments, he told me that he even managed to share his Christian journey with a client whom he sensed needed a listening ear.  They chatted into the night, the limousine parked somewhere.  
Another time, another driver questioned him about why God did not bless him more materially. He would tell me how he tried to correct him and asked me if he had said the right thing.
From his answers, I could see he was growing in biblical confidence. 
Til we meet again, my little-while friend
The week our conversations and texts came to an abrupt end, Lawrence had just given me tips on where to repair my car. (Yes, how I wish our last exchanges were about something less trivial.) 
Lawrence collapsed at home on the morning of July 12, 2020, from a third stroke, this one so massive he never regained consciousness.
And as much as many of us prayed and pleaded for a miracle, the One to whom Lawrence wished "Happy Father's Day" chose to call this child home, 10 days later on 22 July. 
As I counted the 28 months since we first met, it dawned on me that Lawrence's discipleship seemed fast-tracked in those two plus years.
Lawrence had indeed turned from being like "sheep going astray" towards the "Shepherd and Overseer" of his soul.
Still, I protested his abrupt demise: "But Lord, we didn't even finish our Bible study!"
I sensed the Lord's gentle, but clear, rebuttal: "You think your Bible is ever completely studied before you meet Me?" 
It hit me that God was pleased to take him Home – not because Lawrence's work (and Bible study) on earth was done – but because God's work in Lawrence here was done. 
I mourned his demise as did his mum (who subsequently followed his example and got herself baptised), his remaining sisters, Luke Roy, his cell group, the brothers and sisters in our church's limousine ministry and a host of friends I never knew he had, who turned up at his wake service despite the pandemic restrictions. 
And even though it's been almost a year now, I still think of our times talking about God and life. 
In my head, I know I can rest all my what-ifs in His perfect will and way.
In God's amazing grace and sovereign ways, Lawrence had indeed turned from being like "sheep going astray" towards the "Shepherd and Overseer" of his soul (1 Peter 2:25). 
But my heart still felt the loss of something precious. 
When my daughters were little, Monika, my wife, brought home a children's story book called, "Orlando's Little-While Friends".
Written by Audrey Wood, it's a charming tale about how a boy befriends many total strangers while on a road trip holiday with his parents. When his parents left one pit-stop, Orlando would say his reluctant goodbyes. But initially-shy Orlando was forever changed by these encounters. In the final twist, Orlando returns from that holiday to discover that one of his "little-while friends" had just moved in next door. What joy! 
Well, Lawrence did seem like one such friend. 
But we already know, don't we, how all our "little-while friend" stories will end?  I'm confident because our Father God says these reunions will happen, not coincidentally, but "in a little while" (Hebrews 10:37). 
See you for kopi on that Day, Lawrence. Now where were we in Lesson 3?
---
A condensed version of this article was published in READY (Issue 10), a publication of Bethesda Frankel Estate Church. Edited for Salt & Light.
---
MORE STORIES ON THE FAITH OF FATHERS:
Learning to accept my son's autism: A father's continuing journey
If you have enjoyed reading Salt&Light...
We are an independent, non-profit organisation that relies on the generosity of our readers, such as yourself, to continue serving the kingdom. Every dollar donated goes directly back into our editorial coverage.
Would you consider partnering with us in our kingdom work by supporting us financially, either as a one-off donation, or a recurring pledge?
Support Salt&Light