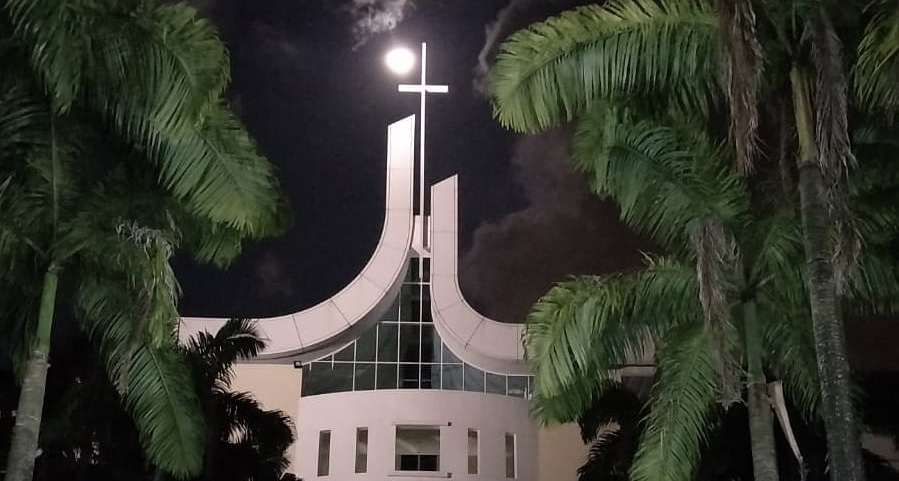 The idea for Trinity Theological College was conceived when 54 Protestant pastors and missionaries were thrown together as prisoners of war during the Japanese Occupation of Singapore. Its motto, "Lux Mundi", means "Light of the World" as it reflects the light of Christ to the world around us. Photo courtesy of Trinity Theological College.
World War II was a dark episode in Singapore's history, with conservative estimates putting the number of people massacred during the Japanese Occupation at 50,000 to 60,000. Sir Winston Churchill, then the British Prime Minister, even called the fall of Singapore on February 15, 1942, the "worst disaster" and "largest capitulation" in British military history.
In Singapore alone, 16,000 British, 14,000 Australian and 32,000 Indian soldiers were taken prisoner. European civilians were not spared either. More than 2,500 civilians and prisoners-of-war were held in Changi Prison, which was designed to hold just 600.
But even in our darkest hour, God was at work.
Among the POWs were 54 Protestant pastors and missionaries. Those interned at Changi Prison almost immediately started running combined services.
Three clergymen were spared, thanks to an Anglican Japanese officer Andrew Ogawa. This allowed St Andrew's Cathedral to remain open to other churches for ecumenical services. 
It was also in Changi Prison where the idea to establish a united theological college among the Anglican, Methodist and Presbyterian denominations was birthed. (The Lutheran Church joined as one of the governing churches of the college in 1963.)
Light of the World
This is the reason the motto for the college is Lux Mundi, Latin for "Light of the World".
For in the crucible of despair and defeat, God shone a ray of light, which led to the birth of Trinity Theological College (TTC) in 1948.
During WWII, God shone a ray of light among the POWs which ultimately led to the birth of Trinity Theological College in 1948.
This year marks the 70th year of TTC's founding, effectively making it the oldest theological school in Singapore. The college celebrated the milestone with a series of symposiums, an anniversary service, as well as a heritage trail.
As God had conceived the college in the darkness of the dungeons, the college wanted to remember its ministry among former offenders; Jesus' ministry has always been one which included those on the margins of our society, the forgotten or the forsaken.
This year, TTC set a fundraising target of $70,000 to finance TTC studies for former offenders who are keen to pursue theological training. The target was met through donations from alumni and friends of the college. 
The promise
Pastor Daniel Lee of Hope Presbyterian Church was one such beneficiary.
He shared his story with TTC alumni and members of the public who walked the TTC Heritage Trail together on October 4.
Lee had had a difficult childhood. He lost his father when he was two and his mother when he was 13. This catapulted him and his older brother into a life of crime and drug addiction, during which time he was in and out of prison.
In 1995, at his fifth conviction, he was sentenced to 22 years and 15 strokes of the cane for drug trafficking. He had narrowly escaped the death penalty. But in December 1996, the hard man finally broke, on news that his brother has been dealt the death sentence.
"That night in December 1996, I was at my lowest, to the point that life for me … it was nothing. I didn't want to live for tomorrow," he revealed.
He hatched a plan to take his own life. It had to be carefully thought out because he was a high security prisoner due to the severity of his crime. This meant his cell lights were on 24 hours a day and a prison warden would come by hourly to check on him.
"Is this the real God that really, really can give me hope to press on for another night?"
But, as he lay alone in his cell waiting for the right moment, he heard a song arising from an empty courtyard. A choir was singing "Amazing Grace", followed by "一件礼物" ("A Present").
"Is this the real God that really, really can give me hope to press on for another night? Is there really a gift of life for me?" he wondered.
The songs eventually brought him to his knees, crying.
"I hadn't cried for many years because, as a gangster, you need to be strong. You can be chopped by a chopper but you cannot cry. You can shed blood, but you cannot shed tears.
"I cried like a baby for more than half an hour. I knelt down, and I said, 'If You are a God, You're going to hold my hand and lead me through tonight and one day at a time till my release at the age of 44.' I was 31 then."
And He did.
Lee's faith deepened when he was gifted with a Bible.
He decided to study for his 'N', 'O' and 'A'- level GCE papers, and did so well that he went on to tutor others in prison.
"I want to be an encourager to the prisoners and even to the wardens."
God had changed Lee so much that he wanted to pursue theological studies upon his release in 2009. But, lacking the financial means, he shelved the idea. In 2011, God opened the door for him to study in TTC on scholarship.
He went on to graduate in 2015 and has been serving in full-time ministry since.
"This is all God's leading, God's providence and God's protection on me not to fall back to my old ways. He continued to sustain me in my ministry," said Lee.
"I told God, 'If You equip me and prepare me, I want to walk in the prison and out of the prison without trackers, without handcuffs. And be an encourager to the prisoners and even to the wardens."
Today, he is active in prison ministries and still regularly tutors incarcerated youths.
Since its inception in 1948, TTC has seen 2,400 theological graduates pass through TTC's doors. They have gone on to be missionaries and pastors of numerous churches in and outside of Singapore.
At the ripe age of 70, TTC is one of the most established theological colleges in the region.
To think that the seed of the college was planted among Protestant POWs thrown together in the dark days of war. God's story is indeed written in unexpected ways.
"The light shines in the darkness, and the darkness has not overcome it." (John 1:5) 
If you have enjoyed reading Salt&Light...
We are an independent, non-profit organisation that relies on the generosity of our readers, such as yourself, to continue serving the kingdom. Every dollar donated goes directly back into our editorial coverage.
Would you consider partnering with us in our kingdom work by supporting us financially, either as a one-off donation, or a recurring pledge?
Support Salt&Light