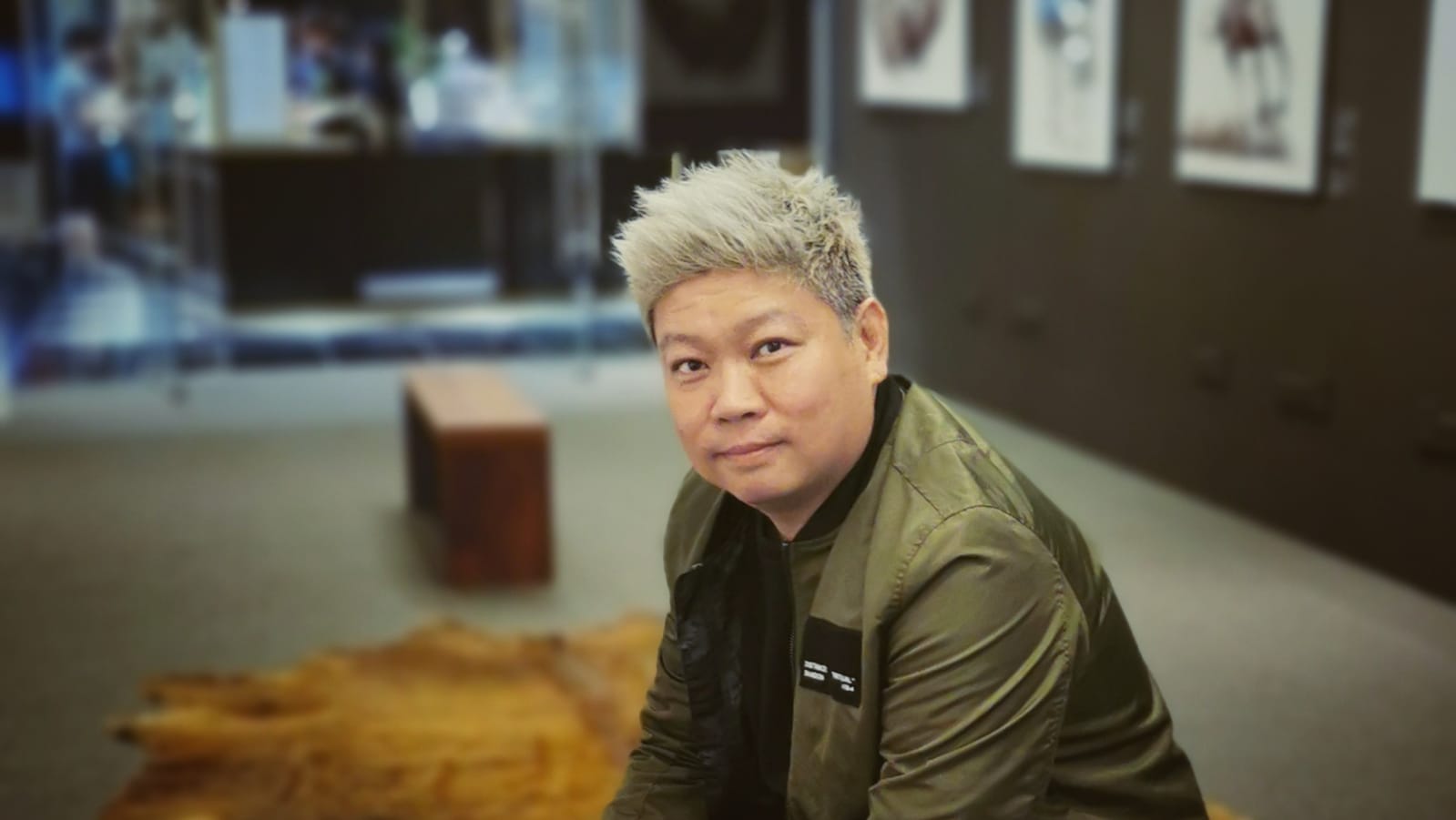 Patrick Lee took up the artist name of "Patrick Bezalel" not only because Bezalel was a master craftsman in the Bible but also because the name means "in the shadow of God". All photos courtesy of Patrick Lee.
Patience – some people develop it by going fishing, others learn to take deep breaths in long queues. For Patrick Lee, it's drawing hyper-realistic images stroke by stroke, amassing thousands of painstaking strokes over hundreds of hours in one image.
Three years ago, he felt God telling him: "Son, I want you to train your patience."
A creative director in his church then, Lee thought that he was already quite patient with other people and was quite puzzled over what he heard from God.
"He just told me, 'Why don't you start drawing?'" the artist recalls.
Lee, 47, was trained in graphic design and used to run a creative and branding agency before working in church. He had always been in the design industry, not art, even though being an artist was a childhood dream. And while he's sketched before, he's never attempted anything realistic with a lot of details.
Still he obeyed, albeit reluctantly.
"I was a bit rebellious, so I drew a human skull since I've never done it before," he says sheepishly. "But the verse that came to me after I finished it was, 'Death, where is your sting?'"
"If you lose patience, you start to lose your edge and you lose everything."
That began his foray into Christian art. As he moved on to more complex drawings, he began to understand what God meant by training patience.
In advertising and branding, speed is key to success. "But in fine arts, you can never do 'fast, quick, effective' because you'd be rushing work and, technically, you should be taking the time you need to produce the best piece of work.
"Every time when I rush, God will say, 'It's okay, close the iPad, continue your work or do something else.' It's very gao wei (Hokkien for uncomfortable) to have to force myself to stop."
Lee was used to finishing his tasks at one go, no matter how long it would take. He never liked having to start, stop and start again. It took him a few months to break this habit and he always remembers a caution from God: "If you lose patience, you start to lose your edge and you lose everything."
Keep on the path
After working in church for 10 years, Lee decided to become an artist in 2017 to spread the Gospel through art while still being "a full-time volunteer in church". (In fact, he was part of the team that came up with the "Hope is…" publicity for the Celebration of Hope.)
In the early days, when he only had a website, sales was slow and he got frustrated. One night, he dreamt of Proverbs 3:5-6. He knew it was the Lord because he could remember every word and it's only happened to him once before.
"The Lord was preparing me and reminding me to trust in Him with all my heart and not swing to the left or right but keep on the path, which is Bible-based art," he recounts.
Today Lee has a studio and gallery in Eunos, as well as a pop-up gallery at Millenia Walk that might be extended past March, God willing.
"The Lord was reminding me to trust in Him and not swing to the left or right."
Although his art is based on Scripture, he wants to make it accessible to the mainstream so he stays away from the usual tropes of "clouds, the Cross, blood" commonly seen in Christian art.
Instead he creates hyper-realistic drawings of animals such as the lion, ram or horse in his first series. In his second series using resin art, he explores what various Bible occurrences would look like "from above". Each artwork comes with an augmented reality experience, which not only brings it to life but also gives customers a peek into how it was made.
Lee believes that this style of art would be more effective in spreading the Good News, adding that a number of his customers are not Christians. One of them, a 29-year-old man, walked into the gallery one day and bought a print of a horse straightaway. Through conversations, Lee found out that the young man has cancer. They remain in touch, with Lee attending his birthday party and praying for him on a regular basis.
"Don't ask me to go church"
Lee's journey to knowing God actually began with his wife, Lily Chia, 47. While both of them started the creative agency together, it was Chia who was managing it. By 2003, she was getting increasingly stressed by expansion plans but remembered from a childhood visit to a church that there's a God.
God, if you're real, show me, she prayed. A colleague, whom they did not even know was Christian, put The Purpose Driven Life book on Chia's desk. She was about to chuck it aside when she remembered her prayer. Subsequently Chia went to the colleague's church and accepted Christ.
Meanwhile, Lee continued to be rather anti-Christian because of some bad experiences and told her: "Don't ask me to go to church. I'll go play my golf, you can go to church."
"God if you're real, show me."
At that time, the church was undergoing a rebranding exercise and ended up appointing their agency for it. The pastor in charge of the project suggested that the best way for Lee to know the brand was to attend the services.
And he did. For two months, he attended Sunday service and Bible studies every week, all the while reminding himself not to get brainwashed.
The time came to present his proposal to the senior pastor, who started preaching the Gospel to him as they discussed the branding. By the end of the three-hour business meeting, Lee accepted Christ.
Learning to read
As Lee grew and served in church, he started leading the youths and would often share his experiences with them – be it his life experience or a near-death experience during which he fell from a parachute and broke his spine.
Then he heard God telling him: "Son, I know you have a lot of life experience but your experience can be biased. Only my Word is truth."
And he realised how spot-on that was. For example, in the perennial Apple-vs-Samsung debate, we will always argue in favour of the phone we own or have experienced, he explained.
But there was just a slight problem – Lee couldn't read. He scored an F9 in school for English. When he and Chia were dating, she tried to encourage him to read by getting him the children's version of The Little Prince – "the one with big pictures and a few lines of big text per page".
"Because I read so slow, word by word, I started to get a lot of revelation from each word."
"I couldn't even finish it. By the time I got to the second page, I couldn't remember what was on the first page," he says with a chuckle.
Chia then sent him for private English lessons at a tuition centre, which assessed him to be at the Primary 3 level.
"It was very humbling. All these Primary 3 pupils would come out after their class and I would go in for mine," Lee says. He was 32. The lessons didn't last long as he got too busy.
But once he was convinced that he needed to read the Word, he started by using the audio Bible. He would listen to the New King James Version while using his bookmark to follow along line by line.
After the first four books, he felt unfulfilled as he wasn't getting revelation from what he was listening to. He decided to read the Bible for himself instead, setting a goal of two lines per day.
"Because I read so slow, word by word, I started to get a lot of revelation from each word. God used my weakness to become my strength," he muses.
Now that he's reading faster, he has to remind himself not to rush when reading the Word, saying: "It's not about covering the ground but how much I understand and how deep I can go."
In the shadow
Coming from a humble background, where electricity cuts were the norm, Lee never liked studying and he mixed with gangsters because his family was in gangs. When he enrolled into the Nanyang Academy of Fine Arts – barely scraping through with three O-level passes – he had to borrow money from his loanshark relatives to pay the school fees.
Because of how the grace of God has brought him through, he feels compelled to give back. He hopes to start a media school to reach out to the "lost, last, least and poor" by giving them art skills. It will not be a secular school but will prominently feature Bible classes alongside art and design lessons.
In the meantime, Lee is guided by Leviticus 19:9-10 in his giving – both he and Chia will pray and agree on who they should give to each month. With Israel occupying a special in their hearts, a substantial proportion of their giving goes towards Messianic ministries there.
"It's the art that spreads the Gospel, not me."
Even the artist name that Lee has taken on – Patrick Bezalel – has a distinct Hebrew ring to it. Initially he didn't want his name on it, he said, but soon realised that people follow artists not galleries.
And he'd always aspired to be Bezalel, the master craftsman who is filled with "the Spirit of God, with wisdom, with understanding, with knowledge and with all kinds of skills" (Exodus 35:30-34).
Upon deeper study of the name, which means "in the shadow of God", Lee understood why God asked him if he really wanted to be Bezalel.
"I knew He was saying, 'Your art can travel, but not you. You'll be in the shadow but the work is the one that goes out.' Bezalel is the artist, the guy who knows how to draw; I'm just Patrick," he adds.
"That's why I always say it's the art that spreads the Gospel, not me."