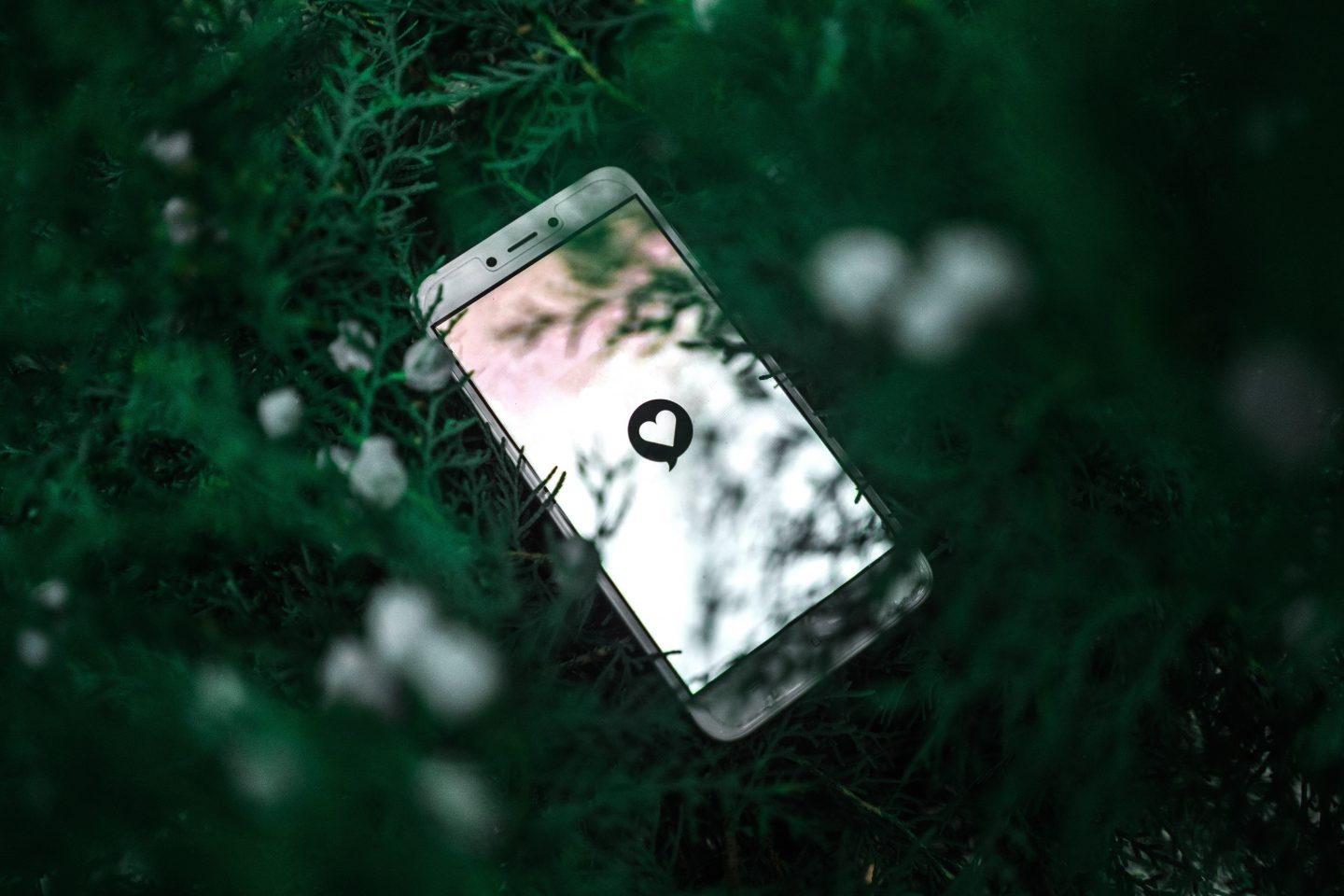 Photo by Pratik Gupta on Unsplash
As a Christian, using dating apps is not some "dirty little secret".
But while data from recent surveys by SingStat and the National Population and Talent Division (NPTD) in Singapore shows an increasing acceptance in society towards the use of dating apps, empirical evidence in churches hint at a more reticent view.
Salt&Light tracked down four Christians who were willing to share their experiences of using dating apps:
Online dating 
Jason Mandryk, who is in his 40s, was an early adopter of technology in his search for a partner, having joined dating websites more than 10 years ago. It was a logical and pragmatic choice, given his circumstances.
"I was using the internet a lot, so dating websites were not a strange transition."
Mandryk, who has lived in Singapore for several years, is a Christian researcher and the author of Operation World, a publication widely regarded as the definitive volume of prayer information about the world.
Before Singapore, Mandryk was based in a small town just outside of London, studying and collating data on the Church worldwide.
"I was using the internet a lot as a routine part of my work and ministry, so dating websites were not a strange transition," he said, adding that it gave him the opportunity to connect with a much larger pool of potentials than in his immediate community.
That opportunity is a common motivator for many.
Paul Shi, 33, is an Australian Chinese who moved to Singapore four years ago and works as ministry staff in a large local church with a vibrant young adult population.
"I meet many people in my role, but I'd much rather meet them on a social basis just because it creates a different dynamic," he shared. "The app was a way for me to get to know people outside my circle."
That was also a friend's advice in early 2015 to Stefanie Peng, a speech therapist, who was then 26 years old. Working in a female-dominated industry and having grown up in her childhood church, Stefanie found herself in a stagnating social circle.
Their interest in each other grew into love and respect.
Her first reaction to the suggestion was: "So weird!" But she soon bought into the idea after several match-made dates by her group of friends didn't work out.
It was almost two years before Stefanie connected with Jonathan Ho, 29, who is now her fiancé, in December 2016.
Jonathan was a relatively new user, driven more by his curiosity than the intention to meet new people – although he was keen on that as well.
After they were matched on a local dating app, Jonathan and Stefanie talked for almost two weeks before their first date. After several more dates over the next few months, their interest in each other grew into love and respect when they found that they held similar values towards God and life.
On January 1, 2019, the couple got engaged.
Involving friends and family
But the process of getting to know each other was not a private one.
On their second date, Jonathan invited Stefanie to join his secondary school friends when they gathered during Chinese New Year.
When she accepted, he was shocked. "I wasn't expecting her to come," Jonathan said.
"But I'd been given advice on this," Stefanie interrupted. Her friend had told her, a good way to evaluate someone was to observe them when they were with friends and family.
Mandryk agreed with that perspective. He shared that whilst dating a woman he had met online, they introduced one another into their social circles early on.
Online dating is merely another aspect of life that should be lived together in the fellowship of believers.
"I wasn't just some dating secret," he said.
His stand is clear: Online dating or not, be wise by staying accountable.
"It normalises the dynamic of online dating – especially when it is lived in the open rather than in secret. So treat it almost like you would any real life situation," Mandryk encouraged.
"Because, how many people out there, pastors, leaders or even 'normal' Christians end up having an affair or cheating on someone because of the temptation that comes from the internet?"
While he never kept it a secret, Mandryk says he did keep a lower profile in the past because online dating, an unfamiliar concept to many, often carried negative connotations.
These days, Mandryk goes through this journey with a Christian friend, who is also a user of dating apps. It is an informal sort of accountability that they hold each other to, as they talk about relationships and possibilities with Kingdom principles as the inviolable foundation of why they're searching in the first place.
To Mandryk, online dating is merely another aspect of life that should be lived out as part of the community of believers.
Reality check
But online dating, however, is not some magical tool to find that special someone.
On Valentine's Day this year, Mandryk posted a comment on Facebook.
He shared: "The statistical reality of the community of Christians in many (probably most) countries is that among the faithful, single women significantly outnumber single men."
Dating starts with friendship and a common commitment as a disciple of Christ.
The gap varies across countries, he says. Some are marginal, but others are startlingly pronounced. The proportion of regular church attendees in the UK is 70% single females to 30% single males. Whereas in Japan, the figures reported range from a 5:1 to 10:1 ratio – that means there are between 5 to 10 single females for every single male church-goer!
Mandryk notes that this reality Christian women are faced with is a "heart-breaking" one – especially for those who long for a "thriving, God-centred marriage".
Despite those odds, he remains a bachelor – though not for lack of desire nor eligibility.
Personal idiosyncrasies and preferences aside, Mandryk attributes the lack of matches to his age, values, and very specific calling in full-time ministry, noting that these have often been "constraining factors" in his search for a partner.
Paul, on the other hand, takes a different approach. To him, dating starts with friendship and a common commitment as a disciple of Christ. He has less expectations of potential dates, but holds himself to a few non-negotiable boundaries.
"Initially, I was hesitant, because I'd much rather meet someone as my best friend or ministry partner," he shared. Over time, his views changed and he started to see the dating app as "a tool that God can use".
The value of faith 
Staying true to your convictions and values takes intentionality and effort.
While Singapore falls on the spectrum of "marginal" gap – the latest national census showed that there is a close 1:1 ratio of male and female Christians – there is an ominous note to it.
"I was like, 'you know what, forget it. I'm going to delete this.' And then we got matched!"
According to the Statistics on Marriages and Divorces publication by SingStats in 2016 and 2017, just over 30% of Christians marry someone outside of the faith. That is almost one out of every three couples who do not agree with, or live by, the value of a shared faith in God.
Stefanie knows that feeling all too well – after spending almost two years on a dating app, with multiple experiences of being "ghosted" and feeling like her efforts at reaching out were unreciprocated, she was ready to give up.
"I was so sick of it," Stef recounted. "I was like, 'You know what, forget it. I'm going to delete this.' And then we got matched!"
But Stefanie had values that mattered greatly to her – she knew she wanted a partner who loved God and showed it through his actions. So even as they chatted, she held the connection loosely and watched closely.
As it turned out, Jonathan was not only actively serving in church, his ministry was so time-intensive that their lack of weekends together caused Stefanie some frustration.
Paul straightforwardly parallels the use of the app in the search for a partner to a search of one's calling: "If God has given you the gift of singleness, then be single. But you're not going to find a life partner by sitting around at home doing nothing.
"There is an element of participating, and of going out there."
"What the Lord thinks of a person is infinitely more kind, approving and affirming than your experience as online data."
Even for Paul, an extrovert by nature, constantly meeting and interacting with new dates soon became emotionally-draining.
While a dating app remains just a neutral tool, rejections – mostly passive "ghosting"  and a lack of "matches" – can take its toll.
As one who has kept up the effort for over 10 years, Mandryk's take on online dating is worth considering. He shared: "Take a healthy approach. Even if nothing pans out, remember who you are. Don't let your image as a child of God be shaped by your success rate or interactions.
"What the Lord thinks of a person is infinitely more kind, approving and affirming than any perceived worth that comes from the often cruel world of social media and online dating. Christian or otherwise, we get our identity from what God thinks of us – a transforming perspective we can get through Scripture and personal intimacy with Him. Our worth is infinitely greater than the sum total of 'likes and swipes' we receive."
Indeed, it is in this aspect that the Bible does speak to the experience of finding a life partner: "Do not be anxious about anything, but in every situation … present your requests to God. And the peace of God, which transcends all understanding, will guard your hearts and your minds in Christ Jesus." (Philippians 4:6-7)
For better or for worse, the use of dating apps looks like a trend that is here to stay. Whether or not its use becomes as ubiquitous and accepted as most forms of social media remains to be seen.
But as with most of forms of technology that has integrated itself into our daily life, this is probably one that is best experienced in community with God and man, guarded by the peace of God.
If you have enjoyed reading Salt&Light...
We are an independent, non-profit organisation that relies on the generosity of our readers, such as yourself, to continue serving the kingdom. Every dollar donated goes directly back into our editorial coverage.
Would you consider partnering with us in our kingdom work by supporting us financially, either as a one-off donation, or a recurring pledge?
Support Salt&Light