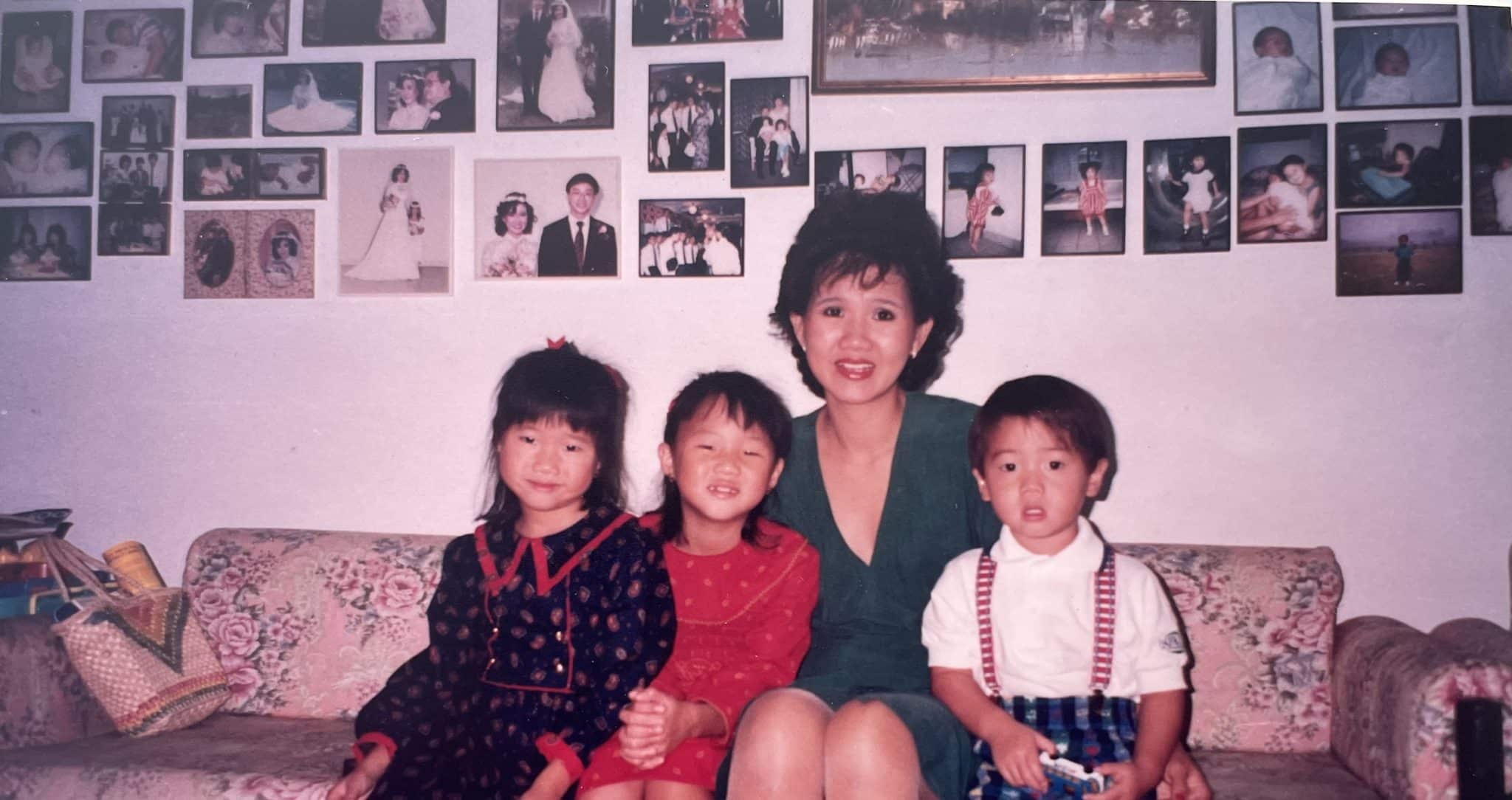 Alison Chong with (from left) Amanda, Lisa and Brandon when they lived at Raffles Hall. Youngest child Megan was not yet born when this photo was taken. All photos courtesy of the Chong family, unless otherwise stated.
"Class of 1979, Student Councillor
She gave up every likely success,
but her arms were always full."
So wrote lawyer, poet, playwright and social justice advocate Amanda Chong in an ode to her mother, Alison Tan.
Entitled 'Yearbook', the tribute was penned and published in 2016, years before she received the Her World Young Woman Achiever 2022 award. In her acceptance speech at the awards dinner last October, however, Amanda went on to pay public tribute to the woman on whose sacrifices she stands, sharing that mum's life "played out very differently" from what her Hwa Chong Junior College class of 1979 classmates had imagined.
"She didn't end up in any boardrooms, or any positions of leadership. Instead, she gave up her career in banking to raise four children, and for the rest of her life filled in forms with 'Housewife' as her occupation."
It was "practical"
To Alison's mind, the sacrifices for her family were simply birthed out of "practicality" rather than any notion of heroism.
When she stopped work in August 1990, Amanda was a year old and her older daughter, Lisa, two-and-a-half. They lived in Raffles Hall at Kent Ridge where her lawyer husband, David Chong, was then a fellow of the National University of Singapore (NUS).
It was a distance from kindergarten and the other activities their children would get involved in. "Imagine what time the school bus would need to pick the children up!" Alison told Salt&Light. 
As David did not drive, they had to make a decision. "It was either he learn to drive, or I stop work. And he cleverly picked that I should stop work!" she said in jest.
A good friend of his said that if he had to make the decision, his wife would stay at home. Alison countered: "But I said, 'My mum was a working mum, and we turned out okay!'" Her mother had worked a clerical job at an international petroleum company.
"It's not about turning out 'okay'. It's about being there to know your child."
The man, the family's pediatrician, explained: "It's not about turning out 'okay'.
"It's about being there to know your child, to stimulate them to bring out their best, to help them reach their full potential." 
Alison sensed this perspective was of the Lord and His direction for her.
She had been driving back and forth from the bank during her lunch break every working day to spend time with her two daughters. It didn't feel like it was enough.  
The turning point
Asked if it was easy to give up her job, Alison shared that she had asked herself: "If this was the last year of my life, what would I want to do?"
Her answer was: "It was definitely to be with the kids.
"There was no looking back. When God leads you, you just go and don't look back." 
Adding that not everyone is called to be a stay-home mum, she acknowledged that "not everyone has that option of giving up work" either.
"There was no looking back. When God leads you, you just go and don't look back." 
"Thankfully we could do with less. And anyway, my income was not that much."
While the decision was one that gave her peace, her older relatives were "very disapproving" that a graduate would give up her work. Alison had majored in Economics and Sociology at NUS.
"Women of my mother's generation worked if they wanted the income. When I stopped, I was asked, 'Why don't you want the money?'"
But one relative would later do a U-turn when her own grandchildren came along and admit that Alison had done the right thing. "She saw that it was something that God by His grace had permitted."
Foundations of faith
Born into the Christian faith, Alison and David "definitely" wanted to introduce their four children – a son and another daughter soon came along – "to God and Jesus, so that He's their help in their life".
Maximising whatever little time they had together in the mornings before they went off to school, Alison gave them Bible devotions to read over breakfast and put memory verses in their wallets.
Amanda told Salt&Light: "My mother made us memorise a lot of memory verses and things like the order of books in the Bible. And she would test us. When we were walking from the house to the carpark, we would recite all the books of the Bible."
Within their home, there were (and still are) crosses at every turn, to "consciously help the children to remember the cross", Alison said.
When they started using computers, she stuck Bible verses to their work stations and put up signs that said "God is watching", shared Amanda, laughing at the memory. 
"My husband and I just wanted the effort and diligence. We didn't want shoddiness."
Before exams, Alison would encourage them with cards that read: "Do your best. God will do the rest."
Her counsel: "You cannot demand of your kid, 'I want four A stars.' How can that be? You break the kid. Every child is different.
"I learned by God's grace that actually it's Satan who is always attacking relationships. For instance, if I just focused on academics, the relationship would would be broken and I will lose my chance to influence them.
"My husband and I just wanted the effort and diligence. We didn't want shoddiness. It was more character training. God called you to be a student, you be the best student you can.
"God said, 'Well done, good and faithful servant' – not 'successful' servant."   
"Altar of stones"
Driving her children from place to place, Alison had the habit of praying for them in the car.
On long rides, they listened to audiobooks – an extension of the value put on reading. 
"Very militant," Alison admitted. "Bible stories in Chinese on the way to school, and a wider range of English stories, including The Chronicles of Narnia, on the way home."
At one point, she was chalking up 1,000km a week, ferrying the kids to four different schools and their various activities. 
One of her children had swimming training 11 times a week. When Amanda was accepted into the GEP (Gifted Education Programme) in Primary 4, she had to move to a different school from Lisa.
Alison's son, Brandon, was in yet another school. Her youngest child, Megan, was in a Montessori programme. 
"Driving 1,000 km a week was no joke!" Alison said. But it was her way of stewarding the talents they had been given. 
The fruits of those long roads travelled now line the wall of the staircase in their home. Newspaper articles, accolades and photos have been framed and mounted. There is also a cabinet creaking under the weight of a plethora of sporting trophies and medals. 
"Your perspective changes when you know God better and trust Him more."
The collection represents Alison's "altar of stones" to God.
Amanda has been winning awards for her writing and poetry from a tender age, for instance, including the Commonwealth Essay Prize 2004 when she was 15 – in the category for 16- to 18-year-olds.
A poem she wrote at 16 is engraved on the steps leading to the Helix Bridge and included in the Cambridge International GCSE syllabus.
"I think your perspective changes when you know God better and trust Him more," Alison reflected. "And how do you know Him, but to study His Word?"
Minds renewed
It was in 2001, when Alison was 40, that she and Lisa started attending BSF (Bible Study Fellowship) together. Alison subsequently became, and still is, a facilitator.
The effect was transformative. Their helper, who has now been with them for 23 years, noticed that Alison became less "kan cheong" (Cantonese for harried) and shouted less.
"You're not the one in control. You trust in His love for each of your children."
Even Brandon noticed that mum was calmer on the road. 
Said Alison: "I learnt to surrender and depend on God.
"You're not the one in control. You trust in His love for each of your children; you can't control them.
"That helped me a great deal as the children evolved into teenagers."
Answered prayer
Reflecting on her growing up years, Amanda offered that faith was very much part of their family's daily life. "When you teach your kids these things, you can only pray that they land somewhere.
"Whether your child actually comes to have their own relationship with God, and the extent of that, is outside of your control.
"But when you do have this kind of foundation, all these verses will come to 'haunt' you.
"I think all of these were important factors in terms of leading me back to what it meant to really fully follow God."
For most of her 20s, Amanda was a "nominal" Christian who only had "a vague consciousness of God and no real interest in engaging further or being part of a church".
But thanks to her mum's efforts, "I had a certain level of fear of God, even if I wasn't fully committed to the faith.
"I think that that came from childhood, where there was also a certain Christian worldview that had been imprinted into me.
"So I always believed that there was a God.
"My mum did not judge my decisions at that point of time, even if they may have differed from her Christian values. She persistently prayed that God would send people to minister to me.
"When I was going through a very difficult time in 2017, a colleague reached out to pray for me and I had a powerful encounter with God, which led to me getting baptised.
"This was a direct answer to my mum's prayers."
The "Mum van"
After her children were older, Alison's car went on to host "car fellowships". She used it to ferry physically and journey spiritually with people from her church, Barker Road Methodist Church, who had cancer or become widowed.
She would also befriend single mothers living in one-room HDB flats, and Amanda would tag along to help babysit their children when these mothers went for counseling.
"Befriending was something I learned through Vivian Navaratnam, the counsellor at BRMC," said Alison, who had wanted to study social work in university initially but was thought not to be suitable.
"She taught us that befriending was not going in to solve the problem, but standing with them was empowering. So it's just what I've been doing."
Mother and daughter paired up again for BRMC's ministry that reaches out to women who are HIV-positive, most of them migrant wives of Singapore citizens. 
"I befriended them, learnt about their experiences navigating life in Singapore and ended up writing my thesis on how this group of women interacted with the laws here.
"My research process was grounded in listening to these women tell their own stories. That was definitely inspired by my mum because they were all my mum's friends and that's how she relates to them."
Smiling, Alison quoted Ephesians 2:10, "For we are God's handiwork, created in Christ Jesus to do good works, which God prepared in advance for us to do."
"It's all God's grace," she said. "He has 'good works' prepared. He saved you to serve Him, not to do nothing.
"Anything good the children do is all by God's grace. We just do the best as parents, and we surrender to God and trust that God has a better plan for them." 
---
RELATED STORIES:
"Will you stay home for me?": God poses the challenge to two career women
From one tired stay-at-home mother to another: "God is with us"
If you have enjoyed reading Salt&Light...
We are an independent, non-profit organisation that relies on the generosity of our readers, such as yourself, to continue serving the kingdom. Every dollar donated goes directly back into our editorial coverage.
Would you consider partnering with us in our kingdom work by supporting us financially, either as a one-off donation, or a recurring pledge?
Support Salt&Light