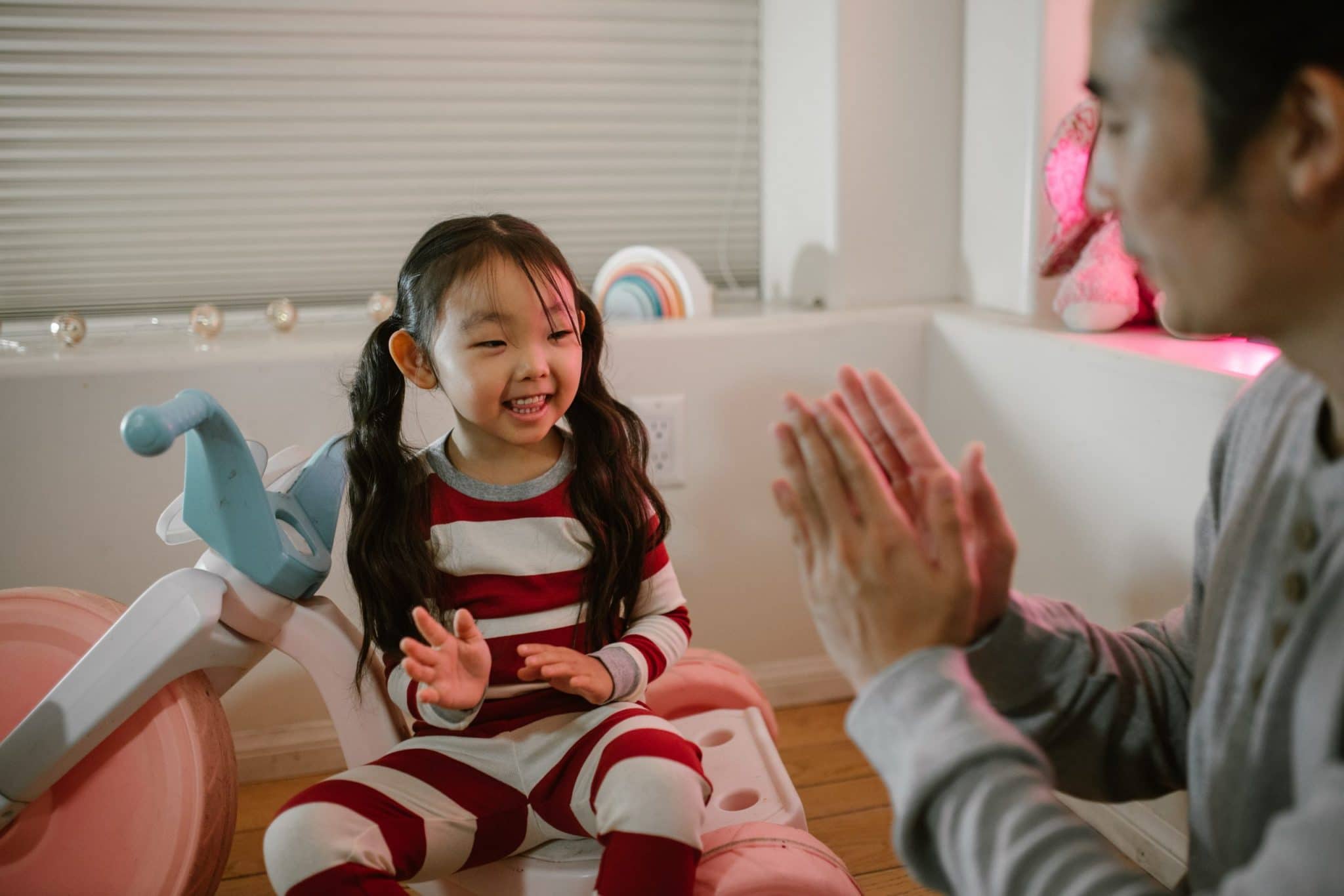 Taking the time to listen and communicate with the children is one of the best ways to parent them in this complex world. Photo by RODNAE Productions from Pexels.
These are uncertain times.
The over 470 viewers who joined Salt&Light Family Night on February 22 were largely in agreement on this. When asked on a Slido poll for the one word to describe living in 2022, "uncertainty" was the top choice.
The adults – 82% of whom were parents with another 10% or so being other caring adults – were not the only ones who felt this way.
Speaking up for the 11% of youths under 35 who were in attendance and for Gen Zs in general, Nicole Soh, 19, said: "One of the complexities we as youths are facing today is regarding identity in terms of sexuality and hyper sexuality.
"This complexity comes up a lot in the songs we hear today, movies, writing and literature, and in the media space specifically."
"A lot of times, people use emotional stories to drive liberal changes to the law."
Having recently completed her mass communication studies in a polytechnic and a stint as an intern in a media company, Nicole shared that she had always been "fascinated by media".
But after a while, she realised that the media was affecting her world view.
"I never saw it until I took a step back. And then I realised, actually this whole time I was very confused.
"I was very pulled in by the emotional stories that people were saying online. A lot of times, people use emotional stories to drive liberal changes to the law."
It caused her to question her faith, echoing the questions she saw on social media: Why does our faith follow these rules? Why are they saying all these things about the cultural hot button topics that we are seeing today?
Another issue Nicole said her generation of Christians struggled with was "privatising our faith", being constantly told to make faith a private matter not to be brought into the public space.
"But faith can be seen when we serve those around us. Christian youths like us need to be the first ones to show God's love and how He has worked in our lives."
Nicole was one of three panellists for the night. Currently in the Colson Fellows programme, a 10-month Christian worldview education programme, she serves in the children's ministry in her church and was involved in her school's prayer group. Nicole also regularly speaks in churches on dealing with the media and cultural engagement. 
"Faith can be seen when we serve those around us."
Joining her was Pastor Simon Say who leads the English Adult and Children Churches and oversees the Youth, Family Life, and Discipleship & Nurture Ministries at Kum Yan Methodist Church. He also serves as an associate trainer with Scripture Union Singapore and is a member of the D6 Singapore movement. Married for 23 years, he is father to a 17-year-old boy.
Jacqueline Chung, the much-loved "Auntie Jacky" of the children's church at St James' Church, rounded up the panel. Jacqueline is the Academic Director of the Anglican Preschool Services. She holds a PhD in early childhood education and is an ECDA Fellow as well.
Speaking from the perspective of parent, educator, pastor and youth, they shared tips on how to parent so as to build a family of faith.
How do we parent in a complex world?
1. Have strong anchors
There are so many things that occupy our attention and pull us in many directions, telling us what we ought to do, said Jacqueline.
"That is precisely why we need very strong anchors."
With a barrage of information, tapping into the right sources is important to avoid being "entangled in unhelpful discussions or unhelpful directions" that may cause us to chart paths for our children that may not be helpful, added Jacqueline.
2. Be, don't just do
Instead of chasing after activities, Jacqueline called for parents to slow down.
"Nothing goes wrong overnight. It's always an accumulation."
"If I were to give one piece of advice to parents: We need to pause. We need to not get so caught up in the doing that we forget about the being."
Putting a pause on doing allows families to think, talk, exchange ideas and work through difficult issues.
"When we're busy, we can actually ignore this," said Jacqueline. "And then you wonder one day what went wrong. Nothing goes wrong overnight. It's always an accumulation."
Sharing her own experience with her daughter who turned away from the faith in her teens, she talked about how it seemed as if a switch had flipped when her child became a teenager.
On hindsight, Jacqueline realised that there were actually signs that she could have picked up on as her daughter was growing up.
3. Engage with questions
"It is so important to take time to talk," said Jacqueline.
"As we talk and have conversations, we are unpacking sometimes what is inside us that we don't even know until we interact with each other."
She added: "Say, 'How do you feel? How are you processing this? What do you think of that?'"
Conversations become even more important as children grow older because it allows parents to understand what the children have been exposed to and how they are processing the information from the various sources.
"With every year as they grow older, more is happening inside them, in their minds, in their hearts. They are being exposed to so much more."
Only when parents know what is going on in their children's world will they know "when to put the brakes on" on things that are not healthy or helpful.
Nicole talked about how she appreciated the way her parents engaged her and her younger sister, intentionally coming together for dinners to ask them about their day.
"Questions help us to think: Is this the next step we should take?"
Asking questions helps both parents and children, she maintained. For parents who have the tendency to jump in with advice, questions force them to listen instead.
For the children, questions cause them to reflect on their emotions or the situation.
"A lot of the things we experience now might be new for both of us. So we are also journeying through it together," said Nicole.
"Questions help us to think: Is this the next step we should take? Do we want to take some time to think about it before acting on it?"
The two questions she found most helpful were: Where did you hear that from?  And: What do you mean by that?
"This helps to show the child that you want to know more about their world and you want to know what they are thinking of.
"The second question, my mum has been using that in the recent years: Do you understand the implications especially for you as a Christian?
"It makes me start to think: Is there something deeper?"
4. Listen deeply
"When they speak, we zip our lips for a period of time – not forever – but listen," said Jacqueline emphatically.
She was quick to admit that it is "so hard as a parent to keep quiet".
"I just want to give advice and I want to tell you what to do so that your life will go well, that you won't make mistakes because I don't want you to fall, I don't want you to falter.
"I'm just so ready to go, 'I'll fix you.' And that's the biggest mistake because teenagers don't want to be fixed.
"The little ones, they let you fix them for a while because they think you are the fixer."
"When they speak, we zip our lips."
Listen deeply without judgement, she implored.
"Sometimes, even if you don't speak, your eyes get a bit judgey and we emit the aura: What is this nonsense you are saying? How can you think like that?"
Avoid being too quick to jump in with Bible verses, to "sermonise" or even offer a prayer. Instead, give your children time to say what is in their hearts so they can work things through in a safe place.
"If they perceive that we as parents are not 'safe', they will talk to other people."
Listening deeply also involves active listening.
Ps Simon encouraged parents to be active listeners by repeating, paraphrasing and even summarising what their child tells them.
"I liken it to this – I am blind. The other person knows what he or she is talking about but I don't.
"He or she will start it first, then I will track by repeating, paraphrasing or summarising what the person is saying.
"Once that happens, automatically the person will think: This person is trying to understand me. This person is really sincere and is very interested in me and accepts me. He is not judging me, advising me or explaining."
With very young children, listening lets parents know how to reply them especially when they ask difficult questions.
"Listen and take the cue from them. Sometimes we make assumptions," said Jacqueline.
"I've been getting a lot of good coaching from my own daughter as an adult. She will actually guide me.
"Observe the point where you need to meet your children, not they meet you."
"She will say, 'Mum, what did I just say?' Then, I will say it.
"Then, she will say, 'What did I actually mean?' So, I found that my listening skills are not as hot as I thought!"
Listening also involves observing the child. Observe even the little things like facial expressions, she added.
Only then can parents respond accordingly. "Observe your children, observe their style, observe the point where you need to meet them, not they meet you. You meet them."
Recounting her own experience, she shared that she used to think that her daughter took too long to do things, which was very different from how she "lives on the sixth gear".
She ended up being impatient and frustrated, and rushing her daughter a lot. What she had not realised then that she realises now is that the slowness "had to do with depth of processing which I didn't appreciate".
5. Make the Bible our standard
The reason the world is confusing to us is because there is a "lack of understanding or clarity of a standard", said Ps Simon.
"If we want to eliminate confusion, we need to be clear about the standard. And there is only one standard we can rely on that has proven to be dependable over generations and for generations to come, and that is God's plumb line (Amos 7:7-8)."
How can the church help?
The role of the church is to support parents in discipling the children because parents are the primary disciple-maker, said Ps Simon.
The role of the church is to support parents in discipling the children.
So, even in the church's children's ministry, the goal is "to equip the parents so they are able to equip their children".
Drawing from Deuteronomy to underscore the importance of discipleship beginning with the parents, Ps Simon said that when Moses spoke to the people, they were just about to enter the Promised Land. They were about to "embark on a conquest".
Yet, God's battle plan for the nation was not about weapons or strategies or the placement of troops to overcome the enemy. Instead, the first thing He told the people was to "love the Lord your God with all your heart, with all your soul and with all your strength".
They were to have the commandments "upon your heart". When they had internalised that love, the next thing they were told to do was to "impress on their children".
---
This report is Part 1 of the Salt&Light Family Night episode on building a family of faith in a scary world. Look out for Part 2 of the report next week.
A full recording of this episode will be available next week. You can watch past episodes of Salt&Light Family Night on our YouTube channel here.
---
RELATED STORIES:
Snuggling at bedtime prayers, holding hands while saying grace: Families share little things that build big faith in their kids
"As long as there is life left to choose God, there is hope": Prodigal-turned-pastor encourages parents whose children are far from the faith
Rebel-turned-pastor and parents whose children strayed: Salt&Light Family Night dives into the pain of having a prodigal child
Resources to help families
If you have enjoyed reading Salt&Light...
We are an independent, non-profit organisation that relies on the generosity of our readers, such as yourself, to continue serving the kingdom. Every dollar donated goes directly back into our editorial coverage.
Would you consider partnering with us in our kingdom work by supporting us financially, either as a one-off donation, or a recurring pledge?
Support Salt&Light