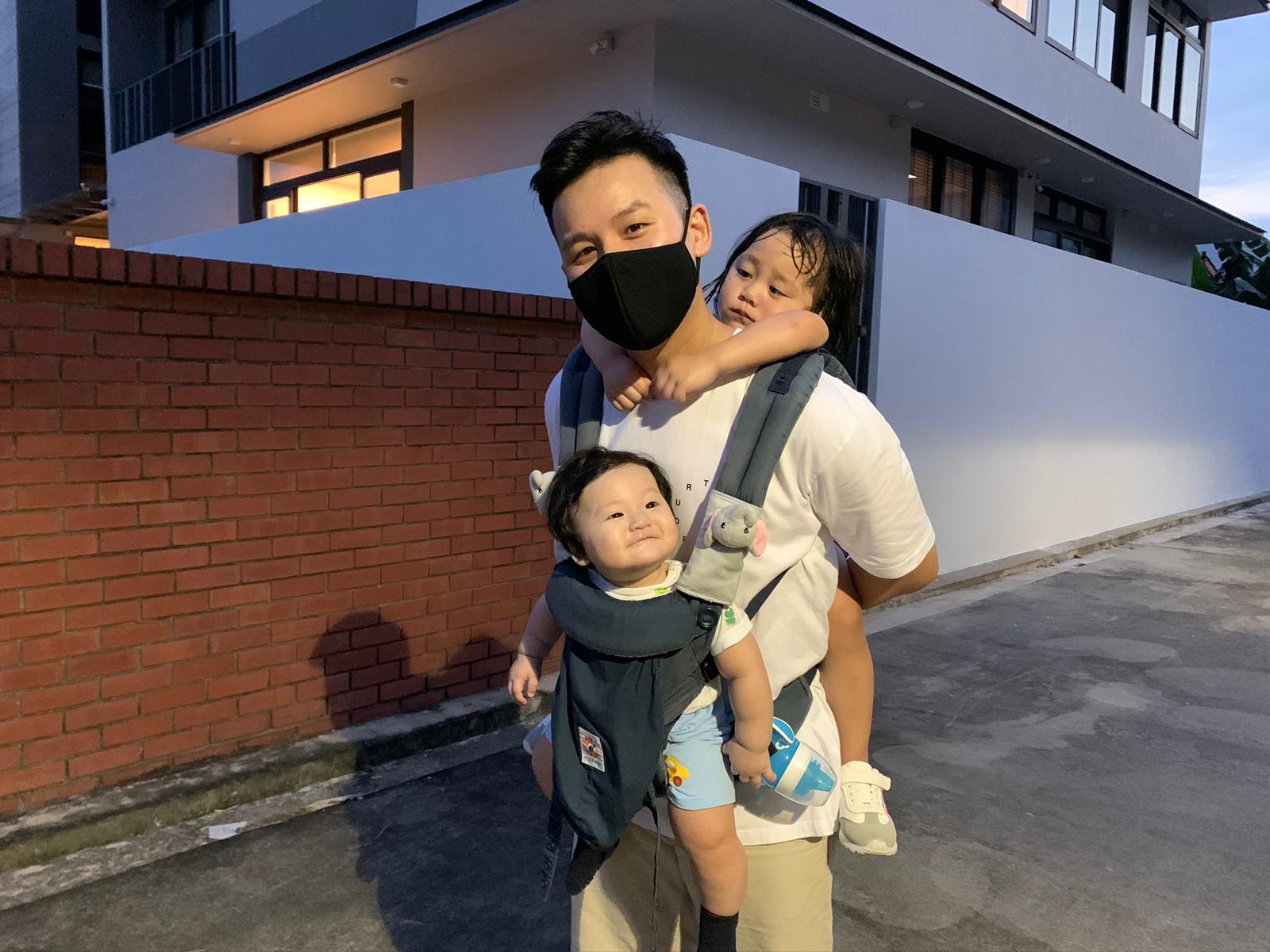 Prior to our children entering our world, they had not done anything to prove, earn or deserve love – yet we already loved them, reflects lawyer Jonathan Cho, seen here with his children Zoey, 3, and Isaac, 1. In the same way, God already had His heart turned towards us from the start. Photo courtesy of Jonathan Cho.
Recently, my wife and I found ourselves reminiscing over some opportunities we had to travel when we were a younger married couple.
As I looked through the photos, however, something felt odd and out of place. It was a sense that something was missing.
Before I knew it, I blurted out the question: "Why don't we have any photos of the children from this trip? Where were they?"
Well, here's the answer: They weren't even born yet!
Fatherhood has so impacted my life that I cannot now recall a time when I did not have children.
Isn't it such a strange thing? I have spent more of my life not being a father than I have being a father.
Yet, fatherhood has so impacted my life that I cannot now recall a time when I did not have children. And I've only been a father for about four years!
It occurred to me that my love for my children is so deep and far-reaching that it extends even into memories of a life I had prior to their existence.
Perhaps this is a glimpse of the love of God and what He means when He tells us that He will never forget us (Isaiah 49:15).
My experiences on fatherhood so far have left a trail of clues for me (and us all) of God's love for us and the depth of His desire to father us.
Undeserved love
I remember the birth of my first child vividly. Not the birth process – but the preparation it took to get ready for her arrival.
We spent countless afternoons checking and double-checking that we had everything we needed.
I remember the nervousness at our last doctor's appointment before the due date. I looked at the scan image and wondered, with much excitement and apprehension, what it would be like to hold her in my arms, what she would look like in person.
Oh, and did I mention that I had no idea it cost so much to bring a child into the world?
Although I had never seen them in person prior to their birth, I was already prepared to pay a price to bring them into the world.
It is more than finances – it costs us our energies, resources, time, schedules. I even bought extra iCloud storage in advance for the extra photos I knew I would take!
Although I had never seen my children in person prior to their birth, I was already prepared to pay a price to bring them into the world.
The desire is to bring them home with me because they are mine. How much more would God our Father and Creator feel this way?
It is remarkable that this love for our children can be so strong.
Prior to their entering our world, they have not done anything to prove, earn or deserve such love – and truthfully, we don't require them to.
We do not know what they will be like, but we already accept them, love them, care for them. We take the first step towards them, preparing a place for them in our homes and in our hearts. 
Likewise, God longs for all His children to come home. There is always a safe place with Him, for He knew us when we were at our weakest and most dependent. And, even then, He already loved us and always had His heart turned towards us. Dare we believe this to be true?
You see, at just the right time, when we were still powerless, Christ died for the ungodly. Very rarely will anyone die for a righteous person, though for a good person someone might possibly dare to die. But God demonstrates his own love for us in this: While we were still sinners, Christ died for us. (Romans 5:6-8)
Instinctive delight
 Most parents would agree that the first sign of conscious engagement from a child – even just a laugh or smile – is enough to fill their entire day with joy.
One of the most rewarding things anyone can experience is a child's willingness to "follow" you when you put your hand out to issue the invitation – even if just for a walk. As a father, I've experienced this plenty.
When I first became a father, I dreamt of the many things I would do with my kids – whether going to the park or the kitchen, swimming or cooking, there were so many things I was eager to involve and partner my children in.
It is an extension of my love and longing to share my experience of the good things in the world with them.
It absolutely excites me to see my son's eyes brighten when I ask him if he sees the dog walking in front of us.
When he looks back at me and babbles as if to ask: "I see it! Do you see it too?" my heart just leaps for joy.
God is always willing and ready to share His heart with us and to involve us in what He is doing. It is a natural expression of the Father's love.
And we know He is at work in many places. Do we see it? Do we ask? Are we willing to participate?
I remember one morning, as I was getting ready for work, my little one-and-a-half year old got up from her bed and saw me buttoning my shirt. She knew from experience what this meant – Papa was going to work soon. Although she could barely talk, she promptly lifted her arms and exclaimed: "Follow, follow."
Those words, "follow, follow", followed me indeed as I left for the office.
I found myself reflecting on that scene and silently praying: "Wow, God, I want to be like that. I want to get up every morning and say, 'Follow, follow.' If only life would be as simple as going where You go and doing what You are doing; to follow Your lead always."
God's desire is always to involve us and to show us what is important to His heart, as well as what He is like.
But I'll be honest: This "following" thing is oftentimes a significant interruption.
I simply cannot involve my children in everything. At times, it creates more of a mess and hassle instead.
On good days, this additional mess really doesn't matter. It just delights me to be able to involve my children in my reality, and to celebrate them as they complete small tasks like helping me throw something in the bin.
But there are days when I draw the line, almost as if to say: "Okay, you can come no further. Dad has work to do now, and it is very important. You cannot be involved in this at all. Go out for a while." 
And this has become more of an occurrence with us working from home.
Even as I write these words, I feel the pain in having to draw that line with my children. But I simply do not have the patience, capacity or wisdom to know how to always involve them.
But God is not like that. He is not limited by patience nor capacity nor wisdom to involve us.
Yes, there are mysteries that we may not yet be able to grasp, but I believe that God never draws the line with us. If we want to follow and to know what He is up to, I believe that He always responds in love.
His desire is always to involve us and to show us what is important to His heart, as well as what He is like. He shares His mission with us, involving His children in the work of bringing all the rest of His lost children Home (John 5:17-23, John 15:5-15).
True commitment
Discipline is never any fun – for either child or parent. It takes an immense amount of time, energy and intentionality which most parents simply do not have.
Recently, I've been working from home a lot and when I finally take a break for my meals, all I really want is a quiet, and uneventful, lunch. Alas, these short breaks are frequently interrupted by some "naughty" behaviour that I need to stop and address.
Such interruption is never fun. In all candidness, it is much easier not to intervene and to let things go or ignore what I am witnessing. And, very often, I am upset not because such behaviour is "bad" but because it has interrupted my plans. My primary motivation is not always "the good of my children".
The intentionality and commitment to proper correction and timely discipline comes from a place of selflessness, because I am putting your needs, your well-being and your growth above mine. It would be unloving (not to mention, bad parenting) to leave certain attitudes or behaviour uncorrected. It is our children who ultimately suffer.
To discipline is to be loving and selfless because it takes time, commitment and intentionality.
What about us as God's children? Whether we admit it or not, we know there are things about our character or attitudes that need correction. If we have our way all the time, it will lead us down the wrong path and we know it.
But are we open to the Lord's loving correction and discipline? When we are convicted about something God might be highlighting, are we able to say: "Thank You Father for revealing this to me"? Or do we whine and complain: "It is so difficult to be a Christian! There are so many rules. Why can't I just do things my way?"
To discipline is to be loving and selfless because it takes time, commitment and intentionality. Whereas as a human father I am not always able to do that for my children, our heavenly Father loves us too much to leave us as we are.
"My son, do not despise the Lord's discipline,
    and do not resent his rebuke,
 because the Lord disciplines those he loves,
    as a father the son he delights in." (Proverbs 3:11-12)
Why is all this Gospel (Good News) for us all? As Timothy Keller sharply summarises:
"The gospel is this: We are more sinful and flawed in ourselves than we ever dared believe, yet at the very same time we are more loved and accepted in Jesus Christ than we ever dared hope."
The human father's heart is merely a dim reflection of the Heavenly Father's.
As I father my children (often imperfectly), I see clues that reveal the Father's heart for me.
And as I observe the other men around me willingly carry this heavy (but deeply rewarding) burden of fatherhood, I am reminded that God our Father has put this unique design in us that reflects His very heart and image.
Every moment is an opportunity to pause and remember that I am loved by Father God with the same depth of love and compassion that I have for my children, despite my mess, foolishness and sin.
But there is also one more thing I've learnt from fatherhood – you can never force love onto your child.
We may want to offer a hug or word of comfort, but we cannot force our children to receive it. It is entirely up to them. That may well be one of the most difficult, even heart-breaking, parts of parenting.
The choice is ours too. We may acknowledge the desire and longing of God to father us as His children, but dare we live like it is a reality? Will we welcome God's desire to father us today?
---
FATHER'S DAY STORIES:
"He made a mark on us young Christian men": A tribute to a father who was role model to six sons-in-law
If you have enjoyed reading Salt&Light...
We are an independent, non-profit organisation that relies on the generosity of our readers, such as yourself, to continue serving the kingdom. Every dollar donated goes directly back into our editorial coverage.
Would you consider partnering with us in our kingdom work by supporting us financially, either as a one-off donation, or a recurring pledge?
Support Salt&Light