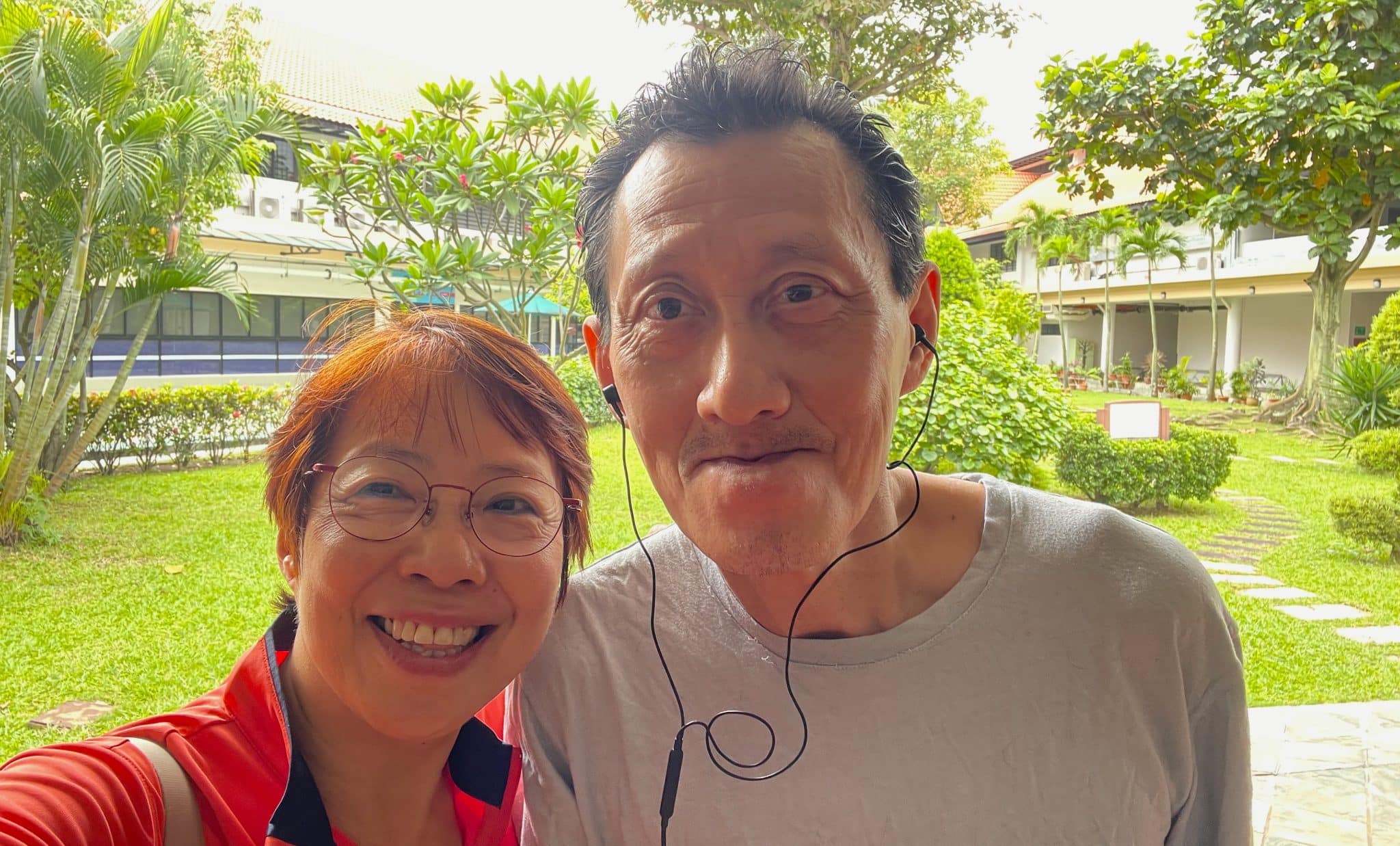 Margaret Ong and her husband Leslie Ng. They were a loving couple until Leslie was stricken with schizophrenia in 2009. Today, he thinks she is either dead or believes he has remarried. Photo courtesy of Margaret Ong.
In the 32 years that Margaret Ong has been married, she has known great love. Her husband, Leslie Ng, was a romantic. Even after being together for years, they would still hold hands. Spontaneous hugs and serenades were not in short supply. He told her "I love you" at every opportunity.
In those 32 years, Margaret has also known deep rejection. Leslie no longer considers her his wife. He thinks she is dead, or that they have divorced and both of them have remarried. When she hugs him, he is cold and aloof.
"Sometimes, I see a warm and gentle smile in his eyes but these moments are few. Most of the time, he is very cold towards me.
"Not only do I face this kind of reception from him, my boys are seeing that from him as well," said Margaret, whose sons are now aged 22 and 26.
The Leslie she had met in her 20s is fast fading. He was diagnosed with schizophrenia in 2009. Since then, his illness has progressed to a point where medication no longer helps to reduce the hallucinations and delusions.
"I could see that he directed his anger and disappointment at me."
Margaret, 59, told Salt&Light: "Since the last time we spoke in April, we have continued to see a decline in his mental state. His delusions continue to grow. There are new delusions and hallucinations.
"Seventy per cent of the time, he is very engaged in his hallucinated world. The content of his conversation is more about things detached from reality." 
In Leslie's imagined world, he is a successful entrepreneur with a massive business empire. Their sons are very successful academically and are poised to take over the family business.
"A lot of it is what he aspires to be, how he defines success in life. He continues to pride himself on being the breadwinner of the family and he is providing exceedingly well for his family.
"When he talks about his family, it consists of his two boys and his new wife. I can see that he directs his anger and disappointment at me."
Sliding into schizophrenia
Leslie began displaying symptoms of schizophrenia – hallucinations and paranoia – in mid-2008. Margaret believes it was the stress of being retrenched for the second time that triggered his mental illness.
For nearly a decade, his condition continued to deteriorate despite medication.
"At times, I felt like a single parent and that I did a lousy job as a mother," said Margaret. "In the early years, I was trying so hard to fill the gap of a father figure.
"Then, my boys told me, 'A mother is a mother. Father figures play a different role. You're not up to it for sure. Quit trying.' So, I stopped trying to be a dad."
"I'm just concerned that they would forget their dad."
By 2018, she had to have him committed at the Institute of Mental Health (IMH) for a short stay. He was admitted a second time in 2019. By mid-2020, short-term stays were no longer deemed enough. His doctor advised Margaret to have her husband institutionalised.
"When the doctor proposed a solution of long-term stay, he mentioned that, as the illness advances, Leslie would warrant a regimented environment for sustainable care.
"The doctor explained that when my husband stays at home, we would have expectations of him. It would be very stressful for him to respond to those expectations. In a regimented environment, he would not have that. But a home would not be able to operate in a regimented way."
Even though she knew it was for the better, Margaret still struggled with the decision because it meant that her husband would no longer be a part of her everyday life.
She also did not want her sons to be without their father.
"I was just concerned that they would forget their dad. The bond between them would be lacking.
"I wanted my boys to learn how to be faithful spouses and faithful parents."
The God of rainbows  
Margaret became a Christian just as Leslie was descending into schizophrenia. When faced with the decision to institutionalise her husband, she sought God.
"Since I became a Christian, I never asked for a sign from God. When I had to make the difficult decision to place him in institutional care, I asked God for a sign that I am still operating in His will.
"We were looking at the rainbow at eye level. Straight away, I thought of God's covenant with Noah." 
"I asked God to examine the true condition of my heart. Was I making the decision independent of Him in a moment of weakness because I wanted an easy way out of 14 years of caregiving?
"I also asked Him, 'Why after all the years of struggle? We had good times. Why the turn of events? I confessed to God my true feelings – my frustration, my desperation."
A few weeks after being asked to consider institutionalising her husband, Margaret saw a rainbow. The last time she had seen one was five years ago in South Korea. "Leslie had called out to our son to come over to look at the rainbow. He said, 'It's so beautiful.'
"Now we live on the 38th floor and we were looking at the rainbow at eye level. Straight away, I thought of God's covenant with Noah. My heart was elated. I asked God, 'Are you answering me with the sign?'"
The next day, at almost the same time, a double rainbow appeared at the same spot. Margaret knew it was God's assurance.
"Let the doctors decide. It doesn't matter because I will be away from you in either case."
"God is just amazing. I came away having peace of mind that I would choose to keep my love alive for Leslie even in separation.
"I told God, 'You've got to help me transition to outsourced institutional care and yet be able to keep that attachment and love for him," said Margaret, her tears welling up.
She knew she had heard God correctly when her husband agreed to be admitted into IMH long-term.
"I asked him, 'What is your preference? Would it be IMH or a nursing home?' He responded, 'Let the doctors decide. It doesn't matter because I will be away from you in either case.'
"That almost brought tears to my eyes. But I held it back," Margaret recounted, her voice breaking at the memory.
Leslie's demeanour remained calm till his admission. He did not run away from home as he had done before when faced with a doctor's appointment. When he was admitted, he complied without incident.  
"It was like God speaking to us, alleviating our burden of guilt of making that decision."
"He did not make an ugly scene. He did not resist violently so that they had to restrain him. My husband has a strong personality. No one can force him or coerce him into acting against his will. It can only be the divine hand of God at play here.
"This parting memory he left us was evidence that he still cared for his family, to be able to express that within the limited control he had."
The final comfort came from Leslie's own doctor.
"While they were preparing him for the admission, his doctor said to me and my son, 'You should not blame yourself for it. I am a party to this decision. Mr Ng will be very well taken care of.'
"When my son and I got into the taxi after that, my son turned to me and said, 'Mum, it was like God speaking to us, alleviating our burden of guilt of making that decision to put him away.'"
The ever-present God  
But for five months after that, Margaret grieved over her decision.
"I was also grieving the loss of my marriage because my husband no longer regarded me as his wife and, even at times, thinks I'm dead to him.
"I asked, 'Is God unfair? Is He hidden? Is He silent?'"
God would bring to mind several occasions when He had been present, like during the trip to Japan she made with her husband in the summer of 2018.
They had planned to visit the Japanese Alps but Margaret made a mistake and they ended up at another prefecture instead. To get to the right destination, they travelled almost a whole day. Leslie, who needed to have his meals at fixed times, could not do so.
Yet, throughout the journey, he did not act up as he usually would have done. Instead, he was supportive and understanding. He even gave Margaret warm smiles. When they returned to Tokyo, he was the one who got directions to the hotel and led them back.
"God's grace was amazing. He enabled Leslie to step up to the plate when it mattered."
On another occasion, they had taken three trains from Tokyo to a little Brooklyn-style town. When they got there, she left her husband at a café while she went to look for the restaurant where they were to have lunch. He was gone when she returned. Because she had his handphone, he was uncontactable. 
For an hour, she searched the town for him to no avail.
"I have to ask myself, 'Is my life complete without Leslie by my side? I love him very much."
Out of ideas, she decided to return to the hotel to wait for her husband. On the way back, she stopped at a café. As she stilled herself, she prayed.
"I said, 'God, this is the time to let me know that You are very present in our lives. I am going to trust You that Leslie is safe.'"
When she returned to the hotel, her husband was in their room. He had taken three trains, navigating Japan's complex rail system without having a single schizophrenic episode.
"God showed up and provided certainty amidst uncertainty. He was ever-present. How could I not see His love when there was so much care? He answered my prayer, He was never silent, He was never hidden."
Living with thanksgiving  
Throughout her experience, Margaret has also learnt to give thanks.
"I try to look at the positive side. Some schizophrenic patients have delusions that are frightening. For my husband, his delusions of grandeur make him feel safe."
She is thankful as well that, at 60, her husband is still healthy. His posture remains ramrod straight and he walks faster than she does.
When he is reticent during her weekly visits to IMH, she tries to appreciate the silence.
"I tell myself to just accept whatever there is of him instead of having an expectation."
When he rebuffs her, Margaret dives into her "memory bank" and dwells on the times he was loving or used to hug her warmly. She flips through their photo albums and recalls the life they once had. This is how she keeps her love for her husband very much alive even though she can no longer personally care for him.
"I keep confessing my fears and meditating on God's Word … I have learnt not to let my thoughts wander into dark places of what-ifs."
"It used to bring tears to my eyes. I regain composure much faster now. It's the power of God's love. I don't think I could do it without God's love in my life and in my children's lives."
Holding on to what is true helps. Margaret has stopped trying to fight her husband's hallucinations and delusions.
"It's his sickness. It's not him. And so, I love him but I hate his sickness. I have learnt not to let my thoughts wander into dark places of what-ifs.
"I keep confessing my fears and meditating on God's Word and being assured that I'm secure in His love. Having God in my life centred me on the truth and enabled me to move forward."
She does not search for a cure for her husband any more either, having tried various medications only to see just adverse side effects – hand tremors, incontinence, drooling.
Instead, she has learnt to let go without fear and condemnation, trusting in the healthcare system to care for her husband.
Said Margaret, sobbing a little: "For me, I have to ask myself, 'Is my life complete without Leslie by my side? I love him very much but my boys keep reminding me, 'Mum, you got to move on and accept the fact that he isn't going back to the way he used to be'."
Moving forward
Life for Margaret now is about living "in partnership with God" to make an impact where He leads.
"I learnt the hard way to figure out how to climb back to the surface and I thank God He enabled me to have the strength to do it."
To that end, she started a Bible study group for a few friends and she has finished the sequel to her first book chronicling her caregiver journey. This one is entitled Still My Husband. She is also involved in resilience training with Christian values with Caring for Life and Sower Institute for Bible Discipleship.
"I learnt the hard way to figure out how to climb back to the surface and I thank God He enabled me to have the strength to do it. To help someone to manage their stress and cope with life's challenges will improve their quality of life. If I can help even one life, it is significant."
Margaret also has a strong support system of extended family members and close friends who function as her sounding board.
"They are honest with me and I honestly share with them how I feel without being ashamed. They accept me for who I am and comfort me when I need it."
Some are her walking buddies who help her keep fit. One of them also cooks for her, ensuring that she eats well. Because Margaret is on traditional Chinese medicine for her eczema and cannot consume gluten, her friend takes the trouble to bake her gluten-free bread every week.
"In the midst of all my struggles, I still have room to enjoy myself, room to love because God has given me life. He has taught me how to celebrate life in grief and in struggles."
Her husband's condition is likely to worsen over time. He is among the 80% for whom medication has little to no effect on recovery.
Apart from deepening delusions and hallucinations, he is expected to withdraw from reality in other ways – declining energy levels, disinterest in life and social isolation.
"It's not that I have an answer for what is now or what is next but I'm not intimidated. He has lifted me above the circumstances."
Already, Leslie is showing signs of these negative symptoms. His hobbies – fishing, diving, exercises, sports – no longer interest him. Even board games and card games which he used to play when he was first admitted to IMH for treatment in 2018 no longer engage him.
"At some point, his illness will advance to a point where he will no longer recognise us or be able to speak to us. I will be very sad when that happens.
"What we can do is to take advantage of the times when he still has some degree of lucidity."
Margaret is trusting God to be there for her and to work out the challenges of her life into a beautiful future.
"Somehow in all this uncertainty, God provides certainty. It's not that I have an answer for what is now or what is next but I'm not intimidated nor do I have fear.
"Have my circumstances changed? Is this what I desire? No. But He has lifted me above the circumstances. I don't feel that I am being abandoned by God. I have His peace and joy in me."
---
You can buy Margaret Ong's latest book Still My Husband, the sequel to One Husband, Two Men here.
---
RELATED STORIES:
"The love of Christ helped me fall in love with my husband all over again": She cared for her husband with schizophrenia for 14 years
"If this is my lot, I will embrace it": Ps Valerie Chan on journeying with her husband through depression
"I realised caregiving is an act of worship": Nurse who spent 20 years caring for mother and husband with stroke
If you have enjoyed reading Salt&Light...
We are an independent, non-profit organisation that relies on the generosity of our readers, such as yourself, to continue serving the kingdom. Every dollar donated goes directly back into our editorial coverage.
Would you consider partnering with us in our kingdom work by supporting us financially, either as a one-off donation, or a recurring pledge?
Support Salt&Light