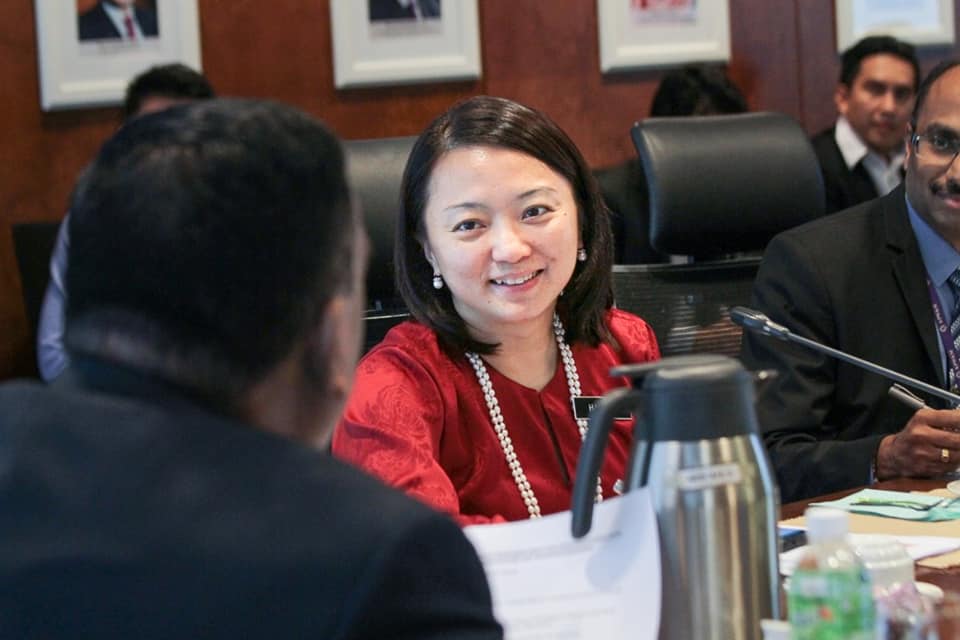 Hannah Yeoh went into politics at 29 "with one purpose, and that is to show that there are no dark areas that are too dark for our light to work." Pictures from https://www.facebook.com/hannahyeoh/
Hannah Yeoh, once an opposition Member of Parliament, is now in the government.
Her current position, Deputy Minister of Women, Family and Community Development came after historic election results in 2018, when Barisan Nasional coalition handed the reins of power to Pakatan Harapan (PH).
In the 14th General Elections, Yeoh relinquished her position as Speaker of Selangor State Legislative Assembly for a shot at Federal politics under PH's flag. "Back then, many people including my team members thought that it was a stupid decision, because at the national level, the opposition had never won before.
"But I felt that God wanted me to move to the level of national politics. And I had received confirmation and spiritual guidance for that." 
No compromises
Malaysian political history may have changed its course, but Yeoh has not forgotten her purpose.
"I am seen as still having an opposition mindset!"
With fire still in her belly, she doesn't back down from a challenge to put things right: "I think it is important to have a conscience.
"I'm seen as still having an opposition mindset!
"There are many who have said to me, 'Now that you are in Federal government, why do you still fight like that? Just compromise and settle it.'"
"But I say no, compromise is not what we're supposed to do.
"If I do not listen to the feedback from the residents who had given me the mandate, I risk being in the same boat as the past leaders. 
"I want to make sure it doesn't stop at being just a challenge but a potential for me to testify about it someday."
"People generally understand our challenges and difficulties. What they cannot accept is when integrity is compromised and they are not about to allow us to go down that same path."
Yeoh speaks plainly in her characteristic rapid style, not mincing words, expressing clear thoughts that have germinated in her heart, melded with contemplation and aligned to the Word.
Although criticism is a volley she has grown accustomed to, the path in politics is never a walk in the park. "There were very, very tough issues. And many times, you are misunderstood.
"But I know that with every difficult challenge, if handled well and correctly, it is a potential testimony.
"I want to make sure it doesn't stop at being just a challenge but a potential for me to testify about it someday."  
"My boundary has expanded. In the past I was just in charge of a state. Now my ministry helps look after the entire Malaysia: Women, family and community, that's almost everybody.
She relates an encounter that took place just three days into office: "I had to attend to this case where a baby had died at the hands of the nanny.
"I asked to go to the mortuary to see the corpse of the baby because I needed that to be imprinted in my mind.
"When I'm working through difficult days, I would remind myself that there are those who are affected by my policies but may not be able to even go online to criticise me."
Answerable to God
Is it not a very tall order to solve the problems of everyone?
The 10-year veteran politician had a swift reply: "I don't think I alone can solve the problems. The battle belongs to God.
"If I think that I can solve everybody's problem, then I think too much of myself. There are other players that God has put in place in the ecosystem to partner together with. So, I always look to work with NGOs (non-governmental organisations).
"If I think I can solve everybody's problem, I think too much of myself. There are other players God has put in place."
"As long as we're moving forward and upward, we are okay.
"I don't want our country to be stagnant, accept status quo and stop trying."
With a portfolio that mandates welfare for the nation, there is a good deal on Yeoh's plate: "I'm active, I go from place to place doing work. I'm tired, yes! But it's also effortless.
"I put in the hard work but I know the battle and outcome are really in His hands. When you know that, then you can rest.
"Ultimately, people's lives must generally become better. I need to put in the framework and system to ensure that we minimise the abuses, that is an absolute in my government, " Yeoh says.
"I never assume that I will always be a Deputy Minister with access to this portfolio. Therefore, I know that I'm running out of time. There are reforms that I must do.
"I am answerable to God for what I do with these five years."
Beyond her very public life in politics, it is easy to forget that Yeoh is also a mother and a wife.
"I never assume I will always be a Deputy Minister … I am answerable to God for what I do with these five years."
Her husband, Ramachandran Muniandy, is often seen by her side but Yeoh is a little more protective of the little ones, Shay Adora Ram, eight, and Kayleigh Imani Ram, five, and keeps their pictures off-line.
Yeoh and her husband are a tag team, making sure that one is at home if the other isn't. Their life priorities are lined up around the family. "We swap our schedules because we are not prepared to take a risk of having both father and mother away. So that's the kind of adjustment that we have to make as a couple."
She adds: "When the children are older, I don't want them to say their parents were so busy and had no time.
"I have seen some of the destruction that can happen to children of very busy parents. So I am able to live life in reverse." 
However, this Deputy Minister is quick to confess she does not always get it right. "At home I also have my accountability structure, I'm answerable to my husband. I have been reminded by him to reduce my time on my gadgets.
"My children will also say, 'Mummy, what are you doing? You're also on the gadgets.' So I have very good reminders at home," says Yeoh with a laugh.
"Family time must be intentional, " she continues.
"If you don't set time out for family outings, holidays and trips, it will never happen. If you just wait for your weekends and timetable to clear, it will never clear up."
Beyond this term in office, Yeoh has no concrete plans, "I do not know what I will be doing in the next elections – whether I'm in or out. I never assume that I'm going to win the next election or if I will be fielded by my party.
"But the Word of God is alive and, for me, that is my purpose – I make sure that I'm ready for it." 
"Be prepared to let go of the privileges of office": Former Cabinet Minister S Dhanabalan
"Surround yourself with people who can say 'no' to you": Deputy Minister Hannah Yeoh on leading well
If you have enjoyed reading Salt&Light...
We are an independent, non-profit organisation that relies on the generosity of our readers, such as yourself, to continue serving the kingdom. Every dollar donated goes directly back into our editorial coverage.
Would you consider partnering with us in our kingdom work by supporting us financially, either as a one-off donation, or a recurring pledge?
Support Salt&Light