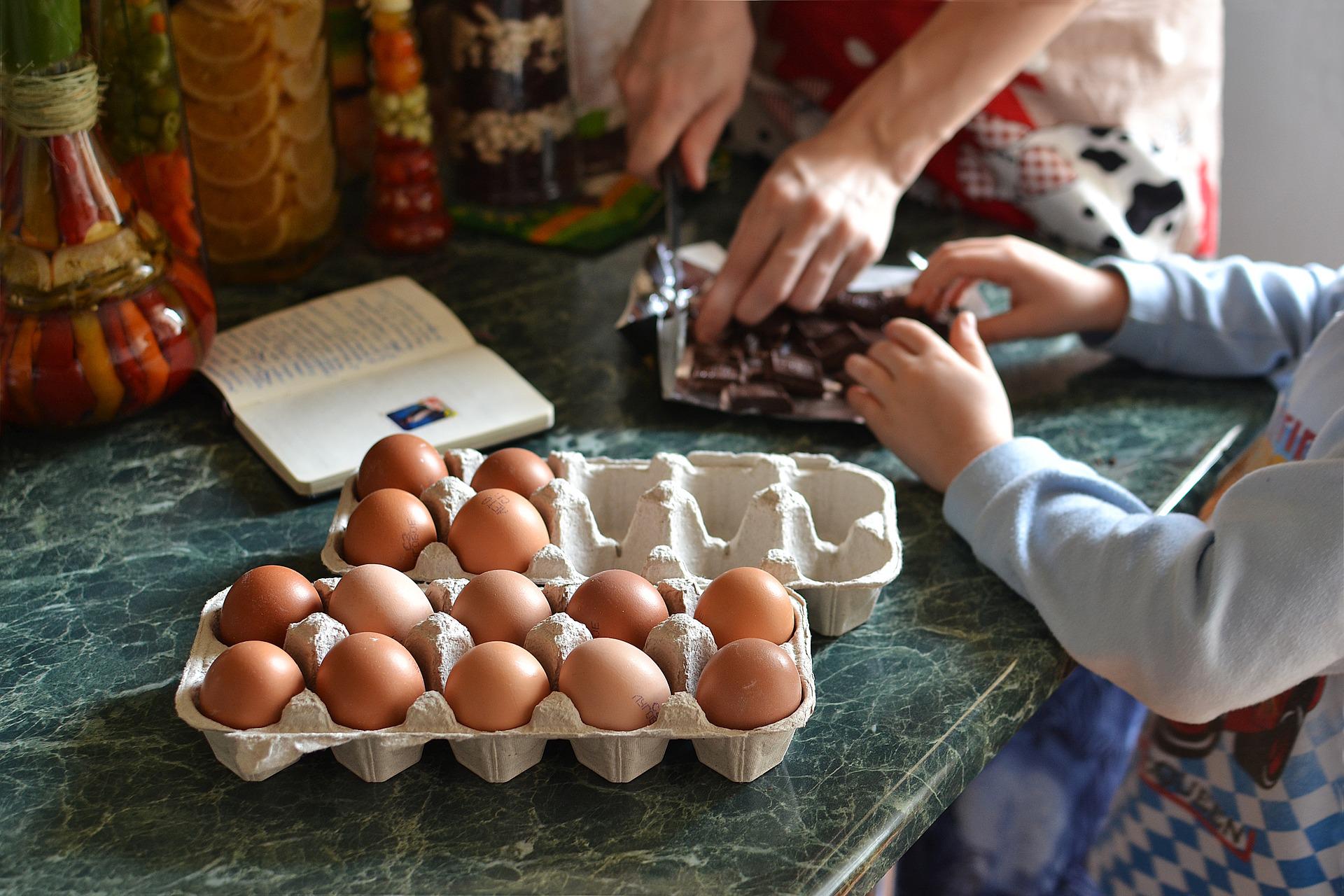 The price of eggs has been steadily rising, presenting an opportunity for parents to talk to their children about the value of money and how to steward it God's way. Photo from Pixabay.
There is something happening at dinner tables across the island that is presenting the perfect opportunity for parents to talk to their children about the value of money.
The price of eggs in Singapore has been steadily climbing. Last year, a tray of 30 could be bought at under S$5 if there was a sale. Early this year, prices climbed to S$6.15. By March, they had shot up to S$7.20. Last week, a tray of 30 eggs cost S$7.50.
"Help them be more aware that money is something they have to steward rather than use carelessly." 
In six months, eggs saw a 50% increase in prices.
They are not the only things that have gone up in price. Noodles at hawker centres now cost 30 cents to 50 cents more, coffee and tea 10 cents to 20 cents more. Petrol prices have soared.
You could blame it on the war or the pandemic, both human (Covid-19) and avian (Newcastle disease). But wouldn't it be better to turn all this into an egg-cellent conversation starter about stewarding money in terms every child can understand?
If you are thinking of having the money talk with your child, here are some Biblical and practical principles you can share.
1. Acknowledge the Source of all wealth
Children may not have a concept of money but they understand where things come from. It is important to let them know money comes from the work that mummy and daddy do, Yip Cheu Fong told Salt&Light.
Cheu Fong is a chartered accountant who successfully transited into the financial planning profession close to 20 years ago. A Chartered Financial Consultant (ChFC®) at one of the world's foremost financial institutions, she is among the top 5% in the company.
Added Cheu Fong: "Tell them that Mummy and Daddy are working because God has given them the ability to do certain things to provide for them and that money is given by God for them to take care of while they are here on this earth."
"This will help them be more aware that money is something they have to steward rather than use carelessly. With that, they will be more inclined to be careful about how they use money."
2. Start with a little
Jodi Yong who leads the WOW MOM ministry of Cru Singapore has five children aged 11 to 23. She practises the biblical principle of faithful in little (Luke 16:1-15) when it comes to giving her children pocket money.
Said Jodi of her experience when her firstborn started Primary One: "At that young age, I didn't know how much he could handle. So, I started small. I gave him recess money one day a week.
"We didn't want him to have the idea: I have money, so I buy."
"The rest of the time, we packed food for him for recess. We didn't want him to have the idea: I have money, so I must buy."
Her three older children did not get a daily allowance till they were in upper primary school. With her fourth and younger children who did not like to manage money, daily allowance was given only when they were in Primary Five.
"At their school, they had to buy fruit at every stall they patronised. They didn't like watermelons and felt that their Mandarin was not good enough to converse with the canteen auntie.
"My Number Four is also an introvert and has difficulty making decisions quickly. He didn't want to be pressured into making a decision at the food stall.
"So, they were like, 'Why spend money?'"
3. Live within your means
Because Jodi's children are not given much, they have learnt to be prudent in the way they spend what they have.
"My aim is to train them to manage their own money. So, they have to think through their choices.
"If I want to eat my favourite popcorn chicken which costs more, then tomorrow I'll have to eat something cheaper."
"My aim is to train them to manage their own money."
When her two oldest children were teens, they wanted a trendy game console that cost S$200. Jodi counselled them.
"I told them, 'How are you going to save for it? How many Chinese New Years will it take? And if you manage to save that much, do you really want to spend it all at one go?'
"What happens when you want to buy more games? Why don't we explore cheaper options?'"
Now, it is a matter of habit that they would compare prices to seek out the best deals for the things they want.
Jodi's daughter is particularly good at accumulating vouchers that help the family stretch their dollar while allowing them to enjoy certain treats like a nice meal.
4. Manage your wants
The allowance that Jodi gives her children go to covering their meals and transport. Anything else that they might want, they would have to buy it for themselves with their savings, or money earned from part-time jobs or doing chores around the house that are over and above their regular responsibilities.
"When they were younger, they would go out with me and say, 'I want to buy this, I want to buy that.'
"I would never say 'no'. Instead, I say, 'Sure. Did you bring your money?'"
When they realised they would have to pay for the items out of their own pockets, her children would usually demur.
If they brought along their own money, Jodi would help them think through their desires.
"I would ask them, 'Do you want to spend the money you took so long to save or earn on this?' It is to delay them and make them think."
5. Give with discernment
Part of the principle of stewardship is the idea that God blesses us with money so that we can bless other people with it as well, said Cheu Fong.
"This will teach children to, while being careful, not be overly stingy with their money.
"This is a good time to help children to understand being generous while being discerning as well."
"There are many ways to bless when they see somebody in need. Start with small things like buying something, like a meal, for someone."  
One clear and recurrent opportunity presents itself with the tissue auntie and uncle in Singapore. These are often elderly people who go from table to table at hawker centres and food courts selling packets of tissue paper.
"This is a good time to help children to understand being generous while being discerning as well," said Cheu Fong.
"When they see these people, they can pray and ask, 'How do You want me to help them?' We see with eyes of flesh but God sees the invisible.
"Helping may not always mean buying tissue packs from them. It could be buying them a drink or a meal. I have bought bread for tissue uncles. Once, I asked one tissue uncle, 'Can I buy you food?' And he said, 'Okay.'"
6. Invest wisely 
"Help them to picture money like a seed given to them," said Cheu Fong. "What you want to do besides spending it is to grow it. Set aside a portion to grow for the future."
Jodi's husband is the one who helps each of their older children invest their savings.
"When my children started to get part-time jobs, we got them to invest their savings. We taught them to set aside money as a way of planning how they should spend their money.
"When my daughter was very young, she already had her own system. She had different mugs of savings – one to save for her future house, one to buy presents for her friends."
---
Salt&Light Family Night: How do I teach my children to manage money God's way?
Ben Affleck gave Jennifer Lopez an engagement ring valued at an estimated US$5 million. Jeff Bezos spent US$5.5 billion for a four-minute experience in outer space. Kim Kardashian bought a brand-new private jet that cost US$150 million.
Money makes the news and how money is spent by the uber rich always draws both attention and envy.
In a world that values wealth and applauds the wealthy, how can parents impart godly values about money to their children? How do they manage wants, quell envy and decide on pocket money?
Join our panellists Bernard Lim, as well as Samuel Pei and his son, Asher, as they share how they use, view and manage money.
Bernard Lim is the CEO of Wealth Hub Pte Ltd. He has more than 25 years of experience in the financial services industry and is able to translate his skills and knowledge in wealth planning into transferrable ideas and concepts.
A trainer and speaker particularly on estate and legacy matters, Bernard has helped more than 2,500 practitioners in Singapore raise their competency in wealth planning. He is also the founder and organiser of the N5Collective Conference 2021 which brought together over 30 Kingdom-minded finance experts to share about managing wealth the Kingdom way.  
Samuel is the co-founder of KC Group, which has a local presence of more than 100 hair and beauty salon outlets across Singapore. The business was started by Samuel and two of his friends while they were still in university, and the trio frequently share their experiences at Nanyang Technological University's entrepreneurship courses and seminars.
Date: April 26, 2022  
Time: 8.30pm-10pm
Cost:  Free
Register at: https://bit.ly/familynightapr2022. Pre-registration is required.
About the hosts:
Carol Loi is a digital literacy educator, and leadership and family coach. A John Maxwell Certified Trainer for leadership and communication skills, she is also the founder of Village Consultancy, an organisation dedicated to equipping families, educators and children to be leaders and influencers both online and offline.
Alex Tee is a former banker turned home-schooling father and impact investor. He has been married to Channy for over 12 years and they have three children aged 10, nine and seven. The deepest desire of their hearts is to prayerfully raise children to be part of a family who seeks first the kingdom of God and His righteousness. Beside the passion to raise strong children, he also loves connecting the rich and the poor through impact investing.
About the organiser:
Salt&Light is an independent, non-profit Christian news and devotional website with a passion for kingdom unity, and a vision of inspiring faith to arise in the marketplace.
---
RELATED STORIES:
Money talk: What these parents teach about managing finances and what their children learnt
If you have enjoyed reading Salt&Light...
We are an independent, non-profit organisation that relies on the generosity of our readers, such as yourself, to continue serving the kingdom. Every dollar donated goes directly back into our editorial coverage.
Would you consider partnering with us in our kingdom work by supporting us financially, either as a one-off donation, or a recurring pledge?
Support Salt&Light