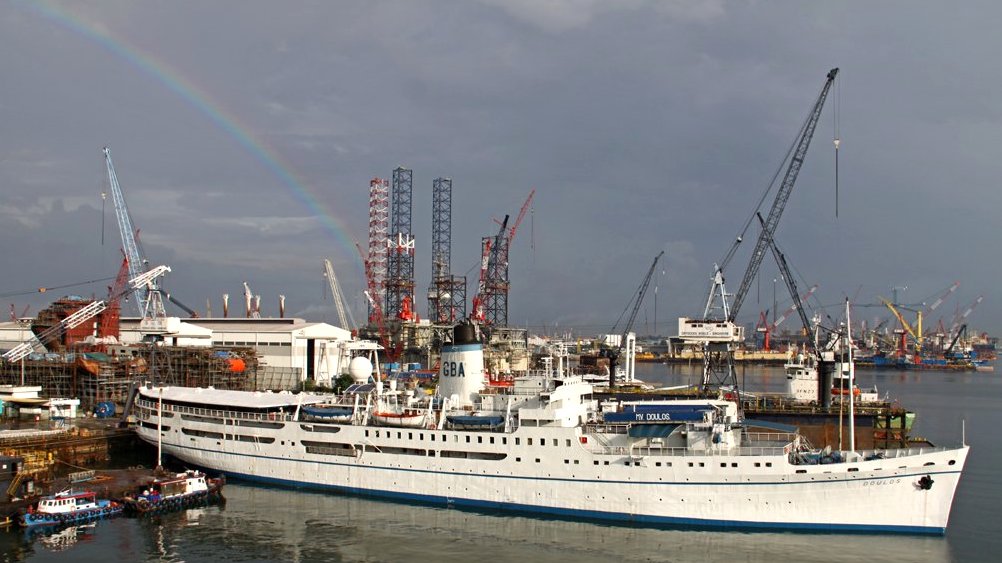 The MV Doulos berthed at a shipyard in Jurong, Singapore. Built just two years after the Titanic in 1914, the MV Doulos was the world's largest book fair of Christian and education titles. Welcomed in over 600 ports in 104 countries, visitor numbers often reached 10,000 in a single day and once topped 24,000. Photo by Maurits Luth, Operation Mobilisation.
When the MV Doulos was unexpectedly decommissioned in 2009, nobody knew if the ship could find a new home … or end up as scrap metal.
Listed in the Guinness Book of Records as the world's oldest ocean-going passenger ship, the MV Doulos, built in 1914 – just two years after the Titanic, was sailing until the ripe old age of 95.
Affectionately-termed the "grand old lady" of the seas, the MV Doulos was used in Christian service by Operation Mobilisation (OM).
For 32 years, it served as a floating bookshop, bringing knowledge, help and hope around the world and impacting millions of lives. Despite the open knowledge of her Christian ministry, Doulos was welcomed into 108 countries – from as far as Argentina in South America to Madagascar in Africa, from metropolitan cities like Hong Kong and Tokyo to islands in the Philippines.
Bought in the nick of time
But whilst undergoing annual maintenance in Singapore, engineers discovered several major works were needed to keep her sailing. The cost of over 10 million euros was prohibitively expensive, so in November 2009, OM leadership decided to sell the vessel. If there were no buyers by February, she would be sent to the scrapyard.  
Many were resigned to the fate of the MV Doulos. No one actually believed the ship could be sold; it was so old that its seaworthiness was often attributed to the grace and mercies of God.
However, when local businessman Eric Saw, 68, heard the news of the sale in January 2010, he was excited at the opportunity – the historicity of the ship and her ministry attracted him.
Saw was not a stranger to the ship's ministry, having visited the book fair several times with his family when the Doulos docked at Harbourfront in Singapore.
In March 2010, Saw bought the vessel for S$2 million with grand plans in mind. He could already envision a different flurry of activity on the well-worn decks: A museum, restaurants, and possibly, a hotel.
Inspired by Scripture which foretells of Jesus as both servant and light (Isaiah 49:6), Saw renamed it the Doulos Phos, meaning "servant light" in Greek.
Saw said: "But to be honest, I was not ready."
Not ready, but not giving up 
For three years after Saw took ownership, Doulos Phos sat in a shipyard in Jurong in limbo. Despite multiple rounds of proposals and talks with both government agencies and private developers, Saw faced one rejection after another.
It was a difficult and anxious time for Saw; without a permanent berth, he could not proceed.
In an interview with The Straits Times in 2012, Saw was asked why approval was not sought before the purchase. He admitted that it was "naïve" of him to think that the process would be smooth-sailing.
"Well-meaning friends told me not to put in good money to chase after bad money," Saw said.
The cost of that mistake: $25,000 for every month that the Doulos Phos spent tied up in the shipyard. This amount went towards basic upkeep, berthing fees and a skeleton crew.
"Well-meaning friends told me not to put in good money to chase after bad money," Saw said.
But, certain that God had prepared and led him to purchase the ship, Saw refused to give up.
And as Saw processed his struggles with his mentor, his conviction grew. He was only a steward of a ship that the Lord had entrusted him with. The dual nature of this project – business and ministry – meant that he would not make decisions solely based on the financial considerations alone.
"So we stayed on – doggedly," Saw said. "And in the meantime, I was pruned."
God's work, God's time
In 2012, after more than two years of waiting, individuals started coming alongside Saw, in support of the project. Some were friends but others were mere acquaintances.
Together, they committed to pray with Saw for the endeavour. It was no lip service. Every Thursday evening, this group met faithfully, seeking the Lord for wisdom, favour and grace.
"When the Bible tells you that prayer changes things, you better believe it!"
When the Bible tells you that prayer changes things, you better believe it, Saw declared. Because what looked like stumbling blocks, in fact turned out to be open doors.
It was one of members in the prayer group that suggested Saw speak to Frans Gunara of Bintan Resorts. He did so – and in 2013, Bintan Resorts International accepted the proposal to convert Doulos Phos into a land-berthed hotel.
In October 2015, after a year of refurbishing works in Batam, Indonesia, Doulos Phos was towed to her new permanent home: A small 1.4ha spit of land on Bintan, situated less than a five-minute drive from the Bandar Bentan Telani ferry terminal.
It looked like the five-year wait was coming to an end.
But for the next three years, Saw met with one roadblock after another. "It was a huge challenge," he admitted. "Still, I accepted because I knew that it would help me grow as a Christian."
"A time is coming and has now come"
By then, Saw's prayer life had deepened and his faith refined.
"It's when I asked the Lord all those great and unsearchable things I knew not!" (Jeremiah 33:3)
Onsite, there was a small shack of about 1.5m2 where his workers rested during breaks. Empty most of the day and at night, it presented Saw with the perfect place to commune with the Lord. He cleaned it up and the pondok (Indonesian for "hut") soon doubled up as his place of prayer.
"I spent a long time in the pondok," Saw said. "It's where I asked the Lord all those great and unsearchable things I knew not!" (Jeremiah 33:3)
It was there that he found encouragement and times of refreshing from the Lord.
Saw shares one such moment recently when he was reminded of one of his favourite verses in the Gospel of John: "Yet a time is coming and has now come when the true worshippers will worship the Father in the Spirit and in truth, for they are the kind of worshippers the Father seeks." (John 4:23)
While it speaks of Jesus' return and the gathering of His church, Saw noticed a parallel in his situation. "'A time is coming and has now come'," Saw mused.
The works on Doulos Phos were finally starting to come together, and he was very close to seeing the fruit of his labour. But as much as the call to this project was being fulfilled, the Lord had already done much work in Saw's life – from his uneventful moment of salvation at a regular church service, to the growing desire of doing ministry during his time in corporate life and even to the season of pruning he was undergoing.
He said: "I'm thankful the Lord allowed me to go through that."
Re-purposed for ministry once more
Due for a public launch in August 2019, the ship has now been fully converted into a 104-room hotel, complete with a spa, an infinity pool and even a small amphitheatre.
On Easter weekend this year, just over nine years since Saw assumed ownership, the Doulos Phos hosted her first guests in a private soft-launch with a thanksgiving service at daybreak on Resurrection Sunday.
It was a particularly poignant milestone for Saw who, in 2010, had to re-register MV Doulos as a "dead ship", a classification in the marine industry for a ship unable to move on its own power. "Never did I think that this would take nine years," Saw shared. "Nine long, but glorious years."
The MV Doulos has welcomed over 22 million visitors in over 32 years of service. Come August 2019, Doulos Phos will soon welcome its first visitors in nearly a decade, as the fruit of one man's dedicated service unto the Lord.
If you have enjoyed reading Salt&Light...
We are an independent, non-profit organisation that relies on the generosity of our readers, such as yourself, to continue serving the kingdom. Every dollar donated goes directly back into our editorial coverage.
Would you consider partnering with us in our kingdom work by supporting us financially, either as a one-off donation, or a recurring pledge?
Support Salt&Light