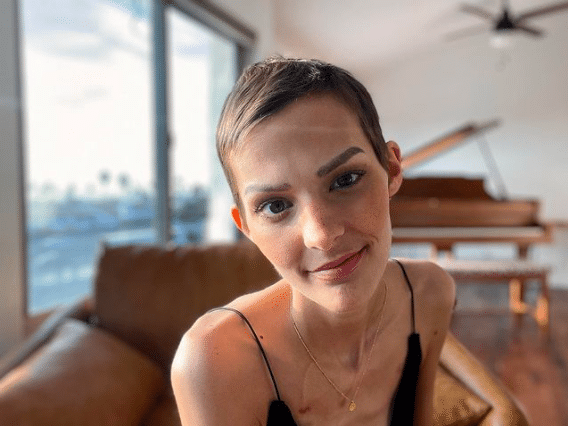 Nightbirde captured audiences with her stunning voice and grit when she auditioned for America's Got Talent last year. Photo from Nightbirde's Instagram.
America's Got Talent golden buzzer star Nightbirde, who captured audiences around the world with her stunning voice, tenacity and faith amidst pain, passed away on February 19 (Saturday) after a four-year battle with terminal cancer. She was 31.
In a statement to American media, the family of the singer – whose actual name is Jane Marczewski – confirmed the news "with the deepest heartache", adding that "we, her family, are devastated by her passing and unimaginable loss".
She had inspired millions around the world with her messages of faith and perseverance, the statement added.
"Her lasting legacy will be the gift of hope she gave to so many through her music and the strength she found in Jesus."
"Those who knew her, enjoyed her larger-than-life personality and sense of humour. She had a witty joke for every occasion – even if the joke was on her. Her lasting legacy will be the gift of hope she gave to so many through her music and the strength she found in Jesus. We thank everyone for their messages of love and support."
Marczewski rose to fame on the 16th season of America's Got Talent after singing an emotional original song called It's Okay, which told the story of her battle with terminal cancer. The video of her performance has since racked up close to 40 million views on YouTube.
During her audition, which earned her a golden buzzer from judge Simon Cowell that sent her straight to the finals, she said to the judges: "You can't wait until life isn't hard anymore before you decide to be happy."
She later revealed to the audience that she only has a 2% chance of survival. "But 2% is not 0%. 2% is something, and I wish people knew how amazing it is," she said with a smile.
A testimony of God's presence in pain
Marczewski's honest yet hopeful grief was grounded in her relationship with God.
In her blog, she detailed in honest poetic prose how she railed against Him in her deep pain, yet also found comfort in His faithful presence.
In one blogpost, she wrote: "I fear sometimes that when I die and meet with God, that He will say I disappointed Him, or offended Him, or failed Him. Maybe He'll say I just never learned the lesson, or that I wasn't grateful enough. But one thing I know for sure is this: He can never say that He did not know me. 
"I am God's downstairs neighbour, banging on the ceiling with a broomstick. I show up at His door every day. Sometimes with songs, sometimes with curses. Sometimes apologies, gifts, questions, demands. Sometimes I use my key under the mat to let myself in. Other times, I sulk outside until He opens the door to me Himself. 
"He doesn't spare me of thirst, he brings water … So why do we believe that when we are in pain, it must mean God is far?"
"I have called Him a cheat and a liar, and I meant it. I have told Him I wanted to die, and I meant it. Tears have become the only prayer I know. Prayers roll over my nostrils and drip down my forearms. They fall to the ground as I reach for Him. These are the prayers I repeat night and day; sunrise, sunset.
"Call me bitter if you want to – that's fair. Count me among the angry, the cynical, the offended, the hardened. But count me also among the friends of God. For I have seen Him in rare form. I have felt His exhale, laid in His shadow, squinted to read the message He wrote for me in the grout: 'I'm sad too.'"
In another post, she added: "I haven't come as far as I'd like, in understanding the things that have happened this year. But here's one thing I do know: when it comes to pain, God isn't often in the business of taking it away. Instead, he adds to it.
"He is more of a giver than a taker. He doesn't take away my darkness, he adds light. He doesn't spare me of thirst, he brings water. He doesn't cure my loneliness, he comes near. So why do we believe that when we are in pain, it must mean God is far?"
Despite having to drop out of the competition due to her deteriorating health, Marczewski continued to testify to God's presence in the midst of her pain.
In an Instagram post on September 16, in which she shared how hard it was not to be on the America's Got Talent stage for the finals, she wrote: "I remind Him sometimes, (and not kindly) that I believed Him when He told me the story He wrote for me is good, and that He never stops thinking of me.
"I must be a fool in love, because even from under all this debris, I still believe Him. And when I'm too angry to ask Him to sit on my bed until I fall asleep, He still stays."
A greenhouse for hope
In October 2021, Marczewski shared on Instagram a poem she wrote, titled A Hero in Flames, about how she would like to live with hope until the very end of her life.
She wrote:
If I were to die
It would be with the reflection of the mountains in my eyes
I would die with sun-pink cheeks
And a mouth full of blackberries
I want to die while my heart is still a greenhouse for hope
All my wild dreams as seedlings in egg cartons
Reaching toward the window
I cannot die yellow and hungry
I will not die in sterile air
But I would like to die
While the fireflies are still glowing
Morse coding their poetry for a cynical earth
I would like to die like Joan of Arc
With dignity and urgency and stubbornness
A watercolour portrait in the night
A sight to behold, a hero in flames
---
RELATED STORIES:
"God doesn't spare me of thirst, but He brings water": America's Got Talent golden buzzer singer who is stricken with 3 cancers
"When I lost all the tools to be lovable, that was when I saw His unconditional love": Nightbirde and her journey through suffering
If you have enjoyed reading Salt&Light...
We are an independent, non-profit organisation that relies on the generosity of our readers, such as yourself, to continue serving the kingdom. Every dollar donated goes directly back into our editorial coverage.
Would you consider partnering with us in our kingdom work by supporting us financially, either as a one-off donation, or a recurring pledge?
Support Salt&Light