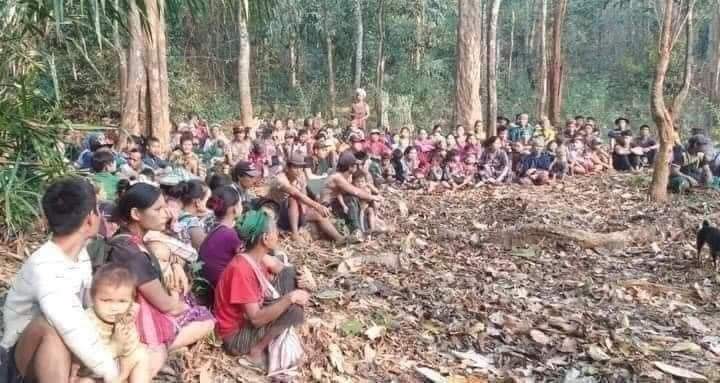 Thousands in the landlocked Chin state have sought refuge in forests nearby as violence escalated between the military and an armed resistance force comprising civilians. Photo by Chin community leaders.
He was part of a group of medical workers who spearheaded a civil disobedience movement in Myanmar's Chin state following the military's seizure of power on February 1 this year, the country's first coup since 1988. 
Now, David* (not his real name) is among thousands of Burmese resistance fighters struggling for cover in Mizoram, a northeastern Indian state that shares a border with his hometown in Myanmar's far-flung Chin state.
"I felt so desperate. I love my hometown."
"The military raided my house in the first week of March, so I rented a motorbike and fled," said the 29-year-old, who spoke to Salt&Light via an encrypted phone call for security reasons. 
The journey typically takes two to three hours but, this time, he chose an obscure route that took him 11 hours to reach the Indian border.
"I felt so desperate. I love my hometown, and it was not easy for me to make that decision and say it's not a suitable place for me anymore," he said.
UN raises alarm
David is among thousands displaced from the landlocked Chin state in the last fortnight – many believed to be seeking refuge in forests nearby – as violence escalated between the military and a resistance force comprising civilians. 
The Chinland Defence Force, a network of volunteers formed in April, has stood out for their fierce fight against the troops. But these have also prompted strong retaliation from the military junta.
Residents who have stayed behind are threatened with depleting supplies of food, and no access to medical care.
The state's Mindat town, in particular, has increasingly come under the media's attention for the ravage it is experiencing, with road access blocked by the junta, power and water supply cut off, and property haphazardly destroyed. 
Residents who have stayed behind are threatened with depleting supplies of food and shelter, and no access to medical care.
On Friday, May 21, the United Nations in Myanmar issued a statement expressing "alarm" at the hostilities in Mindat. The UN said that an "unconfirmed number" of individuals have lost their lives or sustained injuries, and flagged its concern over reports of the security forces using civilians as human shields, as well as incidents of sexual assault against women and girls.
Humanitarian access challenges, including insecurity and road blockages, are complicating the intergovernmental organisation's assistance efforts, it said.
"The Burma army has responded heavy-handedly to local militia groups that have put up resistance, by using excessive force and bombing them," said Salai Za Uk Ling, deputy executive director of the Chin Human Rights Organisation (CHRO). 
"We now have at least 8,000 people scattered in the remote jungles and villages (around Mindat). We were able to confirm that at least 50 people were being treated for injuries from shrapnel wounds from the bombs that were dropped incessantly on the town of Mindat during the fighting."
Persecuted for their faith
Chin state, located in an isolated, mountainous region in western Myanmar, is home to a considerable proportion of Myanmar's Christian minority.
The Chins' exposure to the Gospel started in the late 1800s, when American Baptist missionaries – most notably Arthur and Laura Carson – came to the Chin Hills, a mountainous region in northwestern Myanmar.
"Because of our Christian faith, we are like second-class citizens in our own country."
The Carsons laboured for a decade, building schools and churches, before more missionaries joined them. Over the years, members of the Chin tribe, who practised animism for centuries, converted to Christianity. 
Today, about nine in 10 Chins profess the faith.
And while the present hostilities have resulted primarily because of the military coup in February, the Chin state has long been the target of religious persecution by both the military and democratic leadership of the country, said CHRO's Za Uk.
Even before the recent coup, past military regimes have sought to destroy significant and symbolic identities of non-Burmese ethnic groups in their attempt at "Burmanising" the country. Chin state was particularly targeted because of its high concentration of Christians. 
The already poor infrastructure – the state is particularly susceptible to landslides due to its mountainous topography and deficient transport system – and extreme poverty in the state means Chin civilians' experiences of current atrocities will be worse off than the rest of the country.
Chin's state population stands at about 500,000, or just shy of 3% of the national population, according to Myanmar's latest publicly accessible census published in 2014.
The incidence of poverty is highest in Chin state, where close to six out of 10 persons (58%) are considered poor.
According to a 2017 survey by the World Bank on living conditions in the country, the incidence of poverty is highest in Chin state, where close to six out of 10 persons (58%) are considered poor. 
In Myanmar, an individual is considered poor if he or she lives in a household where each adult lives on 1,590 kyat – equivalent to USD$1 (S$1.32) – or less, per day. That figure in Chin state averaged 1,737 kyat (S$1.39) in 2017, according to the same survey.
"We were just slowly starting to get a taste of the development process in the last decade but, with the recent coup, all our works have been ruined. It is very painful," said David. 
"That's why I joined this movement. I know how hard it is to live under dictatorship and I don't want the youths today to go through the same."
An opportunity to unite
As a country, Myanmar has experienced decades of repressive military rule and poverty due to isolationist economic policies.
The transfer to a nominally civilian leadership led to some economic reforms, including opening up to trade and investment.
Their decades-long history of hardship and repression might be one reason why the Chin civilians are resolute about putting up its current resistance against the junta, David said.
A growing diaspora, with many Chins having settled as refugees in democratic countries, has also helped spur the local civilians to build a better future, he added.
Today, about nine in 10 Chins profess the faith.
"Many Chin people know that we have been left behind and need more opportunities. We know that we don't have access to education so students in schools are taught to strive for that access."
Renny Mang, chairman of the Chin Charity Inc and Australia Chin Federation, said the Chin community has largely been "forgotten" by the larger international community, including the church, as media reports tend to focus on other ethnic minorities, such as the Rohingyas. Chin state's remote location and small population could be other possible reasons for the lack of awareness.
He urged the church and Christians in the region to understand the issues and raise their voices via international platforms.
"Unlike in 1988, we now have technology and social media to help us see what is happening in Chin state. We need to speak up about what is happening. Many Chin Christian leaders throughout Burma have been arrested and some have had to flee to neighbouring countries. Because of our Christian faith, we are like second-class citizens in our own country."
Many have expressed concerns about an impending food crisis as many farmers are fearful of going out to the fields. Food prices have spiked by over 30% in recent months.
The state will also need financial help as well as psychosocial support now and in the long term, David added. 
"Many have left their jobs to join the civil disobedience movements, while there are a lot of youths who are exhausted mentally and physically," he said.
A religious leader, who cannot be named for security reasons, called on the global body of Christ to not overlook the Chin community.
"The whole world seems to know about the Karens and Rohingyas' plight, yet few know about the Christian Chins. I'd like to ask our brothers and sisters in Christ to please don't forget about us," he said.
"The Chin community has suffered a lot but, even until today, we know that God has been with us all."
He trusts that God will deliver the community in the end, but admits that forgiveness is not easy. 
"As a Christian, we must forgive, but it is hard to forget as many of the older generation are still suffering from past hurt and trauma, while dealing with present unrest."
Others from the Chin community that Salt&Light spoke to are keeping faith in God's larger purpose for the nation.
David, for instance, sees the larger-scale unrest as an opportunity for Myanmar's various ethnic groups to unite.
"I used to feel discriminated against because I was Chin, but now, the other groups might be able to empathise with our experiences. God might use this as an opportunity."
Choking up, Renny added: "The Chin community has suffered a lot but, even until today, we know that God has been with us all."
Here is how you can pray for the Chin Christians and Myanmar:
Pray for:
An end to the civil war and for peace to be restored to the country. Pray for God to change the mindsets of the military junta such that they will desire peace.
God to restore leadership that is just and fair to the needs of the people.
God's peace and comfort to be upon the families who have seen loved ones arrested or even killed to be comforted.
Divine provision and mercy upon the Chin people hiding out in the jungle and those left behind. May God continue to keep access open so that humanitarian aid can reach those who sorely need them.
Protection over those who are risking their lives to send aid to those in need. May God watch over their steps.
The larger international community to seek a better understanding of the situation in Myanmar and be prompted to pursue justice and peace.
---
Readers who would like to help or find out more about the situation in Myanmar and Chin state can reach out to Renny at the Chin Charity Inc, via [email protected]
---
RELATED STORY:
Will you pray for Christians in these 10 most dangerous countries in 2021?
If you have enjoyed reading Salt&Light...
We are an independent, non-profit organisation that relies on the generosity of our readers, such as yourself, to continue serving the kingdom. Every dollar donated goes directly back into our editorial coverage.
Would you consider partnering with us in our kingdom work by supporting us financially, either as a one-off donation, or a recurring pledge?
Support Salt&Light