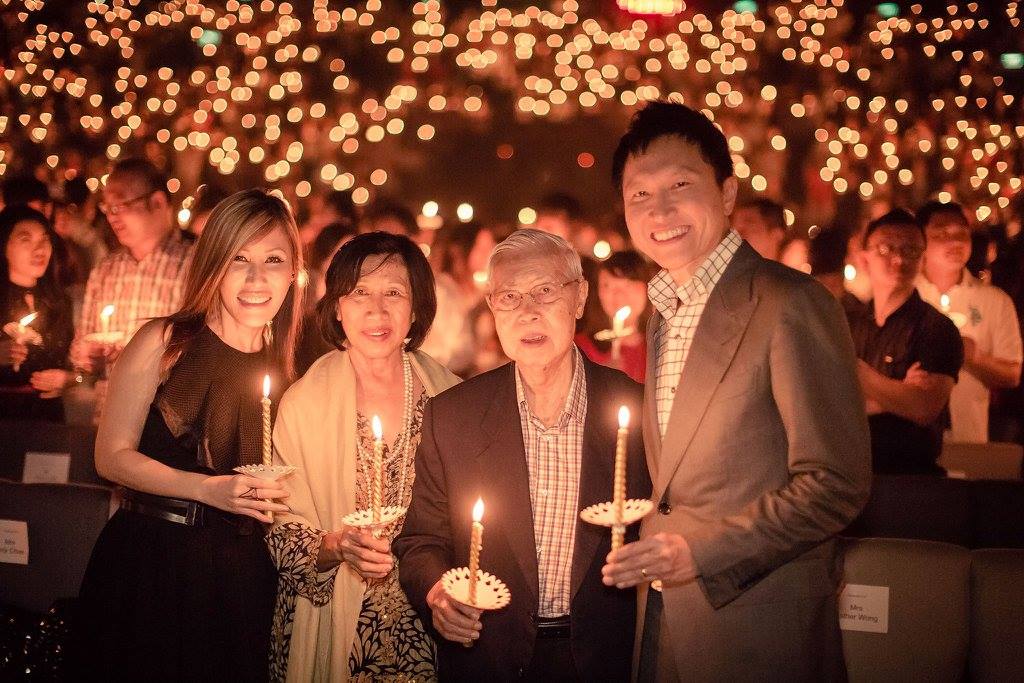 Pastor Kong Hee grew up and served under Rev Dr Canon James Wong and his wife, Esther.
Canon James Wong, the consummate charismatic evangelical, the church-planter, the revivalist, the pastor of tens of thousands over five decades of faithful ministry, has been called home to be with the Lord this afternoon at 4:45pm. He was 82 years old.
In the early 1970s, the Holy Spirit was moving gently but powerfully in Canon's heart. He was hungry and thirsty for more of God. Together with Anglican Bishop Chiu Ban It, they were touched by the Spirit. Soon, the fire of Pentecost was spreading throughout the Anglican and other denominations in Singapore and Malaysia.
It was said that in the services they conducted at the St Andrew's Cathedral, passers-by witnessed what looked like the church spire on fire. In those exhilarating days of the Spirit, as the Charismatic Renewal was in full swing, I was born again.
Lingering in God's presence and power
Canon was the only pastor I have ever directly served under. I was a member of his church and a worker among his staff. Over the years, I had the joy and privilege to be discipled by him, to plant churches, and to do missions together with him.
He believed that the Word of God must be the source of faith for every busy Christian businessperson and executive.
As a man of the Word, Canon was a promoter of the Bible. He was the one who insisted that behind every pew in the cathedral, there must be a Bible for people to read. In fact, he championed the reading of Scripture from cover to cover, and if possible, within a given year.
He was the pioneer of the lunchtime Bible study in the CBD for he believed that the Word of God must be the source of faith for every busy Christian businessperson and executive, no matter how successful he or she may be.
As a man of the Spirit, Canon simply loved the Holy Spirit. I have seen him lingering for hours in His presence and power.
Spontaneous worship was very important to Canon. One of his favourite prayers was "Come and set us free that we may worship Thee."
While he always cherished the traditional hymns, Canon introduced the singing of simple choruses so that people could remember lyrics more easily, especially when they were composed from Scriptures.
While he was aware of how it could be abused, Canon still had the highest regard for the charismatic gifts of the Spirit and always exhibited a childlike faith towards them. He enjoyed listening to prophecies and would be very excited whenever he witnessed the Spirit's healing and deliverance.
He loved the gentle presence of the Holy Spirit.
Hero of faith
Most of all, Canon was a man of love. He truly loved God with all his heart and soul, and he loved his family and his flock very much. He loved me like his own son.
Even with advanced Parkinson's, whenever he saw me, Canon would always encourage me with a verse or a vision that he had received from the Lord concerning me.
"I just want Christians to come together as one body of Christ, to worship Him and to love one another. That's all."
Canon always had a great, great love for the body of Christ. Although he was a lifelong Anglican clergyman, he never saw Christians through the prism of denominationalism. As far as he was concerned, we are all one in Christ and we must love one another as Jesus has loved us.
Serving with Canon in many inter-church initiatives, like the Festival of Praise, I always asked him: "Canon, what is your vision and goal for organising this event?" Without fail, his typical response would be: "I just want Christians to come together as one body of Christ, to worship Him and to love one another. That's all."
So simple. No big agenda. Just love.
About 15 years ago, I had a dream one night. In the dream, I was at Canon's funeral. As I looked at his body lying in repose, the Holy Spirit said to me from Hebrews 11:38: "This is a man of whom the world is not worthy. I love him very much."
And with that, I woke up.
Canon, you are our hero of faith. You have finally entered the eternal rest of the Lord.
We love you and will sorely miss you. But in a few "minutes", we will meet again and celebrate together in the joy of the Lord.
When we all get to heaven, what a day of rejoicing that will be! When we all see Jesus, we'll sing and shout the victory!
---
To join the livestream of the "Celebration of the Life of Canon James Wong", click on the following links:
9 April 8pm
10 April 8pm
11 April 8pm
Funeral Service: 12 April, 12 noon
"Canon James Wong was pioneer, church-planter extraordinaire and my beloved pastor": Pastor Yang Tuck Yoong
Canon James Wong, who shook church and marketplace by the power of the Holy Spirit, called home to the Lord
If you have enjoyed reading Salt&Light...
We are an independent, non-profit organisation that relies on the generosity of our readers, such as yourself, to continue serving the kingdom. Every dollar donated goes directly back into our editorial coverage.
Would you consider partnering with us in our kingdom work by supporting us financially, either as a one-off donation, or a recurring pledge?
Support Salt&Light