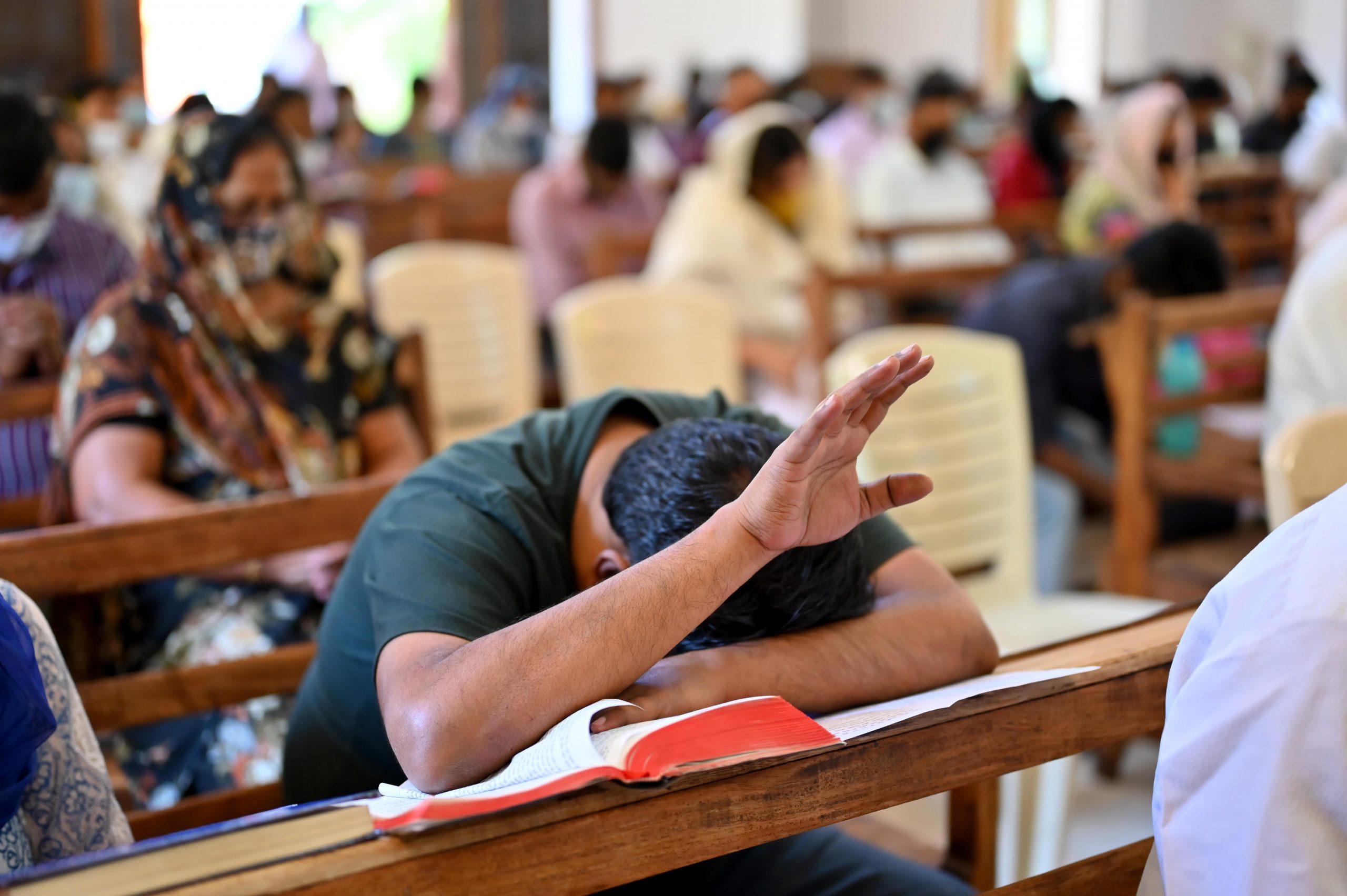 Worshippers praying on Good Friday at Epiphany Church in Gurgaon, India. Photo by Sudarshan Jha/ Shutterstock.com. 02 April 2021.
More than 1,000 church leaders and full-time ministry workers have died in India's deadly second Covid-19 wave, church leaders from the struggling nation have told Salt&Light.
Those who have succumbed to the coronavirus, many of them sole breadwinners of their families, have left behind grieving wives and children, as well as a huge "leadership vacuum" that may continue to cripple the Church long after the pandemic is over, warn the leaders.
One leader quoted by Christianity Today early last month estimated that up to 400 pastors, evangelists and bishops – a conservative figure, he said – have lost their lives.
"Every day I am hearing of four to five pastors who are dying across India."
Pastor Jaival* from Chennai, who is involved in several church networks and more than 100 churches across the country, agreed that the actual number is much higher.
"Every day I am hearing of four to five pastors who are dying across India. I'm aware that easily over 1,000 pastors and full-time ministry workers, like evangelists, have died.
"In our own state of Tamil Nadu alone, we know we have lost about 500 people in full-time ministry over this entire pandemic. That's just how devastating it is," he told Salt&Light over Zoom from Chennai.
Ps Jaival, who requested that his name be changed due to religious sensitivities in the country, estimated that 70% to 80% of the affected churches and Christian organisations have not adequately prepared themselves for a leadership transition.
"And often the leadership is centred around the pastor or the main founder of the organisation, and it's usually very centrally run. So, there's going to be a huge challenge for them in the days to see how that vacuum can be filled," he said.
Ostracised families left vulnerable
The demise of pastors across the country has also left behind scores of grieving and unsupported wives and children, many of whom have been ostracised from extended family members due to their Christian faith.
Ezra*, a businessman and church elder from Delhi who is part of an initiative to support these families who are in deep financial need, said his team is helping almost 50 such families in the National Capital Region alone. 
"This is not the total number of pastors' families that have been affected. These are only the ones who actually need economic support," he stressed.
One heartbreaking case he saw involved a 40-year-old pastor, the sole breadwinner of his family, who had died of Covid-19, leaving behind his wife, three young children and hefty hospital bills to pay off.
Being illiterate, the pastor's widow had felt completely helpless as to how to put food on the table, let alone continue sending her children to school.
In fact, they had not had any income for the last seven to eight months, as tithing had fallen after many of their members lost their jobs, said Ezra. 
Pastors' deaths leave wives and children unsupported, as they have been ostracised due to their Christian faith.
According to the Centre of Monitoring Indian Economy, more than 7.5 million Indians lost their jobs in April alone, taking the unemployment rate to a four-month high of 8%. 
"The pastor, when he was still alive, had done what he could to put some bread on the table. But now he's gone and the church of 10 to 15 people is all over the place," he said.
He noted that these families are left vulnerable as most come from non-Christian backgrounds and have been ostracised by their family members because of opposition to their faith.
"So, they don't have their own family. They don't have the church, not because the church doesn't want to help but because they themselves are from poor backgrounds and struggling," he said.
"It's a very tragic, lonely situation to be in. It's very painful."
Smaller churches worst hit
Ezra noted that the majority of these needy families come from smaller churches who do not belong to big networks or have fixed financial support. Many had already been struggling to keep their churches running since the start of the pandemic.
Pastor Tabitha*, who pastors a church of 45 in the city and a children's church of 70 in a nearby village, said tithing in her church – which is typically about 25,000 rupees, or about S$450, a month – has fallen by about 60% since the pandemic began.
"For every pastor who died, there are at least five believers who have died."
This is mainly because many of her members, some of whom are daily wage labourers, have lost their jobs, she said.
Others are also not technologically savvy enough to give through online means – a logistical problem given that they have not been able to meet physically for more than a year.
Her own income has dwindled, but she has been able to get by from saving on transport costs as her city is in lockdown.
She is also grateful to God that the landlord of her worship hall has waived the rent of the hall since physical services have been shut down. Many churches have had to continue paying for rent due to contractual obligations, she noted.
"If it were not for God, I wouldn't know how to sustain myself and the church at this time. I'm living by faith for everything. Everything is under lockdown here, but heaven is always open," she said with a hearty laugh.
But Ps Tabitha is well aware that not all small churches like hers are as fortunate.
"Many small churches have closed down and their pastors are wondering what will happen now," she said, adding that at least 14 pastors in her denomination have passed away.
Heaven is always open
As of now, Ezra and his team are providing the needy families with one-time support to help with financial debts and daily expenses.
So far US$35,000 has been raised from their own pockets as well as from other believers in their circles, and they are working towards raising another US15,000, he said.
"I'm living by faith for everything. Everything is under lockdown here, but heaven is always open."
They are also working out how best to support these families with longer-term expenses, especially if they have school-going children or other outstanding debts to be settled.
And the team has started to collect data from families of deceased believers, to identify other vulnerable families in need of financial support.
"For every pastor who died, there are at least five believers who have died. So their families must also be in a difficult situation. Our plan is to reach out to them and try to see what kind of support we can create for them."
Ps Jaival urged believers to pray that God will provide resources to keep affected families afloat, as well as provide leaders in the days to come who can take over churches and ministries.
"We hope that ministries will not crumble or collapse because of the lack of leaders. We need to pray that God will provide help and the ministry can continue in many of these churches."
---
*Names have been changed for security reasons.
To help church planters, pastors, missionaries on the ground and their families affected by Covid-19 with medical cost, hospitalisation and funeral costs, or for more information on pandemic relief for India, contact [email protected].
Pray for churches in India
Pray for: