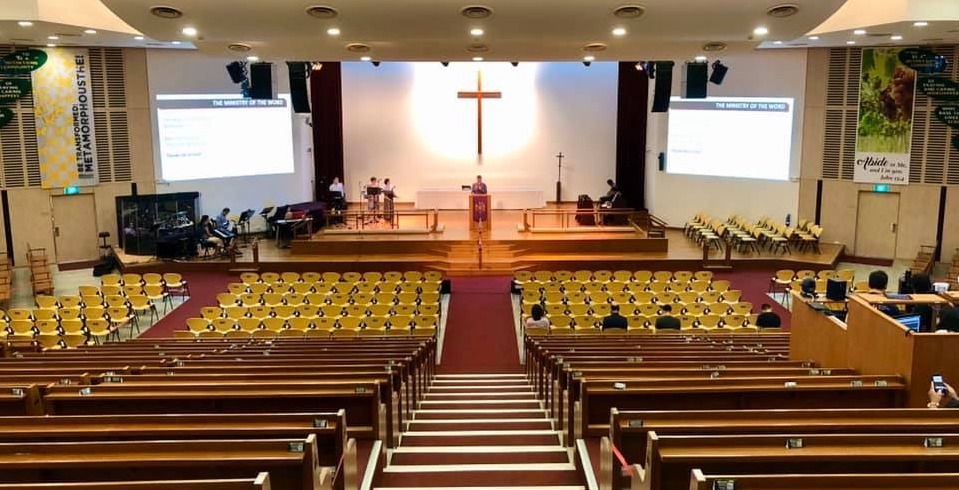 The livestreamed service from an empty hall at St John's-St Margaret's Church on March 21, 2020. Photo courtesy of Ng Zhiwen.
Covid-19 measures will be tightened again from tomorrow (July 22) to August 18, as Singapore goes back into Phase Two (Heightened Alert) in a bid to tackle the recent surge in community cases.  
Churches will be allowed only 50 to 100 worshippers at services, instead of the previous cap of 250 people, announced the Ministry of Culture, Community and Youth (MCCY) yesterday (July 20).     
Churches are encouraged to serve the religious needs of their communities via remote means.
If pre-event testing is in place, up to 100 worshippers can attend each service. Otherwise, the limit is 50 people. Singing is not allowed. 
All other non-congregational religious activities, except for religious rites, are to be suspended.  
MCCY said churches are encouraged to continue supporting the religious needs of their communities via remote means such as recording and broadcast of religious services and prayers. 
From tomorrow, churches can have up to 15 persons on-location for these productions. Of these, up to 10 can be unmasked at any one time – no more than two of whom should be singing or playing wind or brass instruments. They must maintain a two metre distance from one another.
Churches who wish to use their premises for digital recording or broadcast are required to notify MCCY at its Crisis Preparedness for Religious Organisations (CPRO) website.  
Renewed restrictions
These changes come even as Singapore tries to buy time to raise vaccination coverage among its population. Since reopening to Phase Three in two stages – first on 14 June, then on 21 June – the country has discovered large clusters of cases islandwide.
Hence, the allowances of Phase Three (Heightened Alert) – such as congregational size of up to 250 worshippers with pre-event testing, unmasking and live singing by worship leaders – will no longer apply.  
Churches are to make known to worshippers attending services of between 50 and 100 that they will be denied entry if they do not produce the relevant negative Covid-19 test result notice, vaccination notice, or exemption notice with the necessary validity period. 
In the past, pastoral services and religious classes were allowed, so long as they were conducted in gatherings not exceeding 50 persons. Such activities are to cease with the new restrictions.  
The cap on groups for marriage solemnizations is 50 attendees without pre-event testing – similar to that for church services – and 100 attendees with pre-event testing.  
All churches must acknowledge the new conditions at the CPRO website before their activities commence. 
Apart from observing the restrictions regarding church activities, Singaporeans will also need to adhere to other rules. For instance, from tomorrow, there will not be dining in at food and beverage establishments. Social gatherings are capped at a maximum of two people, and work from home remains the default. 
"The tightening of measures for religious activities reflect the seriousness of the current Covid-19 situation," said MCCY.   
"We will have to remain vigilant and regularly refine our safe management measures in order to minimise the risk of Covid-19 transmission. MCCY will continue to work with our religious organisations to ensure a Covid-19 safe environment for religious activities." 
---
RELATED STORIES:
Pre-Event Testing for church services: More details given by MCCY
New "Phase 2 (Heightened Alert)" guidelines for church services from May 16 to June 13: Full details