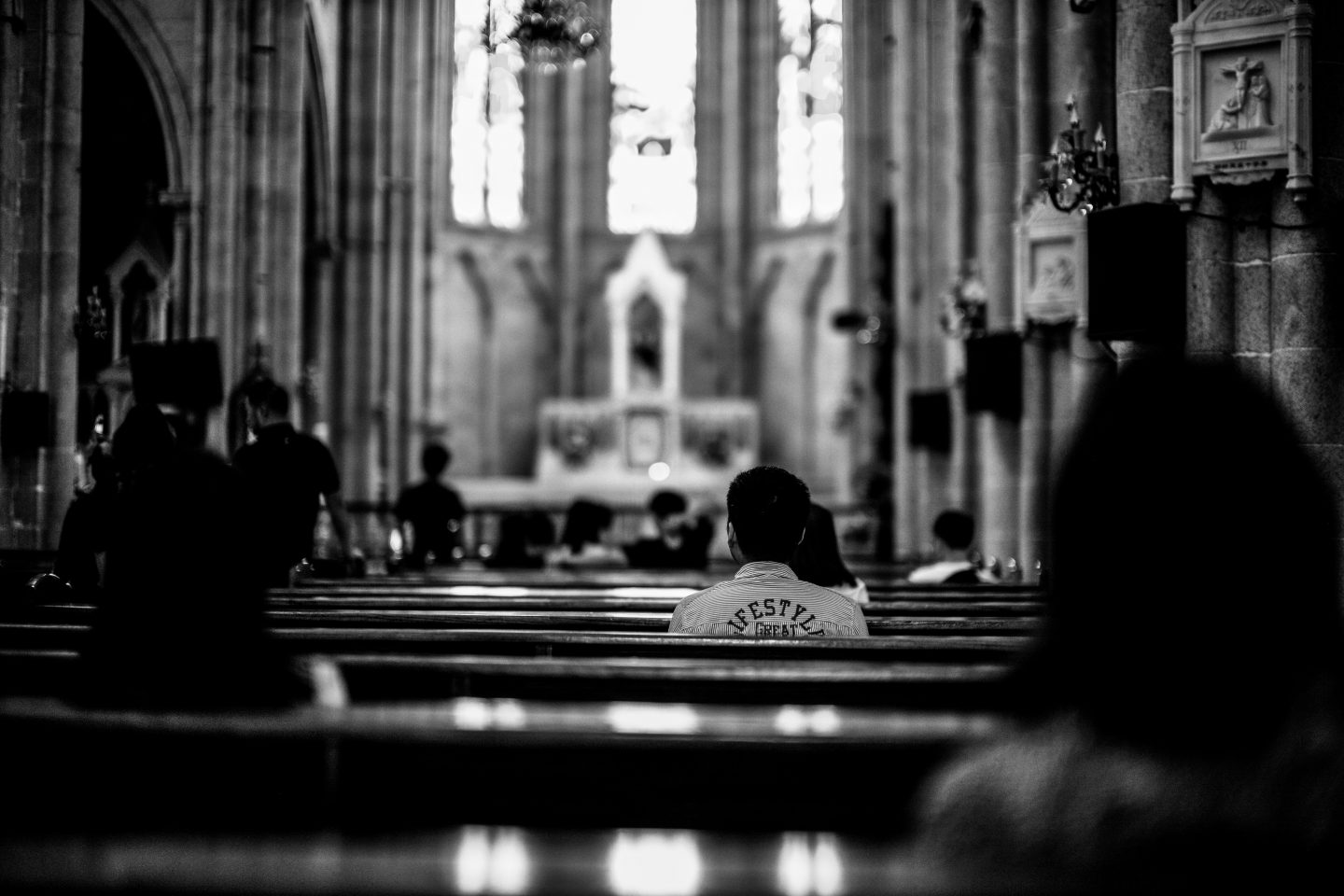 Photo by Kenny Luo on Unsplash.
Reduce the scale of events to below 250 people where possible.
Reduce overcrowding, for instance by seating participants 1 metre apart.
These are some new considerations churches are taking on board following a Ministry of Health (MOH) advisory released today (March 13) on "additional precautionary measures".
The advisory follows on the heels of a nationally-televised message yesterday (March 12), when Prime Minister Lee Hsien Loong said: "We can do more – for example at religious gatherings.
"The issue is not religion itself, but that the virus can spread to many people in crowded settings, like religious gatherings and services. I hope that Singaporeans understand that during this period, we may need to shorten religious services or reduce attendance at such gatherings."
Capping congregations
Catholic Archbishop William Goh had announced yesterday (March 12), hours before PM Lee's message, that Catholic mass in Singapore will continue to be suspended.
Several Protestant churches, including Adam Road Presbyterian Church, City Harvest Church and Faith Community Baptist Church, have suspended weekend worship services since the nation's move to Dorscon Orange.
Following today's MOH advisory, Redemption Hill Church, which sees more than 250 people in its three services, has decided against holding services this Sunday.
The church will livestream a short service at 10am this Sunday, said lead pastor Simon Murphy, adding that "we hope to find a way to be able to meet again shortly".
"Let us proactively love and intentionally pray for those around us and for the COVID-19 outbreaks around the world."
"I know that participating in service via a screen can feel strange, but let's remember that God is the primary actor when we worship together, whether in private or public, in person or remotely," said Ps Murphy.
Other churches, which already have measures such as temperature-taking and contract tracing in place, are opting to continue meeting.
Calvary Assembly of God, whose attendance at its services is below 250, will adopt pre-packaged communion elements, cease altar calls, shorten services by half an hour to 1.5 hours, and increase the distance between rows of seats.
"Be an example of peace, compassion and boldness in a time of uncertainty and sickness," urged Pastor Timothy Eu, reminding believers of Jesus' response to the leper in Matthew 8.
The Anglican Diocese of Singapore, which has a COVID-19 task force, met with Bishop Rennis Ponniah this afternoon.
Following the meeting, a message from Archdeacon Tak Meng from the Diocesan COVID-19 Task Force advised its clergy, deaconesses and church wardens to encourage all parishioners aged 70 and above to worship from home from March 14-24, 2020.
The message added that the task force is preparing a public advisory to all Anglicans, as well as a separate advisory to clergy on how churches can work towards limiting services to 250 people.
Hope Singapore is complying with the new guidelines by dividing its youth services into smaller groups and capping other congregations at 250.
A note from the pastoral team to members said: "Above all, let us remember our identity as Christ-followers and hold onto the sovereignty of God through this situation. In such times, let us proactively love and intentionally pray for those around us and for the COVID-19 outbreaks around the world. The salvation we have in Christ is our eternal hope in such times."
Uniting to help one another
The Methodist Church in Singapore (MCS), the largest Protestant denomination with some 44,000 members, said it has contacted MOH and understands that "their concern is with the duration, density and scale" of gatherings.
"In a time like this, we as a community of faith must walk what we believe."
MCS added that it has called for a meeting with the Ministry of Culture, Community and Youth (MCCY) next week.
In the interim, it has provided these guidelines for the 46 Methodist churches in Singapore in a statement released today:
Services may continue for this Sunday, March 15, 2020, but churches can encourage its members to watch the livestream or recording of the service from home, or tune in to another Methodist church's livestream.
Churches can work at reducing the number of attendees to 50% of the venue capacity or lower, conducting additional services (every doubling of services halves the density of worshippers) and encouraging members from the more well-attended services to attend the less-packed ones.
Seating should be with adequate distance (at least 1 metre) between family groups; families should sit together and worshippers should not mingle between groups. Non-contact forms of greeting are to be used.
More efforts are to be made at travel and health screening; all screeners should be properly trained to use thermometers and be vigilant in not letting through those who answer "yes" in the questionnaires.
Senior ministries and activities for those aged 60 years and above are to be suspended.
Service durations should be reduced, with choral anthems to be stopped in the interim, as congregational singing has been shown to be the most likely activity in a service when respiratory secretions are dispersed.
Methodist Bishop Rev Dr Chong Chin Chung who, in a letter on MCS' website today, urged members to "continue to minister to those in need, and to those who have understandable anxiety during this crisis", told Salt&Light: "In a time like this, we as a community of faith must walk what we believe. Trust the Lord, love God and love your neighbour.
"Let's unite our hearts to help each other. We shall overcome the challenge in front of us."
If you have enjoyed reading Salt&Light...
We are an independent, non-profit organisation that relies on the generosity of our readers, such as yourself, to continue serving the kingdom. Every dollar donated goes directly back into our editorial coverage.
Would you consider partnering with us in our kingdom work by supporting us financially, either as a one-off donation, or a recurring pledge?
Support Salt&Light