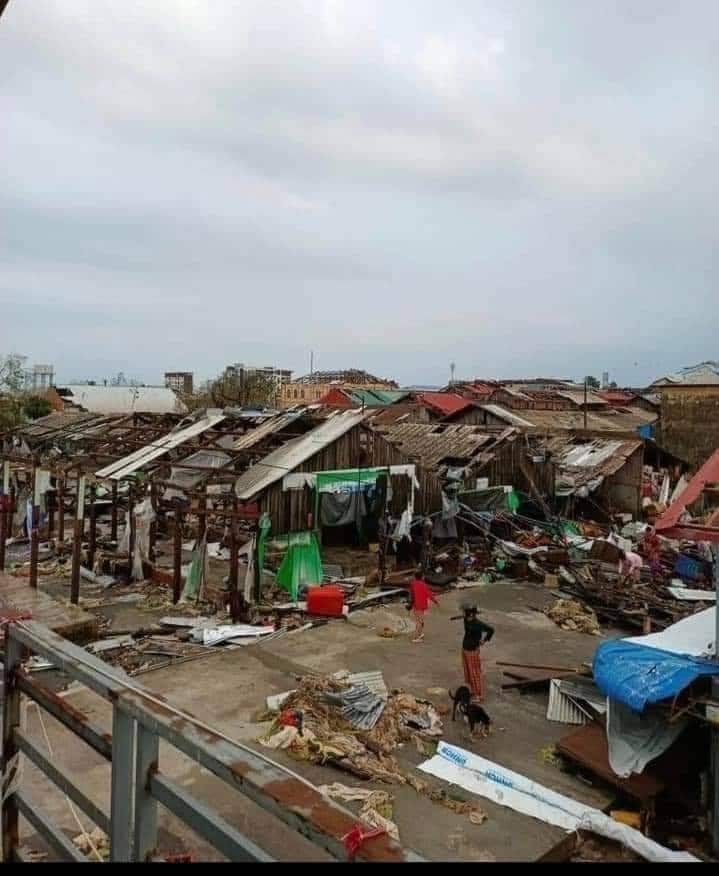 Hardly a roof for the many heads: Cyclone Mocha-ravaged Rakhine has been declared a natural disaster zone. All photos courtesy of YWAM.
Mother's Day 2023 will be remembered in Myanmar for the devastation that Cyclone Mocha brought to its western coast of Rakhine.
The Category 5 storm – the largest to hit the region in more than a decade – made landfall the afternoon of May 14 with winds of more than 200 km/h, pummelling Rakhine's capital of Sittwe hardest.
Up to 90% of the city was destroyed.
Roofs were blown off and power lines, brought down. With storm surges reportedly more than 3 metres high, Mocha left a trail of destruction that included piles of rain-soaked rubble underneath abruptly uprooted trees.
Up to 90% of the city was destroyed, according to the BBC, which also said that the ruling military junta had declared the whole of Rakhine a natural disaster area.
The official toll was 21 deaths. Unverified sources say over 1,000 people have died, especially in refugee camps and villages. 
Damage uncontrolled
"It's still very hard to get a clear picture of the situation on the ground," a YWAM Myanmar spokesperson told Salt&Light via email.
Rakhine is an area where many struggle to find clean water, food, medical care and shelter.
Updates have been slow in coming due to the damage to the communication infrastructure. However, relief is clearly needed urgently.
Rakhine is known to be an area where many people struggle even on a normal basis to find clean water, food, medical care and shelter. Proper sanitation is also lacking.
Singapore Red Cross (SRC) estimates that some 43.5% of the population there lives below the poverty line. More than 71% of its housing is constructed mostly of bamboo.
Rohingya communities are congregated in the region around Sittwe, according to Partners Relief & Development, an NGO (non-governmental organisation). They, in particular, are a displaced people already in dire economic straits.
As far as YWAM can tell, access to the disaster zone has been limited by the authorities. Trucks with goods are only allowed to a checkpoint many kilometres outside the city.
"People are still in shock and deeply traumatised by the terrifying experience."
"Many people are still in shock and deeply traumatised by the terrifying experience. Many were injured by objects that flew around in the storm and need treatment."
In a statement accompanying an appeal for funds, Benjamin William, SRC Secretary General and CEO, expressed the organisation's readiness to provide a humanitarian response.
He said: "Initial assessments suggest the damage is extensive and needs will be high amongst the already vulnerable communities, including displaced persons in Rakhine.
"We can only get a better assessment of the disaster's full magnitude when telecommunications is restored."
Meanwhile, it is accepting donations online via giving.sg or the SRC donation portal. 
Prayer needs
YWAM's spokesperson shared that while flights to Sittwe have resumed, these are limited. YWAM is sending in a country leader tomorrow (Saturday, May 20) for a better perspective. Prayer needs include:
Food, clean water, and shelter for all affected: "Very soon the monsoon rains will start, which will provide clean water but will create other problems."
Supply chains to be opened up by the authorities. Myanmar is ruled by its military junta, which seized power on February 1, 2021. 
Medical care for the injured, many of whom need attention urgently
Peace and comfort, especially for those who have lost loved ones and/or are traumatised by this terrible experience
Aid workers on the ground struggling to get back on their feet and resume their work: YWAM received word on a couple stationed there who were able to flee the cyclone by driving inland for two hours. However, the roof of the building they took shelter in was also blown off. 
Protection, wisdom, discernment and favour for the YWAM leader travelling there.
Those interested in learning more about YWAM's relief efforts may email [email protected].
Afghan aid worker who has chosen to stay: "I am not a brave person. Every day I pray to the Father and ask Him to help me."
If you have enjoyed reading Salt&Light...
We are an independent, non-profit organisation that relies on the generosity of our readers, such as yourself, to continue serving the kingdom. Every dollar donated goes directly back into our editorial coverage.
Would you consider partnering with us in our kingdom work by supporting us financially, either as a one-off donation, or a recurring pledge?
Support Salt&Light