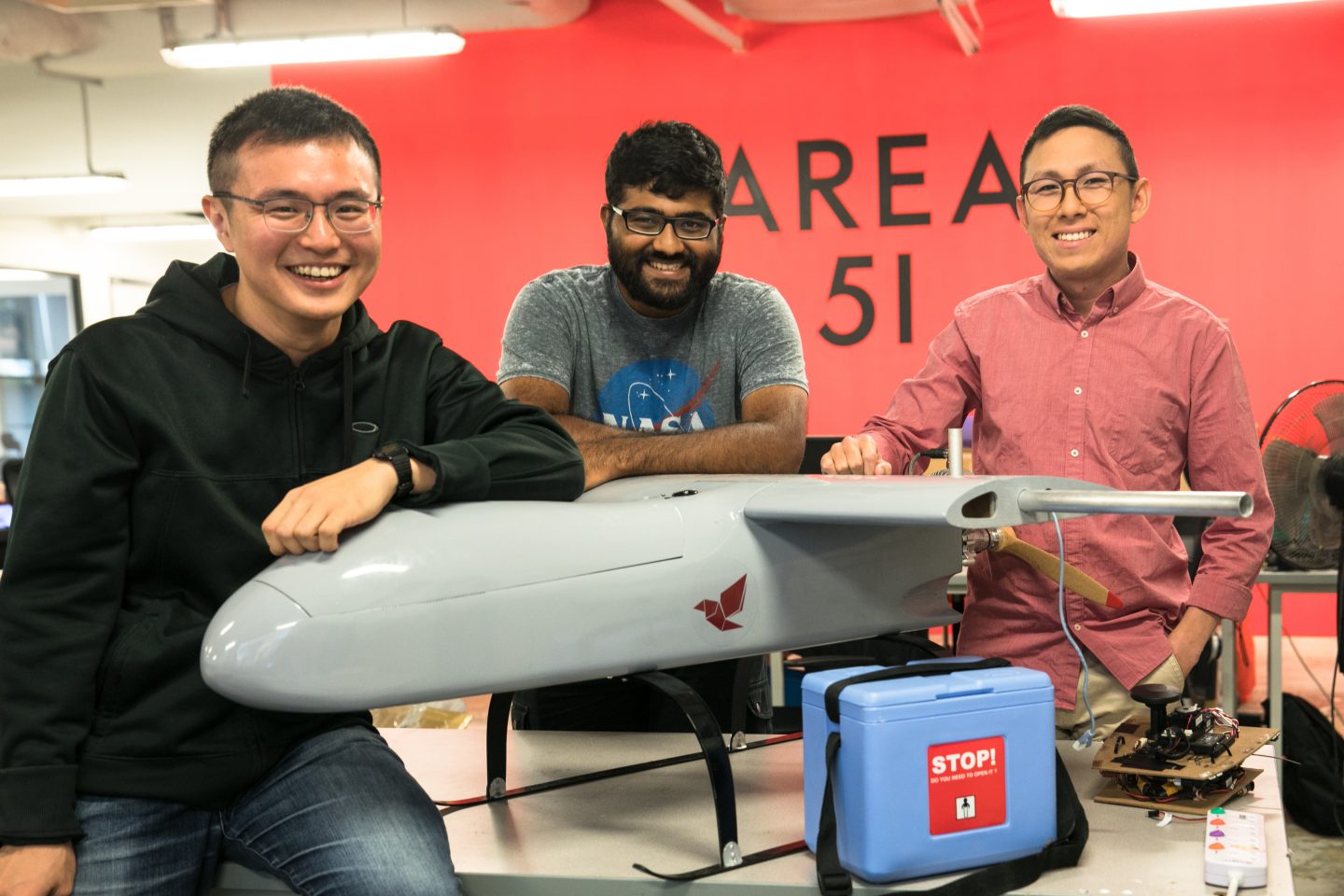 Yonah's co-founders (from left to right): Ong Tian Chang, Sriram Sami and Sim Zhi Min. Photo by David Lawrence Lim.
To answer Singapore's Antioch call. To find their place in God's kingdom (1 Corinthians 12:18).
Ong Tian Chang, 30, and Sim Zhi Min, 25, were so certain about their callings that they started a business around them.
The duo are co-founders of Yonah, a social enterprise that is developing a drone delivery system to transport critical medical cargo, such as vaccinations, to people living in rural communities, beginning with Papua New Guinea.
A few years ago Ong, who has a background in mechanical engineering and robotics, was asking God how he could be used for God's kingdom. He jokes that in church, "those who can sing and play instruments have something to do. Those who are old can become elders. But there's nothing much for engineers".
"In church, those who can sing and play instruments have something to do. Those who are old can become elders. But there's nothing much for engineers!"
A visit to the Kingdom Invasion conference in 2014 was a turning point. He heard well-known missionary, Heidi Baker, thank God for engineers, and learnt that her husband Rolland, himself a missionary, has an engineering background. Ong found himself in tears, heaving a sigh of relief. "Wow, God has a use for me."
But it wasn't until a year later that God activated him. In April 2015, a massive earthquake devastated Nepal. Ong was following the news updates on the disaster.
He read reports that some planes were banned from delivering aid because their powerful propellers could destroy peoples' homes. "Was there a better way to provide aid?" he wondered.
Shortly afterwards he emailed Missions Aviation Fellowship International (MAF), an aid group in Nepal, and quizzed them about their work. The ongoing conversation went on for a year until MAF, impressed by his tenacity, offered two spots on a trip to observe their work in their headquarters in Cairns, Australia, and in Papua New Guinea, where they had been operating for nearly 70 years.
Ong was game, but he had to find a partner. He sent out an email to Varsity Christian Fellowship, and that's when Sim replied.
Sim was then an engineer at HOPE Technik, working on unmanned aerial vehicles (UAVs, more commonly known as drones). Being "a blessing to the nations around" was always at the back of his mind. He wanted to see Singapore's Antioch destiny realised.
So, though strangers to each other, the two intrepid young men set forth on an 18-day trip together in May 2016.
Taking Papua New Guinea
During their visit to Papua New Guinea, the pair was struck by the near-impossibility of transporting medical cargo within the largely mountainous country. Up to 85% of the population live in rural areas.
There are few airstrips for planes to land and deliver goods. Just walking from the main hospital to a remote health facility could take two to five days due to the difficult terrain. By then, temperature-sensitive medication would be useless.
MAF's financial sustainability model means that it cannot take vital medical shipments often. Each flight has to carry its maximum load before it can make one journey. Consolidating the cargo could take anywhere between one week and three months.  
Most drone developers are focussed purely on commercial opportunities, whereas Yonah is motivated to reach remote and needy communities.
"The doctors would say things like, 'We have a measles outbreak here, but we cannot control it. I have the vaccines at the hospital, but I cannot get them to the health centre,'" says Sim.
The engineers decided that the best way to solve the problem of inaccessibility was to design drones with the capability of delivering critical healthcare supplies.
It is not a new idea, they say. In 2014, Doctors Without Borders piloted a programme to transport patients' samples via drones to treat tuberculosis. But Yonah wants to improve on current technology.
According to the Doctors Without Borders press release, the drone was only able to travel up to 28km and carry a "light payload". Yonah hopes that its drones can travel up to 100km and carry up to 3kg of cargo.
MAF's International Development Director Bill Harding says their organisation was excited when Yonah first approached them because most drone developers are "focussed purely on commercial opportunities whereas Yonah is motivated to reach remote and needy communities".
"This is something in line with our vision to transform the lives of isolated people."
In Papua New Guinea, "hundreds of villages are cut off from connection to basic services like healthcare by mountains, jungles and swamps", says Harding. And yet aircrafts are expensive to operate in the region. So drones are expected to carry out many life-saving tasks in the future.
Finally in August 2016, Ong and Sim incorporated a company that would be the potential solution to Papua New Guinea's medicine delivery problems.
They called it Yonah, which means dove – a symbol of peace – in Hebrew. 
The cost of obedience
In spite of their delight at the birth of Yonah, heeding God's call wasn't easy. 
Without any funding, the first two months at Yonah were especially hard. The pair had to switch from a stable income to living from paycheque to paycheque (and sometimes, without one).
"I bought my first car at 23 years old and I was servicing the loan," says Sim. "I was drawing quite a good income. Before I left I was promised a promotion."
But he was determined to obey God's call, as he had asked God to use him and God had answered.
He also felt that his experience at HOPE Technik was God's way of preparing him for the work at Yonah.
A third partner who joined in August 2016, Sriram Sami, 23, quips that it was a period of "poverty engineering". They were even using scrap materials that HOPE Technik had thrown out.
It was also excruciating to wait for companies to revert on their grant applications, remembers Ong. But they trusted that "God will provide" (Philippians 4:19).
The friends also drew assurance from reading the book of Nehemiah. "It was one of the only engineering projects in the bible and God provided amply for the work that He wanted done."
"The book of Nehemiah describes one of the only engineering projects in the Bible and God provided amply for the work that He wanted done."
God also sent encouragement through fellow believers.
Once the wife of a former missionary in Papua New Guinea gave Ong a word of prophecy: "You're in the desert now, but God will send rain".
Lucas Chow, the former chief executive of MediaCorp and Far East Orchard, was similarly upbeat. He visited Yonah's office and encouraged the young entrepreneurs to remain obedient to God's calling, adding that "God will make a way" (2 Corinthians 1:20).
True enough, the next day, a $50,000 cheque from DSO National Laboratories came in. 
Lessons from Nehemiah 
Miracle aside, the bigger takeaway over the past year and a half has been learning what God's peace feels like.
In August last year, the team made their second trip to Papua New Guinea. They wanted to visit the Kompiam hospital staff and test their drone in the actual terrain. 
Prior to the trip, they had ploughed eight months and most of their funding into a helicopter-like prototype. Yonah was hoping to run a flight test by the time they were in Papua. But by test time, the drone still couldn't fly.
"I was very discouraged to the point where I was asking God, 'Did I hear you wrongly?"" Ong says.
"We learnt what moving with peace, and what moving without peace look like."
It was also election year for Papua New Guinea, and there was a wave of political unrest. Kompiam Rural hospital, which they had hoped to visit, had to shut down in June. Even MAF's operations were disrupted.
The team bought their plane tickets anyway, with faith that God will protect them during their journey.
And God did, from their visa clearance upon arrival, to their flight to Kompiam hospital. Just eight days prior to their departure, Kagamuga Airport had been closed.
"What we did not have control of actually proceeded the most smoothly. We learnt what moving with peace, and what moving without peace look like," Ong says, pointing to John 15:5 and Philippians 2:13.
"You learn to loosen up a bit after that," he says with a laugh.
After the trip, more resources came in. A professor at National University of Singapore donated a couple of 3D printers. And most recently, Yonah secured free access to a two kilometre long airstrip in Malaysia to test their products.
The start-up is looking to complete all flight tests and finalise the drone's design by the end of this year. They aim to be commercially viable by May 2019, starting with services to Kompiam hospital at a cost of between $30 and $75 per flight.
Then they would finally be on the way to fulfilling Yonah's namesake of bringing God's peace to the world.
If you have enjoyed reading Salt&Light...
We are an independent, non-profit organisation that relies on the generosity of our readers, such as yourself, to continue serving the kingdom. Every dollar donated goes directly back into our editorial coverage.
Would you consider partnering with us in our kingdom work by supporting us financially, either as a one-off donation, or a recurring pledge?
Support Salt&Light