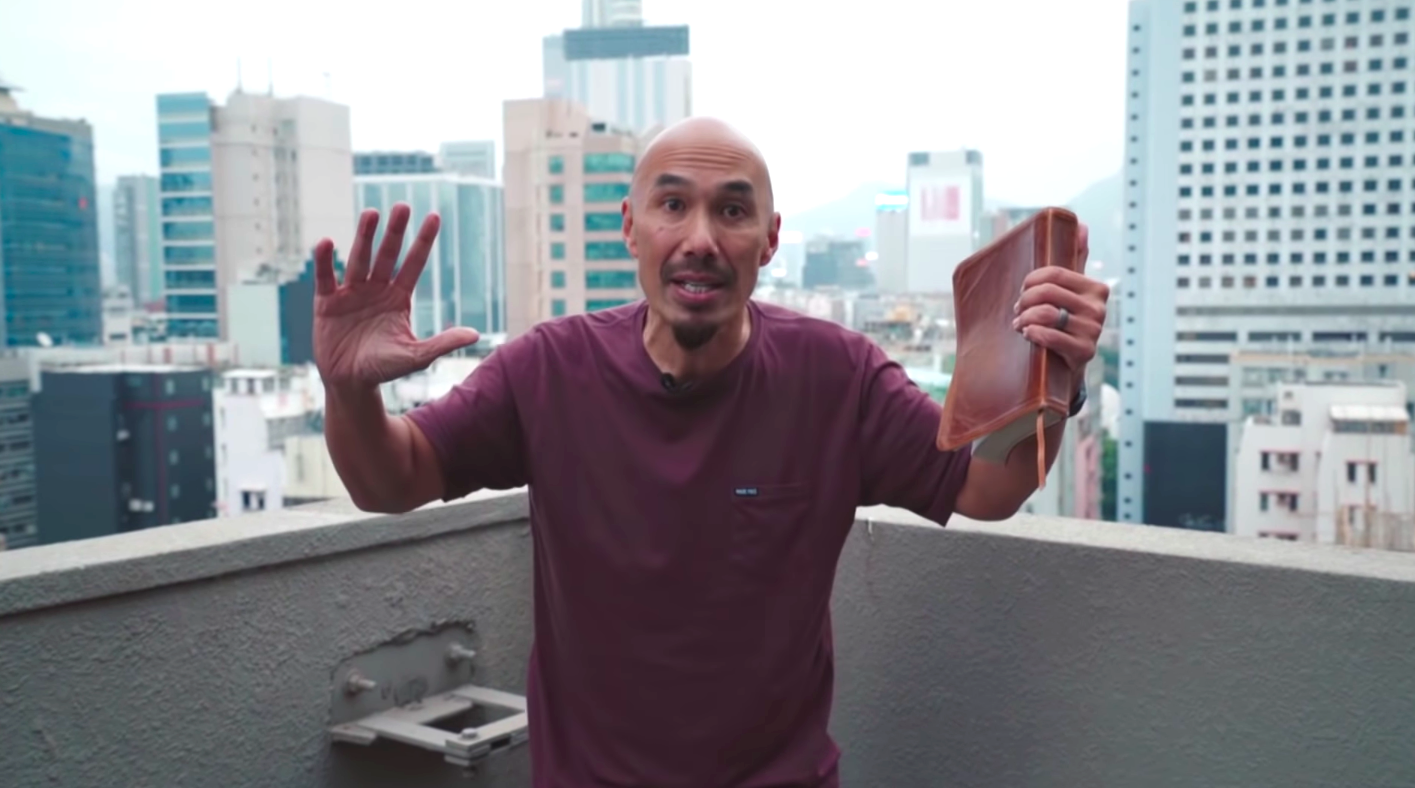 "My fear during this time, for the US, for Hong Kong, anywhere, is we can get so accustomed to being isolated, and that we just go: Man, I'm just gonna keep doing this," said Francis Chan. "That is not the Church that Christ wanted." Screenshot from his video on Crazy Love Youtube.
Less than one month ago, while the epicentre of the coronavirus was still firmly centred in Asia, American preacher and best-selling author Francis Chan and his family relocated to Hong Kong from San Francisco.
In the short time since, the situation in America has escalated drastically – the country now has the world's largest number of infections and is in a state of national emergency, which President Donald Trump declared on Mar 13, 2020. 
In his first video update from Hong Kong specifically addressed to his California church, Chan said that it is "so weird to be apart" from them and "because everything is so crazy right now, I so want to be there".
Don't lose your peace
In the 11-minute exhortation posted on the Crazy Love ministries Youtube, Chan said he wanted to "share some thoughts that God's put on my heart for the church during this time".
A socially-isolated church is not the church that Christ wants.
"Don't lose your peace, man. We are a people that are supposed to be fearless," he exhorted. "The number one command – the most often repeated command – in Scripture is: Fear not.
Chan reminded his church: "I sure hope that right now, you are fearless for yourself. And if not, man, that's the first thing you got to do. Get alone with God and say, 'God, why this fear? You don't want me living like this.'"
While Chan doesn't fear death, he does have this one fear: That during this pandemic, people will become "so accustomed to being isolated" and they start saying, "This is great, I'm going to stay home and be by myself".
"But you guys know that is not the Church that Christ wanted. He wanted such intimacy between His children, just like every parent does," emphasised Chan, who is a father of seven.
Figure out a way to stay close
Even in this period of lockdown, church members must "figure out a way" to "get closer to each other somehow," said Chan who boils it down to the "resilience" as believers. 
"This is one of one of our greatest opportunities for reaching out to a lost world."
In the last few years, Chan has been trying to equip his church for a time where members know how to walk with God, to have fellowship and lead people to the Lord even when they do not "have the luxury of all the leaders being together".
"That's been our heart for you guys, as elders," said Chan.
"It's kind of crazy, I'm preaching that for seven years, and then two weeks after I leave, you and the whole country are having to live that.
"But I believe it is God's grace on us, to show us," he said. "Am I prepared? Have I lost my love, my joy, my peace? This is the fruit of the Spirit."
My mother's footsteps
Seventeen years ago, the best-selling author of Crazy Love started a church-planting network called We Are Church in California. But in November last year, he announced that he "wanted to be based in Asia" because of the need and opportunity that he'd experienced when he visited the region earlier in July.
"The enemy can't take love, joy and peace away from us. We love the Lord and His church is alive and well."
According to a short two-minute video update published on Mar 6, 2020, Chan shared that he lives and works out of an office in the Sham Shui Po area where a large number of Hong Kong's poorest live. As of 2019, Hong Kong was the most expensive city in the world to live in.
Hong Kong is not unfamiliar territory for Chan – he spent his first five years there under the care of his grandmother after his mother died giving birth to him in 1967.
Recently, Chan also discovered that Sham Shui Po was the exact neighbourhood where his mother had ministered during the 1950s.
Before he left America, he had stumbled across a photo of his mother, taken almost 70 years ago in Hong Kong. Chan believes that this discovery was a confirmation from God as he was asking the Lord whether Hong Kong was "the place".
The church is prepared for this
Chan also said in the video that he believes this crisis is highlighting how "vulnerable" and "volatile" the Church is.
Nevertheless, he recognises the opportunity that it brings for the Gospel to be shared and he is "excited that so many of you have been prepared for this".
"Don't miss this opportunity. This is one of our greatest opportunities for reaching out to a lost world and showing them that we haven't lost our love, joy and peace.
"At this moment, the enemy can't take that away from us. We love the Lord Jesus Christ, and His church is alive and well.
 "So take courage, and I can't wait to see you guys again."
Plug in to your elderly folk: You may be the livestream they need
If you have enjoyed reading Salt&Light...
We are an independent, non-profit organisation that relies on the generosity of our readers, such as yourself, to continue serving the kingdom. Every dollar donated goes directly back into our editorial coverage.
Would you consider partnering with us in our kingdom work by supporting us financially, either as a one-off donation, or a recurring pledge?
Support Salt&Light