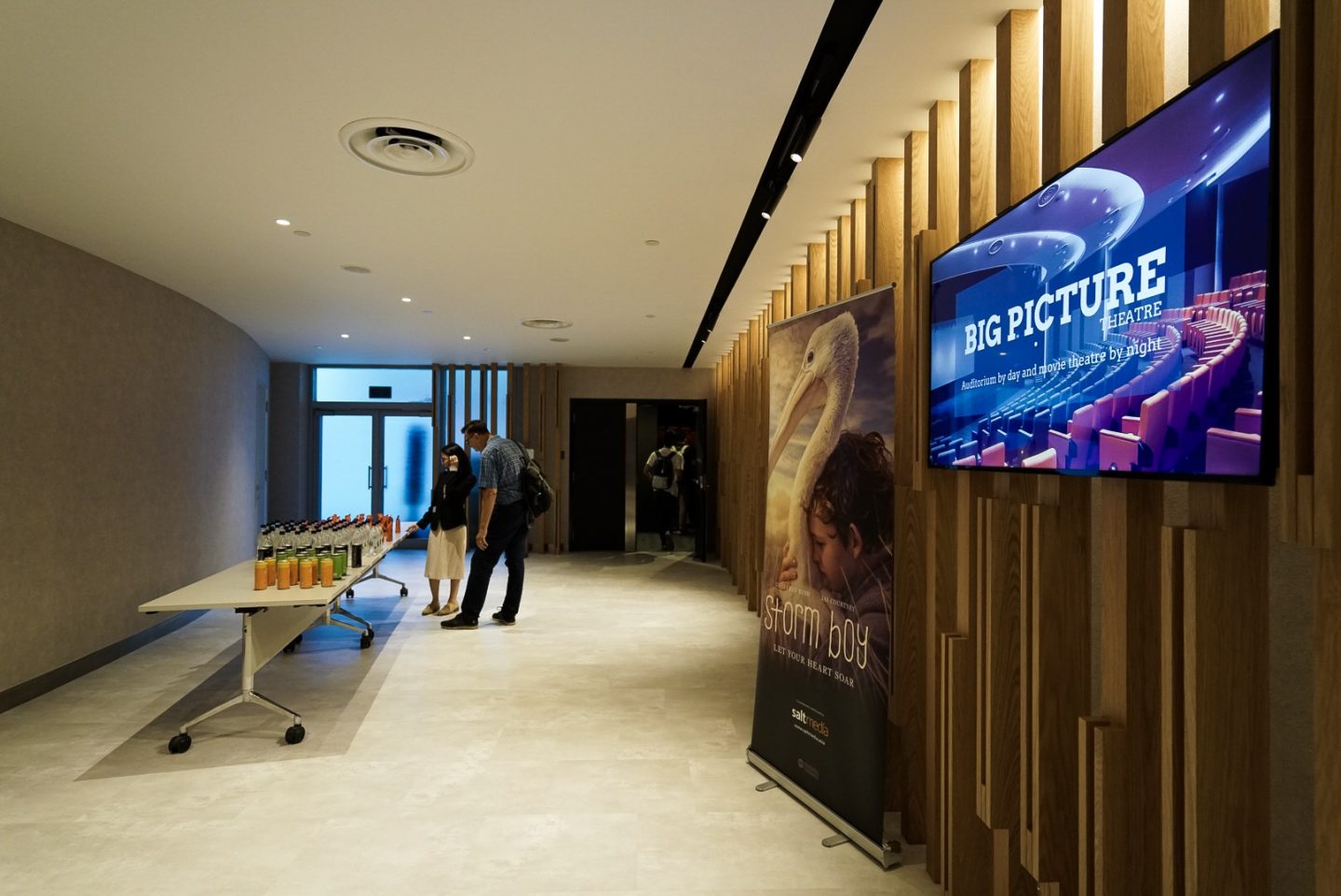 Film producer and distributor Salt Media has opened a new cinema in Tanjong Pagar, and plans to use the space to screen "values-based" content.
On January 15 2019, Salt Media & Entertainment, a media company, will be opening a new 14,000 sqft events space that comprises a 220-seater screening hall at Capital Tower in Tanjong Pagar – the first cinema in Singapore's Central Business District.
Its first film will be Storm Boy, a film that Salt Media & Entertainment co-produced starring Geoffrey Rush. 
Sherman Ng, 39, the founder of Salt Media & Entertainment, said the company will be screening "values-based" content that it produces and distributes. 
The company first discussed the idea of opening a cinema in November last year, Ng said. And in April 2018, CapitaLand – Capital Tower's developer – approached the media company to open the current setup.
The amphitheatre also has a built-in stage for users to hold concerts and talks. 
Ng said his vision is for the space is to be a "beacon of light" in the media and entertainment industry and a place for the community to gather. 
The first phase of the event space has opened and the second phase will open by March 2019. 
Those living in the Bukit Timah neighbourhood have a cause for celebration as well, as a new cinema operated by the EagleWings group opened in December. The firm was started by Dr Julian Theng, 50, the founder and medical director of Eagle Eye Centre, and his sister Lisa Theng, 51, the managing partner of CNP Law.
EagleWings Cinematics is located at King Albert Park Residences Mall. It has two standard halls with 60 and 63 seats in each, and two premium halls that can hold 12 and 18 guests each.
This will be the duo's first foray into the cinema business. EagleWings, which started in 2015, currently run several food establishments and a yacht rental service.
Ticket prices at EagleWings Cinematics are similar to those at major operators. Standard hall tickets on weekdays are $9.50, and $12.50 on weekends. 
The idea to set up a cinema in King Albert Park Residences Mall was first mooted in a conversation her brother had with some of his friends, Ms Theng said. At that time, many units within the strata-titled mall were vacant, footfall was low and rental rates were falling. The brother and sister team owned three units in the building. Early this year, they joined the MCST. 
He discussed the idea with the other management committee members and they approached several of the big players, only to be turned down as the mall was not designed to hold a cinema. Each unit is "very small" and the operator would have to discuss with various landlords in order to secure multiple lots, said Ms Theng. 
So the brother and sister team decided to take the plunge and open their own.
Negotiations started in June this year. Both of them approached 10 landlords to lease 12 units in order to build the cinema, she said, which cost millions. 
Theng hopes the cinema can be a "light of the world" (Matthew 5:14-16) to the suburb and its patrons.
Theng also hopes the cinema can be a "light of the world" (Matthew 5:14-16) to the suburb and its patrons. For example, besides the latest blockbuster hits, Christian films will be part of the fare at EagleWings Cinematics.
The Theng siblings are open to churches and faith-based organisations booking the halls for their outreach activities.
Another idea in the works is a free regular programme where EaglesWings broadcasts Christian videos and documentaries for people to gather and watch together. 
Filmmaker Kelvin Sng, who directed Taxi! Taxi! and The Fortune Handbook, told Salt&Light that he is happy to see two cinemas opening soon after each other that will give more options to cinema-goers to watch both mainstream and faith-based films.
"Being smaller in scale also means they have more flexibility and control," he said. These spaces will also give local independent filmmakers like himself a platform to distribute and screen their works to a paying audience.