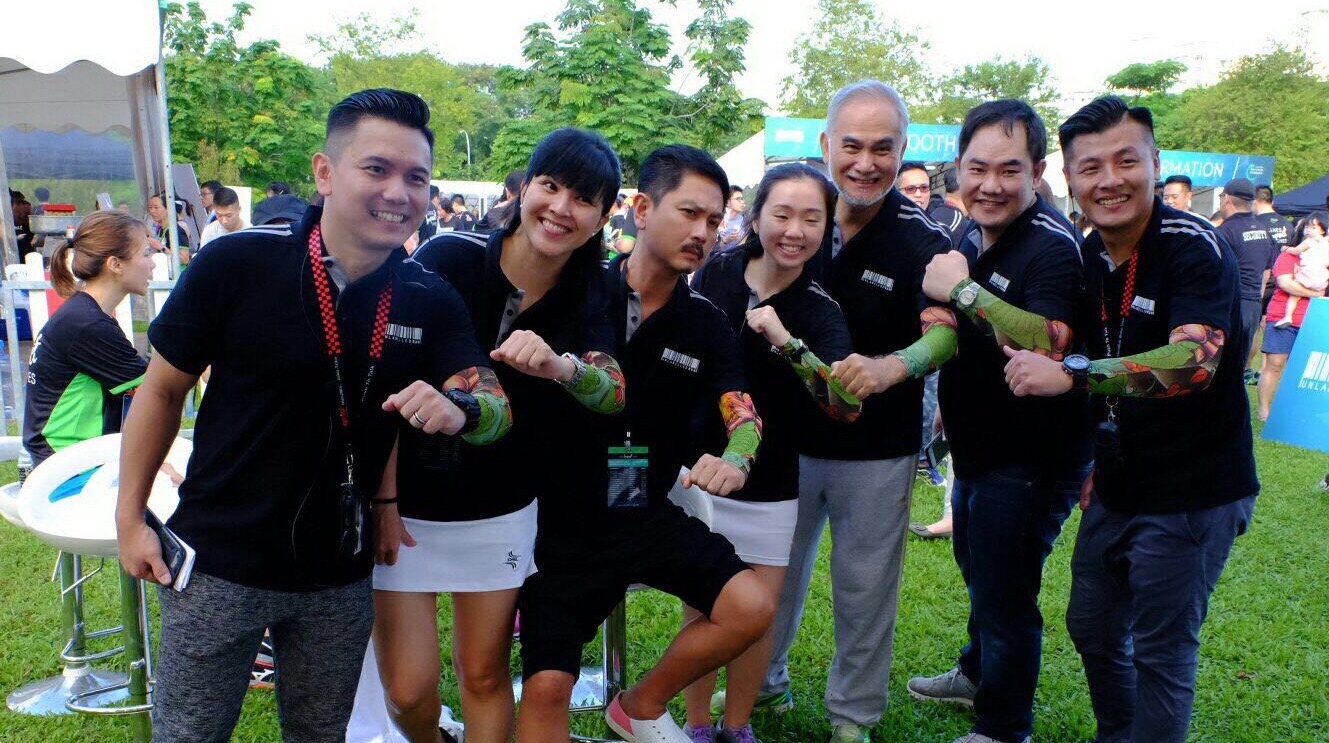 Deon Tan (second from left), sporting a tattooed armsleeve, with organising committee members including Chew Chor Meng (third from left) and Zhu Houren (third from right), at last year's Unlabelled Run. This year, the Run champions youths, many of whom are also "labelled". All photos courtesy of Deon Tan.
Bright and early on July 20, East Coast Park will be buzzing with supporters of second chances and transformed lives.
The 2019 Unlabelled Run – so named because the run highlights the removal of negative and defeating labels placed on ex-offenders, reformed drug addicts and their families – hopes to gather 5,000 supporters in its fourth run this year.
Proceeds go towards the running of halfway house, The New Charis Mission (TNCM), a Christian charity.
New Charis Missions' motto: "Bringing hope, advocating change." And this is a promise not given lightly.
As a result of the Bible study and life values imparted to residents at the house, scores of lives have been transformed – not just residents' lives but their families' as well.
Transformation for good 
At the core of TNCM's efforts is a halfway house that emphasises the restoration, reconciliation and reintegration of every individual who passes through their doors.
The transformed lives of the discipled and reintegrated residents are, in turn, impacting the lives of others in society. 
It is common to find ex-residents working for TNCM in one of their three focus areas. Some reach out to youth-at-risk and underprivileged elderly, others help run a social enterprise that provides work therapy and job opportunities, and still others return to prison – this time not as convicts but to befriend, encourage and counsel current inmates.
TNCM even engages in overseas missions at halfway houses and prisons in the region.
Thomas Chan, 40, works in the programmes department to serve the elderly in Whampoa, Chai Chee and Ang Mo Kio. He leads and trains groups of volunteers through befriending events and even home-cleaning services.
Thomas has been working at the charity since his last release from prison in 2016: "When I serve the elderly, there's a joy I didn't have in the past. It helps me as well."
Deon Tan, 44, more commonly known as the wife of MediaCorp actor, Chew Chor Meng, has been on the organising committee of the run since its inception in 2016. She and Chor Meng have been so involved, in fact, that they know the staff and residents of the halfway house as their "brothers".
"These brothers, last time gangster leh! But even their faces are transformed when God turned them around," she says, adding that she is constantly encouraged by their upbeat attitude and stories of change when she visits the house.
When God transforms their life, many use the experience to impact the other people around them, she reveals.
"That's what we call: Life impacting life. So we really believe in the message of removing stigma and labelling."
Words carry weight
"Unlabelling" breaks the chain of labels – a damaging accumulation of negative associations – inflicted on many among us, regardless of age and background.
Labelling extends beyond the circles of ex-offenders.
"Our words carry weight," Deon cautions. The power of words is one of the few things that secular pop psychology and the Bible agree on (Proverbs 18:21). Gary Chapman, author of the Five Love Languages, encapsulates the idea literally, describing words as either "bullets or seeds".
In fact, Deon believes that many cases of depression and suicides in youths originate from and can be partly attributed to the labels put on them. You "buay tak chek" (cannot study), "CMI" (cannot-make-it). You're good-for-nothing. These are labels many youths hear about themselves. Which is why, this year, the Unlabelled Run is championing youth.
Even parents and teachers unintentionally label youth by comparing them to others. "She's so well-behaved, why you don't follow her?" "Why are you so fat?" "Why are you so stupid compared to your brother?"
"What we want to tell youths is that even labelling yourself is wrong," Deon asserts. "Why don't you see the potential in yourself instead?" 
Unexpected inspiration
We often label others even before giving them a chance, Deon admits.
She speaks from experience: In January 2016, Deon and Chor Meng were approached by TNCM to help publicise a run that they had organised.
The halfway house was doing extraordinary work transforming the lives of ex-offenders, the husband and wife agreed. As they discussed how they could help organise the fund-raising run, a man covered in tattoos approached and asked if they wanted to buy some tissues.
They politely declined.
Shortly afterwards, the tissue uncle returned and said good-naturedly: "You really don't want to buy tissue from me? Today business very bad. If you don't buy from me, I won't have money to tattoo."
As she gawked at the tattoos that ran even across the man's forehead and scalp, Deon blurted out: "Uncle! You have so many tattoos already! You still want to tattoo?"
He replied: "我跟你讲,每个人都以为我是 pai kia, 可是耶稣爱我" ("I tell you hor, everyone assumes I'm a bad person. But Jesus loves me.")
That unexpected answer from the tissue uncle birthed a brave, new concept for TNCM: The Unlabelled Run.
Deon, herself, is familiar with the stigma associated with ex-convicts; her father was one himself. 
She was chastened by the tissue uncle's response. "I thought to myself, 'Why am I labelling this guy, without even giving him a chance?'
"I can understand because I know how the family feels … I've seen how my mother suffered," she says.
Deon's father was a drug abuser who had divorced her mother and abandoned the young family, leaving them in debt with loansharks. They was in such dire straits that even the loansharks ended up taking pity on the family.
"They even gave my mother money! They were like angels!" Deon exclaims.
Deon also grew up around a church community, which meant she always had someone watching out for her.
"Since I was 10 years old, I spent all my time after school at the church. I had friends, a youth mentor, and a pastor who was like a father figure to all the children there, many of whom were fatherless. I remember thinking as a child, 'I want to be a useful person. I want to do good, to love God. Then things can change.'"
God is never late
For the residents and staff at TNCM who have experienced God's love, the message of "unlabelling" is especially poignant, Deon notes.
"The Unlabelled Run is really a journey of faith," says Deon. "Since I've been involved in this ministry, I've realised that there's nothing too big or too small that God cannot handle. God never shows up early … but He never shows up late."
Deon and the brothers at TNCM have seen God come through in miraculous ways.
At the inaugural run in 2016, the committee was desperate for participants. Three months before the run, there were only 200 signups – for an event that targeted 3,000 runners. But when God started opening doors and bringing people onboard, they eventually had to stop registration because of oversubscription! 
On the day of the run, more than 3,000 people turned up to support the cause.
Then, again in 2017, God appeared. That year, the event organiser insisted that the chilli padi was needed on-site to "bless" the event with good weather.
Deon flatly refused. "No chilli padi at our events. Our God is bigger than chilli padi," she said, dismissing the superstitious act. That confidence was tested.
On the day of the event, the weather forecast showed expected thunderstorms island-wide. Everyone watched the foreboding dark clouds with concern. When the guest-of-honour called to ask if the event was still continuing, Deon was worried. "Wah, very chuak (scary)!"
But in faith, Deon galvanised the TNCM volunteers to step out into the field to pray. 
Not only did God hold back the rain, He painted a marvellous sky that awed all the runners, many of whom said later that they had never run with such beautiful scenery before them. 
"As long as you're doing what God wants you to do, He will open doors," Deon says. 
The 2019 Unlabelled Run on July 20 hopes to gather 5,000 participants to raise the awareness that words can change a person's life. 
"Life impacts life," she says. "I hope to see this small ripple turn into a movement."
Unlabelled Run 2019: See the able, drop that label
Now in its fourth year, the 2019 Unlabelled Run aims to advocate the message of unlabelling for individuals across all walks of life, with a focus on youth. Participants can choose from a 5km or 10km run.
Date: July 20, 2019, Saturday
Event time: 7am to 10am
Race venue: Angsana Green, East Coast Park