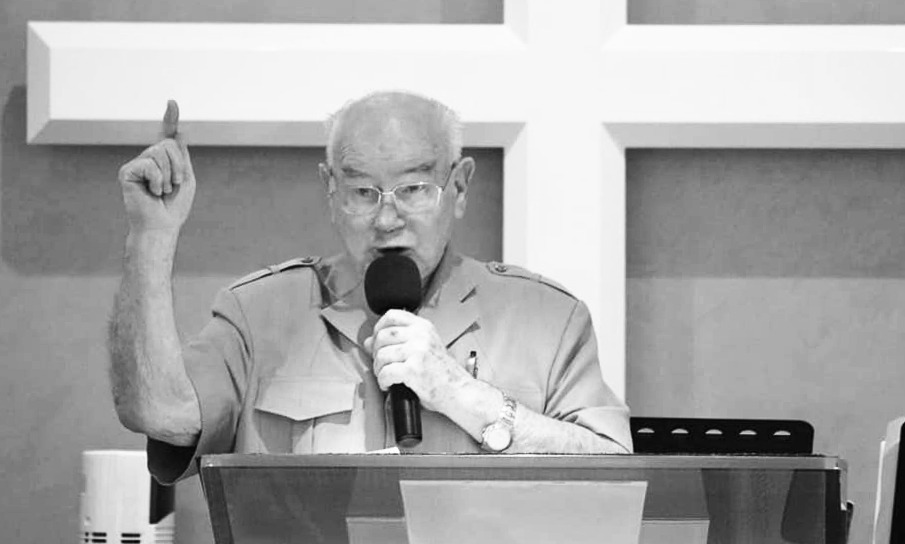 Rev Dr Fred Seaward, a well-known evangelist and church-planter, is now with the Lord after serving Him for more than 60 years. Photo from The People's Church Facebook page.
A spiritual giant, a mighty warrior, an indefatigable church planter, an exemplary shepherd, and a loving mentor left us yesterday and went straight into the presence of his Lord and Master whom he had served for more than 60 years.
This incredible octogenarian left behind a monumental legacy that probably won't be bettered by anyone soon. All the stalwarts of the Assemblies of God (AG) of Singapore and Malaysia must have had been influenced, one way or another, directly or indirectly, by God's gift to Singapore – Rev Dr Fred Seaward.
This giant's departure has left a big void that can't be readily filled. I'm sure that when he left his homeland (USA) to his adopted land (Singapore), he never dreamt that he would have made such a gigantic impact on the hundreds of churches in Singapore, the thousands of leaders, and thousands upon thousands of Christians!
Loving yet firm
In 1955, Ps Seaward and his family travelled by ship from a very advanced America to a very backward Singapore. I can't begin to imagine how they fought the oppressive heat, not to mention the stench from clogged longkangs and squalid kampongs.
He never let people or situations stop him from doing what God had entrusted to him.
They did! They proved by moving their first church, Bethel Revival Centre in Jansen Road, to 4 Palm Grove Avenue, and renamed it Bethel AG. The church was a dilapidated bungalow sans modern sanitation. It was served by the infamous "bucket system", or "night soil", more euphemistically. Irritating houseflies, pesky mosquitoes and creepy crawlies of all sorts raided the living quarters.
They never complained. I did. I attended Bethel in 1965, got baptised by Papa Seaward and enrolled in Berean Training School – a live-in Bible school started by Ps Fred Seaward in 1967. I studied there from 1968 to 1970. I dreaded my school duty of cleaning the toilets, horrified by myriads of wriggling maggots! But soon I figured: If the Seawards could take it, so could I!
Among my Bible school cohort, I was the most notorious and hardest to tame. The loving yet firm disciplinarian principal, Rev Dr Fred Seaward, took time and great patience to mould me, guide me, motivate me, teach me and empower me.
This tough-on-the-outside but coward-in-the-inside young man finally made it good. It was his teaching on the Church Constitution in Bible school that ignited my interest to make Constitutional Law an elective in my Law study in the University. It was also his teaching me Greek in the Bible school that has set me on a life-long interest in Greek.
A Church Planter
His giant footprints are all over Singapore, evidenced by the presence of many churches. When he was the pastor of Bethel in the 60s and 70s, he sent members to study in the Bible Institute of Malaya. Upon their return, he would help them start pioneering work in Singapore.
He was instrumental in helping Ps Robert Lim start Evangel – today a church of more than 1,000 members. He also sent Rev Dr Patrick Lau to pioneer Calvary. Incidentally Dr Lau holds the record of being the longest-serving AG Superintendent.
Two local churches weren't enough. So, he commissioned Benji Lim (now in Vancouver) and me to pioneer an attap-hut church – MacPherson AG (which has since morphed into Moriah AG). When he was the Pastor of Elim Church, he continued his pioneering spirit, and started three outreaches in Hougang, Tampines, and Jurong.
The giant imprint is also made through many of his Bible School students who went on to obtain doctorate degrees: Dr Simon Chan taught at Trinity Theological Centre; Dr David Lee pastors Maranatha; Dr Jameson Yeo criss-crosses the globe as an evangelist-cum-teacher-at-large; and Dr Andrew Ong sits as a faculty member of ACTS College.
A Mighty Warrior
His indomitable spirit was legendary. He fought all sorts of battles and faced all kinds of barriers and never let up. He always emerged victorious. He never let people or situations stop him from doing what God had entrusted to him. I witnessed, up close and in person, the immense struggle he and his wife underwent when they were repatriated to America by the AG Missions Department (HQ in Springfield, Missouri).
He lived his life to the fullest, with no regrets.
I visited them in 1981 when I was a pastor of Calvary Charismatic Centre (CCC) – now Victory Family Centre. I saw them continuing to serve in their local church in Wilmington, CA, without official titles – without so much an iota of bitterness.
He fought hard. He fought strong. He fought well. He lived his life to the fullest, with no regrets. The words of St Paul must surely have been on his lips – not only just on his deathbed but while he was alive and serving his Captain valiantly: "I have fought the good fight, I have finished the race, I have kept the faith. Now there is in store for me the crown of righteousness, which the Lord, the righteous Judge, will award to me on that day – and not only to me, but also to all who have longed for his appearing" (2 Tim 4:7–8).
An Extraordinary Pastor-cum-Mentor
No one can ask for a better or more caring pastor than this great mentor of mine. From 1968 to 1970, I was the student who travelled with him the most – to rallies, crusades, or tent-meetings – up in some far-flung corners of Malaysia. I would play the accordion, organ, or piano and sing specific songs needed for those special meetings.
In most of his illustrated Easter sermons, when he was the pastor of Bethel and CCC, I was honoured to be asked by him to sing: In the Garden, I Travelled Down a Lonely Road, A Crown of Thorns, Lead Me to Calvary, When They Ring Those Golden Bells, etc.
When I wrote my tribute for Dr Rick Seaward, his son, I mentioned that I learnt leadership from Ps Rick Seaward. I also mentioned that I took a few pages from Ps Fred Seaward on loving pastoral care. To be sure, I haven't quite come up anywhere near their levels. I must, at least, be grateful to God for them, especially for their phenomenal impact upon my whole life, my character, and my ministry.
Goodnight, Not Goodbye
What a life! What an example! What a trailblazer! What a giant! What a warrior! What a pioneer! What a pastor! No words are adequate to say how much I'm indebted to this man of God.
If the Seawards could take it, so could I!
I am who I am today, first by the grace of God. But I am who I am today, second because of the impact of this giant whom God so providentially brought into my first year as a 15-year old believer. And in tandem or coterminous to this tribute, I am who I am today, third because of Ps Rick Seaward.
Earth bids farewell to a hero of faith. Heaven welcomes a servant who will assuredly hear his Master speaking those glorious words: "Well done, good and faithful servant!"
Papa Seaward, thank you for what you had done when you were alive – you pointed at me at the Youth Camp in 1967 and said God had called me to the ministry. And thank you for what your life is doing to and for me now – I shall do my bit in following your footsteps. So, goodnight, not goodbye (as you often preached in funeral services). Till we meet again on Heaven's golden shore.
About Rev Dr Fred Seaward
Rev Dr Fred Seaward was a well-known preacher and evangelist in Singapore and the region. Pastor Fred, as he is fondly known, received Christ at the age of 9 and attended the Southern California Bible College where he met his wife, Margaret. They have five children, four of whom are in full-time ministry, including the late Rev Rick Seaward.
In July 1955, the Seaward family arrived in Singapore and were sent to Revival Christian Centre church in Moulmein Road. They went on to start Bethel Revival Centre, now known as Bethel Assembly of God, in 1956. And in 1960, they pioneered the Calvary Assembly of God.
An ordained minister of the Assemblies of God Singapore, Pastor Fred was the Missions Director at Calvary Charismatic Centre (now Victory Family Centre) where the church grew from 350 to 1350 members, planting 446 churches in 46 countries.
In 1987, Pastor Fred was Senior Pastor at Elim Church Singapore for over 19 years before serving another nine years in Calvary Charismatic Centre Kota Kinabalu, Sabah.
Besides pastoring, Pastor Fred was also the principal at the Malaysian Tamil Bible Institute in Penang and the Bible Institute of Singapore.
If you have enjoyed reading Salt&Light...
We are an independent, non-profit organisation that relies on the generosity of our readers, such as yourself, to continue serving the kingdom. Every dollar donated goes directly back into our editorial coverage.
Would you consider partnering with us in our kingdom work by supporting us financially, either as a one-off donation, or a recurring pledge?
Support Salt&Light