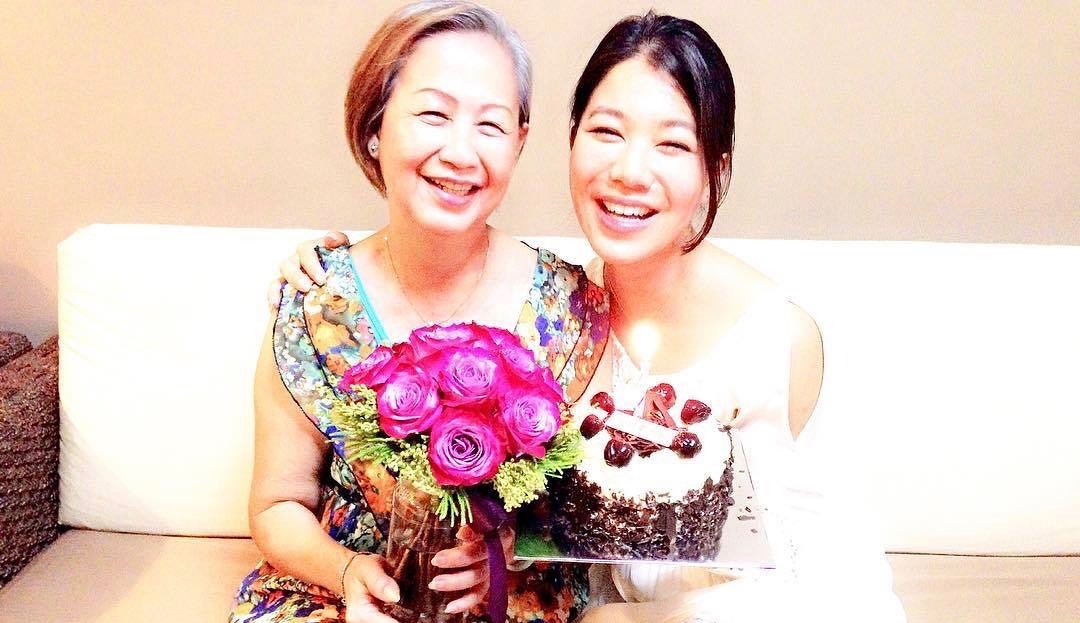 Mediacorp artiste Belinda Lee shared about her experience as a caregiver to her late mother, with whom she had a close relationship. Photo courtesy of Belinda Lee.
When Mdm Lee Soak Kuen, 85, was hospitalised after a fall last month, her husband and children were not able to visit her due to Circuit Breaker restrictions.
For almost three weeks, she recuperated alone, first at an acute hospital and later at St Luke's Hospital (SLH), where she is currently undergoing physiotherapy.
"I feel a little more comforted knowing that other people like him have also gone through such things before."
Though the doctors and nurses took good care of her, it was still a lonely stay, she told Salt&Light in Mandarin.
But there was one thing that offered her comfort – a daily 10-minute "radio" broadcast by SLH featuring interviews with people like local celebrities Chew Chor Meng, Aileen Tan, Zhu Houren and Belinda Lee.
These four artistes had responded to an appeal put out by the mission hospital in April for household names to share their personal stories and encourage patients who were feeling isolated due to visitor restrictions.
Mdm Lee said she looked forward to hearing these "familiar voices" come on the public announcement system each morning.
"Once I wake up I'll take a shower and sit down to listen to the broadcast as I eat breakfast," she said.
In particular, she was encouraged to hear Mediacorp veteran Zhu Houren share candidly in Hokkien about his personal experience in a hospital after his day surgery suffered complications.
"I feel a little more comforted knowing that other people like him have also gone through such things before," said Mdm Lee.
Good morning, St Luke's
The broadcast, called Good Morning, St Luke's, was hosted by volunteer Timothy Khoo of Desert Odyssey and SLH's music therapist Isabel Tan.
"I hope that all of us can fix our eyes on God's love so we can stand firm."
Played daily from April 27 to June 13, each episode comprised an interview and a musical performance in various languages and dialects.
The broadcasts were continued for two weeks after the Circuit Breaker due to popular demand, said an SLH spokesperson.
Actor Chew Chor Meng, who suffers from a debilitating motor neuron condition called Kennedy's Disease, shared in Mandarin how he outlived his initial 18 to 24 months prognosis when he was first diagnosed in 2008.
He also talked about his personal faith in Jesus and how he is grateful that the Lord has sustained him all this while.
Encouraging patients to look beyond their current predicament, he said: "I hope that all of us can fix our eyes on God's love so we can stand firm … I want to encourage everyone, if I can do it, so can you."
Actress Aileen Tan spent her time on air chatting about her acting experiences and also encouraged patients and staff members to be kind to one another. She also serenaded them with the classic Mandarin song 爱你在心口难开 ("I love you more than I can say").
Apart from the celebrities, more than 30 others have also taken part in the programme. These include Mr Murali Pillai, an MP of Bukit Batok SMC and Dr Amy Khor, Senior Minister of State for Ministry of the Environment and Water Resources, and Ministry of Health.
Dennis Koh, a pastoral counsellor at SLH, said the programme has been helpful in boosting the morale of the patients. "It helps them to see that there are people who have already overcome these health challenges," he said.
The 51-year-old added that he also uses the programme to start morning conversations with the patients, which has opened up a way for them to talk about their worries or struggles.
Simple thank-yous
The interviews have not only benefited the patients, but the hospital staff too. 
When senior nurse educator Su Anqi heard Belinda Lee share about her own struggle as a caregiver to her late mother, she was overcome with emotion and teared up.
"It's truly not about me. It's about God's grace and compassion for everybody."
"It was a moment of connection because it reminded me of the challenges and emotions I went through when I was taking care of my late mum as well. Her empathy was very heartfelt for me," said the 36-year-old.
Su also thought it was "sweet" that Lee encouraged patients to be understanding toward the nurses and emphasised the value of a simple "thank you".
"That was enough to make the nurses feel appreciated for the work that they do," said Su, adding that nurses are facing more challenges from patients and their families during this pandemic as everyone is feeling more stressed and isolated.
"We will have our ups and downs. But in these low points I remember that someone like Belinda, who is not from healthcare, can feel and care so much for us. It makes me feel encouraged to continue my nursing journey and not give up," she said.
Lee, who decided to share her story after reading about SLH's appeal to celebrities on Salt&Light, feels heartened that her sharing has brought encouragement to the staff and patients.
"When I heard that the patients' spirits were down and out, and the staff were also overworked, my heart was filled with compassion for them and I just felt led to do this for them," she told Salt&Light.
"It's truly not about me. It's about God's grace and compassion for everybody. The interview was led by God's redemptive heart toward the patients and the staff, and maybe that's why they teared."
Multiplying blessings
The hospital's chief executive officer, Associate Professor Tan Boon Yeow, said he is thankful for all the volunteers who have come alongside patients and staff during this time.
"Her empathy was very heartfelt for me."
More than 30 volunteers have also served virtually by engaging and interacting with patients, such as by giving song dedications, via digital devices.
Prof Tan hopes that through these initiatives, more people will come alongside to partner SLH in their care of patients and their caregivers.
He said: "This pandemic will be with us for a while yet. We at the frontline appreciate and are encouraged by those who have offered time, effort and resources ranging from baking cookies to the sharing of creative talents to engage patients through songs and performances.
"We trust that God will multiply and bring about manifold blessings like He did with the five loaves and two fishes as He did in John 6:1-14."