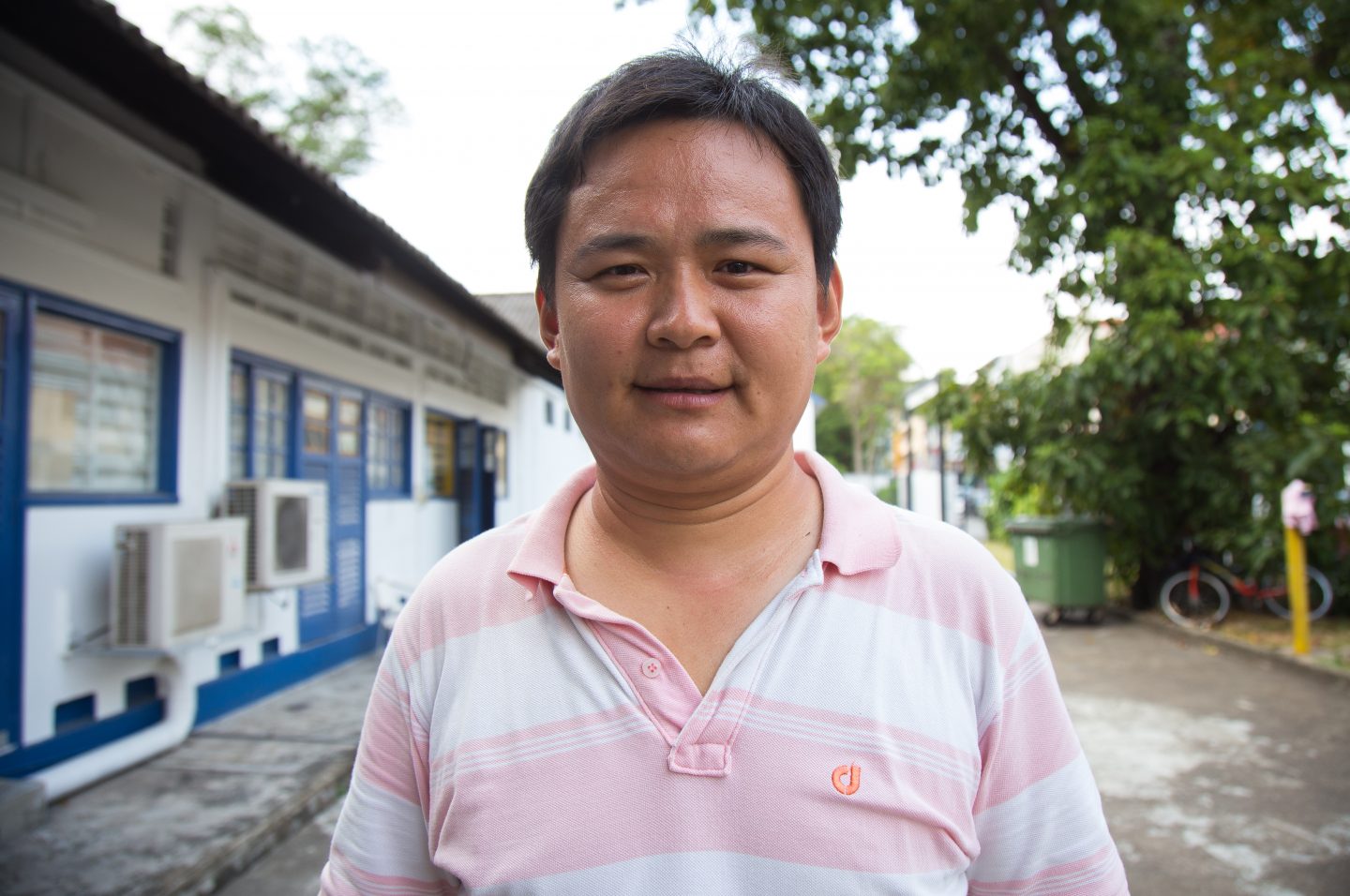 38-year-old Wang Guang Yu, who came to Singapore to be a construction worker.
What would you expect to find when you leave your home to work in a foreign land? A stable job, hopefully. Plain but regular meals, maybe. Perhaps a fellow countryman or two to share faded photos with about the family and hometown you left behind.
For some Chinese migrant workers, leaving home meant finding something unexpected – here, in a foreign land, they found God. 
When Wang Guang Yu first stepped onto the shores of Singapore in December 2012, he finally fulfilled his dream of working overseas as the means to a better life for his family.
But he never thought he would find a new identity in Christ. 
The 38-year-old was originally a mobile phone salesman in Heze, a city in Shandong province, China. He came to Singapore to be a construction worker.
Before Wang left home, his mother-in-law, a Christian, gave him a Bible and a mobile SIM card with Chinese pastor Yuan Zhiming's sermons on it.
Wang promised he would listen to the sermons during his spare time, as he liked the principles Yuan espoused. But he did not give the matter too much thought. 
He even attended church in Singapore whenever he had Sundays off, but – he added, with a chuckle – it wasn't to worship Christ as much as for the free food. 
"I would go to church and twiddle with my phone or take a nap," the father of two says in Mandarin.
"When I first heard the Gospel, I thought, 'How can there be such a good thing? That even though you don't deserve any help, God chooses to help you?'"
Then, in early 2014, Wang had his first personal encounter with God at a worksite when he misplaced his tools.
"I was very anxious [and] I suddenly thought of God. I said, 'If you are real, help me find these tools.' About a week later, a colleague left the tools in my pigeonhole." 
Wang was touched, and realised that God could be real. But he soon forgot about the incident. 
A few months later, his mother fell sick and Wang needed money for her treatment.
He had transferred all his earnings home, and his family had used up all their savings for his mother's expenses, but it still wasn't enough. Wang needed to borrow money urgently.
"So again, I thought of God. Only when you get into trouble, right," Wang says sheepishly. "I said one more time, 'God, are you real? If you are, help me. And if you do, I will believe in you, and I will get baptised.'"
Less then a week later, a friend lent him S$2,000.
Help from HealthServe
Wang kept his promise. After the incident, the cheerful man started listening more intently to sermons and reading the Bible regularly.
He began to research  Jesus' life online and, in his growing conviction, was baptised within the next two months. 
When his hand was injured in a workplace mishap, he was given just two days medical leave and instructed to do light work. Worried about his injury, he prayed. 
Shortly afterwards, a friend introduced him to HealthServe, the non-profit organisation set up by Dr Goh Wei Leong to provide healthcare and dental care to migrant workers, as well as offer social assistance, skills training and food.
HealthServe helped to treat his hand, supervising his recovery, and also helped him to obtain an additional 15 days of medical leave. They also informed the Ministry of Manpower about his case.
As a result, Wang has befriended other migrant workers at HealthServe and those who are Christians attend church together on Sundays.
While HealthServe is non-religious and welcomes all races, those who know Dr Goh say his venture into HealthServe flows directly from his desire to love God and neighbour as a follower of Jesus. God has given him a burden for groups largely ignored by society.
Dr Goh was named The Straits Times Singaporean of the Year 2017 for his work with HealthServe.
Finding God in difficult seasons
Like Wang, two other migrant workers whom Salt&Light spoke to say they became Christians after God answered their prayers during a difficult season.
Jiang Zhe Gang heard the Gospel for the first time in January this year, after he visited HealthServe. 
Jiang says his boss reported him to the police in retaliation after he quit his job. Out of work, Jiang did not have a place to stay until a friend introduced him to HealthServe, which offered him a bed at their shelter, as well as food and financial assistance. 
HealthServe also helped Jiang, a delivery truck driver, settle a salary dispute with his boss.
The 44-year-old had never heard of Christ while he was in China. At HealthServe, he heard the Gospel from Christian volunteers. 
"When I first heard it, I thought, 'How can there be such a good thing? That even though you don't deserve any help, God chooses to help you?'"
A miracle happened afterwards, he says. He prayed about his case and it was resolved by the police in two months, instead of the six months he thought it would take. 
Similarly Zhang Jian Chuan, a construction worker, also became a Christian after he broke his leg and sought help from HealthServe when he couldn't work.
After hearing about Christ from volunteers, the 49-year-old prayed and the pain in his leg subsided.  
Planned for goodness 
According to Willy Lau, HealthServe's volunteer development manager, the migrant workers who set foot in HealthServe are often anxious, lonely and depressed.
Some of them become Christians because they finally "have something to depend on [and they discover that] this God is so amazing".
Many of them say the best thing that ever happened through their mishaps was finding Christ.
Many of them say the best thing that ever happened through their mishaps was finding Christ.
"When I do volunteer orientation once a month, and I invite the foreign workers to speak, they start sharing about Christ. I'm like, 'Hey, share about your situation', but they say, 'The reality is that finding Christ is the most important thing to me," says Lau. 
The migrant workers say they are thankful even for the accidents and disputes. 
"Everything is planned for goodness," says Wang, referring to Romans 8:28.
Unable to work, the migrant workers spend their days with their friends at HealthServe's community room in Geylang, going for outings organised by volunteers, and attending church on Sundays … sometimes as many as four services in one day. 
Heading home 
Despite their enthusiasm, an uphill battle lies ahead when the Christians return to China.
Their work passes have expired and they are waiting to return to their homeland.
While reports show that Christianity in China is on the rise, churches are still a rare sight in their hometowns, say the three men.
Both Zhang and Jiang do not know of any church in their towns, while Wang says there is a congregation helmed by a group of older men and women in his town. Few young people in China are religious, Wang notes.
"If you try to evangelise, many people won't accept it because the majority don't believe in any religion. They grew up like that, so it's hard to change their mindset," adds Jiang.
"Some of them become Christians because they finally have something to depend on and they discover that this God is so amazing."
For Zhang, being illiterate will make it hard to study the Bible on his own. He acknowledges that he will be relying on prayer and his wife reading Bible passages aloud to him.
Jiang, who hopes to return to Singapore to work after some time in China, says he does not know whether his future company will grant him Sundays off even if he would like to attend church. 
But Zhang and Wang, who have no plans to return to Singapore after they leave, say they are not worried about the lack of community back home.
They can pray and read the Bible anywhere, and keep in touch with their Christian friends through the internet and messaging apps, they say with hope. 
They intend to share the Gospel with family members, they add, and hopefully a new community can grow from there. 
"Just the other day, when I was talking to my wife and giving her some advice, she said, 'I have to pray properly'," Wang says, a hint of longing in his voice. 
If you have enjoyed reading Salt&Light...
We are an independent, non-profit organisation that relies on the generosity of our readers, such as yourself, to continue serving the kingdom. Every dollar donated goes directly back into our editorial coverage.
Would you consider partnering with us in our kingdom work by supporting us financially, either as a one-off donation, or a recurring pledge?
Support Salt&Light