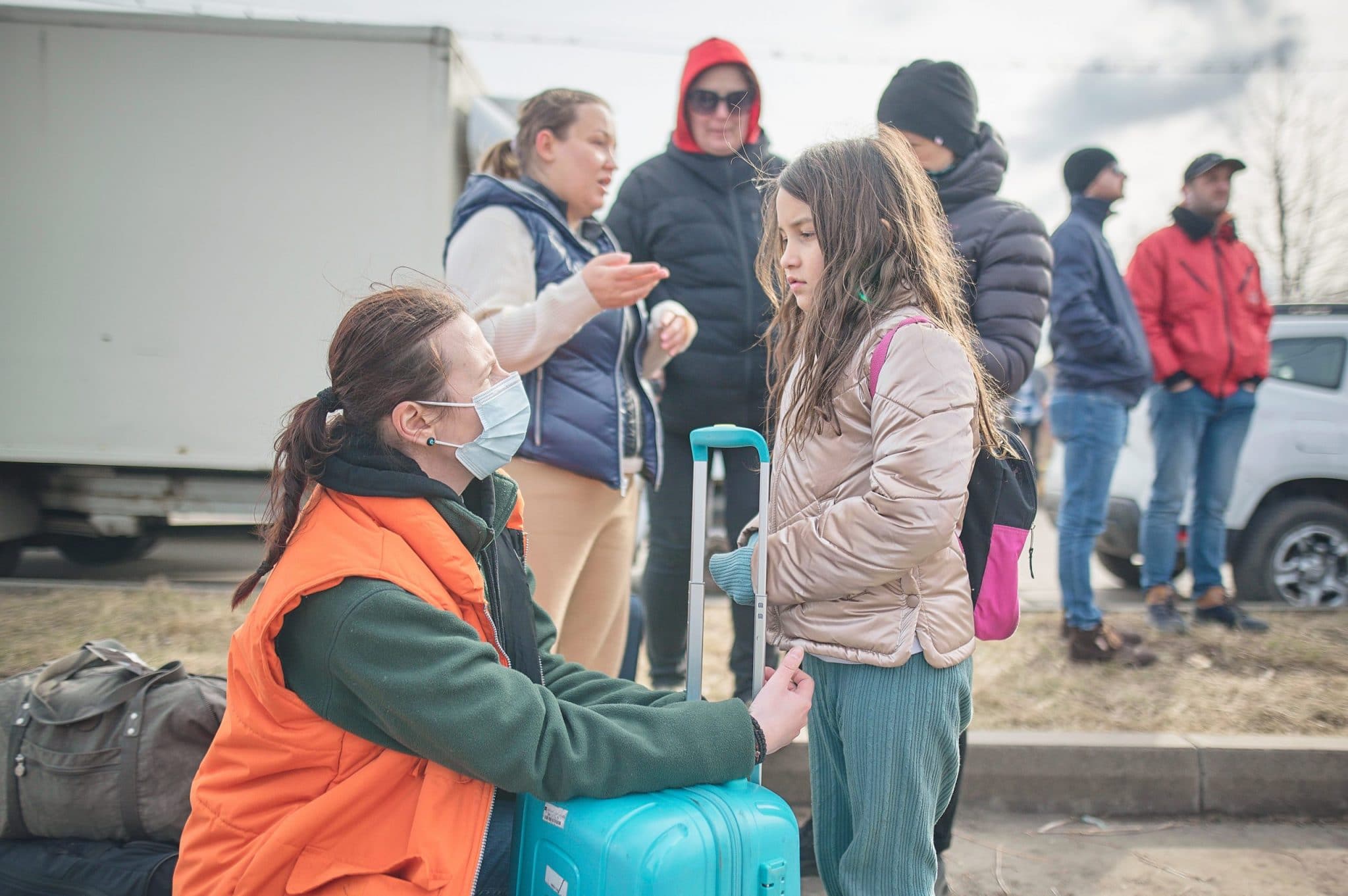 "The world is watching how the Church responds," Rev Dominic Yeo said of relief efforts by churches and Christian organisations. Photo courtesy of World Vision.
"Behind me, you can see thousands waiting to get into Moldova," described an Operation Mobilisation (OM) worker at one border crossing between Ukraine and Moldova in a video uploaded to Facebook on February 28.
"The line of cars is going a couple of kilometres that way," he said, gesturing westwards towards Ukraine. "Some have waited for a day just to get through."
According to the United Nations High Commissioner for Refugees, more than 1 million people in Ukraine have fled the country since last Thursday, February 24, when Russia began its invasion with bombings.
Almost half have gone into Poland, with the rest taken in by countries such as Hungary, Romania, Moldova, and even as far as Germany.
Marek Kaminski, leader of the Pentecostal Church movement in Poland, told Salt&Light: "There is a lot of chaos in the situation. All are struggling with the madness and mass migration (of people) from the conflict.
"Soon, the numbers are going to be much bigger," she said.
Latest United Nations estimates put the number of displaced people at over 4 million, which would create yet another refugee crisis in Europe. Poland is already home to more than 1.5 million Ukrainians, some of whom were displaced by earlier conflicts in the last two decades.
The exodus has continued as the Russian assault on Ukraine intensified this week, with rising civilian casualties after airstrikes on major cities that included cluster bombs.
"We left his father there"
Children and families are bearing the brunt of the escalating crisis in Ukraine, World Vision Singapore told Salt&Light.
President of World Vision International, Andrew Morley, shared his encounter with a Ukrainian mother-and-son pair: "I've just spoken to Valentina and her 10-year-old son, Sasha, who have left their family behind.
"It is absolutely heart-breaking," he said.
Valentina told Morley: "I had plans that if the war would start, we would run."
What she did not expect, however, was that she would have to do so without her husband. "My son was crying because we left his father over there."
Families, like Valentina's, are being separated as men aged between 18 to 60 have been conscripted into the army and barred from leaving the country. Men who make it across the borders are foreigners, Ukrainian women, children and the elderly.
Valentina's voice trembled as she gestured over her shoulder: "He took us, in the car, to the border. And we had to part.
"The journey was very difficult."
Food, medicine and dying batteries
"The most pressing needs now are for food and shelter," Rev Dominic Yeo told Salt&Light. He is Secretary of the World Assemblies of God (AG) Fellowship and receives updates of relief efforts from AG churches around the world.
"Other needs are basic items such as baby diapers, clothes and heating. There's also the need to attend to pregnant women, young children and those requiring medical assistance."
"They will see a Church that is not merely a building with four walls, but God's vessel of power, love, and grace to a dying world."
In Moldova and Romania, churches have been mobilised to receive and host groups of people, while in Italy, churches are collecting food donations. Plans are being made to provide legal assistance and financial support for people to travel further west, said Rev Dominic.
The Pentecostal church in Poland is shuttling vans and buses to and from the border to bring refugees to shelters.
"Sometimes, almost 100% (of the congregation) are devoted to this ministry," Kaminski shared. "Congregations are extremely busy. Unfortunately, I am unable to get all the details – they are overwhelming."
Missions organisation Operation Mobilisation, which already has field offices and ground workers in all the surrounding countries is "ramping up our relief response", OM Singapore Executive Director Willy Ong told Salt&Light. "The ground situation is very dynamic with an overwhelming number of people crossing from Ukraine."
"Many of our teams have set up first response tents near the border or in cities where people are arriving. They are distributing hot food and beverages, and essentials such as blankets and warm clothing given the winter cold," he said.
Yesterday, OM Poland issued a call for power banks to be distributed to those waiting in line at the borders: "Several hours queuing, worried about loved ones, looking for help far from home … and the battery dies. In this situation, contact is what saves lives, health and hope.
"First sets will be delivered to those in need tomorrow!"
Teams are also mobilising partnerships and coordinating efforts amongst local volunteers and business owners, said Ong. Some OM offices have posted simple guides online on how to set up churches as temporary shelters for the influx of people.
"In some places where certain locals have very little themselves, we are also hearing stories of how these locals are responding generously to the needs of the Ukrainian refugees," said Ong.
Children vulnerable to abduction
World Vision, a child-focused humanitarian organisation, is also actively working to support the humanitarian response, said World Vision Singapore national director Lilian Chung, drawing attention to children as being the most vulnerable group traumatised by the conflict with immediate threats to safety and shelter.
The risk of trafficking along the borders is extremely high if they become separated from their caregivers in the haste to escape, she told Salt&Light. Children become vulnerable to the risk of abduction, leading to potential exploitation and abuse.
However she also pointed out that "the crisis in Ukraine has wounded children psychologically and emotionally. Children are confused and in despair. Many are fearful and in tears".
"Their lives in school and with their families become completely upended, and they leave behind or lose loved ones including fathers and brothers who have stayed behind to fight."
This situation of "extreme vulnerability" results in mental and emotional stress which affects their ability to achieve their God-given potential.
Apart from emergency aid packages distributed to children and their families, World Vision is working to provide psychological first aid in the form of psychosocial support and recreational activities.
The hope is to "restore a sense of normality and create better coping mechanisms for the children whose lives have changed overnight," Chung said.
Arise, Church!
"War may not be on Singapore shores, but the local church needs every person's partnership for God's eternal purposes in these times," wrote Rev Dominic in his update on social media about a church in Romania receiving their first group of evacuees.
Together, churches will "reach hundreds of thousands for Jesus by showing His faithful love", he wrote. "The world is watching how we will respond to these trials, and I believe they will see a Church that is not merely a building with four walls, but God's vessel of power, love, and grace to a dying world.
"Remember the Russian Pentecostal believers who are just as concerned for their Ukrainian fellow believers. It must be heart-breaking for them."
To Salt&Light, Rev Dominic added: "As evacuees come through the doors of the Church, how the Church welcomes and embraces them will be important in them experiencing the tangible provision of the Church and the unconditional love of Christ. 
"Let's also remember the Russian Pentecostal believers who are just as concerned for their Ukrainian fellow believers. It must be heart-breaking for them too!  
"We can respond in fervent prayer and give financially towards the frontline relief effort," encouraged Ong.
"As believers, we are commanded to uphold the cause of the poor and the oppressed, and to extend generosity to the poor.
"Even though most of us are not physically present in Ukraine, Poland, Slovakia, Hungary, Romania or Moldova to deliver practical assistance or comfort the broken-hearted, we can provide funds from Singapore to resource those ministering at the frontlines."
"War isn't something we can control but it's predicted in the Bible as signs of end times," Rev Dominic told Salt&Light. "Many lives are caught in this war and many pre-believers have been killed and are perishing into eternity as we read this article.
"This is the hour for the church to arise in prayer for both Russia and Ukraine and in our efforts to reach and save the lost." 
---
Ways you can give to Christian relief efforts:
1. Operation Mobilisation
Operation Mobilisation is a missions mobilisation agency which has teams in Ukraine, Hungary, Moldova, Poland, Romania, and Slovakia mobilising local churches, coordinating relief efforts, and administering aid to those in need. Donations will help to provide displaced families and communities with essentials, such as food packages, basic supplies, blankets, temporary shelter, and basic trauma counselling.
Give to support OM's relief efforts here. For more information, email [email protected]
2. World Vision
World Vision is a Christian relief, development and advocacy organisation. As part of its Ukraine Emergency Response, World Vision Singapore has raised an appeal for funds to support emergency actions for "displaced children and families in Ukraine and neighbouring countries". The support from Singaporeans will go towards critical relief items like water, hygiene kits, child-friendly kits and psychological first aid.
Give to support World Vision here. 
3. World AG Fellowship (WAGF)
The World Assemblies of God Fellowship (WAGF) is a Pentecostal fellowship of churches around the world. Lead Pastor of Trinity Christian Centre in Singapore Rev Dominic Yeo serves as Secretary of WAGF. Funds will be channelled to AG churches in the region and will go towards food, shelter, legal assistance and financial support for evacuees. 
Give to WAGF through their giving page here.
(*For donations towards the Ukraine crisis, please add in comments: "For Ukrainian relief")
---
To donate to other non-faith based international organisations such as the Singapore Red Cross, Doctors Without Borders and UNICEF Ukraine, click here to find out more. 
---
FOR MORE UPDATES ON THE UKRAINE CONFLICT:
Afghanistan then, Ukraine now: "No one wants war," says soldier in tears
"We need God's miracle": Christians in Ukraine plead for united prayer
If you have enjoyed reading Salt&Light...
We are an independent, non-profit organisation that relies on the generosity of our readers, such as yourself, to continue serving the kingdom. Every dollar donated goes directly back into our editorial coverage.
Would you consider partnering with us in our kingdom work by supporting us financially, either as a one-off donation, or a recurring pledge?
Support Salt&Light