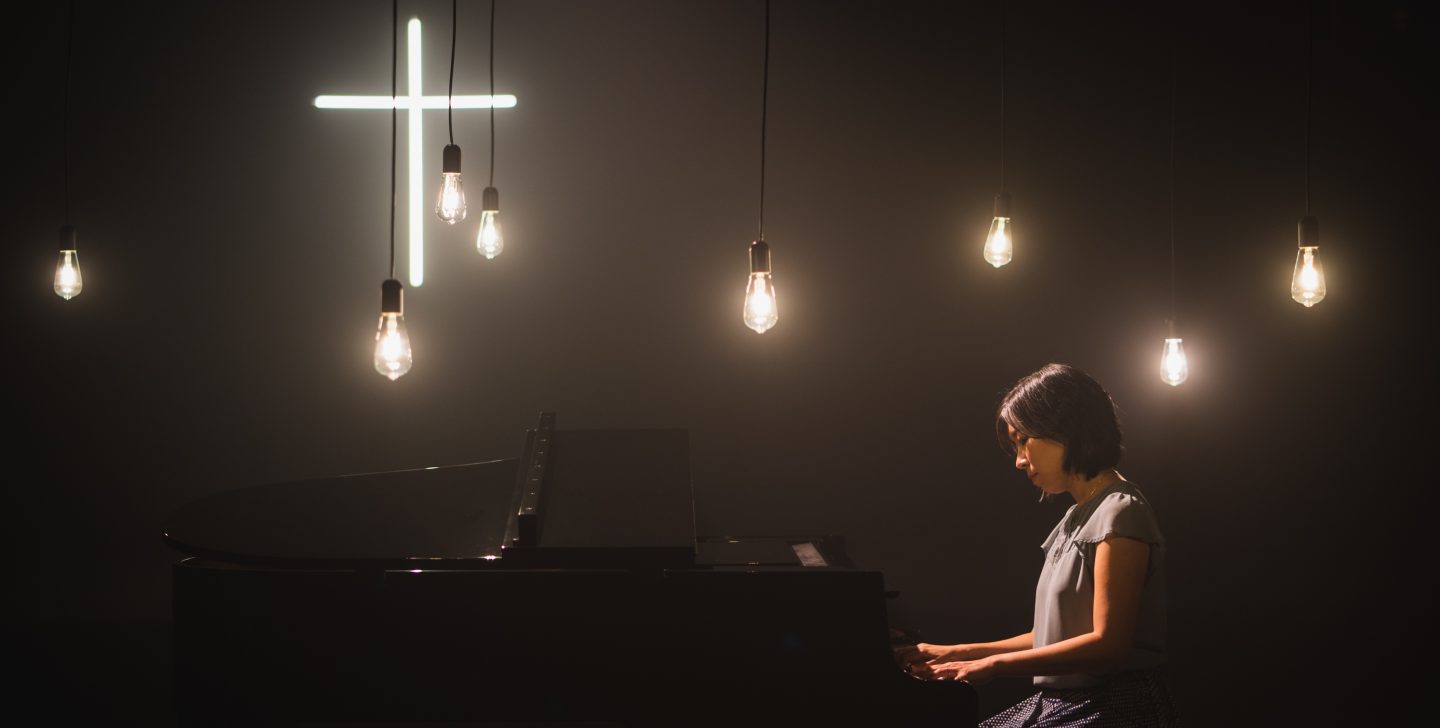 All photos courtesy of PixelMusica.
One day in 13th century Naples, in a quiet priory chapel, Thomas of Aquinas knelt before a crucifix in prayer.
So touched was the famed theologian and philosopher as he contemplated Christ, that he was in tears.
In the midst of his reverence, the voice of Christ came: "You have written well of me, Thomas. What reward will you receive from Me for your labour?"
And Thomas responded: Domine, non nisi Te. 
"Lord, nothing except You."
These moving words were the inspiration for Corrinne May's latest music video, Be Thou My Vision, released tonight on New Year's Eve.
God makes all things new
Corrinne, one of Singapore's best loved daughters and singer/composer of the 2010 National Day Song for Singapore, recently released a Christmas video entitled Silent Night.
Both Silent Night and Be Thou My Vision were produced by PixelMusica, who also produced Corrinne's Bless Our Singapore music video for the SG50 celebrations in 2015. 
Speaking from Singapore where the Los Angeles-based musician is enjoying Christmas and New Year with family, Corrinne told Salt&Light: "I was quite heartened to hear from Adrian Tee at PixelMusica that they wanted to make a music video of those two songs.
"Making the video helped me to revisit all the reasons I chose to record those songs."
"After all, my Christmas album is quite 'vintage' since it was made back in 2005 and I would not have imagined making a music video of it after all this time.
"But truly, God makes all things new. Making the video with PixelMusica helped me to revisit all the reasons I chose to record those songs and to re-ignite my own yearning for Christ to be All in All."
Producer/director Catherine Zhang, 23, added: "This year, we decided to collaborate with Corrinne again on two music videos that would be a gift for the season: Silent Night for Christmas and Be Thou My Vision for New Year.
"Not surprisingly, we used the songs from her album, The Gift.
"For both videos, the idea was to remind people to bring God into the centre of this season's celebration.
"When we first talked to Corrinne about Silent Night, one thing that stood out to us was when she spoke of how Christ sometimes presents Himself in the most humble ways, like His birth in the manger.
"This led to a reflection on what Christmas is really about — Christ born to die for us, the most beautiful gift — and how the humblest beginning can hold the most significance.
"With that, Silent Night's narrative revolves around a humble Christmas dinner in the heartlands, with a young girl (Corrinne's daughter Claire) realising the essence of Christmas through her family.
"It is a simple message really, one that a child can understand and, with age, we can all appreciate more deeply.
"An important element of the music video was the warmth and simplicity in the Christmas dinner, another reminder that Christmas doesn't have to be spent with huge celebrations and gifts, but just one that involves Christ, spent with loved ones."
Silent Night
Silent Night, which was filmed in the family's HDB home, was a labour of love, said Corrinne.
"Corrinne's heart, her passion and love for God and her family are so pure and contagious."
"I was impressed with the video team's creative vision — how they transformed our little humble flat into a beautiful Christmas setting with lights, Christmas trees and presents, and how they managed to capture Claire's expressions and the warmth of the emotions of the scene.
"We filmed all the way from about 8pm till about 2.40 in the morning and Claire was quite a trooper. In fact, most of her scenes were filmed past midnight and she was still smiling.
"The dinner sit-down scene was filmed around 2.30 in the morning, and yet the crew managed to capture the homely moment very beautifully.
"Catherine Zhang, the director, was so gentle and kind with the way she worked with Claire and I was continually amazed at how much strength Tom Seah, the director of photography, had in carrying all that heavy camera equipment.
"Augustine Soong, the gaffer, had a bad knee but continued to film these creative angles that Kavin and I would never have thought about. The talent and passion from these people … extraordinary.
"Elaine, the editor, has a knack for capturing the essence of the emotion and she is a wonderful storyteller. She pulled an all-nighter to get the MV out in time.
"A highlight was definitely all of us going to Swee Choon for supper with Corrinne at 3am after wrap!"
"Eunice, too, who edited Be Thou My Vision, worked so well to bring out the heart of the story."
Catherine, who directed both Silent Night and Be Thou My Vision, told Salt&Light that her Christmas was made pretty special by the video shoot.
"Corrinne's heart, her passion and love for God and her family is one so pure and contagious that we basically built the story around that.
"Corrinne, Kavin and Claire gave their time so lovingly and tirelessly throughout — on both shoot days we ended around 4am — and we were really just lucky to be witnesses of their love for each other this Christmas.
"The other highlight was definitely all of us going to Swee Choon for supper with Corrinne at 3am after wrap and Corrinne's husband Kavin's epic stew he prepared for the Christmas dinner scene!"
Be Thou My Vision
God has been at the heart of Corrinne's life this past year.
"2018 has been a time to get back in touch with God's gentle voice. To hear Him speak from His Heart and to discern what I need to write about for my next album," she said.
"He has been so nurturing with me this year, giving me the opportunity to attend daily mass, to sing with the choir, be part of a prayer group, and helping me understand more of His salvation plan. 
"I hope this beautiful hymn will nudge viewers to consider their priorities, and to view their life through His eyes."
"It has also been a time to grow with Claire as she transitions from a little girl to a young lady."
Be Thou My Vision was specially released tonight to welcome 2019.
"There are so many distractions in our world. Especially in this day and age where even toddlers are not spared from the constant barrage of media on their electronic devices," said Corrinne.
"A lot of the time, we crowd God out of our lives, out of our sight, out of our hearts.
"I hope Be Thou My Vision, this beautiful hymn that was written during a more introspective age, will gently nudge the viewer to consider their priorities in this life, and to invite God to help them view their life through His eyes, His will, His vision for them.
"I hope it will be a loving reminder that God, our Shepherd is always there to shepherd us into His loving embrace. We just have to stay in His Light and to open the doors of our hearts to hear His voice."
Catherine added: "Be Thou My Vision is a hymn we all love and thought was a great song to welcome the New Year.
"It is a simple lyric video, beginning with Corrinne's introduction to what that song means to her, and ends with a quote by Thomas Aquinas."
Corrinne gave the video team props for their dedication towards God and their craft.
"What stood out during the filming was how the crew worked so beautifully together to get the shots they needed and how patient everyone was.
"They are truly friends as well as co-workers. It was quite heartwarming to see that they were doing this as a labour of love."
A New Year wish
As the new year dawns, Corrinne is looking forward to performing in LA again "to try out my new songs 'live', and also to writing more songs, reading more books, and discovering more of God's plan".
She has been in Singapore since late July with husband Kavin and daughter Claire, 9, spending some time in Malaysia with extended family members as well.
They are headed back to the US in January 2019 for half a year.
And Corrinne's New Year wish for us all?
"I've always taken much comfort in these words of our Lord: And behold, I am with you always, until the end of the age. (Matthew 28:20)
"May He be our All in All. May He be with us as we take our first breath in the New Year and keep us in His Light till the Eternal Light is All in All."
If you have enjoyed reading Salt&Light...
We are an independent, non-profit organisation that relies on the generosity of our readers, such as yourself, to continue serving the kingdom. Every dollar donated goes directly back into our editorial coverage.
Would you consider partnering with us in our kingdom work by supporting us financially, either as a one-off donation, or a recurring pledge?
Support Salt&Light