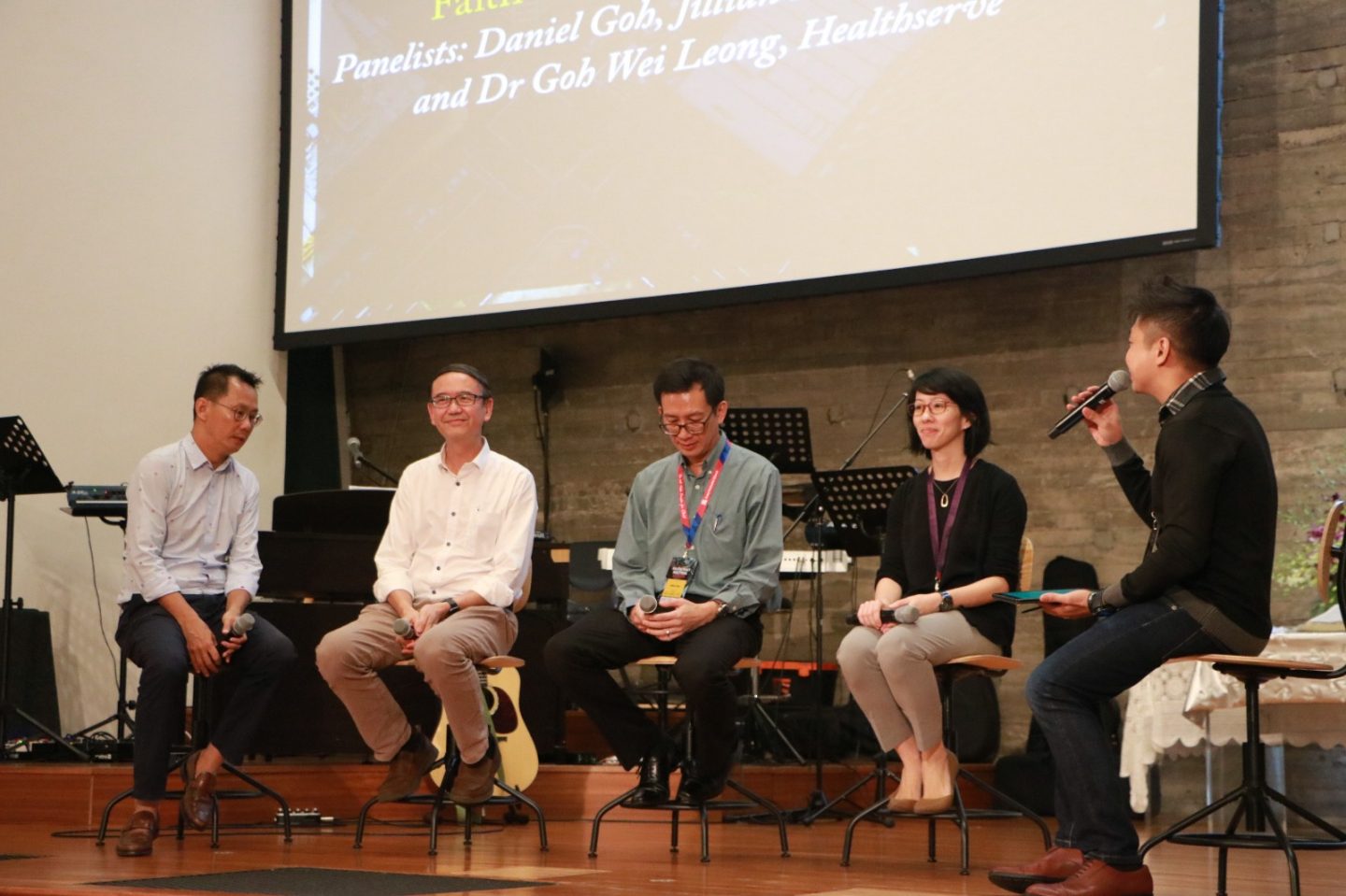 From left to right: Daniel Goh of Characterist LLC, Dr Goh Wei Leong of HealthServe, Jeffery Chua of HealthServe, and Jillian Lee of Sterling Campus speaking during a panel discussion at the event. Photo by Grace Methodist Church.
If Christians truly want to make an impact in their offices, they must first think about changing the prevailing cultural climate, said a group of panelists at a workplace seminar on Saturday (30 June).
Daniel Goh, the managing director of law firm Characterist LLC, Jillian Lee, the principal of Sterling Campus, Dr Goh Wei Leong, the co-founder of HealthServe, and head of case work and social assistance at HealthServe Jeffery Chua were some of the speakers at Grace Methodist Church's workplace seminar, "Faith that Matters at Work". 
Goh referred to the seven mountains model – the areas Christians should influence, namely: government, healthcare, business, education, arts and entertainment, media and family – during his plenary session and how Christ must be at the centre of them all. 
Lead the way
As the world embraces ongoing cultural shifts on issues such as diversity in the workplace, the church needs to be the redemptive community, Goh said. This means that Christians must be willing to speak up in front of non-Christians on issues they disagree on. 
The lawyer cited Genesis 2:15, which states that God called man to "cultivate" (NASB) his land. The word "cultivate", he said, comes from the word "culture". Therefore, believers are supposed to seize the opportunity to determine the culture that affects our everyday lives. 
"We either create culture or follow culture." 
Romans 12:2 is another reason why Christians must be counter-cultural and stand up for biblical truths, Goh added. And if one fears the backlash, the verse, "But seek first His kingdom and His righteousness, and all these things will be given to you as well" (Matthew 6:33) should be enough push to do what is right. 
"We either create culture or follow culture."
"I say regardless of age, station in life, and maturity in the faith and the walk, we must influence culture. There's a cultural mandate God has left us."
Choose to be a conqueror 
During a forum discussion, the other panelists spoke in agreement that Christians should be impelled to alter the cultural landscape in Singapore. 
Lee, also a former public school teacher, said that believers should stop saying, "No choice." She used the example of going to school in Singapore. 
"I think what the culture in Singapore tells us is that, 'No choice, the education system is so stressful, but no choice, I have to send my kids for this and that.' We have a choice, and we are called to create culture," Lee said.
"We are more than conquerors in Christ, so we do have a choice. It's whether we want to exercise it or not."
To glorify God in the workplace, believers should be ready to make sacrifices for others as well.
Get involved
Goh said that despite their busyness, Christians should still make time to meet up with people and be intentionally invested in their lives. 
To glorify God, believers should be ready to make sacrifices for others.
Befriending colleagues and clients can become entryways to talk about God, Christianity and what one does on Sundays, he said. 
Be creative when it comes to reaching out to the non-Christians as well, he said. If God is the "Creator" (Genesis 1) and believers are called to conform to His image (Romans 8:29), He will provide creative solutions on how to spread the Gospel. 
Unbelievers would probably be unwilling to spend Sundays at church, or will be too exhausted after a long day at work to tag along for cell group meetings in the evenings. One should, instead, meet them at a place and time that is convenient for them. 
Even if it means meeting at 6:30am because one is a teacher or doctor, Goh said. "Do what it takes."
If you have enjoyed reading Salt&Light...
We are an independent, non-profit organisation that relies on the generosity of our readers, such as yourself, to continue serving the kingdom. Every dollar donated goes directly back into our editorial coverage.
Would you consider partnering with us in our kingdom work by supporting us financially, either as a one-off donation, or a recurring pledge?
Support Salt&Light