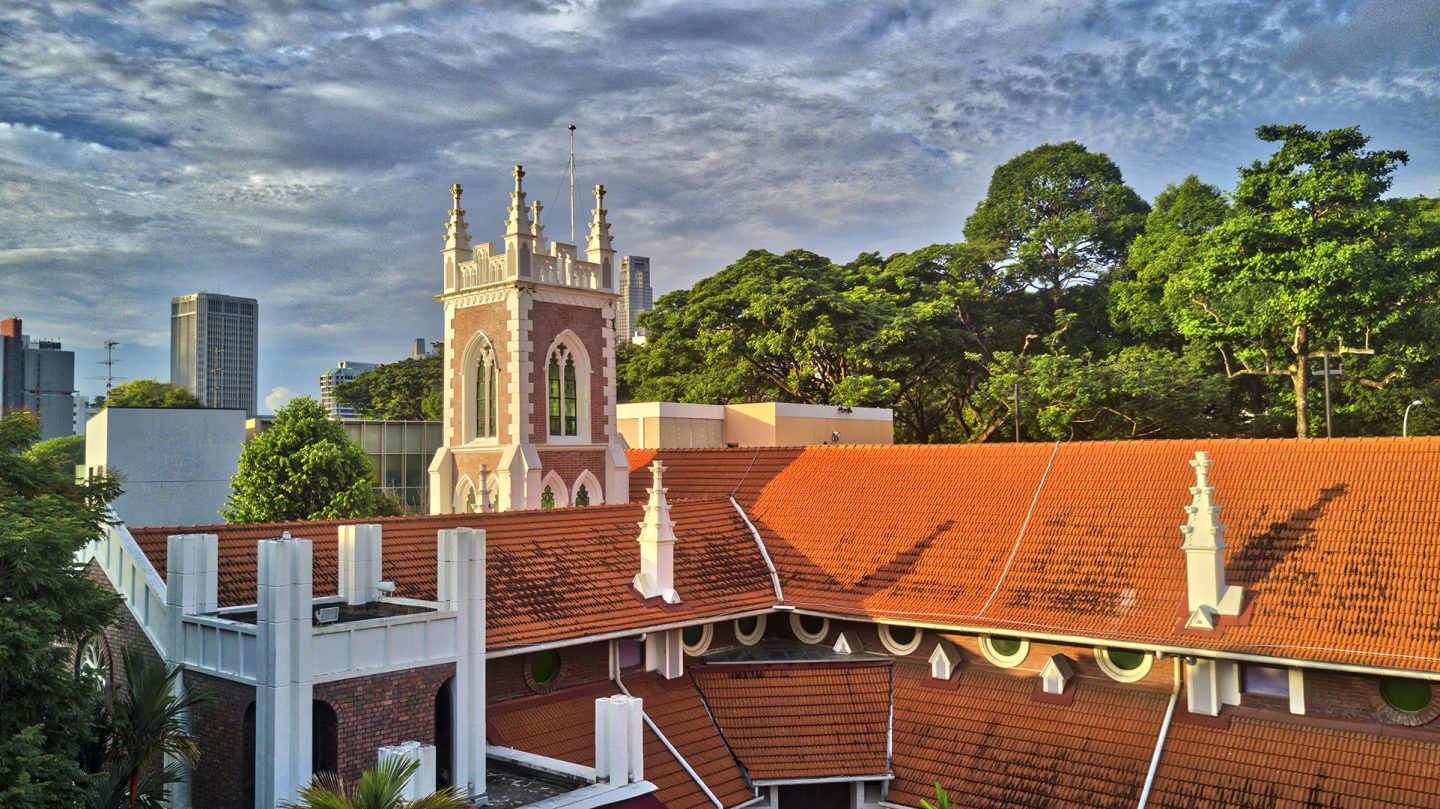 The Methodist Church in Singapore launches its 135th anniversary celebrations on February 16 at Wesley Methodist Church, the oldest Methodist church in Singapore. All photos courtesy of the Methodist Church in Singapore.
The Methodist Church in Singapore (MCS) launched its 135th anniversary celebrations on February 16, kicking off a slate of programmes under the banner "Loving God, Serving Together".
"God has put us here for 135 years," said MCS Bishop, the Rev Dr Chong Chin Chung, during a worship service at Wesley Methodist Church, which was also marking its 135th year as the first Methodist church in Singapore. The other 45 churches under the MCS umbrella heard the same message in a pre-recorded video.
"We are part of Singapore and every Singaporean is our neighbour."
"As Methodists, we are not separate from the community. In Luke 10:23-37, the scribe asks Jesus, 'Who is my neighbour?'
"Anyone who is in need is our neighbour.
"We are part of Singapore and every Singaporean is our neighbour. Celebrating 135 years is not just celebrating ourselves, it is a reminder that we are part of our community." 
Rich heritage
Since its founding in 1885 by two missionaries, James Thoburn and William Oldham, MCS "has grown from strength to strength", noted Col (Ret) Quek Koh Eng, chairman of the MCS135 Anniversary Celebration committee. It has made laudable inroads into education, social action, missions, discipleship and equipping.
It is the largest Protestant denomination in Singapore today, with some 44,000 members spread across three annual conferences: Chinese Annual Conference (CAC), Emmanuel Tamil Annual Conference (ETAC) and Trinity Annual Conference (TRAC).
For MCS135, which has Matthew 22:37-39 as its theme verse, the 15 Methodist schools in Singapore will participate through a special liturgy recited during assembly.
The Methodist Welfare Services (MWS) has organised a Eat-Share-Connect programme that aims to raise at least $1.35 million to help 1,000 low-income families or individuals. Each beneficiary will be allocated $1,350 over one year to help with the costs of daily living.
"Knowing our roots allows us to appreciate the blessings we've received throughout the years."
A Heritage Day & Exhibition on July 11 will highlight historical artefacts from the Wesley Methodist Church museum, as well as additional exhibits from the MCS Archive and History Library. To provide "a more personal experience to all visitors", a self-guided heritage trail mobile app will be available. 
President Halimah Yacob will be the guest-of-honour; it will be her first Methodist event, according to Col Quek. Other VIPs will include members of the Inter-Religious Organisation and leaders of various faiths. 
"Our history bonds us as Methodists, and knowing our roots allows us to appreciate the blessings we've received throughout the years. All of us are recipients of the legacy that our pioneers have left, and we wish to take it forward in the years to come," Col Quek said.
Other MCS135 events include a season of Eat-Share-Connect meals organised by MWS (February 26 to May 30), and a Family Carnival on May 30 at Geylang Methodist School, where a recipe book on Simply Good-Healthy Family Meals authored by the MCS Women's Society of Christian Service (WSCS) will be launched.
Paying it forward
While 135 is not commonly considered a milestone anniversary, there have been nationwide MCS anniversary celebrations every five years, including large-scale ones at the 125th and 130th mark.
"We consider every five years to be a milestone anniversary," said Col Quek. "This year, our anniversary also coincides with our nation's 55th birthday.
"These milestones are not simply points in the past … We hope our initiatives will last long after each anniversary."
"Each anniversary, we aim to serve our community in various ways, and this year, we are continuing to share our blessings which multiply in abundance."
At the 125th anniversary, a Heritage Day Exhibition, graced by Prime Minister Lee Hsien Loong, was launched at the Old School in Mt Sophia, the original Methodist Church headquarters. 
It was also the year the first expansive fundraiser by the MCS was organised: $1.8 million was pooled together for the "Walk With the Poor" programme, with its distribution reaching 1,020 chronically poor families in Singapore.
This initiative was carried further five years later with the "Getting Out Of Debt" programme, when $3.3 million was raised to help more than 600 chronically poor families get out of debt and begin to improve their lives.
"This effort is still ongoing today," Col Quek said. "These milestones are not simply points in the past. We hope to forge lasting relationships with those whom we serve, and that our initiatives will last long after each anniversary."