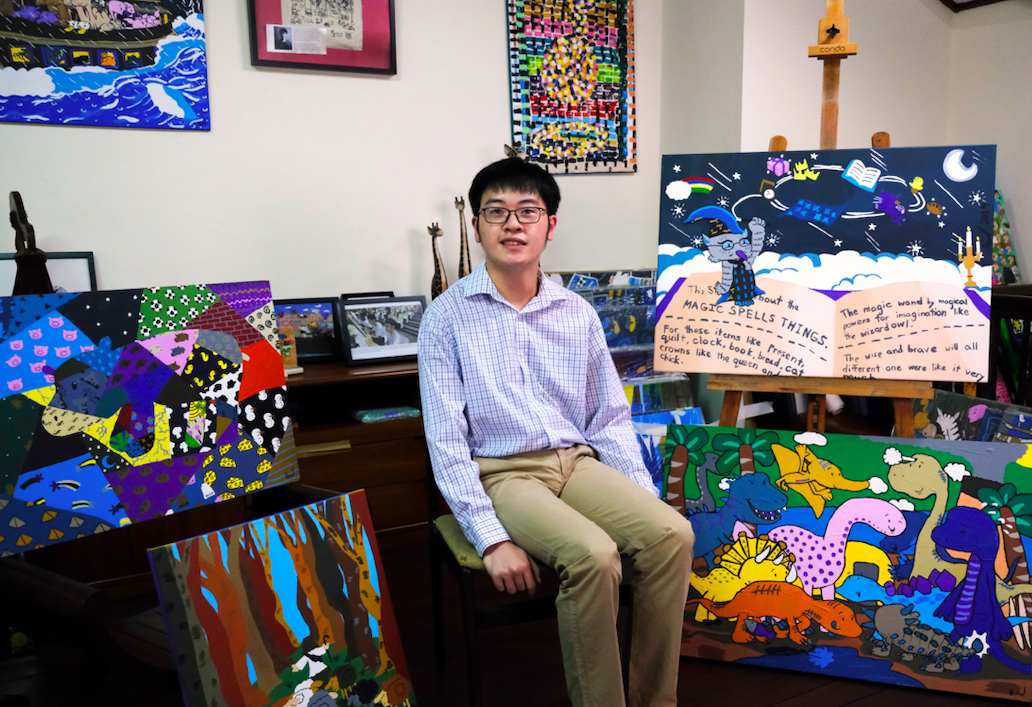 Aaron James Yap, who is on the autism spectrum, surrounded by his artwork, some of which has been featured in local exhibitions and national events. All photos courtesy of Koinonia Inclusion Network.
At just 25, Aaron James Yap, who has autism, has had his artwork featured in numerous local exhibitions, as well as in several national events, including National Day 2019.
His latest artwork is set to be featured somewhere less prominent, but by no means less significant: On the cover of a new Bible study material that hopes to encourage and enable believers to embrace people with disabilities like himself. 
Launched on International Day of Persons with Disabilities (December 3), Enabling Communities is a four-session study designed for small groups, as more churches in Singapore seek to better embrace people with disabilities.
Each session, estimated to be about 90 minutes long, dives into a passage of Scripture that demonstrates God's view of people with disabilities and offers practical ways to welcome and engage them.
The Bible study is published by the Centre for Disability Ministry in Asia (CDMA), a collaboration between the Koinonia Inclusion Network (KIN) and the Biblical Graduate School of Theology (BGST).
A growing movement
Speaking to Salt&Light, Leow Wen Pin, director of CDMA and president of KIN, said the study was written as more churches have expressed an interest in engaging and equipping their small group ministries to include persons with disabilities.
"They decided that a church should not wait for deaf people to come before they had an interpreter."
This year, KIN has worked with more than 25 local churches to establish and grow their disability ministries, he noted.
Wen Pin, who co-authored Enabling Communities, shared an example of a local church that not only set up a sports-based disability ministry for children with special needs, but also trialed a service that included a Singapore Sign Language interpretation.
"They decided that a church should not wait for deaf people to come before they had an interpreter. After all, why would a deaf person come if you did not have interpretation to start with? I'm deeply moved by their spirit in this," he said.
Enabling Communities is currently available online at $10 for the Student's Version and $15 for the Facilitator's Version. 
Those who put in an order before Dec 10 will enjoy a 10% early bird discount, while those who order more than 50 copies will be given an additional 5% bulk discount.
All proceeds will go to supporting the work of KIN.
Persons with disabilities are disciple-makers
Commenting on the study, Bishop Emeritus Dr Robert Solomon said: "This is an excellent and much-needed resource for Christians to understand biblical foundations and principles on empowering and including people with disabilities in the Church.
"I believe persons with disabilities can have a meaningful relationship with God and serve in simple and profound ways."
"It also suggests how the Church can better integrate such people in its life and mission, thus expressing God's heart and will."
Joanna Ong, research coordinator at CDMA who co-authored Enabling Communities, said she hopes the Church can "step up and embrace that persons with disabilities are disciples and can be disciple-makers in God's kingdom".
"We hope this can be done, not just by welcoming persons with disabilities and their families into church physically but helping them feel belonged, supported, known, befriended and needed," she said, adding that this can be done in a variety of ways.
"Their spiritual needs are just as important as any other believers. Regardless of their disabilities, I believe persons with disabilities can have a meaningful relationship with God and serve in simple and profound ways through the inclusion and love of believers in Church."
---
FOR MORE ON INCLUDING PEOPLE WITH DISABILITIES, READ:
Want to start a disability ministry in your local church? Here's a new one-stop resource
"God did not make us independent; He made us interdependent": Embracing those with disabilities as Kin
How do Sunday Schools meaningfully include children with special needs?
If you have enjoyed reading Salt&Light...
We are an independent, non-profit organisation that relies on the generosity of our readers, such as yourself, to continue serving the kingdom. Every dollar donated goes directly back into our editorial coverage.
Would you consider partnering with us in our kingdom work by supporting us financially, either as a one-off donation, or a recurring pledge?
Support Salt&Light