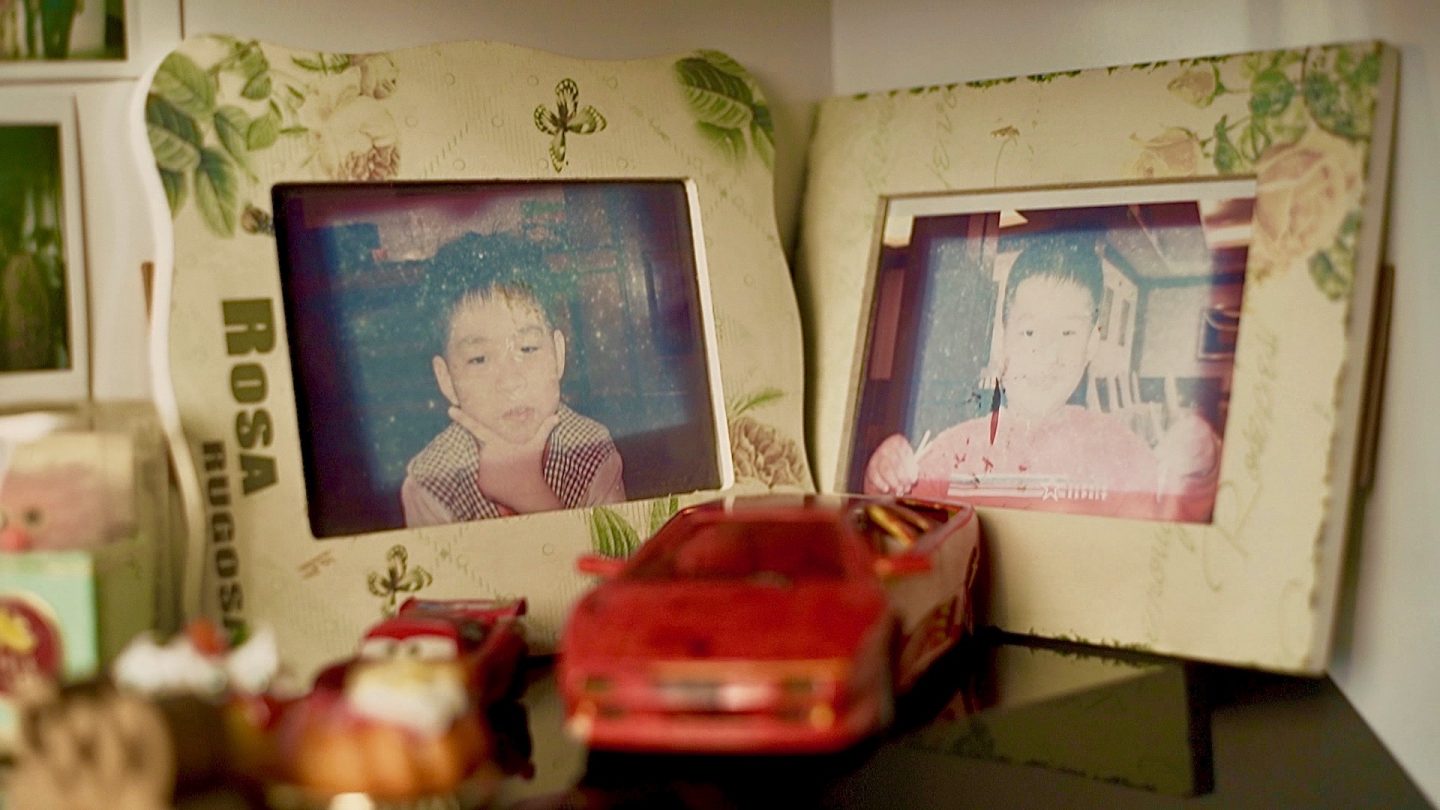 The accident involving 13-year-old Nigel and seven-year-old Donavan made headlines across local media, and many good-hearted strangers streamed in to pay their respects at the wake. "God knew we needed people's care," says the boys' father, Francis Yap. Photo by Ang Wei Ming.
January 28. Not a special date for most. But for Francis and Suliani Yap, it is a date they will never forget.
Exactly six years ago, on January 28, 2013, Francis was going about an ordinary day of work as an SAF regular when he received a phonecall from his sons' school.
The caller asked if 13-year-old Nigel and seven-year-old Donavan were his sons. He said he was asking with regard to "a traffic thing" and hastily added that someone else would call later.
Confused and anxious, Francis waited.
It was a police officer who called next. Nigel and Donavan had been hit by a cement mixer while cycling across the road. Both his children were dead.
"After the phone call, my whole body collapsed," Francis said. He quickly informed his wife Suliani, who was working at McDonald's. She dropped everything to rush down to the accident scene.
Ironically, like her sons, she too rode a bicycle to the scene.
"My bicycle tyres didn't have enough air and it was very difficult to cycle. As I was rushing to the scene, I couldn't accept it. I told myself, this accident isn't real. It was only when I reached the scene that I realised it really happened. My children had died and they had no more breath. At that moment, my mind went completely blank and numb. I couldn't accept it." 
Her wails gave way to unconsciousness.
Wrestling with God
It has been six years since the accident.
I am at the Yaps' home in Choa Chu Kang, where it is peaceful and quiet, save for the light chirping of three birds that Francis keeps.
Displayed on a shelf in a room are rows of toy cars and Lego figurines that had belonged to the boys.
"God has been constantly watching over us and walking with us. We've had no lack."
A scrapbook of Nigel and Donavan, made by their church friends, takes pride of place on the shelf, as does a photo album with memories of their last family outing to Sentosa, just two days before tragedy struck.
It is evident that the family had been close. 
The pain of loss is still palpable in the home. But when Francis, 47, and Suliani, 42, start sharing, their words are not what you'd expect.
"God has been constantly watching over us and walking with us. We've had no lack," says Francis with conviction.
But it has not been an easy past six years.
"After the accident, my whole world fell into darkness," remembers Suliani.
Memories of the boys were everywhere – in the kitchen, the rooms, the playground downstairs and even at the nearby bak chor mee stall where the family used to have Saturday lunches together. It was too painful for them to stay.
So in November that year, they moved from Tampines to the home in Choa Chu Kang where they currently live.
But they couldn't escape the pain, and wrestled with God to find answers to the tragedy.
"God, You love us. Why would You let something like that happen?" they lamented.
During church one Sunday, the pastor spoke about how Abraham had offered his son Isaac to God. During the altar call, the pastor told the congregation that God wants what they value the most in life — wealth, work, health and family.
"When I heard that, I couldn't hold my emotions in. I cried out, 'God, I'm not willing. I want to be like Jacob and wrestle with You. Jacob broke one leg, I'm willing to break both'," Suliani says.
Peace did not come quickly. But it did come.
A mother's lament
The Yaps had become believers through Suliani's sister.
"In my household, it was my younger sister who first came to Christ," Suliani says. "She told me, you've prayed to almost every god; do you want to try Jesus? This is how we began to go to church and eventually to accept Jesus.
"Every night we would hold each other's hands. Our children would pray for daddy and mummy, and we would pray for them."
"At that time, our church had just started a Hokkien service and we thankfully worshipped there together. Nigel was learning how to play the drums, my husband was a sound man. On Sundays, Donavan attended Sunday school. We felt very blessed because we were serving God together as a family. 
"At home, we would hold each other's hands at 9pm every night and pray for each other. Our children would pray for daddy and mummy, and we would pray for them before saying a closing prayer." 
Francis says: "When the accident happened, I was thinking, what would happen to my wife? She has said before that her children were her life. I thought to myself that I can't crumble, because what will happen to her if I do?" 
"During the funeral, I kept asking God questions," says Suliani. "I said, in Your Word, doesn't it say that 'as for me and my household, we will serve the Lord'? We served You together happily. At that time, I felt like I was the most blessed person in the world. So why would something like that happen? I kept asking this.
"Then the pastor shared with me a song about Jesus' pierced hands, and it kept playing in my ears. I felt that it was angels who were singing this song.
"I cried even harder. I said, 'God, You are God and I am not. I'm only an ordinary person. Your pierced hands were very painful, but I am hurting even more. And God whispered in my ear, 'I died on the cross and sacrificed My life for you. It was painful, but I bore it to save you.' I cried until I didn't have any tears left. I said, 'God, I really have no words.'
"The next day, at my sons' funeral, a voice prompted me to share my testimony about how I came to know Jesus. I am grateful that many people, regardless of their background or religion, came and heard how we came to believe in Jesus as a family."
A father's grief
Francis, too, struggled.
"Before the accident, we lived on the fifth floor," he says. "Whenever I came home from work and parked my car, my sons would look out of the window and shout, 'Ah Pa! Ah Pa!' and I would wave to them. Suddenly, these voices were gone. Every night after returning home from work, I would start crying. I really missed them and it was very difficult to move on.
"One night, I cried until I fell asleep. I dreamt of my sons. My elder son was dancing. He had changed – it looked like he had grown up. My younger son came and told me, 'Ah Pa, don't cry anymore. We are very happy here. Don't worry.'
"I woke up and thought, 'Oh, they're really in heaven.'  It was an assurance that they were safe and happy. From then, a huge rock was lifted off my chest and I tried to move on." 
The couple had assumed that the boys' wake would be a quiet affair.
To their surprise, many turned up. The accident had made headlines across local media, and good-hearted strangers streamed in to pay their respects.
"God knew we needed people's care. So He sent us people – regardless of race – to remind us that we were not alone." 
Parents who had lost their own children — most of them complete strangers — approached them to share stories of loss and grief. Many others held them and prayed for them.
Members of the public wrote the family messages of encouragement, which are now compiled in a book and kept on a shelf at home. Even then-President, Dr Tony Tan, penned a message of condolence.
"God knew we needed people's care," says Francis. "So He sent us all different people — Chinese, Malay, Indian, even American – to comfort us and remind us that we were not alone." 
Even after the blur of the funeral, church friends continued to rally around them. One even took a week's leave from work, despite her boss' disapproval, to accompany Suliani as she packed up the boys' belongings.
At work, God sent understanding supervisors who excused Francis from mandatory overnight duties so that he could return home every night to be with his wife. After the accident, his colleagues also took turns to stay by the couple's side.
"God really sent many angels to surround us and help us. He was never frustrated with our questions but continued holding our hand and walking with us," Suliani says.
Living waters
Suliani has since studied at Tung Ling Bible School as well as ACTS College, and is now a part-time pastor.
"I'm grateful for our church pastor whom God sent to journey with us," she says. "At that time I asked her, 'Pastor, why would this accident happen? She told us, 'I also do not know, only God knows.' But she was really good, she read the Bible and prayed with me, accompanied me on walks at Gardens by the Bay. Looking back, I have seen how God has constantly been by our side."
Certain occasions, like Chinese New Year, birthdays and Christmas, are still difficult. 
They often spend these occasions praying for God's comfort.
During their trip to Israel this month, the guide showed them the place where Abraham had offered Isaac to God, reminding Suliani of how she had challenged God six years ago.
This time, however, she felt peace.
"This was the second time God reminded me of Abraham's sacrifice. It was a confirmation to me that we had offered our sons to Him. We know they are with God in heaven, so we don't need to worry."
"I want to fly higher and higher, be strong like an eagle and continue living on."  
Since their return from Israel, she has found renewed strength.
"I am more resolved in believing that we need to finish walking our journey in Christ, no matter life's winds and waves. No matter how challenging life is, we must complete our journey."
In her lowest moments, she looks to Isaiah 40:31 for encouragement. "When I was at my lowest point, a sister-in-Christ brought me to participate in praise dances. There was this song based on Isaiah 40:31; it really encouraged me. I want to fly higher and higher, be strong like an eagle and continue living on." 
Francis gets through each day by praying. "I pray and thank God that I'm still alive and can see the sun rise, that I can come home to this house, that I can still be with my wife."
Telling God all that is in his heart and relying on Him for strength has helped Francis move forward in small steps.
"The pain will never get better," he says. "But it's about how you carry this pain to complete life's journey.
"The way I see it, my children's work on earth has been done. They have already completed their tasks here and have returned to heaven where they belong. My wife and I still need to be on earth to serve God. One day when our work is done, we will return to heaven too. We believe we'll see our children again. This is only a temporary separation."
"The pain will never get better, but it's about how you carry this pain to complete life's journey."
His wife agrees: "I hope that our life will be like a tree planted by streams of water (Psalm 1:3); that we will use how God has been gracious to us to encourage others.
"I believe that Jesus is the only way, truth and life. I hope that when we return to heaven, our children will be with Jesus welcoming us into His kingdom.
"I hope my children will tell us, 'Mama, Papa, you did great.'"
When asked what she would say to the boys now, she smiles for the first time since we meet.
With a clear voice, she says: "Ah Cang, Ah Di, you've been good sons to us. You have been great sons. I want to say, thank you.
"You must worship and praise God well in heaven. Don't worry about Papa, Mama. We are serving God together on earth. This is just a temporary separation. One day we will be in God's beautiful heaven, sitting at the Great Banquet with Christ and eating McDonald's together!" 
If you have enjoyed reading Salt&Light...
We are an independent, non-profit organisation that relies on the generosity of our readers, such as yourself, to continue serving the kingdom. Every dollar donated goes directly back into our editorial coverage.
Would you consider partnering with us in our kingdom work by supporting us financially, either as a one-off donation, or a recurring pledge?
Support Salt&Light