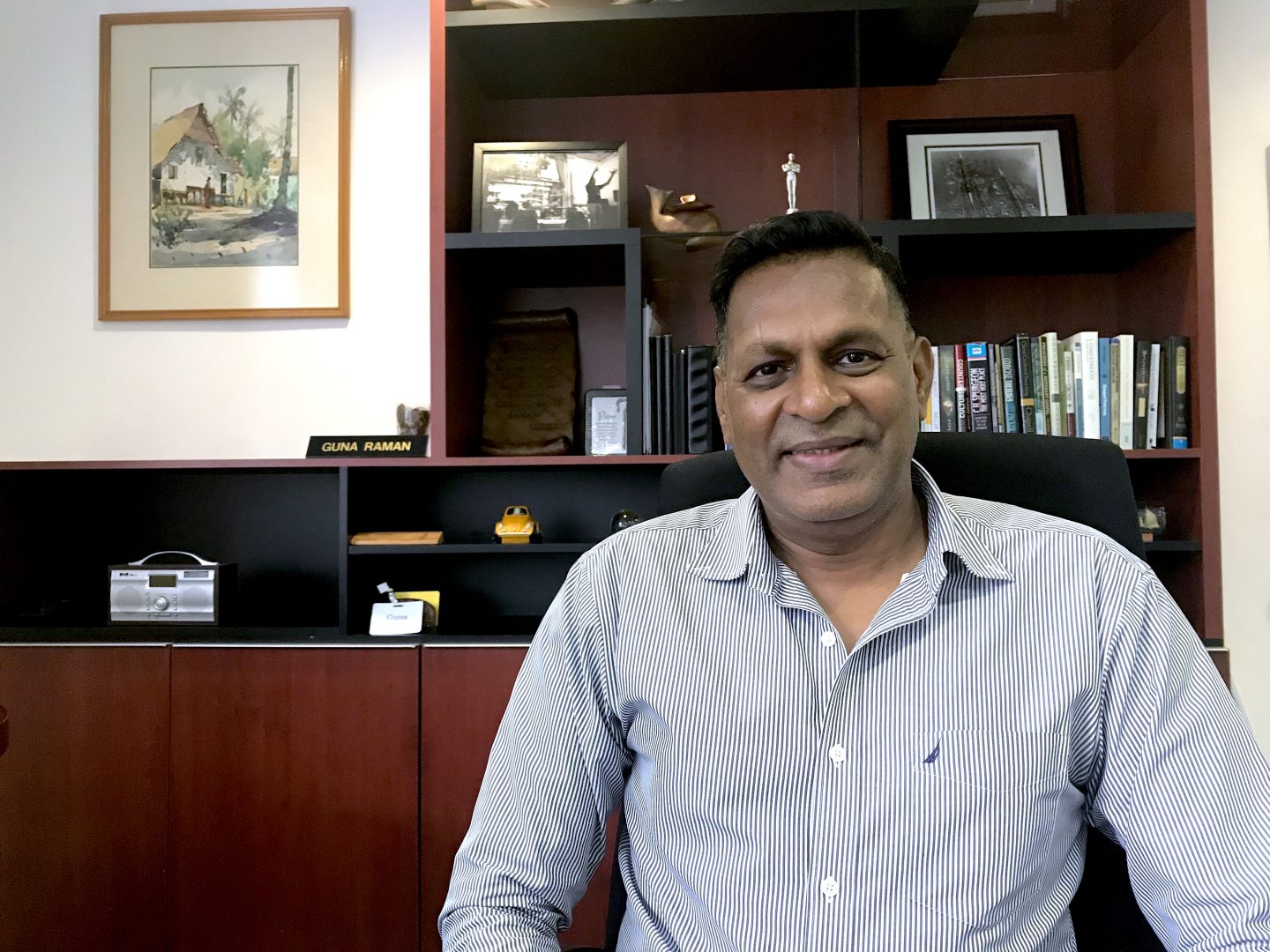 Pastor Guna Raman is the new chief executive of church planting network City to City Asia Pacific. Photo by Rachel Phua.
Though some may still wonder where Singapore is, there's no denying the tiny city-state of 5.6 million is an economic powerhouse on the world stage. It has the fourth largest GDP per capita in the world and is the fourth most powerful financial centre globally, ahead of other Asian cities such as Tokyo and Shanghai.   
But Singapore's significance is not just commercial. The country has a tremendous spiritual duty to fulfil as well, with a divine mandate of citywide evangelism. And Pastor Guna Raman, 59, is geared up for the challenge, having newly been named chief executive of City to City Asia-Pacific (CTCAP).
City to City is founded on the theology that God loves cities, as expounded by American pastor Timothy Keller, who started Redeemer Presbyterian Church in Manhattan, New York. Recognising that important ministry effort needs to be put into areas where the most influential action takes place, its message of gospel-centred urban church planting has now taken hold in major cities in North America, Europe and Asia.
Singapore's own Pastor Raman picked up the regional mantle after having served as City to City's volunteer director for Southeast Asia. Having been the senior pastor of Agape Baptist Church – the church he founded – for 29 years, he made the transition to become CEO of CTCAP on September 1, while continuing to serve Agape as an elder.
He spoke to Salt&Light about his new role and his passion for the urban church planting movement. 
What are your plans for City to City Asia-Pacific? 
Our vision is that we plant another 400 churches in the next three years. Right now City to City has helped to plant nearly 300 churches all over the Asia Pacific.
New church plants are usually more adaptable to the city's needs and culture.
I'm also hoping to develop strong networks of pastors and ministry leaders within each city. 
Most cities are already home to many churches. Why do they need more?
New churches have very different dynamics. Church planters are usually great risk-takers because they are very entrepreneurial though they do not know how the situation will turn out. As a result, they are willing to try new things that, sometimes, established churches may be reluctant to start as they have a certain pattern of functioning.
These church plants are usually more adaptable to the city's needs and culture. They can be more relevant because they are new, and they can shape their practices to attract a certain group of people. 
For example, Agape Baptist's mother church is at 1 Dorset Road, where we reached out to the Pek Kio community. We came to a point where we discovered that our church was not attracting young professionals because the community we were working with was mostly made up of older people. We were not reaching the future.
So we took a bold step and planted a site at Lavender four-and-a-half years ago with the vision of engaging young professionals, and it worked.  
Statistically, it has been proven that every time you start a new church, it grows faster than an existing church. New churches have the ability to do that because they are more evangelistic. 
How is the urban church different from those in the suburbs or in a village? 
City folks are very busy, very self-centred, and they tend to get cynical very quickly. They suffer more wounds than country folks because of the stresses and relational tensions that happen in the city. Things are very expensive and there is a lot of competition. 
There are far more temptations in the city than there are in the countryside, and these cause a lot of pain, hurt, need for healing and sceptical thinking.
Urbanites have been through lots of disappointment because they come to the city to make a name for themselves and they work very hard for it. But if they have no influence on others and they are not the best of the best, they are left disappointed.
The church should provide the solution to the growing sense of emptiness and depravity that city folks experience. 
Why is the Gospel relevant to them?
Because there's nothing that can heal the soul like the Gospel.
City folks think that their salvation is in their performance and they try to build an identity around their successes, but it still results in disillusionment.
Christ Himself was thrown out of the city gate when He was crucified for our sake.
People need to know that it is not their performance that is going to save them. It is Christ's performance that saves them – what He has done, rather than what you have done. 
Christ Himself was thrown out of the city gate when He was crucified for our sake (Hebrews 13:12), then He gave us power (John 14:16, Ephesians 3:16) so that we could live to be a blessing to the city (Jeremiah 29:5-7), no matter how much the city has hurt us. 
Why centre on the cities, particularly in Asia? 
Asian cities are growing at a faster rate than any other region, besides Africa. There are lots of young people in Asia flocking to the cities (according to the United Nations, the Asia-Pacific region contains 60% of the world's youth population), because they see their future there. So if we want to evangelise to the next generation, you have got to enter the cities. 
The influence of the cities on young people is tremendous. Pop culture comes out of cities and this shapes these youths' thinking. If the church can address the issues that emerge from the prevalent culture, you are going to bring about transformation. 
All the pastors that you would call the "pillars" of Christendom in our nation today got saved when they were very young. They came into ministry in their 20s and 30s. The question is: What about the next 30, 40 years? So the church must reach the young people. 
What do you mean by "Gospel-centred" churches?
Of course, every church preaches the Gospel, but when I say "a Gospel-centred church", I mean that these churches put the finished work of Christ at the core of everything they do.
This means, every sermon and all ministry expressions rise up from understanding the Gospel.
For example, when Christians help the poor, sometimes the work of the Cross is marginalised. We say: "Okay, we all know the Gospel, it's the ABC of the Christian life. So let's move on to more important matters" – whereas, a Gospel-centred church says: "No, the Gospel is not the ABC of Christianity, it is the A-to-Z of the Christian life." 
"The Gospel is not the ABC of Christianity, it is the A-to-Z of the Christian life."
The Gospel gives theological depth to what we do. 
What are you looking for in a church planter?
We just need a person with a strong calling to plant a church in the city. It does not matter whether you are seminary-trained or which denomination you come from, as long as you feel a calling from the Lord to the city and you are ready to plant a church within 18 months of your training.
As a general rule, we choose church planters who are 40 years old and below, because we found that people are less entrepreneurial after 40. That being said, God can use anyone, and we have come across applicants that are over 40 and still very innovative. 
Where did your passion for the city come from? 
I was born in Alor Setar, a town at the northern tip of Malaysia. In my town, when a James Bond movie arrived, it was already old news. Cities like Kuala Lumpur and Penang got it first. So I always wanted to leave for the city. When I got a teaching job in Singapore after university in KL, it was like a dream come true. 
Over the last 20, 30 years, I've also come to see how cities have such influence and power in the world. 
Tim Keller's 'A Theology of Cities'
In his explanation of the theology of the city, Timothy Keller wrote for Campus Crusade for Christ that it is God's decree that humans build ever-growing societies where civilisation honours God with their hands (Genesis 1:28). Cities are made to be religious capitals. It just depends on whether it worships God, or money, or fame.
They are places of refuge, especially for people who feel like they do not belong to the dominant culture in the country. These individuals will always find a community, due to the sheer number of people living in the city.
Metropolitan neighbourhoods are also areas where culture flourishes, as people are exposed to new ideas and traditions, and where individuals are forced to be creative in order to make a name for themselves. 
Living in cities therefore makes urbanites restless, lost and open-minded. They may be much more receptive to the Gospel compared to suburban or rural dwellers, where conditions are relatively stable, Keller states. 
If you have enjoyed reading Salt&Light...
We are an independent, non-profit organisation that relies on the generosity of our readers, such as yourself, to continue serving the kingdom. Every dollar donated goes directly back into our editorial coverage.
Would you consider partnering with us in our kingdom work by supporting us financially, either as a one-off donation, or a recurring pledge?
Support Salt&Light