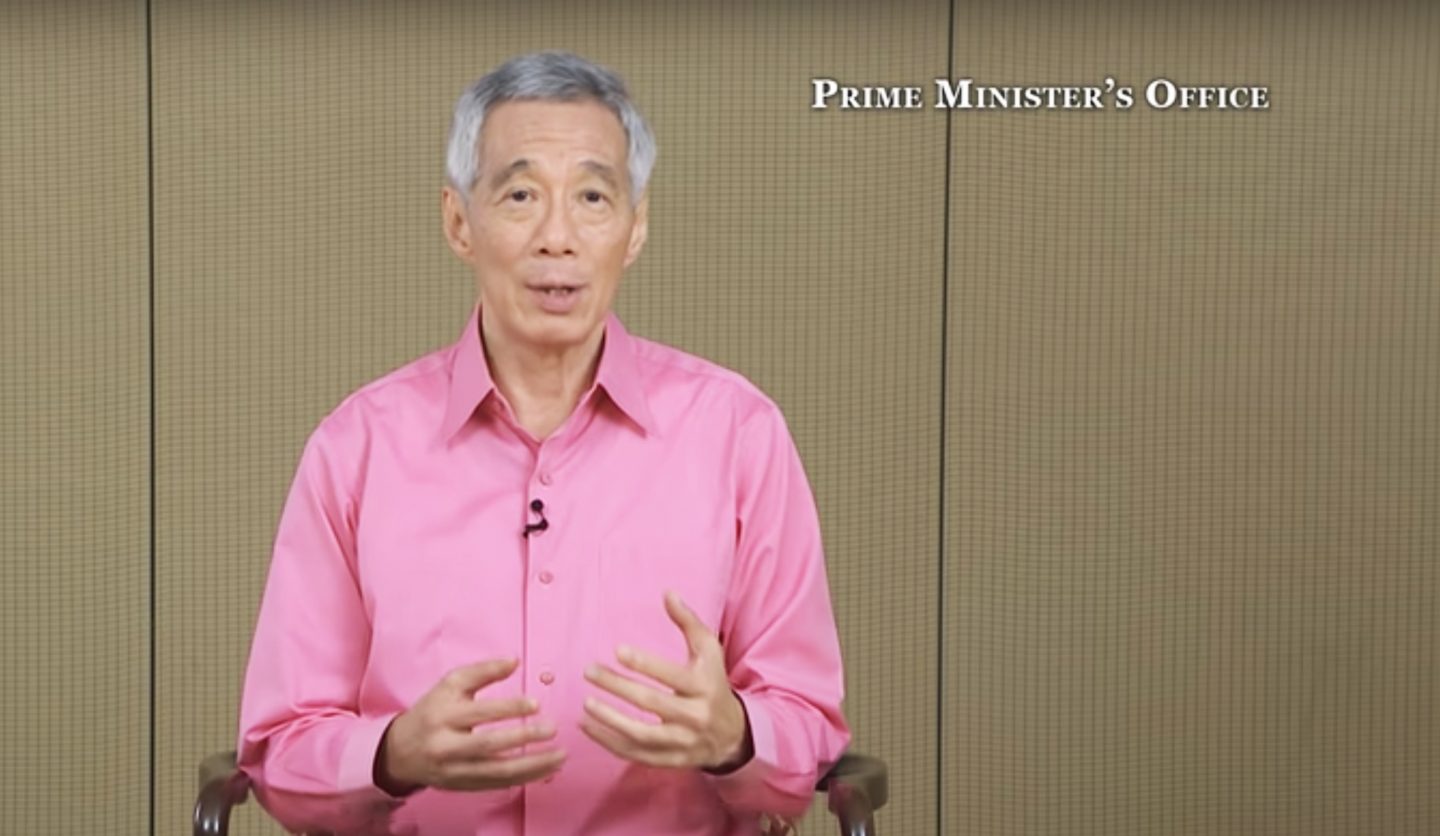 Prime Minister Lee Hsien Loong. Screengrab from PMO's YouTube Channel.
With the World Health Organisation declaring COVID-19 a pandemic, religious services may need to be shortened and attendance at faith-based gatherings reduced, said Singapore's Prime Minister Lee Hsien Loong.
"Many countries will see full-blown outbreaks with sustained community transmission, like what has happened in South Korea and Italy. Here in Singapore, we have long taken COVID-19 with the utmost of seriousness," said Mr Lee in a nationally-televised message on Thursday, March 12, 2020.
"We can do more – for example at religious gatherings.
"The issue is not religion itself, but that the virus can spread to many people in crowded settings, like religious gatherings and services. I hope that Singaporeans understand that during this period, we may need to shorten religious services or reduce attendance at such gatherings."
Added Mr Lee: "Please work with your leaders to make this happen."
The Prime Minister emphasised that the risk assessment level would not yet be raised here.
"The situation remains under control in Singapore," he said. "We are not going to Dorscon Red. We are not locking down our city, like the Chinese, South Koreans or Italians have done."
Prime Minister Lee had said on February 8, after the move to Dorscon Orange, that the nation's strategy in response to COVID-19 could evolve should the situation grow worse. "If the numbers keep growing, at some point we will have to reconsider our strategy," he said.
On February 14, Mr Lee cautioned that Singaporeans may have to be prepared for an extended season of disruption. "It will eventually pass, and we will be back to normal, but I cannot say for sure how long it will take," said the Prime Minister.
Disruptions to religious gatherings
Mr Lee was speaking hours after it had been announced that 95 Singaporeans were being identified after attending a religious event at a mosque in Selangor, Malaysia, between February 28 and March 1. A Bruneian attendee of the Jhor Qudamak Malaysia 2020 event would become Brunei's first case of COVID-19.
All mosques will be closed for at least five days from Friday for cleaning, Minister-in-Charge of Muslim Affairs Masagos Zulkifli announced on Thursday.
The Prime Minister's announcement, which was aired live on national television, radio and the Prime Minister's Office's social media feeds, came hours after Catholic Archbishop William Goh had announced that Catholic mass in Singapore would continue to be suspended. 
The Catholic Church first suspended mass and other large gatherings indefinitely in mid-February. It had previously announced on March 5 that mass would resume this coming weekend.
Singapore's Disease Outbreak Response System Condition (Dorscon) risk assessment level was raised from Yellow to Orange – indicating "moderate disruption" – on February 7, following indications of community transmission of the coronavirus in Singapore.
In the weeks that followed, various large-scale Christian events were cancelled, including what would have been the last edition of Kingdom Invasion and a John Piper conference, both scheduled for the school holidays next week.
Churches have had to adapt their worship services to include various precautionary measures, including temperature scanning and requiring visitors to fill in contact tracing forms. Several churches, including Adam Road Presbyterian Church, City Harvest Church, and Faith Community Baptist Church, suspended weekend worship services following the move to Dorscon Orange.
Health Minister Gan Kim Yong had previous stated that the risk assessment was unlikely to be moved to Red.