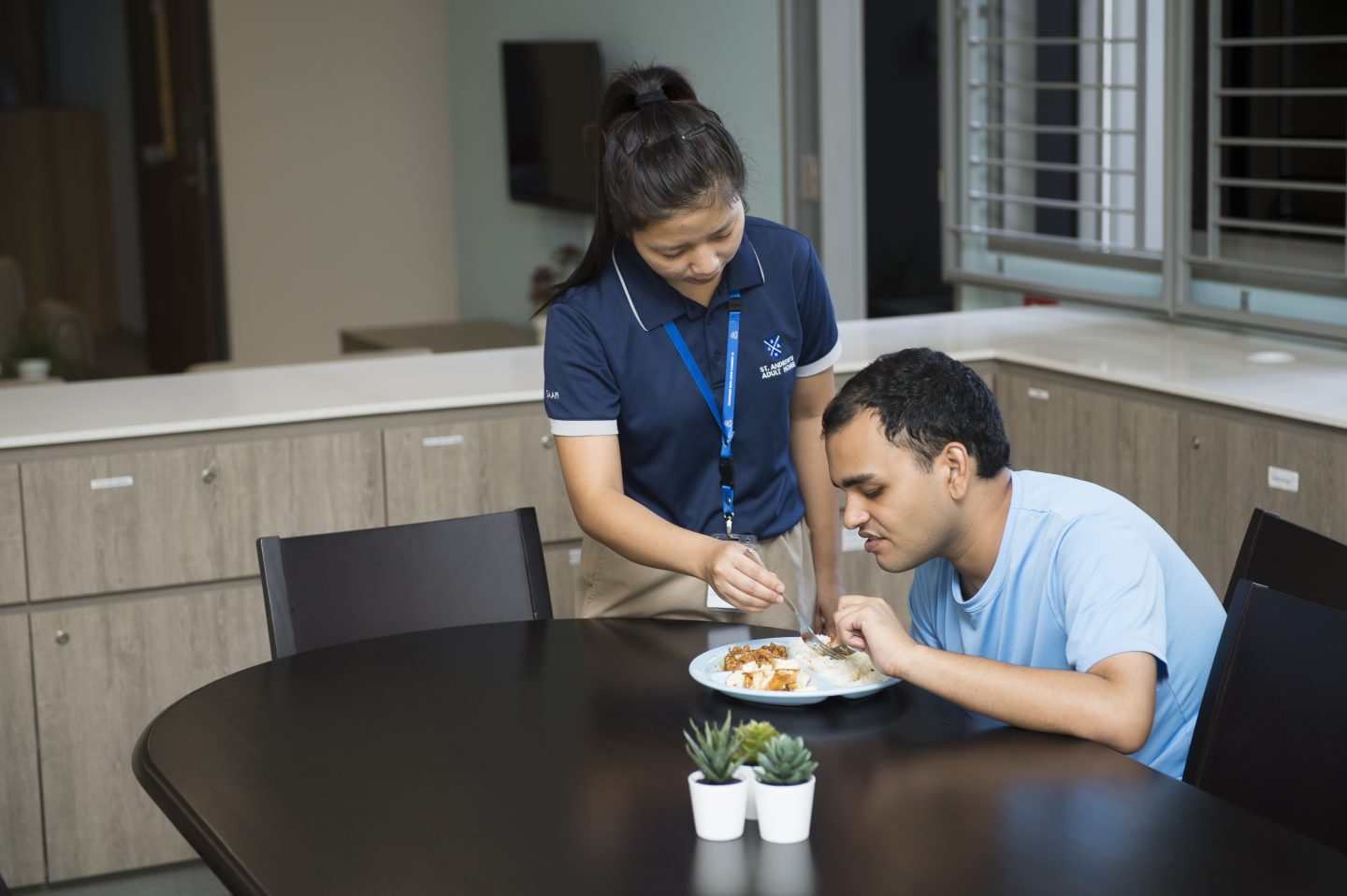 Residents share a common activity and dining space. The picture shows one of the centre's first residents with a care staff during meal time. Photo courtesy of St Andrew's Adult Home.
Nestled in a little cul-de-sac in Sengkang and facing a primary school across the street, the brand-new St Andrew's Adult Home (SAAH) sits next to a juvenile residential home and a mosque.
This first-of-its-kind home is the latest addition to the plethora of St Andrews services and is an extension of their services to people with autism (PWA).
Underserved and underfunded
Autism, more formally-known as Autism Spectrum Disorder (ASD), is a lifelong developmental disorder, encompassing a range of conditions which affect a person's ability to communicate and interact with others.
As of 2014, there are 4,400 children diagnosed with ASD in Singapore, a 76% jump from the 2,500 children in 2010. But this is a figure that will keep growing over time.
"Instead of a passive existence, we want our residents to lead better lives, living with the community rather than being excluded."
When St Andrews Autism Centre (SAAC) was started in 2005, this was a societal issue that was "under-served by institutions, both public and private, and under-funded", says Dennis Ang, CEO of SAAC.
Today, the landscape has changed drastically and considerable progress has been made. Support services from early childhood into adulthood are readily accessible, but more is needed to help PWAs and their families.  
Ang explains: "We are motivated to serve the Christian mission to relieve suffering and bring comfort to those in need.
"This is a logical extension of our adult services to PWAs. Our clients' parents face mounting difficulties caring for their child with moderate to severe autism due to their increasing frailty as they age."
Providing care and community
First mooted in 2014 by MSF, the SAAH is a joint-initiative between the Ministry of Social and Family Development (MSF) and the SAAC.
Designed with PWAs and their needs in mind, it will provide long-term respite and residential services for up to 200 PWAs, enabling them to live with dignity in an autism-friendly setting.
Marcel Semaun, executive director of SAAH, shares: "Until SAAH started operations, Singapore had no autism-friendly residential care."
"Ultimately it's about restoring dignity, living the Commandment to love our neighbour as ourselves."
Previously, they would have been placed in other special needs homes or the Institute of Mental Health.
But these settings do not work well for PWAs – many of whom have sleep disorders and sensory issues, such as a hypersensitivity to light or sound, says Semaun. The accommodation in SAAH consists of mainly single rooms that are double- or triple-bedders.
In a therapeutic environment specifically catered to PWAs' sensory needs, the hope is for residents to see an improvement in behaviour and greater independence in daily living. The SAAH also aims to provide meaningful activities and possibly simple work opportunities, focusing on the holistic development of each person.
"Instead of a passive existence, we want our residents to lead better lives, living with the community rather than being excluded," says Semaun.
"And we also envision increased community understanding of autism."
Restoring dignity
Ang emphasises that the environment of SAAC and the new SAAH runs in accordance with Christian values of care and support.
"Ultimately, it's about restoring dignity to the person and in so doing we are living the Commandment to love our neighbour as ourselves," he shares.
Semaun, who is also the executive director of St. Andrew's Adult Autism Services, recognises the challenges ahead for the SAAH.
PWAs, who are often creatures of habit, might find it hard to adjust to new routines in a new environment and away from loved ones.
"This would mean stretching our capabilities … and ultimately making us more dependent on God Himself."
Operational challenges exist as well and these differ in great contrast to day activity centres and schools which only operate between five to six hours a day on weekdays.
Adequate care must be provided for staff, notes Semaun. "A home operates 24/7, which means we need staff to support our residents around the clock. And with the level of care required for our residents, staff burnout is a challenge we foresee."
Despite these challenges, Semaun and Ang are adamant that this is a worthwhile endeavour to undertake because of the relief that it will bring to parents and families of PWAs.
For parents who carry this burden from the time their children were toddlers and will continue into adulthood, the SAAH is a  light at the end of a long tunnel.
"Personally, I feel it is God's calling for us to journey with families of PWAs," Semaun says.
Ang echoes the sentiment, and acknowledges: "This would mean taking the road less travelled, accepting the challenge of caring for a very tough population, stretching our capabilities and ultimately making us more dependent on God Himself."
It is a calling that gels with the mission of their parent organisation, St Andrew's Mission Hospital – providing holistic care and healing to the underserved and disadvantaged by ministering to their physical, mental, social, and special needs based on Christian values.
If you have enjoyed reading Salt&Light...
We are an independent, non-profit organisation that relies on the generosity of our readers, such as yourself, to continue serving the kingdom. Every dollar donated goes directly back into our editorial coverage.
Would you consider partnering with us in our kingdom work by supporting us financially, either as a one-off donation, or a recurring pledge?
Support Salt&Light