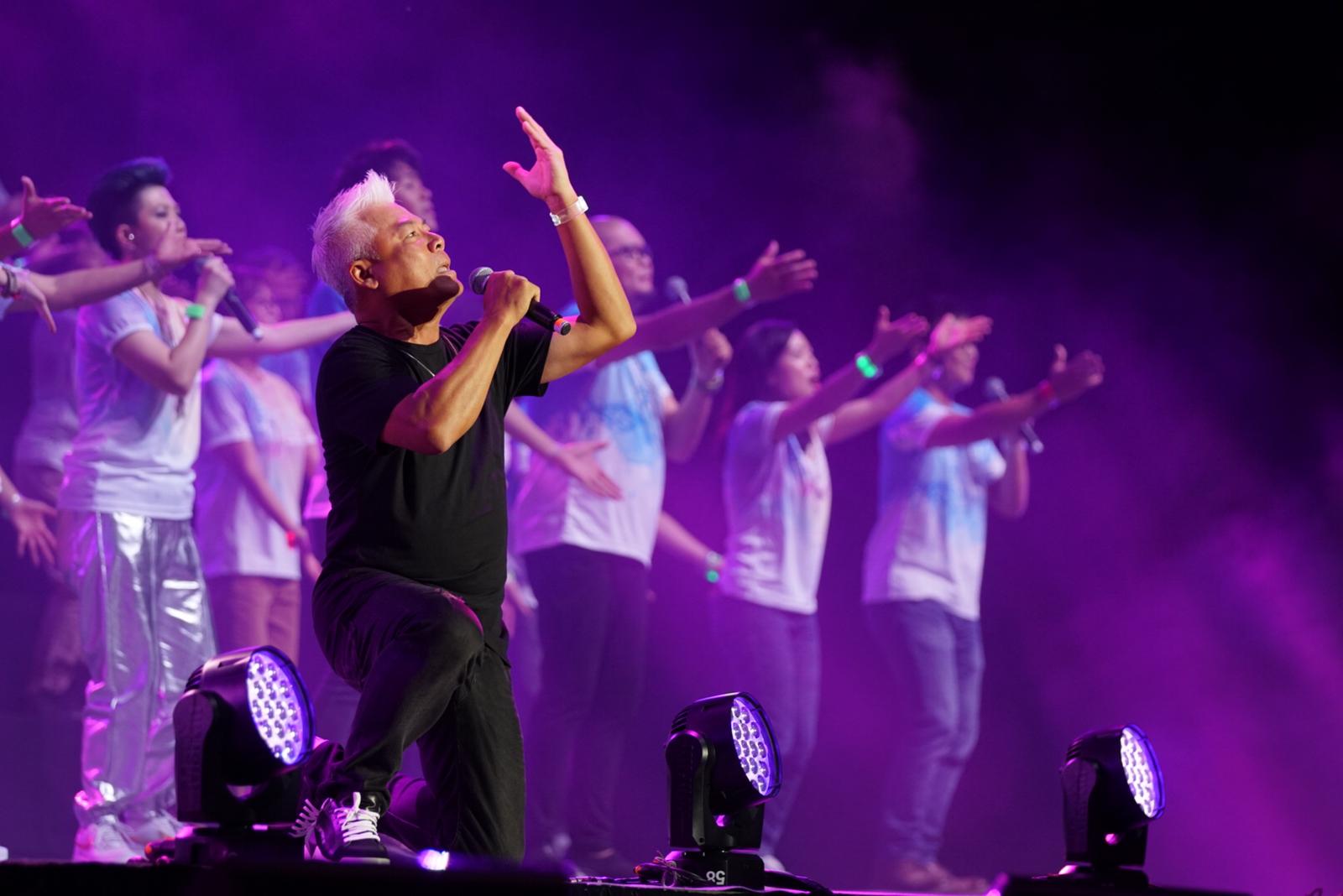 巫启贤主领大会敬拜的环节。之后带领全体会众以主祷文做祷告。摄影: Wong Siqi.
The second night of the three-day Celebration of Hope event was a star-studded affair with celebrities from Hong Kong, Malaysia, Singapore, China and Taiwan delivering a power-packed three-hour production to more than 40,000 at the National Stadium.
But instead of performing pop songs, they sang of God's amazing grace, love and forgiveness.
Over 100,000 people also viewed the live stream online, peaking at 12,000 concurrent views during Taiwanese pastor Reverend Kou Shao-En's message.
Malaysian Mandopop star Eric Moo led the celebrities on stage, belting out Mandarin renditions of "This is Amazing Grace", "Amazing Grace" and his original worship song "一生敬拜弥赛亚" (Worshipping the Messiah Forever) with a 300-strong choir. 
"Tonight, all those who turned up are celebrities. All of us started out with nothing. But our God gave us these talents, that we can use them to make a living. It is God's destiny for us," he said, before getting the entire stadium to pray the Lord's Prayer (Matthew 6:9-13). 
Peace and strength
The Christian faith offers real peace and strength that the world cannot give.
"The Christian faith offers real peace and strength that the world cannot give."
This was the crux of the message delivered by Taiwanese television host-turned-pastor, Reverend Kou Shao-En, at the Celebration of Hope Mandarin rally.
"God has never promised us that if we are Christians, life will be smooth sailing," Reverend Kou said in Mandarin.
"All of us will face storms. But we have this promise that, even in a storm, we don't have to be afraid," he said, referencing Psalm 46:1.
But God is not just a refuge. He also promises to strengthen us enough to face the storms in our lives, because he also wants his creation to grow.
"After I became a Christian, God gave me a new life. His truth gave me the strength not to do what I shouldn't do."
Reverend Kou said that, when he was 28, he "messed up in making friends". He learnt that people "already have morals. But we need strength to live them out".
"Don't you think that often when we make mistakes in life, it's not because we don't know we shouldn't do it. It's that we clearly know, but we can't change."
"After I became a Christian, God gave me a new life. His truth gave me the strength not to do what I shouldn't do," he said. 
And God is already on hand to be our help (Hebrews 4:16).
God of the impossible
Former MediaCorp actors Darren Lim and Evelyn Tan told the audience how putting God at the centre of their marriage (Ecclesiastes 4:12) ensured that they came to accept each other's flaws and grew in humility at the same time.
Taiwanese singer-songwriter Huang Guo Lun ended off the musical segment with a performance of "我愿意" (I'm Willing) and "沒有不可能" (No Such Thing as Impossible).
Revealing the story behind the hit song "我愿意" ("I'm willing"), Huang, who wrote the melody, said that God was behind the composition.
It was 1994, and he had been a small-time musician for three years. One day he knelt down and cried out for help, and God provided the inspiration for the song.
"I know God is my strength, my hope. With Him, nothing is impossible," said Huang, who has been in the Mandopop scene for more than 26 years.
The journey starts now 
The altar call towards the end of the rally saw more than 700 people streaming down to pray with counsellors for salvation or rededication.
Juliana Kwa, 54, from St James Church, who was serving as a counsellor, said: "I was so touched by how God works in such an amazing way, bringing so many people. I saw hundreds of people coming down."
Shirley Park, 37, came to the rally with her two daughters after a friend she had made over WeChat invited her. She said that, though she is still a freethinker, she is "looking for a God and a faith".
While she did not respond to the call tonight, she said that she "had some feeling of peace" at the rally.
Eyleen Chin and her husband, Cheong Seng, both from Church of our Saviour, took a bold step of faith to invite three friends, who all decided to receive Christ.
When they invited their friends to respond to the altar call, the friends were more than keen, said Chin.
"I pray that they will experience the reality of God in their lives and have their own personal experience so that their faith will be strong," she said.
Liao Yi Jing, 44, was one of the three who received Christ. She said she felt "very joyful" at the rally. "I decided to receive Christ because I saw that Christians are genuinely happy."
The rally was the first dedicated Mandarin-language rally of this scale in Singapore.
Come join in the excitement for today's final two rallies:
Joy of Hope, Filipino/Engish rally (Sunday, May 19, 10.30am)
Reality of Hope, English rally (Sunday, May 19, 7.30pm)
Find out more at the Celebration of Hope website.
If you have enjoyed reading Salt&Light...
We are an independent, non-profit organisation that relies on the generosity of our readers, such as yourself, to continue serving the kingdom. Every dollar donated goes directly back into our editorial coverage.
Would you consider partnering with us in our kingdom work by supporting us financially, either as a one-off donation, or a recurring pledge?
Support Salt&Light