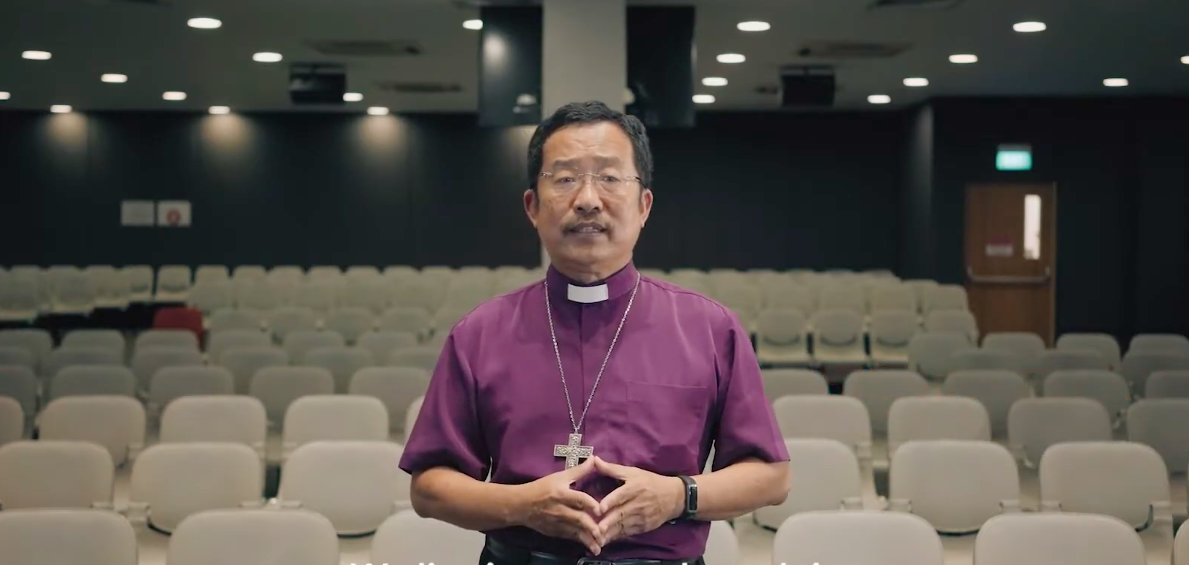 We may be in a crisis, but it need not be a crisis of hope, Bishop Terry Kee reminds the Church body. Screengrab from NCCS video message.
"This crisis is not just a medical crisis. For many people, it is also a financial crisis, a relational crisis, an emotional or mental health crisis … a spiritual crisis," said Bishop Terry Kee, president of the National Council of Churches Singapore (NCCS), to the Singapore Church in a video message released today (March 30).
But this need not be a crisis of hope.
"Our God is a living God who hears when His people call out to him. And our hope is in Him," he said, encouraging believers to pray for the global situation at least once a day and support each other in video calls and chat groups.
The Bishop's letter is as follows: 
A time of adversity, a time of opportunity
My dear brothers and sisters in the Lord, greetings to you in the Name of our Lord and Saviour Jesus Christ.


We live in unprecedented times.
COVID-19 is now a global pandemic, and its effects are being felt everywhere – from the large impact on our economy, to the way we queue up and eat at our hawker centres.
1. GIVE THANKS
It is during times of crisis that we look to our leaders for direction and guidance. I think we have done well as a nation so far.
We see that our civil servants have thought well into the future during peacetime, so that we can be secure in times of crisis.
Our government's leadership and administration are operating responsively and resolutely, to ensure our welfare and protect public health.
Our healthcare system and medical staff from all walks of life are doing their utmost best to treat every case that comes in with great attention and care.
Many of you serve in these areas, and I thank God for all of you.
As the body of Christ, let's give thanks to our God for the resilience of our nation in and through this difficult time.
The frontline personnel are fighting hard and, as ambassadors of Christ, we must continue to uphold them in our prayers – that they may win this fight.
2. BE SOCIALLY RESPONSIBLE
In response to the escalation, the COVID-19 multi-ministry taskforce has called for a temporary suspension of religious services. This has changed the way we conduct worship services. For now, many churches have resorted to live-streaming their services where worship takes place in our living rooms.
I know that this is new to many of us, and some of us might feel awkward or strange. And certainly, we will miss the fellowshipping on Sundays in church.
But this is something that we, as responsible members of our society, need to accept – understanding that it is needed to help flatten the epidemic curve. This is how we can keep ourselves and our neighbours safe.
3. STAY CLOSE TO GOD
Times of adversity have always been opportunities for us to grow deeper in our faith. Today we find ourselves in such a moment.
Let us take this opportunity to rebalance our lives! Make more time to read our Bibles, and make time for personal worship and prayer.
Just because we are worshipping God in the comfort of our own homes, it does not mean we can do it in our pyjamas with a cup of coffee. Accord to God the same reverence as you would when you are worshipping in church.
Remember: You are not viewing or following a worship online; you are actually worshipping together with the rest of the body of Christ from your home.
During times of adversity, fear can cause us to tighten our belts. But let me encourage you to trust in the Lord's goodness, and give generously and cheerfully unto Him.
While it is not possible to fellowship with one another as we did before, there are still many ways that we can get in touch with one another. Continue to talk over the phone, and use video calls and group chats.
I believe that we can overcome this storm together, especially when we have Christ with us in the vessel.
4. BE UNITED IN PRAYER
Early on in the epidemic, church networks like LoveSingapore and the Alliance of Pentecostal & Charismatic Churches of Singapore (APCCS) started introducing synchronised prayer at 12pm and 7pm respectively. I am encouraged to see large gatherings of believers coming together in synchronised prayer.
I encourage you to make time for this at least once every day – by yourself or with your family. Pray for our nation and for the world. Pray for the wisdom of leaders and the resolve of all people that together we can overcome COVID-19.
Our God is a living God who hears when his people call out to him. And our hope is in Him.
5. RESPOND IN LOVE
In prayer, we turn upwards to God. In Christlike love, we reach out to our neighbours – with help and hope.
This crisis is not just a medical crisis. For many people, it is also a financial crisis, a relational crisis, an emotional or mental health crisis… a spiritual crisis.
I encourage all the local churches in Singapore to find safe ways to offer solace and encouragement to your friends and also to strangers. Pastors, find ways to offer pastoral care to your flock.
Let us also offer practical help to those in need, especially for the marginalised and the vulnerable.
As Paul has exhorted us to a ministry of service that supplies the needs of the saints, let's look out for one another and also for our neighbour.
6. FIND HOPE IN CHRIST
Finally fellow believers, I exhort you to place all your hope in the Lord.
Psalm 20:7 says: "Some trust in chariots and some in horses, but we trust in the name of the Lord our God."
While we uphold our government, our healthcare system and workers, and our economy in prayer, remember that the Lord is our strength, our hope and deliverance. He is the giver and sustainer of life.
I think the greatest crisis many face now is the crisis of hope. Our friends and loved ones may be seeking hope in this time. And we have the greatest hope of all – our Lord Jesus Christ!
I pray we will be ready to be salt and light of the world, and ready to share of this hope we have in Jesus Christ.
Grace and peace to you all.
"I believe there will be a mighty harvest through this time of hardship": Bishop Rennis Ponniah
A prayer for Christ-followers to stand in the gap: Day Seven