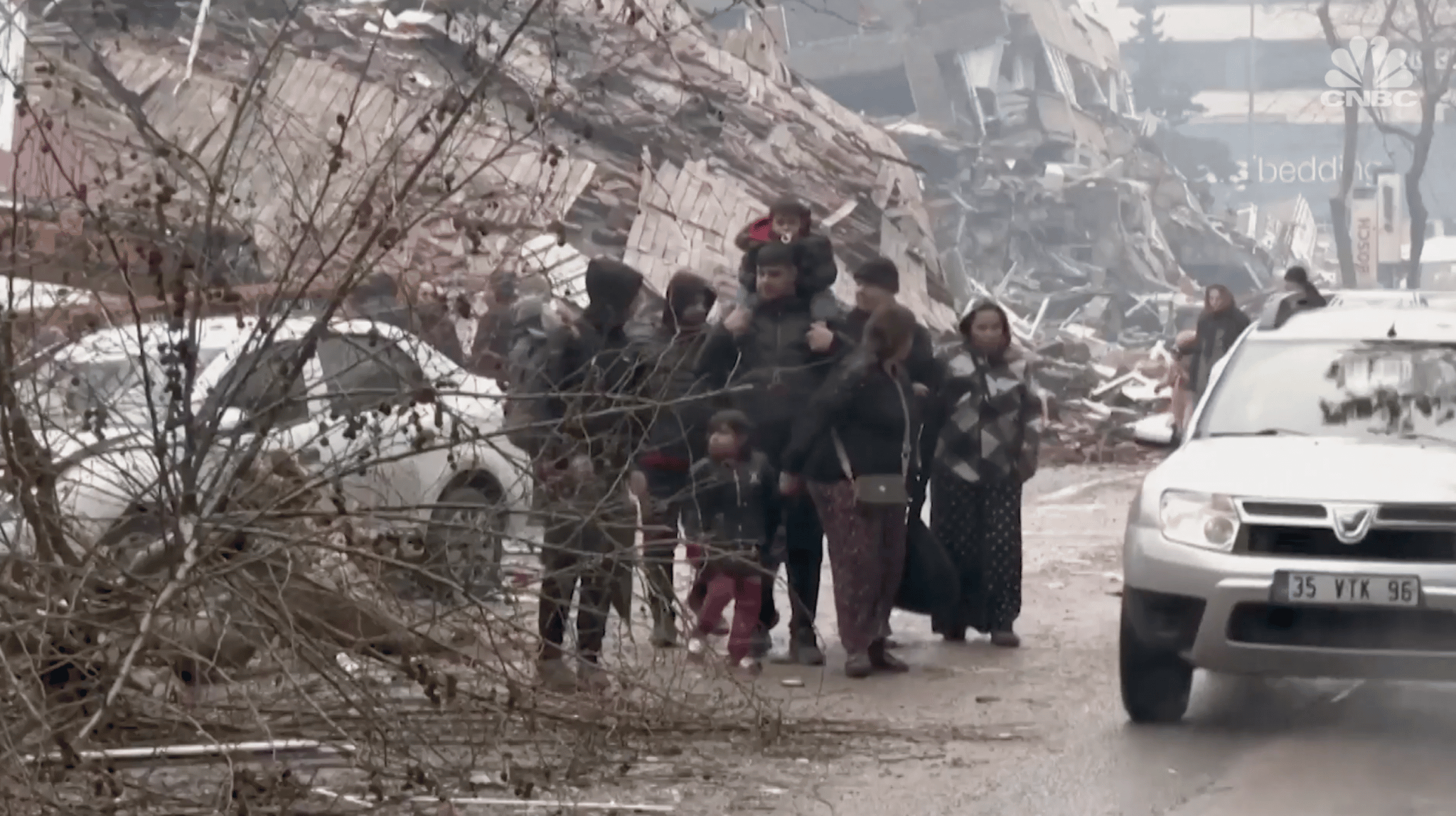 A family, made homeless by the disaster, finding their way to shelter. Screengrab of CNBC coverage of the Turkey-Syria earthquake disaster.
Time is running out for survivors of Monday's devastating 7.8 magnitude earthquake in Turkey and Syria.
Julide Gunes, from the Salvation Church of Malatya in Turkey, told Salt&Light: "Efforts continue to reach those who are still in the buildings but aftershocks are still going on. It scares everyone a lot.
"The most important thing is to stay outside even though it is winter now," she added through a Whatsapp update on the situation on the ground.
The death toll has risen to more than 21,000* at press time, and is expected to increase significantly as over 100 aftershocks measuring up to 7.5 in magnitude continue to shake the region, according to data from the US Geological Survey.  
Rami Al Rahhal, a staff from World Vision International based in Idlib in northwest Syria recounted to Salt&Light how the aftershocks had caught his family unawares.
After being jolted awake by the first quake, Rami with his wife and three children ran out of the house in their pyjamas.
They waited a few minutes before returning to the house to take shelter from the cold and rain. But barely a few minutes later, the aftershocks started and the family ran back out in a panic.
"The temperature that night was 2°C," Rami said. "My children were shaking from the fear and cold, but there was only so much I can do. I covered them with a small blanket and waited until the aftershocks calmed down and we went inside."
Hundreds of thousands of victims in sub-zero temperatures are without adequate food and shelter as aftershocks continue to ripple through the region. Children, in particular, are at risk of hypothermia. Some of the homeless have found temporary shelter in makeshift tents, cars and churches. But many more have not. 
Aftershocks also pose a serious hazard to rescuers digging through the rubble.
Rami described the scene in Idlib, Syria: "People are in the streets and on the roads begging for help. Most homes are partially destroyed. We cannot risk our children going back to these homes, especially in areas that have aftershocks."
"Brothers and sisters from other churches are coming to this area to help. The mission of the groups is to provide food."
One particular challenge Rami faces is the dual role he holds as a staff of an international aid organisation seeking to help the stricken community, as well as being one of the victims of the earthquake struggling to care for his wife and three children.
Speaking from Turkey, Julide told Salt&Light: "The churches continue to help, but we can't even find bread and water. It's very bad."
"Brothers and sisters from other churches are coming to this area to help. The mission of the groups is to provide food.
"The devastation is immense. We need food and water. And I know they also need medical supplies but how do we get it to them?
"Pray with us that the government can coordinate the aid coming from different countries and that they will be used in the most efficient way. Help is mostly going to the cities but the villages need help too.
"Pray with us that Turkish churches outside the zone and wanting to help will be led by the Lord as to how they can help and where they should go."
Here's how you can help
• International aid agency World Vision is currently undertaking a rapid needs assessment in both Syria and Turkey but has already begun distributing fuel and heat to shelters. Click here to contribute to the work through World Vision here. 
• Habibi International, a Singapore-based NGO with humanitarian work in the Middle East aims to raise US$100,000 to support Syrian refugees affected by the crisis in partnership with local partners. 100% of donations will be channelled into relief efforts. Click here to donate.  
• Relief Singapore (RSG), a local non-profit humanitarian organisation, is seeking US$50,000 and organising a donation drive for supplies – including baby formula, painkillers, and other first aid items – this weekend (Feb 11-12). This is a partnership with a non-profit organization in Turkey, Hayrat Yardim (Hayrat Aid). Click here for details.
• Kurtuluş Kilisesi (Kurtulus Churches), a network of over 40 churches, in Turkey are sending teams to various cities with food supplies. Julide Gunes' church is part of this network that will be receiving aid. They accept donations in three currencies (Turkish lira, US dollar and Euro). Please include "Earthquake" in the comments.
Bank name: Zirat Bankasi
Name : Kurtuluş Kiliseler Derneği
BIC/SWIFT Code: TCZBTR2AXXX
Accounts:

TR64 0001 0007 9892 2312 7550 06 (Turkish lira, TL)
TR10 0001 0007 9892 2312 7550 08 (USD)
TR80 0001 0007 9892 2312 7550 09 (EURO)
---
MORE UPDATES ON THE TURKEY-SYRIA EARTHQUAKE:
"The devastation is immense. We need medicine, food, water": Church leaders race against time to help freezing survivors
Turkey-Syria earthquake: Relief Singapore conducting medical supplies donation drive this weekend
"I immediately ran to my children; I did not know which one to carry": Survivor of devastating Turkey earthquake
"I immediately ran to my children; I did not know which one to carry": Survivor of devastating Turkey earthquake
If you have enjoyed reading Salt&Light...
We are an independent, non-profit organisation that relies on the generosity of our readers, such as yourself, to continue serving the kingdom. Every dollar donated goes directly back into our editorial coverage.
Would you consider partnering with us in our kingdom work by supporting us financially, either as a one-off donation, or a recurring pledge?
Support Salt&Light