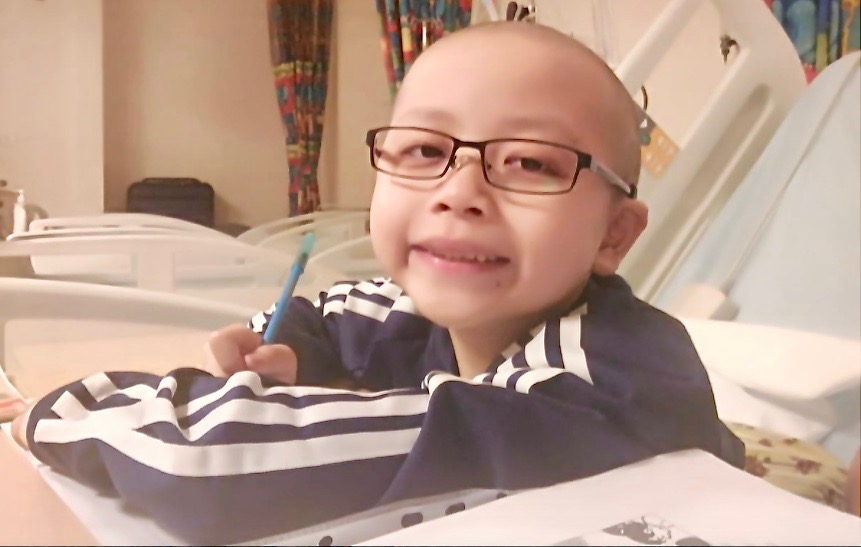 Raphael doing his school work in hospital. All photos courtesy of William and Winnie Lee.
He was the only P6 boy in Singapore who was told he had done well in his PSLE before thousands of others last November.   
Except that it was unclear whether he really heard it, because by then, he was brain dead and on life support.  
Nonetheless, that fateful afternoon on November 13, just hours before he died at night, his school principal whispered into his ear that he had done well enough in his PSLE to go to the express stream.
No one – not even his parents – knew his PSLE score then. An advanced copy of the PSLE certificate, sans score, stating that he had passed the exam and qualified for the Express stream, was placed in his coffin and buried with him.  
Twelve days later, his parents William and Winnie would make their way to Alexandra Primary School to collect Raphael's results – 220 points – on his behalf. 
A little boy with big perseverance
On the morning of the day Raphael would leave this world, his principal visited the boy in hospital and had thought of what else she could do for him. It was clear that he was fading fast.  
She quickly went to the Singapore Examinations and Assessment Board (SEAB) to get early clearance to obtain his results and rushed down to the hospital again that day to whisper the good news only within hearing of the little boy. 
Raphael had won the admiration of all who knew him by persevering in studying and taking the PSLE in school like all his peers, even though he had the option to take the exam in hospital. That is because he had spent about half of each year in hospital getting treatment for cancers that had plagued him for most of his short life. He was only able to spend one semester in school each year.  
Raphael was diagnosed with a rare type of cancer that forms in muscle tissue when he was only eight months old. He would go on to have bone cancer in his left forearm at the age of eight. 
He turned to his mother: "What will happen to you if I can't outlive you?" 
Despite efforts to treat his bone cancer, including undergoing cryotherapy which uses liquid nitrogen to destroy cancer cells, the cancer came back again and again. 
At the age of nine, a tumour was found in his left wrist. He had his left arm amputated in a bid to stop the cancer from spreading. 
When he was 11, the cancer was found again, this time in his right collarbone and one right rib. Those were also removed. 
Last year, when he was 12, Raphael and his family received another blow: Nodules were found in his lungs. The boy underwent surgery last April and May to remove the nodules and the operations were successful. 
Two months before the PSLE, however, they came back with a vengeance. 
Raphael went into the operating theatre again in November last year but passed away from complications that arose from the surgery on November 13.  
Saying farewell 
On the day of the surgery, Raphael was crying softly outside the operating theatre. He told his father that he was scared.  
"I told him there is no need to be scared because many people were praying for him. I reminded him to pray for the Lord to be with him throughout the operation and to ask His angels to protect him," said William, 47.  
They reassured him that they would be waiting outside for him.  
As he was being sedated to begin the operation, he told his mother that he did not want to lie down. He wanted to sit up and hug her. Shortly after, he went into deep sleep.  
While waiting outside the operating theatre, Winnie, 45, had a divine encounter.  
She had a vision of Raphael walking out of the theatre, with Jesus holding his hand.
She had a vision of Raphael walking out of the theatre, with Jesus holding his hand. His left arm, which had been amputated, was perfectly whole. Raphael used to confide in his parents of his worry of not having his left arm with him in heaven if he died one day.  
This was the first time Winnie had a vision. Raphael was waving at her as he walked out of the room with Jesus.  
Winnie wondered why both of them were out in the corridor when they should have been in the operating theatre.  
Shortly after, she had a second vision where she saw Raphael's spirit going back to his body in the theatre.  
Immediately after this, the surgeon came out to inform them that Raphael was bleeding profusely and that a cardiac surgeon had been activated to repair the bleeding site. The bleeding was unusual because it did not come from major blood vessels, but it was extensive, the doctor told William.  
Raphael's heart later stopped and the doctors resuscitated him by shocking his heart. But the bleeding had caused extensive brain damage from which the little boy could not survive.
"His mother thought Raphael, in her vision, was just saying 'hi' to her but it turned out that he was saying farewell," said William.  
Telling Raphael's story  
"While he was on his deathbed, I made a promise to him to tell his story as he has always wanted to inspire others by writing a book about his cancer journey," said William, formerly a course manager with non-profit organisation St John Singapore.  
Raphael's simple faith gave him the tenacity and resilience to hold on despite facing wave after wave of disappointment. 
"He himself was very encouraged when he read the stories of speaker and author Nick Vujicic who was born without limbs, and that of Jessica Cox who is the world's first armless pilot."
When they collected the PSLE results on behalf of their son in school, William and Winnie were inundated with requests for media interviews by reporters.   
Although it was just two weeks since the painful passing of their son, William and Winnie accepted all the interviews.
William had promised Raphael that he would take over his son's dream of leaving a legacy by telling his story.  
Part of his story was how Raphael's simple faith had given him the tenacity and resilience to hold on despite facing wave after wave of bad news and disappointments.  
For instance, Raphael was on oral medication when he was taking his papers.
The medication caused him severe side effects such as diarrhoea. He went to the toilet six to seven times a day, up to an hour at a time. Even in the toilet, he would sometimes say his daily prayers, much to the chagrin of his father who saw it as irreverent. 
When Raphael was due to amputate his arm to prevent the cancer from spreading further, the doctor asked what he would have needed his arm for.  
"I need hands to pray," he replied softly.  
The doctor encouraged him to pray with his heart instead.  
Whenever yet another poor diagnosis was delivered, doctors would ask Raphael if he had any questions. Invariably, his question was whether he could be released to go to the toilet.  
Before the amputation, the doctor asked what he would have needed his arm for. "I need hands to pray," he said.  
His family was puzzled. Didn't he have any questions? Why was he always asking to go to the toilet?  
Eventually, they found out that he would hide in the toilet to cry whenever he was upset, so that he could return to the meeting with such a calm composure that no one would know how badly he felt.  
Raphael learnt not to show tears in front of his father.  
"His mother thinks crying helps him release his anxiety but to me, I just don't want him to brood excessively on things. My brother who died of leukemia was very sad and down for a long time and I didn't want Raphael to have such a morale," William explained.  
The little boy's thoughts were always of his parents. In the midst of his treatments, he had once asked his mum: "What will happen to you if I can't outlive you?" 
A faith that inspired
Despite William's fears, Raphael was not one to dwell on his sadness.
The young boy never questioned God regarding the whys behind his illness.
Instead, whenever he had the energy, he would roll the stand of his IV line along with him to look for other children in the same ward to play online games with them. He was a boy of few words, but his presence was always felt.
His grit and sunny nature won him an inspirational patient award from KK Women's and Children's Hospital last year.  
Though he only had one arm, he joined the school's P5 camp that saw him scaling high elements and rock climbing with the help of a buddy. Almost every year, his school would ply him with awards for embodying the school values of empathy, resilience, responsibility and optimism.  
There were days that left Raphael defeated. A year after he had had his arm amputated in 2017, his mother discovered that Raphael had cried and told his grandfather that some children were calling him names such as "weirdo" and "freak".
During such moments, his father would point him to the suffering of Christ on the Cross.  
"What did Jesus say before he died?" William would ask his son gently.  
"Father, forgive them, for they know not what they do," Raphael would reply.  
"Do the same for these children, for they also do not understand your pain and struggles," William said.  
Raphael would nod and dry his tears. He understood.  
In August last year, William himself was found to have Stage 2 colon cancer. He and Raphael both have Li-Fraumeni Syndrome, a genetic disorder that predisposes them to a wide range of cancers.   
When Raphael found out about his father's cancer diagnosis, he cried bitterly and finally started asking the "whys". But it was not "Why me?" but "Why him and not me?" 
He blurted out to his mother: "Why must Papa be the one having cancer? Why not me? Why not let me have it? Because I already have had five cancer treatments. I'm experienced! At least I can manage, but Papa, no — Papa wouldn't know how to manage. He has no experience at all!'" 
"We will fight and pray together as a family."
Two days after that, the family received news that the nodules in Raphael's lungs had returned.  
In the past, his parents would ask him if he was ready whenever a surgery was looming.  
He would reply that he was ready, even though he might have been fearful.  
In 2019, before Raphael was due to go through a major surgery to remove his collarbone, William told Raphael to take a few days to think about his readiness.  
On a Saturday evening, Raphael told his father: "I have made up my mind and decided to go for the operation."  
Tell me why, his father said.  
I want to go for it because there is a chance of recovery, his son said.  
"Good, we will fight and pray together as a family," his father assured him.  
All the operations that Raphael had had till last year were successful.  
So when the tumours returned to his lungs later last year and surgery was proposed again, William thought the outcome would be the same. 
That operation would be Raphael's last. No one had expected complications to set in. 
William's greatest regret is proceeding with the surgery, but he takes comfort in God's sovereign plans for Raphael.  
After Raphael died, they received results of a biopsy that showed tumours in other parts of his body, meaning that, had Raphael survived, he would have had to go through more rounds of treatment.  
"We are glad he left us in a peaceful manner instead of dying a painful death," said William, who is also comforted by his wife's visions of his son with Jesus.  
Sharing hope
Meanwhile, William has left his job to recuperate emotionally. His wife is still grieving and sometimes prefers to stay at home. Yet since the passing of their son, Winnie has felt awakened to the mission of supporting other parents who have similarly lost their young children. 
Just weeks after Raphael died, she found out from her church newsletter that a young girl from Vietnam who had flown into Singapore for treatment had died before she could be treated.
Winnie has felt awakened to the mission of supporting other parents who have similarly lost their young children. 
Winnie and William went to her wake, which was held in the same hall in Church of Our Lady of Lourdes as Raphael's, to support her parents, whom they did not know.  
Winnie discovered her mission to offer consolation to anybody who had lost beloved family members.
As for William, he has a message for his son today: "Raphael, it's been 100 days since you left us. We do feel the emptiness.  
"Would you watch over us and the people who loved you and prayed for you? Help mummy to overcome your absence.
"I thank God that my name is 'Will-i-am', for I have the will to live for God's will." 
---
RELATED STORIES:
"God is tangible": Despite the heartache, Elliot Soh's mother knows Who holds her hand
If you have enjoyed reading Salt&Light...
We are an independent, non-profit organisation that relies on the generosity of our readers, such as yourself, to continue serving the kingdom. Every dollar donated goes directly back into our editorial coverage.
Would you consider partnering with us in our kingdom work by supporting us financially, either as a one-off donation, or a recurring pledge?
Support Salt&Light