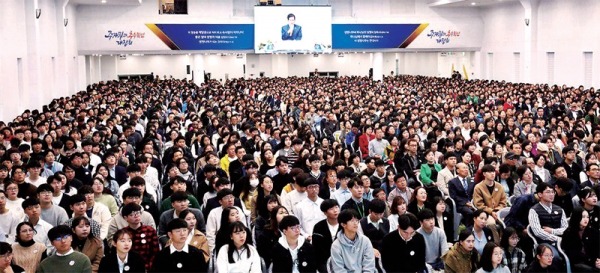 Photo from ShincheonjiChurch's Facebook page.
Raised in a Christian family and a youth leader at church, she is self-aware, articulate and confident. By all accounts, 23-year-old Min* (name changed) is not the type of person you would expect to fall into the trap of deceptive teachings.
But for almost two months, she was unknowingly involved with the Singapore chapter of the Shincheonji Church of Jesus the Temple of the Tabernacle of the Testimony (SCJ), barely suspecting anything until her father sent her a news article in which two Singaporeans spoke about their experiences with the unorthodox group.
SCJ has been embroiled in controversy in South Korea after the COVID-19 outbreak in the southern city of Daegu was traced back to a 61-year-old female member who continued to attend services despite being ill. A large percentage of South Korea's more than 6,500 confirmed coronavirus cases are members of the sect, according to news outlets.
Min thought this was a typical programme aimed at helping believers dig deeper into God's Word.
On February 28, the Ministry of Home Affairs (MHA) in Singapore said that it is investigating the activities of the local chapter of Shincheonji, which the MHA notes has "attracted accusations of being a cult".
"SCJ teaches that it is acceptable to use deceit and lies if it serves God's purposes. It has been accused of infiltrating and disrupting established Korean churches by using deception and secrecy to trick people into becoming involved with them," said the Home Affairs Ministry.
"MHA believes, based on investigations, that the local SCJ chapter has used similar deceptive recruitment methods.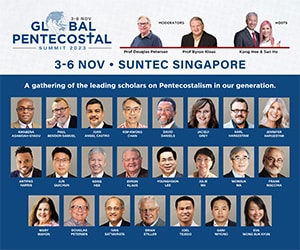 "The SCJ in Singapore has been using front entities to target Christian youths and young adults to join their group. A controlling influence is then exerted over these young members, requiring them to comply with strict instructions to conceal the local existence of SCJ and their involvement with it. Members are not allowed to contact one another, verify teachings with other churches, or inform their families of their involvement."
Based on testimonies of former members, its founder, South Korean national Lee Man-Hee, "has claimed to be the second coming of Christ, who would bring 144,000 people to Heaven with him on the Day of Judgement. He has also claimed to be the only person who can interpret the Bible, and SCJ allegedly regards all other churches and pastors as belonging to Satan."
Min, a recent university graduate, echoed the modus operandi outlined by the MHA, having attended the local chapter's intensive Bible study classes held in Singapore, thinking that it was a typical programme aimed at helping believers dig deeper into God's Word.
A GRADUAL PROCESS OF DECEPTION
Step 1: Casting doubt on what you believe
Min was first approached by two men from the group at Dhoby Ghaut MRT Station late last December. One was in his early 20s, while the other was middle-aged, she said, adding that both had heavy Chinese accents.
The older man claimed that he was a church leader from an underground church in Shanghai and asked if she would be willing to share her testimony with him, as he wanted to use it to encourage the persecuted Christians in China.
"It seemed like a pretty harmless request. Both of them seemed genuine and there was no indication that they were lying or trying to deceive me," said Min, who subsequently agreed to meet up with the older man. At the suggestion of her pastor, she asked her mother to accompany her.
"They seemed genuine and there was no indication that they were lying or trying to deceive me."
At the meeting in early January, they met at a fast-food restaurant in a mall. The older man introduced Min and her mother to James*, who claimed that he was a pastor from the Methodist community and was "very involved" in missions in China, she said, adding that he even showed them pictures of himself in the mission field.
Then the narrative changed. Instead of collating testimonies to encourage the underground church in China, James said they were doing research on how Christians in Singapore hold on to their faith even when they're very busy with work and school, said Min.
She did not sense that anything was amiss as he "sounded pretty legit", so she shared openly when he asked her questions about her life and faith. But throughout the session, James subtly cast doubt on her beliefs.
"The way he asked the questions made it sound like I actually don't really know what I'm putting my hope in, like I don't know the Word well.
"It's true lah, I didn't know the Word well, that's why I fell for this," she admitted.
At the end of the session, James gave them his number and invited them to text him if they wanted to have Bible study classes with him, though Min noted that "he seemed more interested in getting me (to go for the class) than my mom".
Step 2: Gaining your trust
This encounter came at a time when Min had just rededicated her life to God.
"Usually, I make decisions based on emotions. But this time I was surrendering myself to God again with a clear head. I really wanted to do God's will, and I wanted to learn more about what His will is," she said.
This prompted her to sign up for Bible study classes with James a week later, thinking it would be an additional resource to her usual Sunday services in her home church.
He seemed to be very passionate about teaching the Word, so I thought he was really for God.
They met up five times for one-on-one classes, which were held in public areas like food courts. She said James was in his early 30s, "very articulate and pretty smart". He said he was married.
Min does not remember if he taught her anything unorthodox during those lessons, but one thing stood out to her: "Whatever points he taught, he always gave many verses from the Bible to back it up. That appealed to me a lot."
After every lesson, he always reminded her to be like the Jews in Berea, who would diligently study Scripture for themselves to make sure that what they had been taught was correct (Acts 17:11).
"He seemed to be very passionate about teaching the Word, so I thought he was really for God. He was also very empathetic when I shared my troubles with him," Min said.
Step 3: Teaching that deception is "acceptable"
James subsequently invited her to group Bible study classes held for two hours every Monday, Wednesday and Friday mornings at an industrial building in Marymount.
The space was bare – just tables, chairs, a whiteboard and some shelves. There was no signboard indicating the name of the organisation. Assuming it was just a temporary space, Min did not think too much about it.
There were eight other recruits in the class, all of whom were Christians, she said, adding that half of them were about her age, while the other half were in their 40s.
The sessions were led by Nicholas* and Sophia*, whom James had earlier introduced to her as pastors. Both seemed to be Singaporeans, were in their early 30s and very articulate, Min said.
Though neither of them ever said what organisation they were from, Nicholas claimed he had affiliations to the ministry of apologist Ravi Zacharias.
They never explicitly used the words "lie" or "deception". Rather, they advised students to "be wise".
They also said that they were working on something they called Theophilus Project, which seeks to prepare missionaries to go out into the field. When Min searched it up on Google, nothing about it surfaced, but she brushed it off thinking that perhaps it was an underground project.
Each session would start with a worship session, followed by an opening prayer, a 90-minute lecture by Nicholas and a discussion led by Sophia. Another female instructor was also present to help facilitate the lessons. The session would end with the class reciting The Lord's Prayer.
Min said the songs sung during worship were "completely normal" ones typically sung in mainstream churches, such as Cornerstone, How Great Is Our God and Potter's Hand. The opening prayers were also not unusual – requests for God to reveal His truths to them and allow their hearts to be good soil. 
But when it came to the teachings by Nicholas, it was a different story.
There was no issue with much of the teachings, Min said. He talked about having the faith of Abraham, who in Genesis 22 trusted in the promises of God to the point of being willing to sacrifice his own son. He talked about trusting that God is all-powerful (Luke 1:37) and will fulfil all His promises (Hebrews 10:23).
He taught that Jesus is the Messiah promised by God (Isaiah 9:6-7) and is a fulfilment of all the Old Testament prophecies (Isaiah 7:14; Matthew 1:21-23). He preached that Jesus came to fulfil the law of Moses (Matthew 5:17), and that He is the Word made flesh (John 1:14).
He warned students to be cautious of any group that adds to the Bible, calling them out as cults.
Again, all teaching points were backed up by Scripture, leading Min to believe that he was a reliable and well-informed teacher.
But among these teachings of truth were what Min described as "falsehoods that seemed to be supported by the Bible".
The largest stumbling block that Min took a while to accept was the teaching that it is perfectly okay to use deception and lies to carry out God's will.
She noted that they never explicitly used the words "lie" or "deception". Rather, they advised students to "be wise".
Min said they used 1 Samuel 16:1-5 to support their claims. In the chapter, God rejected King Saul because of his wicked ways and asked the prophet Samuel to anoint David as the new king. Samuel was afraid that Saul would kill him if he knew that he was here to appoint a new king, so God told him to say that he has come to sacrifice to the Lord.
"By taking out these verses from the passage, they said that God is asking Samuel to tell a blatant lie to prevent Saul from stopping him from doing God's will (of appointing David)," Min said.
She only realised much later, after reading through the whole chapter, that Samuel did in fact make a sacrifice to the Lord (1 Samuel 16:5).
Though Min found this teaching a little suspicious at first, she was eventually convinced. "They always had examples from the Word and it always seemed right," she said.
While people's lies have been used to carry out God's purposes – such as in the case of the midwives who lied to Pharaoh about sparing the Hebrew baby boys (Exodus 1:19) and Rahab who lied about hiding Joshua's spies (Joshua 2:4-5) – the act of lying is not commended or encouraged in the Bible.
The Bible is also clear that God is truth and cannot lie (Hebrews 6:18; Titus 1:1-2), and that He instructs believers not to deceive others (Leviticus 19:11; Proverbs 12:22; Proverbs 14:5; Colossians 3:9).
Another falsehood they taught was that one needs to accurately "perceive" Jesus' parables in the Gospels in order to be saved, said Min.
To prove their case, they used Matthew 13, which sees Jesus saying:
"This is why I speak to them in parables, because seeing they do not see, and hearing they do not hear, nor do they understand … For this people's heart has grown dull, and with their ears they can barely hear, and their eyes they have closed, lest they should see with their eyes and hear with their ears and understand with their heart and turn, and I would heal them."
Min said that, taken out of its context, the passage seemed to show that God would only save or heal those who could understand the parables.
However, when Scripture is considered in its entirety, the Bible is clear that salvation comes to all who believe in the Name of Jesus as Saviour and Lord (Acts 16:30-31; John 5:24; Romans 10:9-10).
It is after we believe in Jesus' Name and are saved that we are able to understand the parables for what they are worth, not the other way around, Min came to realise later.
Step 4: Isolating recruits
Apart from the unorthodox teachings, Min also received unusual instructions.
For example, they were not allowed to ask other students how they ended up in the class. "They said that some people had to go through a lot of difficult things to come to the class, so we shouldn't ask sensitive questions," Min said, adding that they were also not allowed to exchange contact numbers.
"They always had examples from the Word and it always seemed right."
Apart from taking home Bible references written in a small notebook, they were not allowed to take home their notes or discuss anything they had learnt with others outside of the community, including their home church.
"They said that if you are not yet mature in the faith and you go and share it with other people, you might stumble them and they might stumble you. They were constantly telling us this. They drilled in me that one day when I am mature and ready, then I will be able to share with others," Min said.
She added that they used Matthew 16 to prove this, stating that Jesus strictly charged the disciples not to tell anyone that He was the Messiah (Matthew 16:20) because they were not mature enough to do so.
As evidence for the disciples' immaturity, they cited Peter's rebuking of Jesus (Matthew 16:22) when He showed them that He must be suffer, die and be resurrected.
Min believed these teachings and complied with their instructors, refraining from discussing her sessions with her church pastor.
Throughout these two months, she genuinely felt that her relationship with God was improving. "I thought because I was learning more about His Word, I was learning more about His will, I was on the right path. I thought, this is where God wants me to be, and I certainly felt good about that."
Step 5: Creating a safe community
The leaders of the group ensured that the recruits felt like they were in a safe community.
"I felt super at home with them," Min said. "They were very genuine and empathetic, very patient and understanding. It felt so real. I thought they genuinely wanted to mentor and teach us."
During the first session, the leaders ordered lunch in for the group to eat together. In another class, an "auntie" from the group cooked lunch for everyone. The students were also planning on going out for lunch together but they did not manage to as lessons were suspended due to the coronavirus situation. 
"It really felt like a community. I feel like I really made friends with them, but I don't know how many of them were genuine," she said.
After reading up on accounts of former SCJ members, she now suspects that not all of the students were actual seekers and that some may have been members of the group that were "planted" to be positive influences.
How things eventually unravelled
It was only on March 2 that Min realised what she had gotten herself into, after her father sent her a news article on two Singaporeans' experiences with the local chapter of the group.  
She quickly went online to search for more accounts of former members' experiences, and found them to match hers.
She was shocked, as the group had never mentioned anything about its founder, Lee, or made any claims to her that he was the second coming of Christ.
"I felt very betrayed. These people were supposed to be my friends."
On hindsight, she guessed that they were probably priming her for that final revelation. She recalled them comparing the students with the Jews in the Old Testament, who were expecting a Messiah so majestic in their own perspective that they missed the truth that Jesus, who walked and spoke among them, was the Messiah.
"They asked us: What if Jesus came back now and you didn't recognise Him? I suppose that's how they would eventually introduce that 88-year-old man (Lee) to be Jesus," she said, adding that she might actually have believed it had she gone through "weeks and weeks" of their indoctrination.
Thankfully, she had only attended eight sessions of what would have been a four-month course before lessons were suspended. And she is not going back.
"I felt very betrayed. These people seemed so genuine but they were actually deceiving me when they were supposed to be my friends. I felt angry at myself for falling for this," she said.
She has opened up and shared her experience with her pastor, whom she said has been very understanding and non-judgmental of her experience. She is still in the process of talking through with him all she has been taught by the alleged cult and correcting any erroneous doctrines she might have accepted in the process.
"The Word is so important. We need to know the entire Bible. We need to be sure of our doctrine."
She now stands more convinced of the importance of knowing the Bible thoroughly. 
"The Word is so important. We need to know the entire Bible. We need to be sure of our doctrine. We need to rely on the Holy Spirit and people that we can trust," she said.
"If you don't know the Word, it's so easy for it to be twisted, and you won't even know. You won't be able to tell unless you're firmly rooted in the Word."
She advised others to always press independent Bible preachers to reveal which organisation they are from and do the necessary checks. Also, be open with your pastors or mentors, she said.
"A servant of God won't ask you to hide anything about God from anyone."
*Names have been changed to protect their identity.
If you have enjoyed reading Salt&Light...
We are an independent, non-profit organisation that relies on the generosity of our readers, such as yourself, to continue serving the kingdom. Every dollar donated goes directly back into our editorial coverage.
Would you consider partnering with us in our kingdom work by supporting us financially, either as a one-off donation, or a recurring pledge?
Support Salt&Light