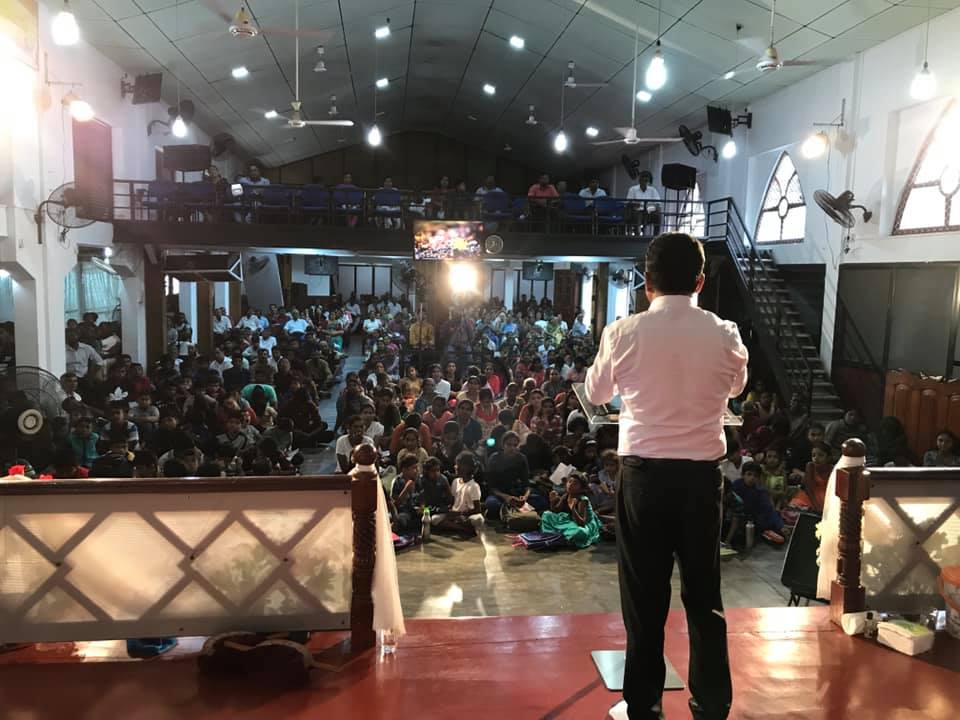 Inside Zion Church before the bombing. So far, 28 people from the lively Pentecostal church on the eastern coast of Sri Lanka in Batticaloa have died, according to Pastor Ganeshamoorthy Thirukumaran. Photo from Zion Church's Facebook page.
"Actually, he was prepared to go to heaven."
Pastor Ganeshamoorthy Thirukumaran is recalling the day his teenage son, Shalom Malkiah, died. He was exactly 12 years and 4 months old that Easter Sunday on April 21, 2019. 
The Sunday school children had gathered at 7.30am, an hour and a half before Zion Church in Batticaloa would start its main service. 
It was Resurrection Sunday, and the Sunday school teacher was taking the children through a time of confession. During class, she asked: "Are you ready if you have to die a martyr?" Everyone raised their hands – they were all ready for heaven.
"Are you ready if you have to die a martyr?" Everyone raised their hands, including 12-year-old Shalom Malkiah.
"It's good news for me," Pastor Thirukumaran, an assistant pastor of Zion Church, told Salt&Light on the phone. "That really gave peace in my heart."
Pastor Thirukumaran was the man who spotted the suspect attacker and asked what the stranger was doing at the church, but he had to rush off before he could finish the conversation.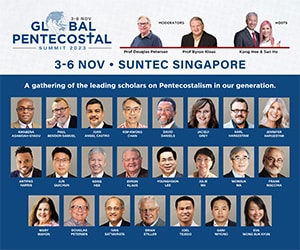 He missed the attack by minutes. The pastor had dropped off his two older sons at Sunday school and stayed to observe, but left with his wife and his youngest daughter right before the blast as he was going to a lead service at a branch church. His older son survived the explosion. 
So far, 28 people from Zion Church have died, Pastor Thirukumaran said. The terror attacks, which targeted three churches among the eight locations, have claimed the lives of at least 250 people and wounded more than 500 others.
When Pastor Thirukumaran ran back to the church, he had to squeeze his way in through the church's one entrance. What he saw was a scene of chaos: Blood everywhere, burnt corpses.
He only found his second son hours later at the mortuary, where his family could only identify the child's body from a piece of cloth on the shoulder – a remnant of the shirt he was wearing that day. 
Pastor Thirukumaran described his son as a good singer who loved music. He played the drums as well, he said. 
Throughout the week before Sunday, Shalom Malkiah was singing the hymn I Have Decided To Follow Jesus over and over again, he said.
"So I prayed in my mind, 'God, lead him to follow you.'"
"I thank God – at least He prepared my son for that particular day. Maybe I didn't, but God was preparing."
That same week, there was a funeral at the church. Pastor Thirukumaran took his son along, where the boy heard them sing a Tamil song with the line: "We will meet again in heaven." It caught his son's ear.
"Normally you sing that song at funerals. So I thank God – at least He prepared my son for that particular day.
"Maybe I didn't, but God was preparing."
Shalom Malkiah may have been almost 13 years old, but he still liked to crawl onto his parents' bed in the middle of the night and lie on top of his Papa's body. Whenever his dad left the house for work, he would always ask what he was up to, Pastor Thirukumaran recalls. "He's a good son for me. He loved me very much."
Sorrow and mourning fills the days. The children would sometimes cry at night, and his wife is still in shock. Pastor Thirukumaran himself is tired as he has to manage some of the church's affairs in the aftermath and take care of his family, all while he grieves.
But God's grace is sustaining him, he said. 
Grieving together
In Colombo, where six out of eight of the bombings took place, churches took precaution over the weekend as authorities continue to track down suspects.
Instead of their usual Sunday services, People's Church in Colombo held home meetings at various locations throughout the city, said Pastor David Beling, one of the church's pastor. This kept the numbers down at the main service in the morning. 
The decision was made on Saturday after talks with Sri Lankan police during the week.
The church's strategy included a televised message by its senior pastor, Pastor Dishan Wickramaratne, on Sunday. His message: Christians have to defeat what the terrorists had intended to do.
"The essence of his message was: They wanted to spin hatred, we will spin love. They wanted to bring pain, we will bring healing," said Pastor Beling.
During his home meeting, members prayed for the Lord to "heal those who have been hurt" and to "install hope where people have lost hope", he added.
"They wanted to spin hatred, we will spin love. They wanted to bring pain, we will bring healing."
Jesus Lives International Ministry, located in Colombo, held a shorter 45-minute praying meeting on Sunday after the police discouraged churches from conducting large gatherings, Pastor Christy Vincent Rajendram said. Services are usually two-and-a-half hours long.
At Sunday's service, many people were crying, he said, because they had lost "fellow Sri Lankans".
Despite widespread uncertainty in the country, both pastors said there is a sense of greater unity among the multi-religious population. Leaders from the various religious groups have released statements condemning last week's attacks.
On Sunday, Buddhist monks joined Catholic priests during a public service outside St Anthony's Shrine, one of the sites of the blasts, as the Archdiocese cancelled services across the country. Mass will resume this Sunday. 
If you have enjoyed reading Salt&Light...
We are an independent, non-profit organisation that relies on the generosity of our readers, such as yourself, to continue serving the kingdom. Every dollar donated goes directly back into our editorial coverage.
Would you consider partnering with us in our kingdom work by supporting us financially, either as a one-off donation, or a recurring pledge?
Support Salt&Light