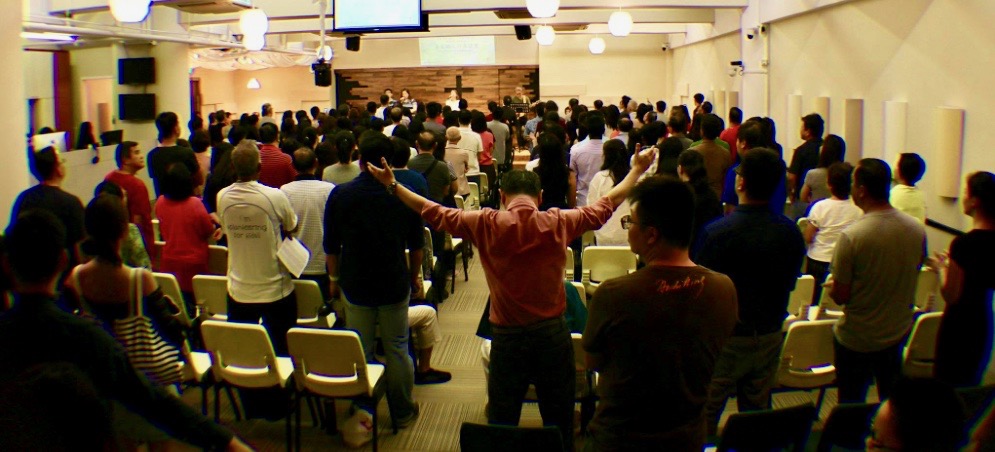 "When crises strike, a Christian will know that his peace doesn't come from his circumstances but from Christ's unchanging Presence," said Senior Pastor Vincent Choo in a livestreamed sermon this morning. The photo shows an earlier service in the church. Photo from The Life Church and Missions (Singapore) Facebook page.
This is my father's world
Oh, let me ne'er forget
That though the wrong seems oft so strong
God is the ruler yet
In a moving reminder that God's hand is still on His creation, The Life Church and Missions (Singapore) this morning (February 9) played the well loved hymn, This is My Father's World, at its first livestreamed service since news of a possible coronavirus cluster linked to the church broke on February 7.
"This might be the greatest challenge that our church has encountered since our founding 17 years ago," Senior Pastor Vincent Choo told his 100-strong congregation who tuned in remotely to the Mandarin service at 10.30am.
"We must endure. And we must rely on His strength to endure." 
He revealed that, as all meetings and services were cancelled at the church, there were only five people conducting the livestream service, "but God says that as long as two or three are gathered in His name, He will be with us. In the midst of our fear, let's remember – Jesus appeared to his fearful disciples and said: Peace be with you. (John 20:21) I'll use God's Truth to encourage us today".
As congregants tuning in left prayerful and encouraging messages on the live chat, Ps Vincent said that out of the five people identified in the possible coronavirus cluster, "one is in ICU. Three of them, we know personally. But two – we've heard that they are from Wuhan who visited us". 
"A lot of you will ask: Why did this happen to us? I don't know the two visitors personally, but I believe they wanted to know Grace, to know God. 
"In pain and sickness, pray! 
"I heard the news last night and the national media will talk about us. Our families will question us. We often see the news and think troubles are far from us, but when we encounter it closely, personally, brothers and sisters, we really understand and experience the truth and the love of the presence of God with us!
"No one wants to go through this pressure, this fear. But if God brings this to our midst, we must endure. And we must rely on His strength to endure." 
In a Mandarin sermon entitled: Triumph Over the Real Trials Amidst Us, based on readings from John 20:19-21 and Hebrews 11:1-16, Ps Vincent said: "People will worry. Parents will be afraid for their children. Others who have some small sickness will be afraid. This is natural.
"But God is clear: Jeremiah speaks of God's permitted trial, but in Jeremiah 29:11 we see that God's heart for us is hope and peace. This is the message of the Gospel.
"What is our real sickness? It is inside us; the condition of our souls. That is what Christ came to save us from.
"In the relative comfort and safety of Singapore, we don't think about these until we are faced with difficulties. Many people say: If you have faith, you won't face sickness and difficulties. 
"Brothers and sisters, this is not the Gospel message; this is the message of the world.
"We must love God more, love Singapore more, love others more. Pray and intercede!"
"The true message of trust in Jesus is about endurance in adversity. Endurance breeds hope (Romans 5:4) … because when crises strike, a Christian would know that his peace doesn't come from his circumstances but because of an unchanging Presence".
Revealing how the elders of the church "deeply felt the trials of our brothers and sisters in China", he reminded his members to go through adversity with faith; reach a helping hand to people in darkness; encourage others (even remotely through the phone and online); and avoid blame and selfishness. 
"We cannot be selfish. Nor can we look at others and blame them. This is not a problem caused by the Chinese. Or by those from Wuhan. Or those who were sick who joined us. None of this.
"We must love God more, love Singapore more, love others more. Pray and intercede!"
An English translation of Ps Vincent's Mandarin sermon can be found here.
Triumph over the real trials amidst us
Senior Pastor Vincent Choo reiterated these points in his sermon:
Use the faith given by the Lord to recognise and resist fear
"Faith is confidence in what we hope for and assurance about what we do not see." (Hebrews 11:1)
How do we use faith to face the developing crisis?
"Without faith it is impossible to please God, because anyone who comes to him must believe that he exists and that he rewards those who earnestly seek him." (Hebrews 11:6)
Some principles to follow: Listen to the broad directives of the authorities; as the situation develops, we must "test and approve" (reflect); understand that faith is a personal journey, but it can grow under trial.
Faith leads us to look ahead to the beautiful home in heaven
"All these people were still living by faith when they died. They did not receive the things promised; they only saw them and welcomed them from a distance, admitting that they were foreigners and strangers on earth. People who say such things show that they are looking for a country of their own ... Instead, they were longing for a better country—a heavenly one. Therefore God is not ashamed to be called their God, for he has prepared a city for them." (Hebrews 11:13)
If you have enjoyed reading Salt&Light...
We are an independent, non-profit organisation that relies on the generosity of our readers, such as yourself, to continue serving the kingdom. Every dollar donated goes directly back into our editorial coverage.
Would you consider partnering with us in our kingdom work by supporting us financially, either as a one-off donation, or a recurring pledge?
Support Salt&Light