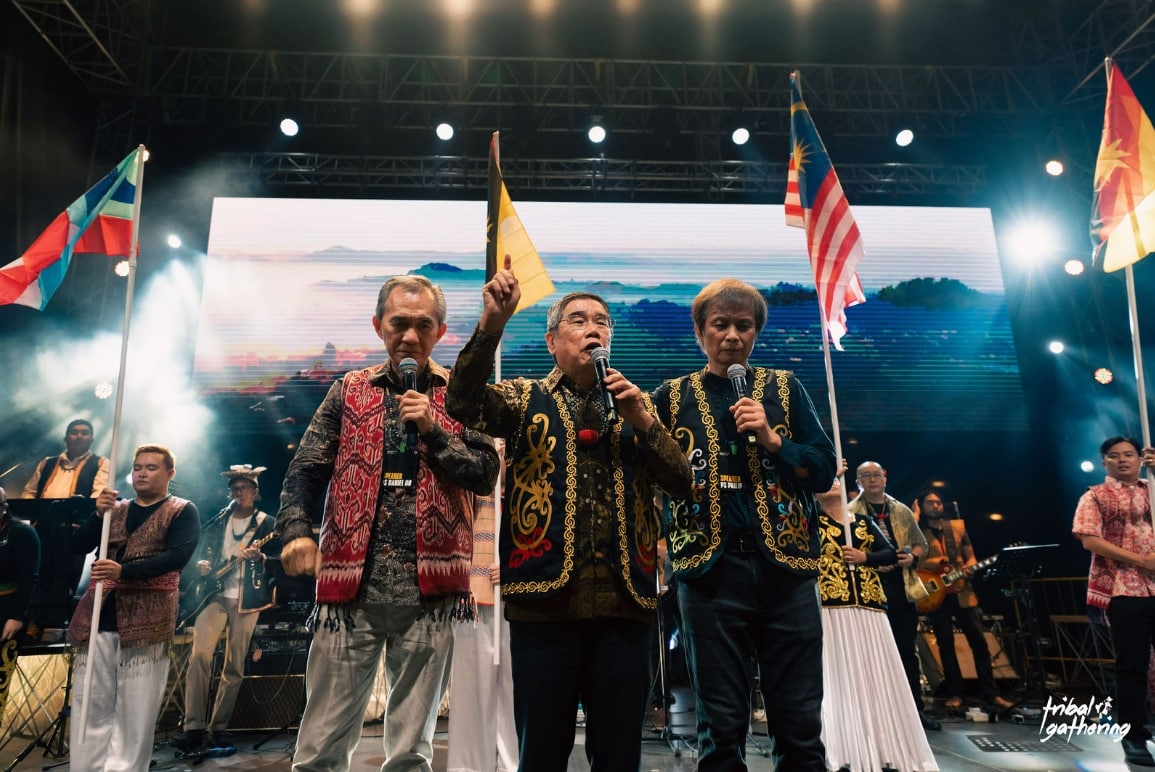 Ps Daniel Ho of Damansara Utama Methodist Church, Ps Chew Weng Chee of SIB KL and Ps Dr Philip Lyn of Skyline SIB passing the mantle to the next generation. All photos by Tribal Gathering.
"For the sake of our children, Lord, send revival!"
This heartfelt cry resonated among the thousands of believers who gathered in the Miri Stadium in Sarawak, Malaysia, earlier this month for the Tribal Gathering.
The three-day event, held from October 5 to 7, marked the 50th anniversary of the Borneo Spiritual Revivals that swept through the villages of Bario, Ba'kelalan and Taginambur in 1973.
The event drew an impressive crowd of over 4,000 people, representing more than 100 different churches, from Malaysia, Singapore and Indonesia. Each day featured sessions of prayer, worship and healing, and concluded with night rallies.
Across generations, denominations, ethnic groups and nationalities, a powerful sense of togetherness was unmistakably evident.
The Church must wake up!
The opening night rally carried the theme Tu'Ee, a phrase in the Kelabit language that means "to wake up".
Pastor Rachel Bulan, a Kelabit pastor, challenged believers to be awakened to the urgency of our times. She emphasised that we are in an era where what was once deemed impossible is becoming possible through Jesus Christ.
She said: "Only a unified Church can heal a broken land. How much time remains for us to fulfil the Lord's work and reach out to the lost souls?"
Pastor Rachel also cautioned believers against calling for revival solely for the sake of the experience.
"What lies at the core of God's heart is the salvation of every soul. When the harvest arrives, when the prodigal sons and daughters return, their hearts are transformed to love their Saviour," she said, before concluding with a resounding call.
"The only response to this divine work is 'Come, Lord Jesus, come!' Revival serves the purpose of the harvest, and the harvest leads to the Maranatha cry."
Passing on the mantle
Over the course of three days, fervent hearts cried out for a fresh outpouring of the Holy Spirit upon their families, communities and nations.
Spiritual fathers from Malaysia, Singapore and Indonesia delivered unique messages tailored to the present season, along with faith impartations for the next generation.
On the second day, Pastor Hanny Setiawan of the Bethany Solobaru Church in Indonesia led Sarawak's ethnic tribes in a powerful time of reconciliation, signifying the first step towards a united Church.
Later that evening, Malaysian pastors Chew Weng Chee (SIBKL), Daniel Ho (DUMC) and Dr Philip Lyn (Skyline SIB) symbolically passed on the mantle of revival to the next generation.
"Tonight is a new day, a new dawn for Malaysia. It's starting from the East, and will go across West Malaysia, Southeast Asia … and the whole world. So take hold (of this). Live for His cause and not for comfort," urged Pastor Daniel.
Following a heartfelt rendition of Malaysia's national anthem, Negaraku, Pastor Chew addressed the gathering with deep emotion, saying: "50 years ago, we fought the good fight. But today, we pass on to you. You fight. All we can do is lay our hands on you to have the strength. We will help you. Our ceiling is your floor. It is your time."
Taking up the mantle
On the third day, the worship session was led by Josh Yeoh from RiverLife Church in Singapore, accompanied by Alarice Hong from Awaken Generation, which is also based in Singapore. They were joined by a team from KL House of Prayer.
A remarkable display of unity then unfolded on the stage as young pastors and leaders from Malaysia and Singapore came together to share words of prophecy and exhortation for the next generation.
Pastors Michael and Tabitha Lam from Lifegen Church in Malaysia, Jonathan Chandra from Calvary Community Church in Malaysia, and Calvin Hong from Awaken Generation in Singapore, gave a common call to the young believers: to love Jesus, honour His name and work towards establishing His Kingdom here on earth.
Pastor Calvin Hong shared: "We live in tension where we long for His return, but there's an assignment that God has called us to, especially for our generation."
Urging the emerging generation to anchor their zeal for revival in God's love, he added: "We have all the strength, but we cannot fulfil the Great Commission of Matthew 28 before we embrace Matthew 22:37 – the Great Commandment … There is a level of obedience before the sacrifice."
Catching the fire
The final night rally, themed 'Do it Again!', saw nearly 4,000 people showing up hungry for a touch from God.
Opening the evening, Pastor Sabrina Low, who originates from Singapore and leads Cornerstone Community Church Borneo, shared a vision she received more than a decade ago in February 2012.
"I saw one tree on fire, and then the wind bent the tree over and the other trees around started catching fire, and before long the entire forest was on fire," she recounted.
She revealed that God had directed her to plant a church in Miri, underscoring that the sleepy oil and gas town in Sarawak would hold a pivotal role in the forthcoming revival.
Revivalist Pastor Yang Tuck Yoong of Cornerstone Community Church, Singapore, then came up and charged pastors and believers to catch the fire of the Holy Spirit.
"The God you and I serve is a God of fire and a God on fire," he roared. "Every revival was started by a supernatural touch of God … but you've got to feed the fire, or it will die."
Revival for the global harvest
In one accord, everyone pressed into God's presence as various pastors declared healing and freedom from sickness and strongholds in Jesus' name.
The atmosphere was thick with the palpable presence of God, leading many to linger at the altar for an extended period as they earnestly prayed for one another.
"This is the Body of Christ. This is the Church. Going across denominations, generations, tribes, praying for one another, loving one another, releasing the Kingdom," Pastor Rachel said.
The culmination of the Tribal Gathering was marked by a joyous and resounding shout as the Southeast Asian church, spanning generations, ethnicities and cultures, stood together to exalt their Lord and Saviour, Jesus Christ.
As the crowd dispersed and each made their way back home, the echoes of praise continued to resonate throughout the stadium, with chants in both the Iban (an ethnic Sarawakian tribe) and Bahasa Malaysia languages:
"Agi Idup (As long as we live)
Agi Ngelaban (We will fight)
Kita hidup (We live)
Dalam Tuhan (In the Lord)"
---
For more information on Tribal Gathering, click here.
---
RELATED STORIES:
A Bicentennial look-back at the extraordinary history of the Singapore Church
If you have enjoyed reading Salt&Light...
We are an independent, non-profit organisation that relies on the generosity of our readers, such as yourself, to continue serving the kingdom. Every dollar donated goes directly back into our editorial coverage.
Would you consider partnering with us in our kingdom work by supporting us financially, either as a one-off donation, or a recurring pledge?
Support Salt&Light