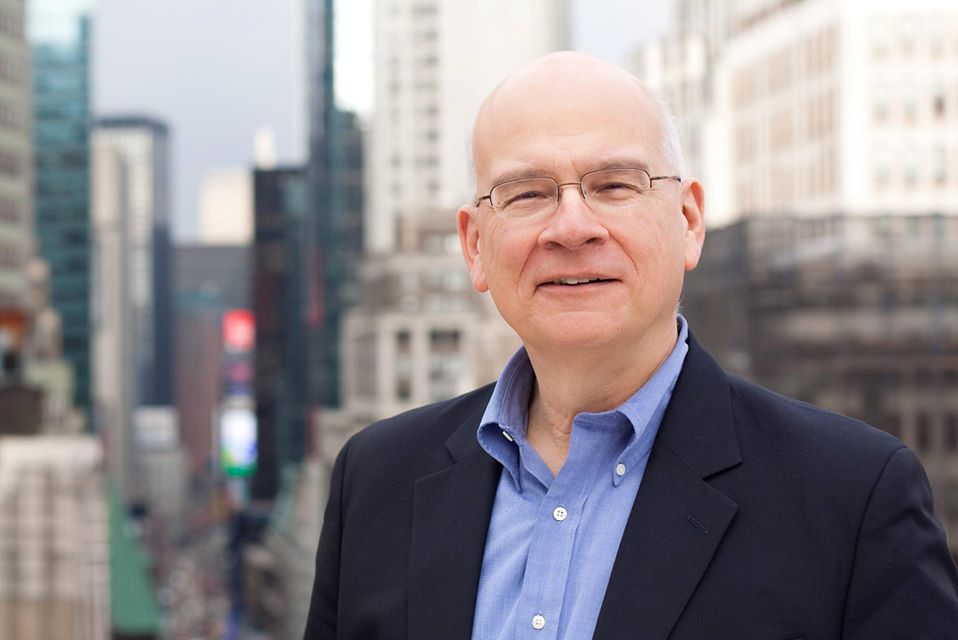 Bestselling author and pastor Timothy Keller, 69, found out about his pancreatic cancer diagnosis less than three weeks ago and will undergo chemotherapy soon. "I have terrific human doctors, but most importantly I have the Great Physician caring for me," he said in an update on his social media posts yesterday (June 7). Photo from Timothy Keller's Facebook page.
Bestselling Christian author Timothy Keller, 69, and founding pastor of Redeemer Presbyterian Church in New York City and Redeemer City to City, announced yesterday (June 7) that he has been diagnosed with pancreatic cancer and will begin chemotherapy soon.
In an update posted 11 hours ago on his social media pages, he said that the cancer was discovered less than three weeks ago in what he called "providential intervention" as he has not had any symptoms.
Pancreatic cancer is known to be difficult to diagnose in its early stages as symptoms are few, according to medical websites.
Keller, who is married with three sons, added that he will undergo additional testing at the National Cancer Institute before beginning chemotherapy next week when he returns to New York City.
https://www.instagram.com/p/CBI7mKlAG_z/
Even though he and his family have had times of shock and fear over the past few weeks of tests, biopsies and surgery, "God has been remarkably present", he said.
"I have terrific human doctors, but most importantly I have the Great Physician himself caring for me."
"God has been remarkably present."
Pastor Guna Raman, CEO of City to City Asia Pacific, said he is "shocked and devastated because none of us saw this coming", adding that Keller had just been in Kuala Lumpur, Malaysia, in January for a conference.
"I pray that the Lord will intervene in answer to the prayers of so many people around the globe and the cancer will regress. I also pray that God will give him the strength to continue writing and speaking."
In Keller's update, he also humbly asked for prayers:
For God to use medical means or his direct intervention to make the cancer regress to the point of vanishing
For Kathy and me, that we use this opportunity to be weaned from the joys of this world and to desire God's presence above all
For my family to be comforted and encouraged
For the side effects of treatment to allow me to continue writing and speaking
Lastly, he asked people to pray that he would run the race set before him with joy, "because Jesus ran an infinitely harder race, with joy, for me". (Hebrews 12:1-2)
Born and raised in Pennsylvania, Keller watched Redeemer Presbyterian Church in Manhattan grow from 100 people in 1989 to over 5,000. In 2017, he stepped down as senior pastor after 28 years of service there. 
He has continued to serve as the chairman and co-founder of Redeemer City to City, which has helped to start more than 500 churches in New York and other global cities, including Singapore. 
Keller's books, including the New York Times bestselling The Reason for God and The Prodigal God, have sold over two million copies and been translated into 25 languages. He also co-authored The Meaning of Marriage and My Rock; My Refuge with his wife, Kathy.
This is Keller's second brush with cancer. In 2002, he was diagnosed with thyroid cancer and underwent surgery and treatment, which he writes about in his book Walking with God through Pain and Suffering.
Where is God when it hurts? Philip Yancey has changed his question of pain after 40 years
If you have enjoyed reading Salt&Light...
We are an independent, non-profit organisation that relies on the generosity of our readers, such as yourself, to continue serving the kingdom. Every dollar donated goes directly back into our editorial coverage.
Would you consider partnering with us in our kingdom work by supporting us financially, either as a one-off donation, or a recurring pledge?
Support Salt&Light