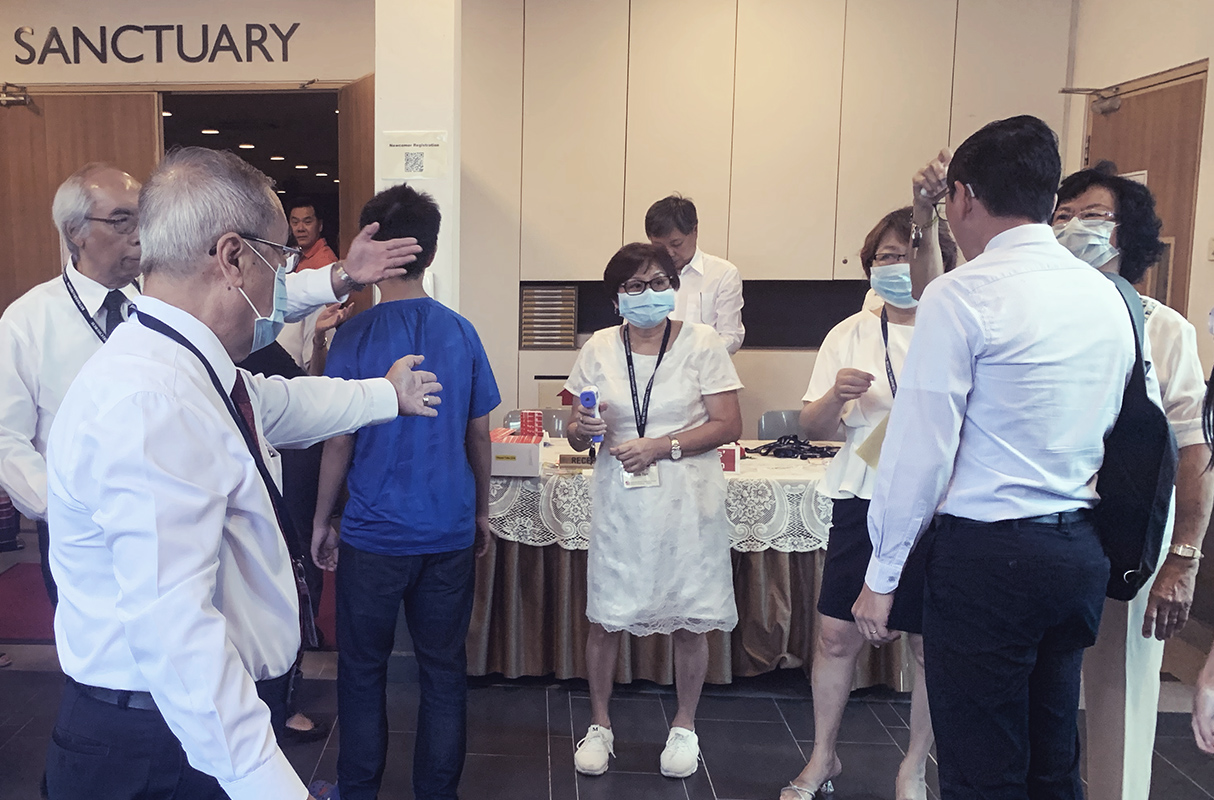 Volunteers enforcing precautionary measures at Bethesda (Bedok-Tampines) Church, following reports of community transmission of the novel coronavirus in Singapore.
Worship services are an important part of the Christian faith, and should not be cancelled unless "absolutely necessary", said Bishop Terry Kee on Tuesday, February 11, 2020.
"Worship services are not just another programme or event," said the current President of the National Council of Churches of Singapore, which the day before had released a statement advising churches to continue with services under the current coronavirus climate.
Last Friday, the national Dorscon (risk assessment) status was revised up to Orange, following reports of community spread of the novel coronavirus in Singapore.
Bishop Terry, head of the Lutheran Church in Singapore, cited the teaching of Deuteronomy 12:5-7 on the importance of our place of worship to our faith.
"To that place you must go … there, in the presence of the Lord your God. (Deuteronomy 12:5-7)"
Church worship services, he said, are "our going to the place where God has ordained to express our love and gratitude to Him, to receive His grace and be blessed by Him".
"A Church can still be a church of Jesus Christ without cell group or Sunday School, but cannot be considered a church of Jesus Christ without worship of God in His Name."
He added: "It is for this reason that most churches would not cancel their worship services unless absolutely necessary."
Believers should also refrain from comparing why some churches choose to close some services or programmes while others may not. Different churches have different considerations, such as the demographics of attendees or the location of the church, said Bishop Terry.
"We trust in God's protection, but wisdom calls us to be aware of consequences," he said.
Guard against panic
He urged believers to refrain from decisions made in panic or anxiety, and to take the cue from the Government on precautionary measures for places of worship.
"We must keep things in perspective," he told Salt&Light. For example, he cited the likely coronavirus cluster identified at the Life Church and Missions in Paya Lebar, the virus had likely spread in the early days of the outbreak, before precautionary measures were in place.
https://www.facebook.com/saltandlight.sg/posts/498899650824196
"While concerned, we need not be overly concerned, because the precautionary measures have proven effective when properly implemented," he said.
"So in consultation with the authorities who are monitoring the situation very closely, we are of the opinion that it is not necessary to stop worship services if the precautionary measures are observed."
Churches can consider additional measures
However, he advised churches to consider additional measures that might be taken to ensure even greater safety during worship services.
Some examples he suggested were more widespread wearing of mask for volunteers who would come into contact with more attendees, and gloves for those serving Holy Communion.
While not currently mandated, to help facilitate contact tracking if needed, churches should consider how to collate the contact numbers of attendees at each service. Larger churches may consider dividing their hall into specific seating locations or zones in their halls for tracking purposes, if needed.
With sufficient precautionary measures, worship services need not be stopped for now, said Bishop Terry.
"The authorities are monitoring the situation closely and will advice accordingly if worship services should be stopped.
https://www.facebook.com/saltandlight.sg/posts/499521717428656
If you have enjoyed reading Salt&Light...
We are an independent, non-profit organisation that relies on the generosity of our readers, such as yourself, to continue serving the kingdom. Every dollar donated goes directly back into our editorial coverage.
Would you consider partnering with us in our kingdom work by supporting us financially, either as a one-off donation, or a recurring pledge?
Support Salt&Light