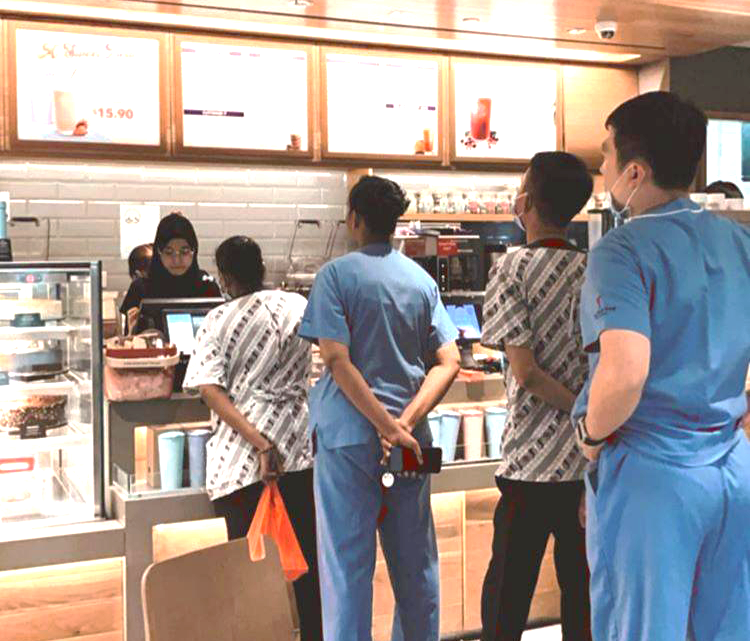 Healthcare workers from Tan Tock Seng Hospital queuing up to redeem their free drink at Coffee Bean after a group of friends decided to pool together funds to sponsor them. Photo taken from the Ray of Hope crowdfunding site.
For the throngs of healthcare workers battling tirelessly against the novel coronavirus, a simple cup of coffee or tea is enough to give them an extra boost of encouragement.
This is why Julie Chen, 26, and her cell group have banded together to sponsor healthcare professionals at Ng Teng Fong General Hospital and Tan Tock Seng Hospital a drink from Coffee Bean and Tea Leaf, in an initiative named Operation #BoosterShot.
The group raised $4,000 among themselves and their friends in just two days, resulting in the redemption of almost 540 cups, costing about $7 each, according to Chen, who also works in the healthcare industry.
Hoping to expand the initiative to healthcare workers in other hospitals, the cell group decided to start a formal online campaign today (February 11) on crowdfunding site Ray of Hope.
In less than 24 hours, more than $4,800 has been raised, fulfilling about 30% of the $15,000 that the group hopes to raise in the next 42 days.
"We want them to know that, as a community, we are so grateful to them for putting themselves on the line."
Speaking on behalf of her cell group mates, member Heidi Tan, 31, who works in the social sector, told Salt&Light that the idea came about after they began thinking about how to show appreciation to healthcare workers for their sacrifices during the outbreak. For example, they heard about how some were not able to go home to their families at the end of a very long day, she said.
Among the flurry of ideas, Chen suggested getting coffee for those in the frontlines "knowing that they have been working round the clock, hardly any time to rest or eat, and with little appreciation".
"We want them to know that what they do is making a difference and that, as a community, we are so grateful to them for putting themselves on the line," Tan said.
The initiative has been met with gratitude from doctors and nurses alike, some of whom have told the group that they have been touched and encouraged by this little act of kindness.
"You think Singaporeans were quick to buy up supermarket shelves? They were even quicker to rally around those in need!"
Tan said: "One shared how terrible a week it had been and how this 'made it 10 times better'. Some shared that this small gesture motivated them to continue to give their best, and to know that they are not alone as we brave through this challenging season together!"
She added that her cell group has been very heartened to see so much energy and love expressed in action by the community, and that they have been "marvelling" at the outpouring of goodwill from the Church and Singapore.
"It seemed like after a brief moment of shock, the community leapt into action. If we thought Singaporeans were quick to buy up supermarket shelves, it seemed like they were even quicker to rally around those in need! We've been so moved by how people have been contributing to this, as well as the other stories of giving we've been reading.
"We hope that over time, love can be our instinct as a community, rather than fear or self-preservation!"
"Life is too short. Love radically, serve generously": NBA star Jeremy Lin donates 1 million yuan to Hubei
Novel coronavirus: The Methodist community rallies together as Case 41 is traced to Paya Lebar Methodist Church
Want to show your encouragement too?
Click here to contribute to Operation #BoosterShot.
If you have enjoyed reading Salt&Light...
We are an independent, non-profit organisation that relies on the generosity of our readers, such as yourself, to continue serving the kingdom. Every dollar donated goes directly back into our editorial coverage.
Would you consider partnering with us in our kingdom work by supporting us financially, either as a one-off donation, or a recurring pledge?
Support Salt&Light